Wow, 2018! What a year. We had a new documentary starring some old Muppet guys (and gal), a new cartoon based on an old Muppet cartoon, a dozen or so new renditions of "Rainbow Connection", and even a lawsuit between two Muppet-related companies.  So much drama!
As is our grand tradition at the end of every year, we're here to recap the last 12 months, because there's literally too much to remember.  Not only all the news stories, but also some soon-to-be-classic ToughPigs articles that we're really proud of.
So go ahead and take a little walk down memory lane, all the way back to January through today.  And hey, how about we do it again next year??
January:
2017 Year in Review – We had a whole year of Muppet articles and news in 2017, remember?? Revisit last year before revisiting this year!
Muppet Babies cast revealed – Summer, you're in!  Not so fast, Rowlf.
Miss Piggy stars in fashion video for LOVE – She put on some fancy dresses and took a nap.  What a star!
Frank Oz participates in Reddit AMA – And the internet truly asked him everything.
Definitive ranking of Snuffleupaguses – You'll have to click through to see where Arnold Schnuffleupanegger lands on the list.
RIP Sesame Street writer Carole Hart – Hart was the first female writer for Sesame Street.
Fraggle Rock turns 35 – And it still has the potential to save the world.
Jim Henson the Model – Watch some rare video of Jim Henson vogueing for the camera.
Pop culture IQ through Sesame Street montages – How many celebrities do you recognize from "Put Down the Duckie"??
Quiz: Celebrities on The Muppet Show – We'll get you started: Justin Beiber isn't on the list.
Big Bird and Oscar appear in IBM commercial – Working 9 to 5. What a way to make a living.
Bert appears on HQ – Bert appears on the popular trivia app, and I still couldn't answer question #12.
RIP Muppets Production Manager Ezra Swerdlow – Swerdlow worked on Muppets Take Manhattan.
Reminder: Muppet Babies are for kids – It's unfortunate that we needed to remind people about this, but it's a fact.
February:
Cookie Monster goes on a food tour of NYC – New York had some of the best food in the world. Until Cookie Monster ate it all.
RIP Louis Zorich – Muppets Take Manhattan's Pete has passed away.
The wisdom of Pete – What does "Peoples is peoples" even mean?  We'll tell you!
Jenny Slate announced as Nanny – The SNL star got a new job watching a group of multicolored toddlers.
Muppet Babies Easter eggs – Who knew Baby Sweetums would be so darned cute?
Frank Oz is a nice guy – So much for his curmudgeonly reputation!
True love on The Muppet Show – Investigating the epic love story of George and Mildred.
Muppet stuff at Toy Fair – Get ready to be disappointed in the lack of Muppet merchandise yet again!
Disney's streaming service rumored to feature Muppet series – A new Muppet series?  Man, wouldn't that be nice?
RIP Bud Luckey – The writer and performer behind Sesame Street animations like "Ladybug Picnic".
ToughPigs' Oscar predictions – We told you who'd win the Academy Awards based on the all-important criteria of Muppet connections.
ToughPigs spoofs the Oscars – We made a bunch of ridiculous movie posters, and now we're just disappointed that they didn't star the Muppets in the first place.
March:
Behind the scenes with Muppet women – So many women helped make the Muppets what they are today, and we take a minute to honor them.
Our favorite underrated female characters – Forget Miss Piggy and Janice – let's talk about the other Muppet ladies!
Celebrating Sesame Street songwriter Cheryl Hardwick – Showing some love for the writer behind classics like "How I Miss My X" and "Cereal Girl".
Solving the Muppets' female representation problem – Seriously. It's not that hard.
ToughPigs interviews Frank Oz – A highlight in our career as Muppet bloggers – the legendary Frank Oz agrees to sit down with us for a candid chat.
RIP Stephen Hawking – His greatest achievement – working with Miss Piggy.
Muppet Guys Talking released – Frank Oz's long-awaited documentary starring the Muppet performers is here! Christmas came early!
Muppet Guys Talking reviewed – Without spoilers, just in case you still need to be convinced to watch it.
Muppet Guys Talking reviewed again -With spoilers, just in case you need reasons to watch it again.
Lifting the veil on Muppet performers, and what that means – With Muppet Guys Talking and Below the Frame, it's a great time to get a peek behind the curtain of the Muppet world.
Muppet performers are not "voice actors" – Here at ToughPigs, we're in the business of correcting people who are wrong. And anyone who calls the Muppet performers "voice actors" is very, very wrong.
Muppet Babies premieres – The classic Muppet cartoon is resurrected for a new audience. Plus, it's got a penguin!
Look back at Muppet Babies comics – Those funnybooks were more clever than you might remember.
The music of Muppet Babies – Why was the old Muppet Babies so obsessed with doo-wop?
April:
April Fools Day: ToughPigs Babies – We recruited some of our favorite Muppet fan artists to illustrate some made-up "Muppet Babies"-style spinoffs of a bunch of other Henson properties. Gotcha, I guess?
Fozzie Bear's stand-up special – Fozzie appeared on Seth Rogen's Netflix special because he's the only comedian left who hasn't starred in a Netflix stand-up special.
Cookie Monster memes – We asked you to meme-ify Cookie Monster to win some free books.  But that's none of my business.
Cookie Monster is an author – The book is called "Joy of Cookies". We're not entirely sure what it's about.
Redesigning Miss Piggy for the '90s – The artist behind Miss Piggy's '90s makeover shares his alternate designs.  The 1990s were a heck of a decade.
Cookie Monster confesses to Stephen Colbert – Do you think he confessed what his favorite dessert is?  Nah.
ToughPigs interview with Warrick Brownlow-Pike – The Muppet performer responsible for Gonger, our new favorite Sesame Street character, answers some important questions for us.
First Lady Barbara Bush passes away – Mrs. Bush was a good friend to Big Bird.
There are a lot of Muppets named Fred – You know, like Fred, Fred, and who could forget Fred?
Elmo has a question for YOU! – Yes, you! We edited together an insane video, and it's hypnotic.
Reminder: The Muppets are puppets – It rhymes, so it must be true.
Casting the Muppets as the Avengers – I really want to see a movie where Fozzie Bear gets the Super Soldier serum.
Charles Neville, Neville Brothers Saxophonist passes away – The musician appeared on Sesame Street.
Take Your Muppet to Work Day at Sesame Street – Watch a bunch of videos of Muppets working in cubicles!  Slow down, it's too crazy!
May:
Introducing the Muppetational May Challenge – Everyone (yes, everyone) spent the month answering prompts about Muppets on social media.
"Good Grief, the Comedian's a Bear" as the perfect Muppet Show moment – He may be a-wearing a neck-a-tie, but this sketch is beyond brilliant.
Kermit the Frog gets a font – It's called "Kernit" – who doesn't love a typography pun!?
Fraggle Rock comic book returns – We love Fraggles, we love comics, and therefore we really love Fraggle Rock comics.
ToughPigs interviews Lisa Loeb – We sit down with the bespectacled singer for a chat about Muppets, rainbows, and connections.
It's time to stop mourning, start celebrating Jim – Delivering some hard truths on the anniversary of Jim's passing.
Caroll Spinney honored by the Henson Company – Read all about the private event featuring Caroll, Big Bird, and all his talented friends.
The Muppets promote British credit card – Watch their ad for Barclaycard, and then I dunno… get one?
Kermit the Frog returns to American Idol – He's both American and an idol, so it's anything but false advertising.
Getting tired of "Rainbow Connection" – The Muppets have been getting a ton of mileage of out the song in recent years. Maybe a bit too much mileage.
Sesame Workshop files lawsuit against Happytime Murders – No Sesame, All Street, One Lawsuit.
Happytime Murders lawsuit thrown out – Okay, maybe a little Sesame.
Muppetational May ends – How'd we do? Let's make some pie charts!
June:
Uniqlo launches new line of Sesame merch – People sure do love Elmo with dead eyes.
Muppets to appear in Wreck-It Ralph 2 – The giant heads of Kermit and Beaker will haunt the internet!
ToughPigs takes on the Tony Awards – Predicting the winners of the Tony Awards based on that all-important criteria: Muppet connections!
ToughPigs wraps Muppet Show season 2 reviews – Our five-year project hits another milestone as we finish writing about every episode in season 2.
Muppet*Vision 3D hot air balloon destroyed – To add insult to injury, the pieces were sold off to collectors.
Grover gives graduation speech – He does look cute in that tiny cap and gown.
Jim Henson exhibit in LA – The Muppets make the Skirball Museum into a screwball museum.
Hollywood celebrates Miss Piggy Day – We're going to make this made-up holiday a real one if it kills us.
Dr. Teeth appears on Muppet Babies – The adult Dr. Teeth! After he graduated from medical school and everything.
ToughPigs interviews John Tartaglia – The Muppet performer responsible for Avenue Q and Imaginocean reveals all his secrets.
My Favorite Muppet of the Moment series launches – We love every Muppet equally.  Especially these.
PSA: Your Muppet drinking glasses are poisonous – You know those Great Muppet Caper glasses from Burger King?  Maybe don't use them anymore.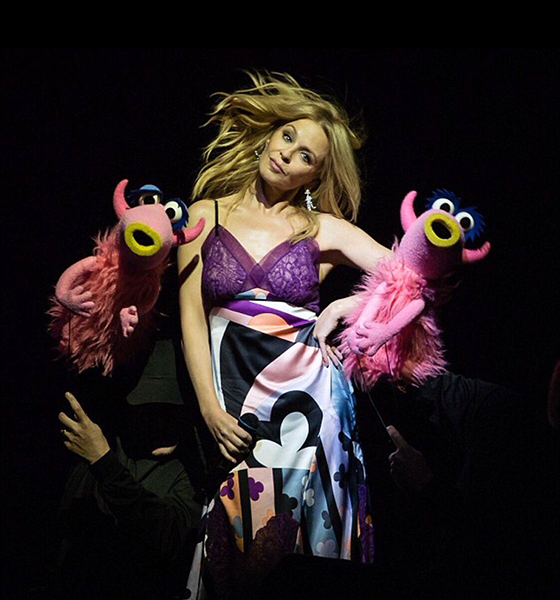 July:
Sesame Street spoofs *NSYNC for the Fourth of July – It ain't no lie.
Honoring all 50 states with 50 Muppet clips – Honoring things with Muppet references is all we know.
Muppet jokes that are always funny – I mean, they're all funny.  But these are always always funny.
Muppet Show special effects guru Robbie Knott passes away – Without him, Fozzie couldn't drive a car, Kermit couldn't sing on a log, and Gonzo wouldn't have flown away with those balloons.
Muppet Show choreographer Gillian Lynne passes away – She served as choreographer for 17 episodes of the classic Muppet series.
The Muppets Take the O2 – The Muppets' live show takes a turn for the British for three performances in London!
The Muppets introduced us to every popular song ever – Even the bad ones!
August:
Abandoned ToughPigs articles – Not every article we start gets finished. Here are a few of the clunkers that never saw the light of day.
Sesame Street cast member Charlotte Rae passes away – She played Molly the mail carrier in a season of early Sesame Street.
Planning your Muppet-inspired vacation – Go to Zanzibar to meet the Zanzibarbarians!
Rumor: Disney+ streaming service will include a Muppet series – We can has new Muppet Show plz?
Kermit is not a murderous coffee salesman – Wilkins is not Kermit, and he never will be!
Aretha Franklin passes away – The iconic singer once spent a little time with Kermit and Miss Piggy.
UN Secretary General Kofi Annan passes away – Annan appeared on Sesame Street, which I guess was part of his UN duties?
Bert and Ernie spoof Fresh Prince of Bel Air – Now this is a story all about how Bert and Ernie parodied a Will Smith song.
The Happytime Murders premieres – The Henson Company's grand return to the medium is murdered on arrival.
Celebrating the Fraggle Rock Happy Meal toys – The Fraggle vegetable cars are icons, and deserve more of our attention.
Jim Henson inducted into Banjo Hall of Fame – Is he the first Banjo Hall of Fame inductee who never played the banjo?
Muppet comic book artist Marie Severin passes away – The artist worked on Muppet Babies and Fraggle Rock comics in the 1980s.
September:
Happytime Murders polarizes Muppet fans – Politics did it first, but The Henson Company perfected it.
Cookie Monster appears in "No Small Matters" documentary – He agreed to do it because he thought it was called "No Small Batter".
Swedish Chef emoji added to Disney mobile game – Finally, a way to express all the emotions I have in mock Swedish.
Sesame Street gets a 50th anniversary logo – There's a lot going on in that 5 and that 0.
Are Bert and Ernie a couple? – Jeez, this question again.
Sesame Street songwriter Thad Mumford passes away – He wrote the classic "Ten Commandments of Health" and many, many more.
Celebrating Jim Henson's birthday without Muppets – We always celebrate Jim's birthday by watching Muppet stuff.  Here are some alternate ideas to ignore.
Dark Crystal Producer Gary Kurtz passes away – The producer also worked on the Star Wars films, which are considerably less important.
October:
Muppet Show guest star Charles Aznavour passes away – The French actor and singer crooned with Mildred in a season one episode.
Challenge yourself with Labyrinth puzzles – What is Labyrinth for if not inspiring complex puzzles and tests?
Cookie Monster gets spooky in Halloween video – He did the Nosh. He did the Cookie Monster Nosh.
Sesame Street composer Carol Hall passes away – Hall wrote classic songs like "True Blue Miracle" and "Women Can Be".
Henson Company's "Curious Creations of Christine McConnell" premieres – Come for the puppets, stay for the incredibly complex baked goods designs that no human could ever replicate.
Caroll Spinney announces retirement – The performer responsible for Big Bird, Oscar the Grouch, and our childhoods is taking a well-deserved break.
Five reasons why Caroll Spinney is the best – Only five?  How about five million?
"Can You Picture That" music video released – I can totally picture that now!
Ranking the terrible jokes in "Elmo Says BOO!" – The worst one: The video as a whole.
November:
Emmet Otter soundtrack released – For the first time ever, we can finally own Yancy Woodchuck's rendition of "Barbecue".
Sesame Street's "When You Wish Upon a Pickle" premieres – We wished for a funny Sesame Street special, and the pickle delivered!
Stan Lee passes away – The comics legend got Silly Stringed on Muppet Babies.
Robot Big Bird debuts – Okay, it's an animatronic for a theme park.  But still – robot Big Bird.
Muppet Show guest star Roy Clark passes away – The country music star appeared in a classic episode (as many versions of himself).
Movin' Right Along podcast completes The Muppet Movie – ToughPigs' own podcast covered every minute of The Muppet Movie, and if you haven't listened yet, you've got some homework to do.
Avoiding uncomfortable Thanksgiving topics with the Muppets – The Muppets can help with anything, even racist relatives.
What came first in Muppet history quiz – The article you're reading now might give a few of the answers away.
Sesame Street spoof Shark Tank – Grover, Bert, and Oscar have some terrible ideas. Let's give them money!
Sesame Street Records returns – The record label is reinstated, and we're hoping to hear some new old songs from the Sesame catalog!
The Witches director Nicholas Roeg passes away – The director was responsible for Jim Henson's adaptation of the classic Roald Dahl book.
Kermit the Frog appears on The Late Late Show – Who doesn't love seeing a frog on their couch?  Lots of people, probably.
December:
Ugly Muppet sweaters – We asked you to design some ugly Muppet sweaters, which turned out to be relatively natural. Muppets are basically sweaters already.
Kermit the Frog and the theory of layered reality – The Muppet Movie features Muppets watching The Muppet Movie. Just how deep does this chiasmus go?
Pepe appears at The Game Awards – It turns out he knows just as much about current video games than us.
Emmet Otter gets the lovefest it deserves – Finally, the rest of the world catches up to us.
Avenue Q closing – The Sesame Street spoof that spent years on and off Broadway is ending its run.
25 years of Jim Henson: The Works – The informative coffee table book celebrates a milestone – more important than any coffee table anyhow.
The Muppets appear on Carpool Karaoke – I mean, it was more "singing along with the radio" than karaoke, but whatever.
Kermit appears in stage show as Wizard of Oz – I hear he agreed to do it just so he could make an "It's not easy being green" joke in the Emerald City.
Revisiting John Denver and the Muppets: A Christmas Together – It still has the greatest version of "12 Days of Christmas" ever.  The only good one, actually.
Penny Marshall passes away – The sitcom star and film director worked with Big Bird a few times.
Kermit and James Corden sing "Rainbow Connection" on Late Late Show – It was part of a montage of famous musical moments, so of course they needed to reference the best movie musical of all time.
Revisiting the first Sesame Street Christmas album – It's ironic listening to "I Hate Christmas" when this album makes me love it so much.
2018 Year in Review – That's the article you're reading RIGHT NOW!  Does that count as breaking the fourth wall? (It does not.)
Thanks to all of our valued readers for sticking with us for the past year. And double thanks to all the amazing and talented writers, artists, and contributors who helped make 2018 another great year to be a Tough Pig!
Click here to be Muppet guys talking about Muppet Guys Talking on the ToughPigs forum!

by Joe Hennes – Joe@ToughPigs.com