The iconic hot air balloon that sat atop Walt Disney World's MuppetVision 3D attraction was once a beacon for Muppet fandom, bringing us toward the fantastic show and the hilarious Muppet theming around the area.  Where we used to see this: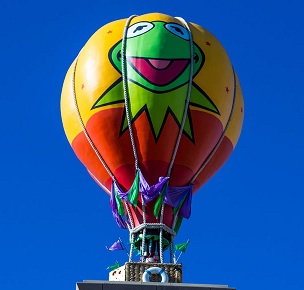 …now, it's gone for the seemingly lame reason that it could be visible from the upcoming Star Wars Land, thus taking park visitors out of the experience.  The fact that the balloon was taken down in January of 2017 was a blow to Muppet fans, but at least we had the hope that something else could take its place, or that the balloon would find a new home somewhere else.
We've learned that Walt Disney World is now selling limited edition vinyl pins that each contain a small piece of the balloon.  That's right, someone at Disney decided to take a sledgehammer to it and sell off the remains to collectors.
Most of me is livid at this decision, as it highlights the disrespect Disney has shown Muppet fans over the past few years.  Not only are they tearing down what little Muppet representation they have at the parks piece-by-piece, but now their attempting to profit off our fandom by selling us the leftover crumbs.
Part of me understands – it's unlikely that the hot air balloon could find a new home due to its size, and if something else would take its place, it would ideally be something a little more high tech and exciting.  Plus, this way we get to own a sliver of Muppet history.
But most of me is pissed.
Anyway.  If you want to own one of these pins, they're only available at Walt Disney World, however there are several websites out there that would gladly purchase one and ship it to you for a minimal fee.
Click here to deflate your balloon on the ToughPigs forum!
by Joe Hennes – Joe@ToughPigs.com