Muppet performer Warrick Brownlow-Pike is exactly the sort of person you'd like to see rise through the ranks of the Muppet world.  He's a lifelong fan, and genuinely one of the nicest guys ever, so it's a pleasure to see him join the Muppet troupe whenever they find themselves filming in his hometown of London.  And now his character Gonger, from The Furchester Hotel, has joined Cookie Monster for a Foodie Truck venture on the domestic Sesame Street.
(By the way, click here to revisit our hugely entertaining interview with Gonger!)
Seriously, this couldn't have happened to a nicer guy.
Warrick was also nice enough to join us for a Q&A about his history with the Muppets.  For more from Warrick, be sure to check out his website and Instagram.  Enjoy!
ToughPigs: Let's start at the beginning: We know you were a huge fan from the beginning; what sort of Muppet fan were you as a kid?
Warrick Brownlow-Pike: I first became aware of the Muppets when I was two years old, that's when I first saw The Muppet Show. It was the opening of The Muppet Show that really caught my imagination, seeing the curtains open to reveal all those amazing characters in the arches. It blew my two year old mind! I was mesmerized and have been ever since. Next I saw Fraggle Rock, and then Sesame Street and I just instantly loved all of the characters from all of those shows. I knew that I needed to work with them one day.
TP: How did you get into puppetry?
WBP: My parents first bought me puppets for Christmas when I was two or three years old. I got a Rabbit in a magician's hat and the Rowlf Fisher Price puppet. My Mum had marionettes around the house so we always played with puppets anyway. One Christmas my parents bought me a puppet theatre to perform in. Later on when I was probably about 7 or 8, they bought a video camera and hooked it up to the TV so that I could perform to songs and sketches and watch my performance back. Mum would take me all over the country to see puppets in museums or screenings of puppet movies. She always put in maximum effort and I'm forever grateful for that. So, I was a puppeteer at a very young age. I didn't start professionally until I was in my early twenties.
TP: How did you get involved with the Muppets?
WBP: I first worked with The Muppets on 'The X Factor', which is a UK TV talent show. I was Eric Jacobson's assistant with Miss Piggy. Miss Piggy was doing a musical number with a Pop Star called Olly Murs, he did a song called 'Dance With Me Tonight'. There were six penguin backup dancers, Fozzie was on a bass, Animal was on drums and Miss Piggy was singing a duet with Olly. I also assisted him with Fozzie and Animal for promo too. It was an amazing experience and completely blew my mind! After working with Eric on The X Factor, I began working with Kevin Clash and Elmo when they were in the UK. I would assist him on TV appearances and promo videos. We did a video outside Buckingham Palace for the 2012 London Olympics that year. That started a wonderful relationship with Elmo and later on I got to work with him on The Furchester Hotel for four seasons. I got to double up and perform him for a few episodes of the Furchester too, when Ryan Dillon had other commitments. It's been really lovely having Elmo come to England so often, all the while The Muppets were coming backwards and forwards. Recently I assisted Kermit and Matt Vogel for a UK Christmas advert, assisted on a fashion shoot with Kermit, Piggy, Scooter and Uncle Deadly, and a Vogue Paris shoot with Miss Piggy. Those were all very exciting! I assisted Leslie Carrarra-Rudolph with Abby Cadabby in the UK too at some point.
TP: What would you say is the coolest thing you've been able to do with the Muppets?
WBP: The coolest thing I've done with The Muppets was making Muppets Most Wanted. I was one of four UK puppeteers who worked on the entire movie, along with Louise Gold, Nigel Plaskitt and Mak Wilson. I got to double up for a lot for the main characters. I got to double for Fozzie Bear in the wide shot of the scene in the restaurant when the Muppets first meet Dominic Badguy. That was incredible.
TP: Let's talk about Muppets Most Wanted. What sorts of things did you get to do on that film?
WBP: I got to double up for lots of the lead characters. I think the only characters I didn't double up for were Kermit and Miss Piggy. When Constantine falls from The Muppet Show logo 'O', I got to perform Sweetums walking on-stage and dragging him off. I also did Constantine's moonwalking legs. I'm quite proud of those moments because I'm the only puppet character on shot at that point, which is quite exciting. I also got to perform Nigel the conductor down in the orchestra pit, and I've always loved Nigel ever since the Muppet Show days. I'm a big fan of the obscure characters. It was also pretty exciting getting to walk into the workshop at Pinewood Studios, because they brought EVERYBODY over, all of the Muppet characters. There were boxes upon boxes upon boxes, hundreds of boxes filled with Muppet characters. You could open a lid and see Droop, or Mean Mama, or twenty pigs or thirty frogs and Thog was always stood in the corner of the room! Everybody was there and that was kind of a dream come true for me.
TP: Speaking of Muppets Most Wanted, the other well-known British Muppet performer on that shoot was Louise Gold. What was it like working with a legend like her?
WBP: I always love working with Louise Gold. I've had the pleasure of working with her on many shows. I first met and worked with her on my own television series 'Ed and Oucho's Transmission Impossible'. She came down and we performed husband and wife termites. They were eating Ed and Oucho's blimp from the inside out. Since then we've also worked on 'The Furchester Hotel' together, we did Muppets Most Wanted and a whole load of other stuff together. It's a real pleasure being able to call one of your heroes a friend.
TP: You performed in "That Puppet Game Show", the Henson Company's short-lived TV game show. What did you get to do on that show?
WBP: For 'That Puppet Game Show' I was an Assistant Puppeteer on part of the series. We'd just finished up on MMW, and I needed to go back and tend to my own character Dodge the Dog who appears daily on CBeebies (the pre-school BBC channel). So I sadly couldn't put all of my time into 'That Puppet Game Show'. In the series I got to perform and voice a Hotdog, and I assisted on many characters. One of the great things about that show is that it was made in Studio D at Elstree Studios, which is the studio that they shot 'The Muppet Show' and 'The Tale of The Bunny Picnic' in. So there is a lot of Henson history in that room. I also worked on the pilot, which was called 'Games Inc.', I assisted all of the gang and doubled up for some of the characters. Boxes of Henson puppets from previous productions were bought over from LA. It was great to see puppets from Emmet Otter's Jugband Christmas, City Kids, The Animal Show and Secret Life of Toys up close.
TP: You're credited as the "Muppet Consultant" for the Palisades Toys line of Muppet action figures. How did that come about? What were your responsibilities?
WBP: I don't remember how that came about – it was about 15 years ago now. They would send me photos of the toys and I would say 'that doesn't look like the character' or 'maybe change this or that detail'. And then I'd draw changes where things needed to be tweaked to make the sculpt look more like the actual puppet. We'd help choose which version of the puppet the figures would be made from and come up with ideas for characters. Those ideas could be variants like a Superhero Scooter, an Invisible Fozzie or a purple tuxedo Gonzo.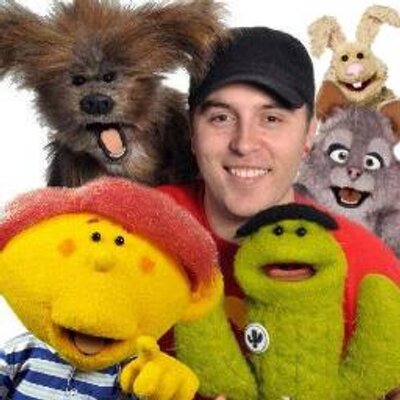 TP: In the UK, you've been providing a lot of puppetry for CBeebies – characters like Dodge T. Dog and Oucho the Cactus. How did the Muppets influence these characters and performances?
WBP: The Muppets have always been a definite influence on my own characters, which I perform on UK television. I've been performing my characters now for the last 10 years. I started with a character called Oucho the Cactus, he was a Cactinian (his made up language) speaking cactus. Without having watched the performers of The Muppets I just never would have known how to attack a character. One of my other character is Dodge the Dog, who I perform on the BBC Pre-school channel CBeebies. The channel has millions of viewers and Dodge goes out to them every day. I think he could hold his own with The Muppets, he's a pretty rough and ready dog. In fact he actually got to meet Kermit and Miss Piggy at the UK premier for 'The Muppets' film in 2012. He asked James Bobin if he could be a Muppet and James said he'd try and find him a spot. Dodge has worked with and met lots of celebrities; highlights for me have been meeting Adele and working with Will.I.Am!
TP: Dodge T. Dog got to meet the Queen. How cool (or terrible) was that??
WBP: When Dodge and his brother Hacker met The Queen, we were quite blasé about the whole affair until we heard her high-heeled shoes coming down the corridor. That absolutely petrified us! She came around the corner and we were completely terrified. We performed a little sketch that we'd written. We asked if one of her corgi's got ill, maybe we could take their place. We showed her that we had some lovely cucumber sandwiches for her and that we'd dressed up in our best bow ties. We even had a little doggy-sized handbag beside us. Myself and Hacker's puppeteer, Phil Fletcher got to stand up from behind the desk we were hidden under and meet The Queen. We were dressed in our tuxedos, and that clip actually aired on some main news bulletins worldwide, which was pretty cool.
TP: You've been performing Gonger on the Sesame Street spinoff The Furchester Hotel – Can you tell us a bit about who Gonger is, and how you helped develop the character?
WBP: Gonger was first performed by another puppeteer on the first shooting block of 'The Furchester Hotel', which was in 2014 and that was Series 1 and 2. I took over for series 3 and 4 which was the second shooting block in 2016. In his original form Gonger just gonged the gong to signify that it is teatime. I really wanted to move him on from that and develop his character. So we decided that he should be the hotel chef who worked in the kitchen, and he should be quite cantankerous. When I first saw the puppet, I knew that it looked like a Muppet from the 60s. Like one of those puppets that Jim would perform and play really wacky back on The Ed Sullivan Show or early TV appearances. So I thought he needed to have that way about him. He doesn't take any nonsense, he does what he wants, he says what he wants. You shouldn't upset him because he will blow his lid.
My back story for him is that he is basically feral. He was sat outside the Furchester hotel in the curb picking his feet. Cookie Monster was the chef at that time, and he was bored of the job. He wanted to find a replacement, so went out looking for one. He found Gonger sat on the curb and asked him "Can you cook?" Gonger nodded and said "uh huh". Now, Gonger would have nodded and said yes to anything – this was his lucky break! The rest is history!
When David Rudman was around on the Furchester and Cookie Monster and Gonger got together, everybody found it hilarious. And as we got to the end of the run of The Furchester, I decided we needed to keep the duo going. So I started to develop an idea for them, I thought maybe they could be delivery people who deliver food from The Furchester Hotel kitchen. That kind of moved on to the idea of Cookie Monster and Gonger having their own food truck, and they can serve food from the truck. I developed this idea with Carol-Lynn Parente, who was the Producer of 'The Furchester Hotel', and we wrote a 5-minute script. There was a food truck outside the studios where we were shooting in Manchester that was open at lunch time. So I asked the owner if I could use his truck for an hour and gave him some money and he gave me his van for an hour, and we shot a pilot with myself and David Rudman on iPhones, and that's what helped us sell the show. This idea then merged into what you see in Season 48 of Sesame Street which is 'Cookie Monster's Foodie Truck'. In it Cookie Monster and Gonger help kids find ingredients to make their meal, and along the way they learn about where their food comes from.
TP: What was it like bringing your signature Muppet character to Sesame Street? Were there any challenges fitting in with the domestic cast and crew?
WBP: There were absolutely no challenges fitting in with the domestic show. Everyone's lovely and so welcoming to me. We made a change, Gonger had spoken a made up language we called 'Monsterese' in The Furchester, but he now speaks broken English. He needed to do that in order to get the information across, and I really like that change. It was a dream come true for me to bring my character to Sesame Street, I mean that wasn't even on my bucket list it's too big a deal to even think about! I never imagined in a million years that I would have a character that I helped create be on Sesame Street. It's wonderful!
TP: What was it like to finally get to perform on the real Sesame Street?
WBP: We filmed Cookie Monster's Foodie Truck in two different ways. We had a real truck on Sesame Street for the establishing shots, and then we filmed the main bulk of the show in a set that was raised off the floor by about five feet. This way we could perform the puppets up above our heads. The raised set was built about ten feet away from the classic 123 stoop, so every time I looked up from the monitors I could see the doors of 123 right in front of me. It gave me chills every time I saw it!
TP: Finally, do you have any thoughts you'd like to relay to all the fans of your work out there in ToughPigsland?
WBP: The message I would like to get across to all everyone reading this is that you should always aim high and dream big! You can achieve your dreams, no matter where you come from or who you are. I've managed to tick off lots of my biggest dreams. Dream big!
Many thanks to Warrick for joining us for this Q&A!
Click here to learn Monsterese on the ToughPigs forum!
by Joe Hennes – Joe@ToughPigs.com