I don't know if you're aware of this, but 2018 marked the 25th anniversary of a very important event. That's right, friends – this was the year Ariana Grande turned 25! 
Of more specific interest to us Muppet nerds, 2018 also marked the 25th anniversary of the book Jim Henson: The Works by Christopher Finch.
I received The Works as a birthday present not long after its release, and it's not an exaggeration to say the book was the catalyst for me becoming a full-blown Muppet geek. I've liked the Muppets as long as I can remember, of course, but in 1993 I was like a lump of Muppet fan clay, just waiting to be sculpted into a beautiful, ornate Muppet-expert pot. And this book made me a pot. 
I recently revisited The Works, and had a great time flipping through its shiny pages all over again, absorbing its celebration of Jim Henson as an artist and a man. As soon as I opened it, I was struck by what an attractive book it is. Muppets are colorful and fun to look at, and The Works takes full advantage of that. There are so many great photos, both new and old, including lots of behind-the-scenes images. Those may be traumatizing to folks who prefer to think the Muppets are real, but it's like an all-you-can-eat buffet for those of us who love knowing how it all works. 
The group shot of Jim's characters early in the book is joyful with a hint of wistfulness. The two-page spread of Muppet merchandise is awe-inspiring, and leaves me sorely tempted to buy all of that stuff on eBay. The "Muppet Reality" spread, featuring puppeteers at work, makes Muppet performing look like non-stop fun. And this book was the first place I ever saw that lovely shot of Jim silhouetted in a window, gazing at a toy Bert puppet.
All these pretty pictures are complemented by Justine Strasberg's excellent design. In addition to the main text of the book, there are sidebars, character profile pages, song lyrics, and boxes full of info on individual projects, but it never feels crowded. It's often arranged in a playful way, like a scene in a Muppet production where the foreground, background, and middle-ground are all full of quirky characters. 
With so many eye-popping photos, The Works is essentially a coffee-table book, but it's also packed with more information than you can shake an arm rod at. There are so many things about Muppet history that I first learned from this book. Before I read it, I knew more about the Muppets than, say, my friends at school, or my siblings, or my cat. I knew about Jim Henson and Frank Oz, I knew Big Bird was performed by a person named Caroll Spinney who was either a man or a woman, and I had even heard of Sam and Friends. 
But as far as I can recall, I had no idea Rowlf was the first Muppet to be a national TV star. I had no idea that one of the core elements of Muppet design was called the "magic triangle." I had no idea the Muppets had done hundreds of commercials in order to pay the bills in the early days. I had no idea the second Muppet Show pilot was called Sex and Violence. And I had no idea what a "Tinkerdee" was. 
The Works taught me all of this stuff. It's the perfect gateway to Muppet fandom, providing a chronological narrative of Jim Henson's career, and hitting all the major highlights (like everyone's favorite, Sesame Street) and many of the minor points of interest (like Cyclia, a thing no one has ever heard of) along the way.
There's the story of The Muppet Show's early struggle for guest stars, and how booking Rudolf Nureyev proved to be a turning point – or a plié point, as it were. There's the ongoing development of the Henson team's technical ambitions, from Emmet Otter's Jug-Band Christmas with its elaborate sets and radio-controlled critters to The Dark Crystal with its unprecedented animatronic cast, and beyond. And the final pages are full of optimism, discussing then-new projects like Dinosaurs, The Muppet Christmas Carol, and the Dog City cartoon. Finch also maintains a great sense of continuity, pointing out recurring themes throughout Jim's career, like artificial worlds, characters putting on a show, and of course monsters.
These days, all this stuff is permanently tattooed on our Muppet fan brains, but a lot of it really was a thrill to learn about for a budding Muppet fan in 1993. And through it all, Christopher Finch has a knack for explaining technical and semi-technical matters in a way that's easy to understand. There's some good stuff about and how remote-control puppets work, and a basic summary of how Muppets ride bicycles. And I never tested this, but I'm pretty sure even my aforementioned cat could have grasped Finch's explanation of how Muppet performers work with a monitor. 
While re-reading The Works, I also marveled at the number of old, lesser-known Henson projects Finch mentions that we've now been able to experience. When I read about these old productions and appearances in 1993, I could imagine what they were like, but I never assumed I'd actually see them someday. But thanks to the hard work of the Jim Henson Legacy, the rise of DVD bonus features, the advent of streaming video, and the existence of friendly fellow fans, I can now say I've seen the Southern Bread Colonel and the La Choy Dragon, Tales of the Tinkerdee, Time Piece, The Cube, and even some of the film footage from Cyclia. 
And the Sesame Street presentation reel ("How about The 2 and 2 Ain't 5 Show?"), The Muppets' Valentine Special, The Muppet Show: Sex and Violence, all the Saturday Night Live "Land of Gorch" sketches, the Puppetman pilot, and the Tonight Show episode hosted by Kermit. 
And one of these days I'm going to take the NBC studio tour in NYC again and see those Muppet pipes in person. 
If only I could tell my 1990s self that someday he would get to see all these things! I wonder if he would even believe it. From this perspective, The Works is like a preview of coming attractions for a Muppet devotee. Or like a condensed version of an epic novel. Or like one of those capsules that you put in the sink and it dissolves and turns into a dinosaur-shaped sponge. 
And yet, for all the Henson projects documented in The Works that we've been lucky enough to see, there are still a handful that are more elusive. Will I ever see the Mad Mad World TV special, or the original Cinderella TV series pilot that eventually morphed into Hey, Cinderella? Or something called An American Portrait? Or the Muppet Meeting films, or even full episodes of The Ghost of Faffner Hall?
At one point, Jerry Juhl is quoted speaking about brainstorming with Jim in the early days about "movie ideas" and "treatments for a number of things." A number of things, eh? All these years later, after experiencing versions of old Jim Henson concepts like Tale of Sand and Turkey Hollow, could there be more never-completed works that we still don't even know about? 
Among all those exciting descriptions of TV series, movies, and specials, perhaps the most valuable gift of The Works in 1993 was the opportunity to get to know the people who helped Jim make them. In addition to quoting Jim's collaborators throughout the text, the book is generously seasoned with sidebar profiles of puppeteers, puppet builders, writers, and composers. 
There's an affectionate remembrance of puppet builder Don Sahlin and his penchant for practical jokes. There's a hilarious anecdote about producer Duncan Kentworthy conspiring with Jim to convince Frank Oz that Jim was considering building creatures for a "sex film." Marty Robinson fondly recalls Jim's words of encouragement, Kevin Clash tells of accidentally criticizing the boss's performance, Dave Goelz reminisces about a time the performers got punch-drunk in the recording studio, and David Lazer talks about the time Frank Oz pretended to be drunk-drunk at an awards ceremony. 
In 1993, I was only vaguely aware of some of these people, and I had never even heard of many of them. Taken together, the input from all the Muppet folks paints a wonderful picture of what it was like to work for and with Jim Henson. Jim Henson: The Works is a great title, but Jim Henson: The Man and His Very Talented Colleagues would have been just as accurate. 
I could go on and on. Really, it's like there are multiple different books all contained in this one volume – show business history, biography, behind-the-scenes facts, and of course, glamorous photographs of Miss Piggy. I sure am glad this book has existed for the last 25 years.
Miscellaneous Observations: 
-In a book written in 1993, Elmo is described as "very popular" and later "immensely popular." Three whole years before Tickle Me Elmo! 
-One of the three introductions is by Frank Oz, who notes "…Jim was no workaholic." Which sounds wrong, because the text that follows certainly makes Jim seem like a workaholic. But as Frank goes on to say, it was all because Jim wanted to "do good stuff." 
-Jane Henson is quoted as saying the word Muppet is a combination of marionette & puppet, but Finch also notes that Jim later said he liked the sound of the word. So that should take care of that!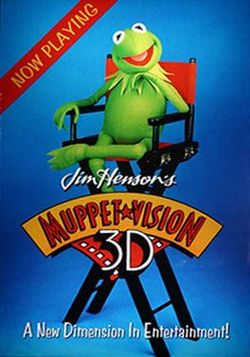 -When Jim died before Muppet-Vision 3-D opened, Finch says Disney and the Hensons decided that the film would find "a temporary home" at Walt Disney World. Does this mean the Henson people considered taking it somewhere else? Whatever happens with the attraction in the future, 27 years is a pretty good "temporary" run!
-Finch opts not to include anything about the critical reception and box office for The Dark Crystal and Labyrinth, focusing only on the technical and creative achievements of the films. This probably played a big part in my longtime assumption that Crystal performed as poorly as Labyrinth did, when in fact the Skeksis fared considerably better than the goblins. 
Click here to get punch-drunk on the Tough Pigs forum!
by Ryan Roe – Ryan@ToughPigs.com