Was it possible that 2021 was somehow more chaotic than 2020? Vaccinations, insurrections, other words than end with 'tion' presumably. It was a massive year for us here at ToughPigs too, as we not only merged with The Muppet Mindset but launched several podcasts and celebrated 20 years of the site!
It was a year for The Muppets too, with Muppets Haunted Mansion being released, The Muppet Show finally debuting on Disney+, Dinosaurs launching there too, the new Fraggle Rock getting a trailer, and Sesame Street introducing some new diverse Muppets.
So let's go through month by month, article by article, word by word, letter by lett– sorry, I'm being advised that that's too much, and to stick with month by month. Pfft, fine, but don't blame me if you miss the letter Q in that article from September.
January:
Kermit and Fozzie Move Right Along to 2021 – Impressive camera tricks made a road trip via Zoom seamless.
Yes, Muppet Continuity Exists, and I Hate It – Muppet continuity is a real thing that exists, yet it's confusing and unnecessary.
QUIZ: Do You Know Every Muppet? – Oh, you like Muppets, huh? Quick, name them all.
ToughPigs Art: Muppet Joy with James Carroll – Need a break from the real world? James Carroll has some terrific Muppet art to distract you!
RIP Muppet Designer Caroly Wilcox – RIP to Muppet builder and designer Caroly Wilcox, who designed the original Elmo.
No, We Don't Need a Muppet Great Gatsby – Everyone went nuts about a silly, but unnecessary, Muppet Great Gatsby idea.
The Muppet Show Is Coming to Disney+ – If you haven't watched it all by now, are you even a true fan?
Let's Talka Talka About "Wocka Wocka" – Does Fozzie Bear have the best catchphrase in comedy?
The Muppet Show: Take a Chance on the Crap – WithThe Muppet Show on Disney+, don't pass on the episodes that you're tempted to skip.
5 Reasons to Get Excited about Dinosaurs – The classic Henson series is on Disney+! And we've got some good reasons for why you need to check it out.
February:
Muppets in Progress: A Guide to Revisiting Season 1 of The Muppet Show – The first season of The Muppet Show is a bit shaky, but still required viewing.
ToughPigs Art: Toffe Creates Beautiful Miss Piggies – Toffe returns with more incredible Muppet fan art, including some of the most gorgeous images of Miss Piggy you'll ever see.
Sesame Street and DoorDash Team Up for Super Bowl Ads – Daveed Diggs, Cookie Monster, Big Bird, and Grover team up for a series of commercials for DoorDash!
How to Watch the Muppets Working with Guest Stars RIGHT NOW – Now it's dated, but The Muppet Show wasn't going to be on Disney+ until February 19 so we had ways you could watch the Muppets work with their guest stars before that!
Sesame Street and the DoorDash Dilemma – Should the Sesame Street Muppets appear in commercials? Is DoorDash a good choice for them?
The Top 10 Muppet Show Episodes: Our Definitive List – What are the 10 best episodes of The Muppet Show? We're gonna tell you!
Watch D23's Muppet Treasure Island Celebration – The cast of Muppet Treasure Island reunites for a chat in honor of its 25th anniversary!
Kermit the Frog Is a Jerk Sometimes: The Muppet Show's Awful Truth – When you watch The Muppet Show, you may be shocked to find that Kermit can be a real meanie.
The Muppet Show Edits Revealed – The Muppet Show episodes will be unedited, but a few episodes will be missing at the Disney+ launch.
The Muppet Show is Now on Disney+ – Surely this isn't news to you anymore.
Let's Talk About Those Muppet Show Edits – Could it be a GOOD thing that there are missing segments and episodes from The Muppet Show on Disney+??
RIP Muppet Show Director Peter Harris – Peter Harris, director of many classic Muppet productions, passed away.
Interview: Muppet Show Chat with Muppet Performer Dave Goelz – We're chatting with Dave Goelz about his most famous Muppet characters, insulting Frank Oz, and carrying on Jim Henson's legacy!
Have the Muppets Been Cancelled? – No, the Muppets have not been cancelled. Jeez.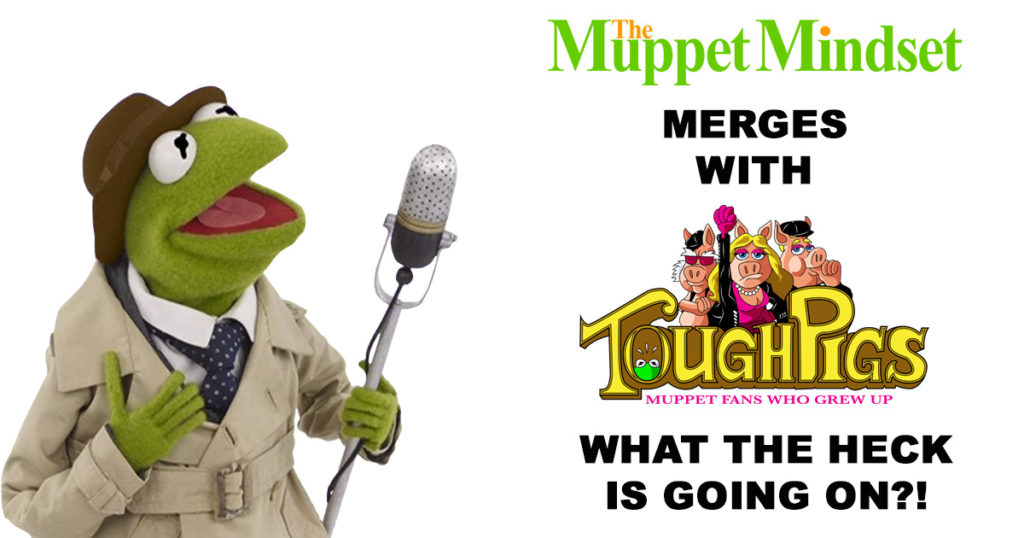 March:
A Disney+ Muppet Wish List: Part One – Getting "The Muppet Show" on Disney+ is a big win for Muppet fans. But, of course, we want more.
A Disney+ Muppet Wish List: Part Two – We're back with the second half of our Wish List, including some very special specials!
ToughPigs Art: Muppet Love and Crossovers with Mel – Muppet fan artist Mel shares her lovely illustrations and a pair of custom-made Muppet-inspired shoes!
Jenny, Mary, Nadia, and Lady Holiday – Some of the human women featured in Muppet movies are great, but others… need work. Here's what Mary and Nadia can learn from Jenny and Lady Holiday!
ToughPigs Review: Shin-Cookiezilla! – Run for your lives! We're unboxing the massive Shin-Cookiezilla statue!
Latest Masked Singer Reveal is… A Muppet! – Big spoilers ahead for The Masked Singer (from, like, March)
Miss Piggy vs. "Cancel Culture" – Some say Miss Piggy is as bad as Pepe Le Pew, but there's much more to the pig than the skunk.
ToughPigs Art: James Carroll's Female Muppet Performer Tribute – Muppet fan artist pays tribute to the characters of Julianne Buescher, Louise Gold, and Karen Prell!
RIP Muppet Movie Cinematographer Isidore Mankofsky – Isidore Mankofsky, Director of Photography for The Muppet Movie and Muppet*Vision 3D, passed away.
Interview: Unmasking the Masked Singer with Matt Vogel – We're chatting with Muppet performer Matt Vogel all about Kermit's big reveal on The Masked Singer!
BIG NEWS: The Muppet Mindset Merges with Tough Pigs! – ToughPigs and Muppet Mindset joined forces to bring YOU a better Muppet fan experience!
Sam & Friends Book Cover Revealed – Take a peek at the cover of Craig Shemin's upcoming Sam & Friends book!
ToughPigs Has a Patreon! – Help support ToughPigs while earning sweet rewards!
The More Things Change… – Just a few thoughts about some of the changes ToughPigs has gone through. For example, "WHY??"
Sesame Street Introduces Two New Black Muppets – Meet Wes and Elijah!
Kermit's Signature Song Joins the Library of Congress – You'll never guess what Muppet song is being preserved by the Library of Congress!
Gonzo the Great: Nonbinary Icon – Gonzo has been adopted as an icon for the nonbinary community, and it makes a whole lot of sense.
RIP Dinosaurs Star Jessica Walter – Arrested Development star Jessica Walter – who also starred on the Henson series Dinosaurs – passed away.
Kermit Teaches Adidas How to Be Green – Kermit stars in a new ad for Adidas, complete with a strong message about being green.
Fixing the Muppets' Female Representation Problems in 3 Easy Steps – It's past time for the Muppets to do better by their female characters and performers.
April:
April Fools: #ReleaseTheToughPigsCut – For April Fool's Day, we're demanding the release of a bunch of director's cuts from Muppet productions that don't exist!
Rosita's Wings Are Back! – Rosita is a winged creature once again!
Muppet Cupcakes – A 'Fill In The Blank' Response – Sick of your friends and family sending you the image of Muppet cupcakes?? Use this pre-set letter as a response!
Ted Lasso Declares the Muppets as Greatest Ensemble of All Time – The cast of Ted Lasso pays homage to the Muppets!
Autism and the Muppets: Seeing Yourself in the Frog – A neurodivergent Muppet fan explains the Autism traits she sees in some of her favorite Muppet characters.
The Original Muppet*Vision 3D: The Muppet View-Master – Check out the incredible retro Muppet photos from their old View-Master reels!
ToughPigs Spoofs the Oscars: Om-Nom-Nomadland, The Fozzer & MORE! – We're continuing our annual tradition of making ridiculous Muppet spoofs for Oscar-nominated films!
ToughPigs Art: Big Eyes With Erin Hunting – Artist Erin Hunting returns with even MORE Muppet and Sesame Street illustrations, with even BIGGER eyes!
WATCH THIS: The Ghost of Paul Revere Homages The Muppet Movie – The band's new music video homages "Movin' Right Along"!
Big Bird Returns to the Metropolitan Museum of Art – An art piece featuring Big Bird sat on top of the Met in NYC for most of the year!
Kermit Is Talking to Me on My COMPUTER?! Celebrating the Original Muppet CD-ROM – It's been 25 years since we got one of the best-ever Muppet video games.
The Other Oscars 2021 – It's our annual tradition of predicting Academy Award winners based on the utmost important criteria: Muppet connections!
To Introduce Our Guest Star #1: Emilio Delgado – We launched the podcast 'To Introduce Our Guest Star', where Joe and Jarrod surprise each other with guests.
Jim Henson Biopic in the Works from Disney & Henson Co. – It's called Muppet Man.
No Thanks, I Don't Want a Jim Henson Movie – There's one thing I'd like more than a Jim Henson biopic: No Jim Henson biopic.
Movin' Right Along BONUS: Secret Origins of Muppet Babies with Michael Frith – We're talking about the breakout stars of The Muppets Take Manhattan, the Muppet Babies — with very EXTREMELY special guest Michael Frith, who created the concept of Muppet Babies and executive-produced their animated series!
REVIEW: "Sesame Street: 50 Years of Sunny Days" – See how Sesame Street is meeting today's challenges in this documentary special!
May:
Interview: Talking STREET GANG with Producers Ellen and Trevor Crafts – Watch our video chat with the Street Gang producers and learn about the origins of the documentary about Sesame Street's origins!
The Making of Teeny Little Super Guy – Animator Tom Sloan walks us through how the Sesame Street animations were made!
REVIEW: "Street Gang: How We Got To Sesame Street" – 'Street Gang' takes a dive into the early days of Sesame Street with insightful interviews and, best of all, a tonne of bloopers!
"Muppets Haunted Mansion" Special Coming This Fall – WHAAAAAAAAAT? Did this come out yet? It did? In October? Oh yeah.
Don't Make "The Muppet Show" Again, Make This Show Instead – If there's ever a new Muppet TV series, it should draw on the best elements of ALL the previous ones.
A Brief History of Muppet Haunted Houses – The Muppets headed to The Haunted Mansion – but this is far from their first time visiting haunted houses.
SNL Hires Security for The Muppet Show – Saturday Night Live introduces us to The Muppet Show's new security guards!
No, the REAL Muppets Weren't on SNL Last Week – We're helping you learn the difference between real Muppets and fake Muppets on Saturday Night Live.
RIP Great Muppet Caper Star Charles Grodin – Remembering Charles Grodin, star of The Great Muppet Caper and The Muppets at Walt Disney World.
ToughPigs Art: The Muppet Fan Art of Starman – Muppet fan artist Starman takes us on a tour of his incredible Muppet illustrations!
A Great Muppet Mystery Solved: Who Dubbed Nicky Holiday's Singing Voice – His voice was DUBBED! And now we might know just who did it!
ToughPigs Art: The Many Kermits of Dave Hulteen – Muppet fan artist Dave Hulteen shares his latest batch of frogs, bears, monsters, and whatevers!
The Muppets and Suspension of Disbelief – Why do we believe that the Muppets actually exist in the real world? The answer is simple: SCIENCE!
June:
ToughPigs Art: The Mayhem of HelloHollyStudios – Fan artist HelloHollyStudios shows off her adorable Muppet Mayhem pieces from her Instagram challenge!
Sesame and Headspace Launch New "Sleepcast" – Headspace Studios and Sesame Workshop bring you the "Goodnight, World!" sleepcast.
Barbra Streisand Duets with Kermit the Frog on New Album – Barbra and Kermit joined forces for "Rainbow Connection"!
Muppet Showdown: Covers V Originals – The Muppets have covered a lot of songs, but are they better than the originals?
These Muppet Movie Villains Need Origin Films – Muppet fans DEMAND origin stories for Doc Hopper, Constantine, and all the other Muppet movie villains!
The Muppet Show: 40 Years Later – Season 5 in Review – The ToughPigs team gathers for a special discussion about the 5th and final season of The Muppet Show!
Fozzie's Hat Is a Neat Hat, I Think – Here are some things Ryan's been thinking about Fozzie's hat.
Big Bird Flies on the Met Museum Roof – Your ToughPigs pals visited the roof of the Met to see the giant Big Bird exhibit.
Miss Piggy's Sure Had A Lot Of Hair Styles – The beginning of Fluff Friday's, Jarrod's finest legacy.
QUIZ: Can You Match the Muppet Show Muppets to Their First Lines of Dialogue? – Can you match each Muppet Show character with the first line they spoke onscreen?
The LGBT+ History of Sesame Street – A recent episode of Sesame Street introduced the show's first LGBT+ characters. But what else have they done in the past 50 years?
ToughPigs Art: The Muppet Plushies of Emily Engel – Artist Emily Engel shares her incredible custom-made Muppet plush toys, including, Janice, Floyd, Yolanda, and Sweetums!
The Lovers, the Dreamers, and AutoTune: Kermit's "Duet" with Barbra Streisand Is Bad – Two talented singers, two 42-year-old recordings of a great song. One regrettable fake duet.
Watch Miss Piggy Outclass the Queens of Drag Race – Miss Piggy was a guest judge on RuPaul's Drag Race!
Trust Me: The Muppets' Forgotten Catchphrase – I know what the Muppets' secret catch phrase is. Trust me.
July:
Elmo Gets a New Puppy and Animated Special – Introducing Tango, Elmo's new puppy dog!
Animate The Jim Henson Biopic – There's some division about a potential Jim Henson biopic. But could all the issues be resolved by making it animated?
Sesame Street: Part of a Balanced Breakfast – Sesame Street has two new varieties of breakfast cereal! Watch us eat them!
Did Zach Braff Swear At Elmo? – Turns out he swore IN FRONT of Elmo, not AT him. Even Zach Braff shared this article!
2021 Daytime Emmy Winners – And the winners are…
Does Kermit? – The time has come to answer that question that has baffled mankind through the ages, namely; Does Kermit? The answer is… Complicated!
New Podcast! ToughPigs at 20 Episode #1 – Danny Horn – We're celebrating ToughPigs' 20th anniversary with a new podcast all about US!
Fluff Fridays: Imagine If Sesame Characters Sang Bo Burnham's 'Inside' Songs – Imagine if the Sesame characters sang the songs from Bo Burnham's 'Inside'. Who might sing what? How many songs will Telly sing?
Gonzo and the Dress – Let's celebrate Baby Gonzo's choice to wear a dress in an episode of Muppet Babies!
EXCLUSIVE: Muppets Studio Gets New Logo – Plus a Q&A with Muppets Studio VP Leigh Slaughter!
August:
Understanding Pepe the King Prawn – What do "regular" people think of Pepe? We've done some extensive research to find out.
Why Kermit? – First we wondered Does Kermit? Now we're wondering Why Kermit? Why Kermit meme? Why Kermit green? Why are we doing this again?
The Official Ranking of The Muppet Movie Posters – There are a dozen different posters for The Muppet Movie! Let's rank 'em!
First Look at Muppets Haunted Mansion, Kermit & Piggy's Twinning Costumes – Check out two new images from the Muppets' (then) upcoming Halloween special!
Where Did They Go? Muppet Show Edition – There are a lot of Muppets who showed up in the early seasons of The Muppet Show, but rarely afterward. What happened to them?
ToughPigs.com Is 20 Years Old! – It was our anniversary! WOO!
Welcome to the New ToughPigs.com! – We redesigned the site! Look! Look at it!
Presenting The Great Muppet Mural! – 75 artists. 274 Muppets. 20 years in the making.
September:
Muppets Haunted Mansion Updates – The (then) latest developments about "Muppets Haunted Mansion!"
The Book I Never Wrote: The Secret Origins of Tough Pigs – Tough Pigs founder Danny Horn gives us a peek at the project that inspired the website: A book that would have been WAY ahead of its time!
Roundtable: ToughPigs' Writers Compliment Each Other – To celebrate our 20th anniversary, our writers have gathered together to discuss each other's favorite articles from over the years!
Jim Henson's UK Home Honored with Plaque – Then Rowlf was on the BBC because it stands for Bark Bark Canine.
More Muppets Haunted Mansion Details Emerge – Get the plot, first video, and more details about Muppets Haunted Mansion! (Or just watch it, because this was before it was on)
ToughPigs' 20th Anniversary: A Word from Our Owners – ToughPigs' owners look back on the horrible ramifications that come with celebrating our 20th anniversary.
Jim Henson Doodles Become Pins – The Little Shop of Pins brings us pins based on Jim's old drawings!
ToughPigs is Selling T-Shirts! – You can still buy them! What does 'I'm Broccoli' mean? Not telling.
Get Driving Directions from a Fraggle – Red Fraggle will be able to narrate your directions on the Waze app!
The Muppets vs. Manhattan – We reveal the TRUE villain of The Muppets Take Manhattan. And it's right there in the title.
Muppets Haunted Mansion's Marketing Is Spooking Me – The marketing for Muppets Haunted Mansion seems to be the spookiest thing about it. Should they be spoiling so many cameos? It's almost frightening!
REVIEW: Sesame Street's "Furry Friends Forever: Elmo Gets a Puppy" – Yes, Elmo does get a puppy, but there's a lot of other stuff that happens too!
Sesame Street's Old West Sketches Are the Best Westerns Ever Made – Sesame Street's Old West sketches were the first Westerns Ryan ever saw. And they're still the best.
Getting Up Close and Personal with Some Puppets of New York – Join us for a look at the new Puppets of New York exhibit at the Museum of the City of New York!
WATCH: Muppets Haunted Mansion Trailer! – Or just watch the whole thing on Disney+ now!
Hey, It's Jim Henson's 85th Birthday! – Today marks Jim Henson's 85th birthday. If he was still around, what might Alternate Timeline Jim be up to? We went to the multi-verse to find out.
ToughPigs Presents: Our Fall Vocational Training – Enrol now in the ToughPigs Institute of Vocational Training, filled with every type of correspondence course you could possibly imagine!
Animal Appears in GEICO Commercial – Animal is the star of the newest GEICO ad!
The Muppet Show Season 5: Who's the Most Valuable Muppet of All? – Is the most valuable Muppet of season five a frog, a bear, or a pig? Or could it be a gnu? PLUS: the Best Jokes, Lamest Jokes, and Adultiest Content from the whole season!
RIP Sesame Music Director Mike Renzi – Former Music Director and composer for Sesame Street Mike Renzi passed away.
October:
Crazy Theory: The Muppet Theater is a Fraggle Hole – The Muppet Show's theater and Fraggle Rock are both magical. But are they the SAME kind of magic??
Muppets Haunted Mansion: A NOT-TOO-SPOILERY Review – Read our take without the spoilers now!
INTERVIEW: Talking Muppets Haunted Mansion with Miss Piggy – We're chatting with the one and only Miss Piggy!
INTERVIEW: Talking Muppets Haunted Mansion with Gonzo and Pepe – We're chatting with the stars of Muppets Haunted Mansion, Gonzo and Pepe about stunts, slang, and impressions!
AppleTV+ Adds Three Fraggle Specials – AppleTV+ now has more Fraggle Rock content!
Muppets Haunted Mansion: A SPOILERY Review – After you read the non-spoilery review, read the spoilery review.
Muppets Haunted Mansion: (Almost) Every Easter Egg – We're listing out every easter egg we can find in the new Muppet Halloween special!
ToughPigs at NYCC 2021 – It's our annual roundup of all the Muppet-related cosplay, merchandise, and news coming out of New York Comic Con!
Muppets vs. Haunted Mansion – Does Muppets Haunted Mansion work if you're not familiar with The Haunted Mansion? Two ToughPigs writers investigate.
Time Piece and More Come to Kanopy – Jim Henson's short film "Time Piece," and other Henson-y things are now streaming on Kanopy.
An Interview with Kirk Thatcher – Muppets Haunted Mansion Writer/Director – We sat down with Kirk Thatcher to discuss his 30 year journey to get Muppets Haunted Mansion made, plus Gonzo and Pepe as a duo, the return of Johnny and Sal, and so much more!
Muppets Haunted Mansion is Just Muppet Treasure Island, Don't @ Me – They're basically the same movie, aside from the multitude of ways they're not.
Zoot is "Mr. Blue Sky" – Watch the Electric Mayhem's rendition of the Electric Light Orchestra hit!
Haunted by the Ghost of Faffner Hall, Part 1 of 2 – Talkin' about that forgotten Henson series, Ghost of Faffner Hall! (Maybe "forgotten" is for the best.) – Read Part 2 here.
Two Things About Muppets Haunted Mansion: Your Opinions – Part 1 – Our readers had a LOT to say about Muppets Haunted Mansion. Read Part 2 here.
ToughPigs Halloween Parade 2021! – See all the best Muppet, Sesame, and Henson-inspired costumes from the past year, just in time for Halloween!
Coming Soon: The Labyrinth Bestiary – A new book focusing on the creatures of Labyrinth is coming next summer!
Ohio State Marching Band's Halftime Sesame Street Celebration – Watch OSU's incredible Sesame-themed halftime performance!
November:
REVIEW – Fraggle Rock: The Ultimate Visual History – The incredible Fraggle Rock book is finally here! Find out what we think of it.
ToughPigs Art: Starman's Spooky Muptober – Muppet fan artist Starman returns with a month's worth of Muppet Haunted Mansion illustrations!
Watch Miss Piggy Find a Crazy Little Thing Called Love – Watch Piggy's number from the Queen Family Singalong!
The Oral History of Mo Frackle – In honor of the obscure Muppet's 20th anniversary, interviews with the creative talent behind him!
Let's Address Matt Vogel's Kermit – Everyone was super chill about this.
NEW PODCAST! Hubba-Wha?! – A Muppet Game Show – It's your new favorite Muppet-themed game show! This week's theme: The Muppets Take Manhattan!
The Muppets' Christmas Caroling Coach Arrives at Disneyland – The Muppets Christmas Caroling Coach has come to Disney Merriest Nights at Disneyland!
What's In Gonzo's Nose? – Let us probosculate upon the actual contents of Gonzo's nose.
Meet Ji-Young, Sesame's First Asian-American Muppet – The newest Muppet will debut in "See Us Coming Together: A Sesame Street Special".
Fraggle Rock Gets New Teaser, Release Date – The Apple TV series will debut January 21st!
Muppet Christmas Carol Soundtrack Reissued on Vinyl – The perfect soundtrack to Muppet Christmas Carol is being re-released on vinyl!
Ranking 2021's Muppet Scandals – 2021 has had a few big Muppet scandal stories, from Gonzo in a dress to Big Bird getting the vaccine. So let's rank them all on a Ridiculousness Scale.
ToughPigs Art: More Muppetational Art by Andy Bennett – Artist Andy Bennett returns for another incredible batch of Muppet illustrations!
Watch Kermit Crash Destination D23 – Kermit presents outtakes from Muppets Haunted Mansion!
The Good, the Bad and the Muppets – A recent social media meme suggested that all the Muppets are bad at their jobs. But is that really true?
The Great Muppet Thanksgiving Potluck – Imagining what the Muppets will be bringing to their inevitable holiday dinner. Happy Thanksgiving, gang!
Stephen Sondheim: Finishing the Hat with the Muppets – Remembering Stephen Sondheim by revisiting the Muppets' covers of his songs.
SesAIme Street – Today's post is bought to you by the letters A and I – We've put a bunch of Sesame characters into an AI generator to see what happens. How many can you guess?
December:
REVIEW: Muppet Christmas Carol Soundtrack Re-Release – Watch our video review of the new Muppet Christmas Carol vinyl soundtrack!
Movin' Right Along MFC01: Haul Out the Holly – We're actually doing this! We're talking about A Muppet Family Christmas TWO MINUTES AT A TIME! Today the Muppets drive a pickup truck to Ma Bear's house while Ma prepares to leave for Malibu.
Henson Company to Sell Labyrinth NFTs – The Henson Company is getting into the NFT game – Yikes.
QUIZ: Name the Muppets Haunted Mansion Ghosts! – Can you name all the g-g-g-g-ghosts???
Labyrinth NFTs: The Henson Company's Worst Decision – What's an NFT? And why do we hate the fact that the Jim Henson Company is selling them?
Borklyn Nine Nine – It's toit. It's smort. It's Muppetational. It's Borklyn Nine Nine.
REVIEW: Steph Curry's Sesame Street Shoes – Steph Curry and Under Armour have a new line of Sesame-inspired shoes!
Miss Piggy Knows How to Make an Entrance – Miss Piggy is known for her epic entrances. Or is she??
Muppet Christmas Carol and the Case of the Missing Arm Rods – The Muppet Christmas Carol on Disney+ has digitally removed arm rods. But, like, why though?
Donate and Help Restore Fozzie Bear's Studebaker – Help the Studebaker museum restore and preserve Fozzie's car!
FrAIggle Rock – Dance your cares away with these interesting and frankly terrifying AI renditions of your favorite Fraggle friends!
Eight Muppet Show Episodes to Watch This Christmas – There are no holiday episodes of The Muppet Show – so watch these this Christmas instead!
It's STILL Mr. Willowby's Christmas Tree – A Muppet fan and a newbie watch the divisive holiday special starring Robert Downey Jr.! But is it… good?
In Defense of the Riverbottom Nightmare Band – Although they may be jerks, the Riverbottom boys from Emmet Otter's Jug Band Christmas aren't so bad.
A Green and Red Debate – 2021 marks the fifteenth anniversary of "A Green and Red Christmas." But is this album naughty or nice?
ToughPigs Roundtable: Emmet Otter Stage Show – The ToughPigs team has an opinion or two about the Emmet Otter musical, now available to watch on-demand!
Click here to be horrified of Old Gonzo again on the ToughPigs forum!