Have you ever wondered what it would be like if James Coburn shared the screen with the Muppets? Sure, we all have! And if you're anxiously awaiting The Muppet Show on Disney+, having never seen any episodes of season 5 since it wasn't released on DVD, you may scream into your pillow at night, "When? When will I finally see James Coburn yukkin' it up with Kermit the Frog?!" Well, "when" no more!
While we have to wait until February 19th for all 5 seasons of the Muppet Show to premiere (Hey, that's my brother's birthday! Happy Birthday, Tony, I got you The Muppet Show on Disney +!), I thought it might be fun to give you a little sneak peek into how some of the 1970s' and 1980s' biggest stars will do when they put their acting chops to the test, going toe-to-flipper with Mr. The Frog himself. And because no one has time nowadays to watch a whole movie, timestamps for their appearances have been provided. Here are some places where you can see a few of The Muppet Show guest stars starring as guests in Muppet movies, right now on Disney+!
The Muppet Movie
The Muppets' first foray into cinema was of course the aptly titled The Muppet Movie, and it was a star-studded spectacular. Many of the celebrity cameos in this film had already appeared on The Muppet Show, but if your Muppets knowledge only extends to what's available on Disney+, you may not have seen those appearances. So if you want a glimpse, check out the following timestamps to see scenes between the Muppets and …
Dom DeLuise (00:07:43) – Dom DeLuise floats on in as Bernie the agent, hamming it up as only Dom can – A DOMineering appearance by an inDOMitable comedian. (Sorry, that was a Dom joke.) And fun fact: He's inadvertently giving a taste of how he'll be prepared as a ham for the Swedish Chef on The Muppet Show.
James Coburn (00:11:46) – James Coburn, Mr. Tough Guy himself, is thrown out like trash – from his own club, no less! And soon, you'll be able to see him take his frustrations out on a chair with Animal on The Muppet Show. And the world will be all the better for it.
Madeline Kahn (00:12:44) – Kahn you believe it?! Madeline Kahn shows up flirting with Kermit to make her boyfriend Telly Savalas jealous. But a few years earlier on The Muppet Show, it looked like Madeline was striking up a romance with Gonzo. In my opinion, ditching Gonzo for Savalas is a bit of a lateral move. "Who loves ya, baby?!" It's Gonzo. It's always been Gonzo. Please come back, Madeline.
Paul Williams (00:13:16) – Paul Williams has one of the longest cameos in the film, and that's great because he works so well with the Muppets. However, I do wonder: when Fozzie told him there were drinks on the house, did he want to ask, "Got anything cheaper?" Don't get that joke? You will after seeing Paul Williams' episode of The Muppet Show.
P.S. – Is Paul Williams the only person to appear in projects with the Phantom of the Muppet Show AND the Phantom of the Paradise? I think so!
Big Bird (00:22:30) – Big Bird, big cameo! Our fine, feathered friend pops up in the film, providing his own backstory within this origin movie. I guess his plan to break into public television worked, because he became a bona fide TV star. And not just local access – he even landed a prime-time network TV spot on the Leslie Uggams episode of The Muppet Show.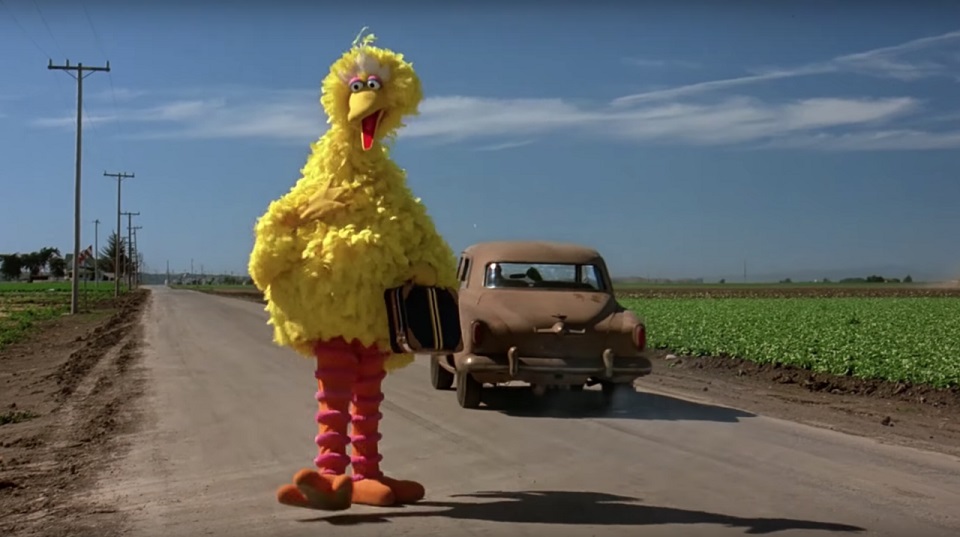 Milton Berle (00:35:35) – Uncle Miltie himself spins around and gives us the performance of a lifetime as Mad Man Mooney. But Mr. Television also appeared on television with the Muppets, so make sure you check that out, too.
Edgar Bergen and Charlie McCarthy (00:39:13) – A pioneer in the art of puppetry, Jim Henson was a huge fan of Edgar Bergen and his wooden characters. So much so that he gave them a spotlight here as well as on The Muppet Show. Check them both out, starting with this one, which you can watch right this second!
Bob Hope (00:44:09) – In 1979, we had Bob Hope, Johnny Cash, and Steve Jobs. But today, we can only see Bob Hope on Disney+ in The Muppet Movie. Soon, we'll also have Hope (and Cash!) on The Muppet Show (Sorry to say that Jobs are still in flux due to the economy). So for now, the only Hope we have is here in this movie.
By the way, does anyone remember what Bob Hope sells in this scene? I can't recall for the life of me.
Steve Martin (00:49:04) – Perhaps the funniest scene in a movie full of them, Steve Martin takes command of this scene, holding his own against Kermit and Miss Piggy on a romantic date. Soon, you'll be able to see Steve Martin take command of Muppet Show auditions in a truly classic episode of The Muppet Show.
Cloris Leachman (1:23:22) – What a tremendous loss we had this year in losing Cloris Leachman, one of the finest comedic actors of our time. She brought a natural humor to everything she did, and working with the Muppets was undoubtable on the list of her most iconic performances. Catch her here as the overtaxed and underappreciated role of Miss Tracey, and catch her soon on The Muppet Show!
The Cast of Sesame Street (01:31:00) – In addition to Big Bird, the cast of Sesame Street joins the giant collection of Muppets at the end of the film. You can also see them on February 19th on the Marty Feldman episode of The Muppet Show.
The Great Muppet Caper
While not nearly as many Muppet Show guest stars show up in The Great Muppet Caper, the two who do are top-notch cameos.
John Cleese (00:33:15) – John Cleese's scene in The Great Muppet Caper is one that gets better with age. Personal politics aside, the man knew how to craft a well-written scene into something even funnier than on the page. He also guest starred and wrote some material for one of the best episodes of The Muppet Show, a legendary classic. Also, for no reason in particular, I just wanted to state here: Trans Lives Matter.
Peter Ustinov (01:22:16) – Peter coined the phrase "A very brief cameo" in this movie, which is something you can get now for $135 from Ernie Hudson. However, Ernie's probably won't come with an Oscar the Grouch appearance, included at no extra cost. All for the low, low price of one Disney+ subscription!
The Muppets
Alan Arkin (00:11:42) – The Muppets only has one cameo from a guest star of The Muppet Show, but it's a doozy! Alan Arkin returns to the Muppets after the longest gap out of anyone on this list – 31 years! – and he doesn't miss a beat. Watch him as a tour guide for Walter, Gary, and Mary near the beginning, then stick around (or skip ahead) to his infamous "James Bobin saying 'Mahna Mahna'" impression at 01:37:32. It'll have you stand up and cheer, "Do doo de-do-do!"
And there you have it! While we all anxiously await February 19th and the chance to see every episode of The Muppet Show, get a taste of the sweet, sweet Muppet/celebrity pairings you can see right now on Disney+.
DISCLAIMER: This post is NOT a paid promotion, we're just super happy that Disney+ exists and you can see Muppets all day, every day.
Click here to spin around and give the performance of a lifetime on the Tough Pigs forum!
by Matt Wilkie