ToughPigs.com is 20 years old TODAY! Today is our actual anniversary! Happy anniversary and/or birthday to us!
We feel like twenty years is a pretty big achievement, so we're going to be shamelessly celebrating ourselves a little bit. We've already launched the podcast ToughPigs at 20, in which our own Joe Hennes chats with contributors to the site about their Muppet fandom and their work for the site. If you haven't listened to it yet, you can catch up on the first four episodes right now!
But that's just the tip of the iceberg! Or to put it in Muppet terms, that's just the tip of Big Z's nose from the "Glow Worm" sketch where Kermit thinks the nose is a tiny worm but it turns out to be the long nose of a huge monster.
Be sure you come back here on Monday, because there are going to be some changes around here. We're all pretty jazzed about it here at Tough Pigs HQ, and we hope you're going to like what we have in store.
Then come back here again on Tuesday, because we're going to be premiering an extremely cool… well, it's a thing. I don't know want to give away too much about it, but I will say it's a Muppet art project on a scale that's never been attempted before, and when I saw it it knocked my socks off. I'm still barefoot! You know? I'll give you a little preview of it here:
I know, I know. That's not much to go on. But I hope it's enough to get your motor running!
But that's not all! We'll also be selling some Tough Pigs swag for the first time in… ever? Maybe? Or did we do it once before? I'll have to send a request for information to the Royal Tough Pigs Historian and get back to you. Stay tuned for more info on that.
And keep an eye out for more retrospective reflections from us Tough Pigs, including one where all of our writers write about our favorite writings written by other writers. It's less confusing than it sounds.
And after that… Well, after that we'll keep on bringing you the nerdiest and most fun Muppet fan stuff on the entire internet. For as many more years as we can.
Wow, that's a lot of stuff! But then again, twenty is a lot of years. Thanks for celebrating with us!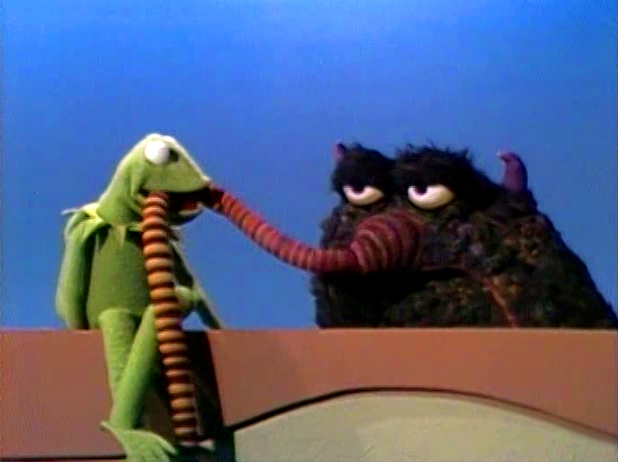 Click here to eat a worm on the Tough Pigs forum!
by Ryan Roe – Ryan@ToughPigs.com