ToughPigs is a website for Muppet fans who grew up. Our mission is to provide biting satire, poignant observations, and general wittiness in celebration of the Muppets, Sesame Street, Fraggle Rock, and the life and legacy of Jim Henson.
Writing Staff: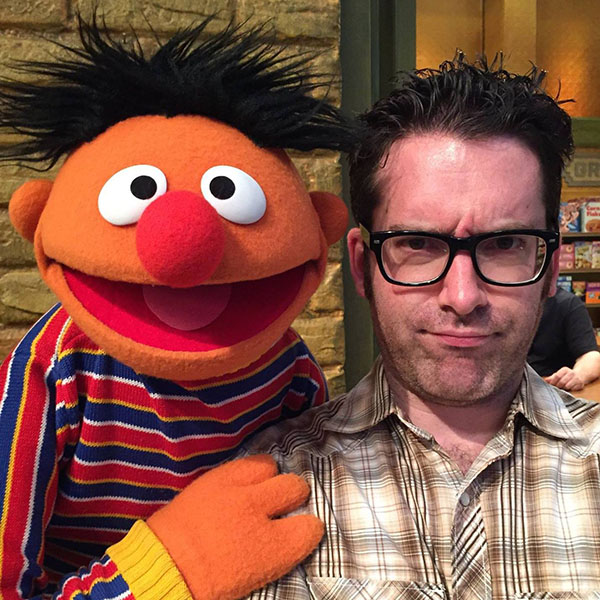 Joe Hennes – Co-Owner & Editor-in-Chief
(he/him)
Joe is a former Clevelander, current Brooklynite, and Professional Muppet Fan. He has previously worked as a stir-fry chef, a classic rock radio DJ, hoodie-maker, and four separate costumed mascots. He enjoys playing the ukulele, reading DC Comics, and writing about Muppets.
He has presented programs on Jim Henson and the Muppets at New York Comic Con, and his writing can be seen on the Sesame Street blog and Mental Floss. His work on ToughPigs.com has been featured in the Wall Street Journal, BBC and Al Jazeera, and he has interviewed Muppet-related visionaries including Frank Oz, Paul Williams and Caroll Spinney. Joe also co-wrote the Sesame Street viral video hit "Big Bird Man" and can be seen in episode 4504.
Joe's ToughPigs articles
E-mail: Joe@ToughPigs.com
Twitter: @joehennes
Instagram: @ToughPigsJoe
Ryan Roe – Co-Owner / Head Writer / Co-Host, Editor, Producer of Movin' Right Along Podcast
(he/him)
Ryan used to live in Texas, and then he lived in New York City. Now he's moving back to the Austin, Texas area. His earliest television memories are of watching Sesame Street. He likes movies and comics and mashed potatoes. He once hosted a radio show where the most-requested song was "His Cheeseburger" from Veggie Tales.
As a Muppet know-it-all, his expertise has been called upon by such outlets as The Wall Street Journal, The Washington Post Express, BBC World Service, and various podcasts and blogs. For more info on Ryan, you can visit his website at RyanRoeOnline.com — especially if you want to hire him!
Ryan's ToughPigs articles
E-mail: Ryan@ToughPigs.com
Twitter: @MeRyanRoe
Instagram: @MeRyanRoe
Jarrod Fairclough – Co-Owner, former Muppet Mindset admin
(he/him)
Jarrod is based in Melbourne, Australia, which means that he doesn't abide by the same rules of space and time as the rest of the ToughPigs staff. His TARDIS is currently in the shop. While running The Muppet Mindset for 6 years, he interviewed a myriad of people and characters like Frank Oz, Matt Vogel, Peter Linz, Kermit the Frog, Elmo, Abby Cadabby, Grover, and Cookie Monster (twice). He was featured on BBC Radio in the UK and on the Australian news program The Project, and his photos of the Sesame Street LEGO set are available on the official LEGO website – so, he's basically famous.
Jarrod Fairclough's articles
Email: Jarrod@ToughPigs.com
Twitter: @JazzFairclough
Instagram: @jarrodfairclough
Anthony Strand – Scandinavian Sous Chef
(he/him)
Anthony is a school librarian who lives in St. Paul, Minnesota, just 2 miles from Jerry Juhl's childhood home. He has been writing for Tough Pigs since 2007, and co-hosts Movin' Right Along: A Muppet Movie Podcast. He thinks about The Jim Henson Hour more than most people do, but his family loves him anyway.
Julia Gaskill – Executive Gonzo Advocate
(she/her)
Julia is a human being hailing from a lifelong stint in Portland, Oregon. She started writing for ToughPigs in June of 2012 and has been their Resident Gonzo Expert ever since. She co-hosted the Muppet podcast Frog Kissin' from 2014 – 2016. When not ranting about Gonzo, she can be found performing at poetry slams, organizing local arts events, or walking your dog.
Julia's ToughPigs articles
Twitter: @geekgirlgrownup
Instagram: @geekgirlgrownup
Facebook: Julia Gaskill Poetry
Matthew Soberman – Director of Time Travel (Est. 2046)
(he/him)
Matthew joined ToughPigs in June 2012 to write about a fictional horse race. Since then, he's been a senior contributor, occasional photographer, foreign correspondent (to countries you can get to on a Greyhound bus), and co-creator of the "Sesame Street: 50 in 50" series. When he's not thinking about Muppets, he's usually thinking about Disney theme parks, movies, baseball, comic cons, types of hot dogs, and the collected works of "Weird Al" Yankovic. Since 2017, Matthew has also been the curator of @MuppetQuotes, but don't quote us on that. That's his job.
Matthew's ToughPigs articles
Email: Matthew@ToughPigs.com
Twitter: @MatthewSoberman
Becca Petunia – Hubba-Wha?!'s Most Trivial Mastermind
(she/her)
Becca is the head of the ToughPigs Research Institute. There, she uses her obsessiveness, long-winded writing, and art skills to scientifically determine which obscure Muppet monsters we should be talking about more often. Since she has consumed all the Muppet trivia that exists, she now makes that everyone else's problem on her ToughPigs quiz show podcast Hubba-Wha?!. When not annoying her colleagues with pedantic trivia questions, she's playing tabletop games, reading comics, and making a fool of herself in public forums. She also talks to talking houses.
Becca's ToughPigs articles
Twitter: @UnclePetunio
Louie Pearlman – Boomerang Fish Technician
(he/him)
Louie has been an innovator of the New York City Arts Scene since 2002. His officially-licenced Archie Comics/Riverdale stories are currently available on the platform Yarn. Louie also co-hosts the pop culture podcasts XOXO Riverdale, and Kick The Jukebox.
Beyond Tough Pigs, his pieces have appeared in Gizmodo and Rebeat Magazine. Louie is proud to be the co-writer and creator of the musical Joey and Ron, which enjoyed a run at The Player's Theater in NYC in 2019.
For over ten years Louie has been a producer, director and performer with Story Pirates, where he's performed in theaters, music festivals, schools AND he's the voice of the Backstroke Raptor!
Louie's ToughPigs articles
Twitter: @Louie4711
Instagram: @Louie4711
Website: LouiePearlman.com
Shane Keating – Resident Doer of Things & Stuff
(he/him)
Shane is a life-long Muppet fan from the great state of New Jersey. When he's not getting the latest news scoops for ToughPigs, he can be found as an admin on Muppet Wiki, on YouTube as "MarshalGrover," and tweeting from @OneMuppetShot.
Shane's ToughPigs articles
Twitter: @sokdrawer
Beth Cook – Trash Heap Translator
(she/her)
Beth's high school paper on Jim Henson led to a nerd club presentation on the history of the Muppets, which led to starting her Muppet lyrics blog Our Muppet Melody, which eventually led to joining ToughPigs. As our resident Fraggle Rock expert, Beth hosted the "Dig Deeper" segments of the Fraggle Talk podcast about Back to the Rock.
In meat space, Beth is usually found starting yet another new craft project without finishing the others, attending Sisterwives of Emma Thompson movie night (and its spinoff The Neverending Book Club), singing Muppet songs around her apartment, or problem solving by spreadsheeting about it.
Beth's ToughPigs Articles
Twitter: @bethannacook
Instagram: @bethannacook
TikTok; @bethannacook
J.D. Hansel – Bad Jim Henson Biographer and Master of Henson Holidays
(he/him)
J.D. has been creating Muppet fan projects for over ten years and has been creating good Muppet fan projects for at least a solid two hours now. Having interviewed Muppet performers, studied at Jim Henson's alma-mater, and ruined Leslie Carrara-Rudolph's waffle at a hotel continental breakfast in Georgia, J.D. definitely knows what a Muppet is, we think. As the mastermind behind "A Bad Jim Henson Biopic" and "A Bad Jim Henson Restaurant" on Twitter, he has developed a reputation for creating the wackiest Muppet fan projects online today .
For ToughPigs, he hosts The Great Muppet Fandom Panel podcast and writes silly articles about Jim Henson. J.D. now resides in The Cube, and he will never get out of The Cube.
JD's ToughPigs articles
Twitter: @jd11pc
Katilyn Miller – Penguin Choreographer
(they/them)
Katilyn is an extremely normal person. They make up for this sad fact by surrounding themselves with chaotic people and things, which is why they write for ToughPigs, work in public libraries and hunt for ghosts. When they're not writing articles about Fraggles, they're writing books, short stories, and knitting patterns that will, like any good Muppet sketch, inevitably go wrong.
Katilyn's ToughPigs articles
Twitter: @KTLynauthor
Matt Wilkie – Writer Extraordinaire
(he/him)
Matt is a writer from Pennsylvania trying to survive in an L.A. world. He enhances whatever he writes with humor and sees the lighter side of everything.
Matt's ToughPigs articles
Twitter: @WritingWilkie
Website: WritingWilkie.com
Staci Rosen – Writer and Music Composer
(she/her)
Staci is a learning specialist and the director/founder of a boutique educational company in New York City. She enjoys composing (including the songs for an off-Broadway puppet musical and six Tough Pigs podcast theme songs), eating vegetarian Chinese food, solving and constructing word puzzles, and putting things into containers. She has a special fondness for Sam the Eagle (she too often wonders if weddings can get started without the bride and groom) and gets excited about the intersections between Muppets and music.
Staci's ToughPigs articles
Twitter: @StaciSaidWhat
Chris "Smig" Smigliano – ToughPigs Artist in Residence
(he/him)
Smig is a cartoonist operating out of Salem, Massachusetts , and is responsible for designing ToughPigs' iconic logo, as well as much of the other art throughout the website. He has been subjecting his Muppet fan art to the public since MuppetZine issue #2. He has also drawn for the "Salem Evening News" and "Comics Buyers Guide".
Smig's ToughPigs spotlights
Twitter: @Smigliano
Facebook: @Christopher.Smigliano
DeviantArt page
Founders:
Danny Horn (he/him) is the previous owner and creator of ToughPigs.com. Danny created MuppetZine, the first Muppet fan 'zine, from 1992-1997, and then wrote for ToughPigs from 2001 to 2005, when he handed the reins over to Joe and Ryan. In December 2005, Danny co-created the Muppet Wiki and now resides in San Francisco.
Danny's ToughPigs articles
Danny's Dark Shadows Every Day website
Ryan Dosier (he/him) is the founder of The Muppet Mindset (absorbed by ToughPigs – the website, not Ryan). A Muppet fan since he first saw Baby Gonzo, Ryan has been lucky enough to experience the world premieres of both Disney Muppet movies, visit the sets of several Muppet productions, and interview Kermit the Frog, Jerry Nelson, Dave Goelz, Bill Barretta, and dozens of others across the Muppet-verse. Since 2015, Ryan has worked at Disney where he runs the social media for the Muppets ("Into the ground!" – Statler & Waldorf).