Another year has come and gone, but the Muppets remain. That's lucky for us – we love talking about Muppets! And we sure had a lot to talk about this year, from the debut of Fraggle Rock: Back to the Rock to the end of Muppet Babies, from the return of "When Love Is Gone" to the loss of visionaries like Emilio Delgado and Bob McGrath.
Let's take a look back and remember everything from the past 12 months, including the biggest news stories and our favorite ToughPigs articles. We'll be covering the first half of the year here, and then tune in to ToughPigs later this week to complete the set. Now let's revisit all these great memories and all the Muppet stuff you may have missed!
January:
2021 Year in Review – Lots of stuff happened last year too! Refresh your memory before diving into 2022!
RIP Sesame Composer Stephen Lawrence – Remembering the Sesame Street songwriter behind "Fuzzy and Blue", "If Moon Were Cookie", and more.
Review: Sesame Street Ooshies – Jarrod jumps on camera to review some blind-boxed cutie collectables.
Dissecting the Fraggle Rock Trailer – We wear out our pause button looking for clues in the Fraggle Rock: Back to the Rock trailer.
Elmo Is Hilarious: The World Figures Out What Muppet Fans Have Known for Years – Classic Elmo clips went viral on social media, a fact that we've known for decades.
Punk Rock Teens Were Too Hot for Sesame Street in 1986 – Revisiting an old Sesame Street episode in which the Street is infested with punks.
Fraggle Rock: Back to the Rock – A Spoiler-Free Review – Back to the Rock debuts and we are SHOCKED to find that it's so good!
RIP Louie Anderson, Jim Henson Hour Guest Star – The legendary comedian appeared on the premiere episode of The Jim Henson Hour.
ToughPigs Talks with the Fraggles! – Yeah, we got to meet some Fraggles. No big deal.
Fraggle Woke: Continuing the Legacy of Progressive Muppets – The new Fraggle Rock is being attacked for its "wokeness", proving that the accusers haven't been paying attention over the past 40 years.
February:
Muppet Hopefuls for the 2022 Winter Olympic Games – Muppets on skis? That idea will take home the gold.
The Top 10 Songs of: 2021 – Last year had plenty of Muppet music – this is the best of the best.
Confessions of a First-Run Fraggle Fanatic – Celebrating the new Fraggle Rock with memories of watching the original Fraggle Rock.
Kermit Is Right Where He Belongs in a Vrbo Commercial – Kermit is seen and not heard in a commercial for vacation house rentals.
Muppet Babies to Go Bye-Bye – The new incarnation of Muppet Babies ends. Everyone's got to grow up sometime.
Muppet Babies Exit Interview with Matt Danner (Baby Kermit) – We chat with Muppet Babies showrunner and Baby Kermit voice actor Matt Danner about series' end.
FULL MOVIE: The Making of the Great Muppet Mural! – Artist Dave Hulteen created a whole documentary about the making of ToughPigs' celebratory fan mural! And it's so good!
Interview: Matt Vogel on The Mighty Weaklings' Album 'Michael' – We're chatting with the Muppet performer about his other project – his band, The Mighty Weaklings.
RIP Follow That Bird's Sally Kellerman – We remember Sally Kellerman, best known to us as the voice of Miss Finch in Follow That Bird.
March:
FIRST LOOK: Muppet LEGO Minifigs! – Muppets in LEGO form? Now I've seen everything! (And I need more plz and thank you.)
Bird in the USSR: Learning from the (Canceled) 'Big Bird in the Soviet Union' – With the mess that's going on in Russia, we look to Big Bird for guidance.
An Electric Mayhem Series Is Coming Soon to Disney Plus – A whole series about the Muppet Show band?? I must be dreaming.
Hopes and Fears for 'The Muppets Mayhem' – Okay, but let's make sure they don't muck it up.
Remembering Emilio Delgado – We remember the great Emilio Delgado – better known as Sesame Street's Luis.
An Ode to the Leprechaun Brothers – We celebrate the Leprechaun Brothers every year on St. Patrick's Day. Let's celebrate our continued celebration.
Did 'Muppets TV' Save The Muppets? – This strange French Muppet show may have been the best thing for the Muppets that you've never seen.
ToughPigs Spoofs the Oscars: King Richard Hunt, Drive My Carl, & MORE! – We love making Muppet movie poster spoofs, so we did it for all of this year's Best Picture nominees!
ToughPigs Spoofs Even More Movies – We love making Muppet movie poster spoofs, so we did it for EVEN MORE movies!
The Other Oscars 2022 – Predicting Oscar winners based on Muppet connections, which makes us 100% correct 100% of the time.
Review: Even More Sesame Street Ooshies – More Sesame Street cutie toy reviews? Yeah, you know you want 'em.
Bad Henson Bistro – The Full Menu – What if Jim Henson had a restaurant? What if it was a ridiculous restaurant with a bunch of made-up dishes? We've got you covered.
Ron Howard to Direct New Jim Henson Documentary – Yeah, the real Opie!
April:
April Fools: The Not-So-Great Muppet Mural – Remember the 20th anniversary mural? This one wasn't as good.
The Not-So-Great Muppet Mural: The Artists – We blame those responsible for that atrocity.
RIP Muppet & Henson Historian Christopher Finch – Remembering Christopher Finch, who wrote the pinnacle Muppet histories.
Sesame Street's Punk Rock Teen Speaks: An Interview with Danielle Striker – Remember that Punk Rock teen from that one episode of Sesame Street? We found her.
10 LEGO Sets Perfect for the Upcoming Muppet Minifigs Series – The genius behind the Sesame LEGO set had some ideas for the Muppet minifigs.
Rowlf the Dog Is the Worst Muppet: It's Time to Admit the Truth – Ryan said what we're all thinking.
RIP Gilbert Gottfried – Remembering the hilarious star for his appearances on Muppets Tonight and Sesame Street.
Counterpoint: Don't Let the Muppets Die – Cracked wrote a stupid article, so we got defensive.
Who Is Jim Hanson? – You know who we mean.
Sesame Street Channels Go-Bots with Mecha Builders – Hey, look! Sesame Street are robots now.
Sesame Rewind: Before Rocco, the Rockheads Were Sesame Street's Original Rock Stars – The Rockheads walked so Rocco could run (which he can't, because he's a rock)
Introducing FRAGGLE TALK – The Unofficial Fraggle Rock Podcast – Launching our new podcast celebrating Back to the Rock with the cast and crew of the new series!
Quiz: Muppet MovAIes – Jarrod made some awful AI art and you had to guess what it was.
REVIEW: The Muppet Movie Soundtrack Vinyl Record – Joe listened to a new version of an old record.
Counter-Counterpoint: Maybe the Muppets Shouldn't Be The Muppets – The Muppets should do more things without Muppets.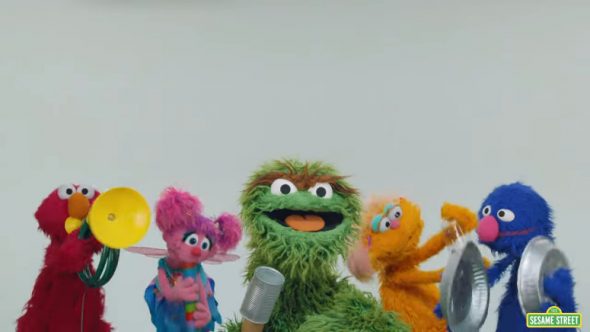 May:
This Article Is Not Brought to You By the Letter Z: The Case of Sesame Street's Missing Letters – What does Sesame Street have against the letter J?
REVIEW: The Muppets on "Holey Moley" – Was it a hole in one?
Let's Cast Doctor Strangepork – Get it? Coz Doctor Strange and Doctor Strangepork?
The Fraggle Foodie: Doozer Sticks – Now you can make your own Doozer sticks at home!
Cool Muppet Things I Never Owned: The Jim Henson Hour Lunchbox – Are we just posting things we don't own now? I don't have a Bugatti Divo.
Unboxing Baby Sweetums – Jarrod had a custom Baby Sweetums made by Emily Engel, and he's adorable. (Baby Sweetums, not Jarrod.)
The Problem with Animal – Animal has lost his animalistic side…
Ranking Muppet Tattoos – Jarrod takes a look at the good, the bad, and the ugly Muppet tattoos.
Oscar Recycles "Shake it Off" for New Sesame Parody – 2014 was 8 years ago.
RIP Ray Liotta – Remembering the famed actor for his stints in Muppets From Space and Muppets Most Wanted.
This Is Not a Fun Article About Muppets – Sometimes we just can't bring ourselves to write about Muppets when the world is so harsh.
June:
Little Things: Prairie Dawn and My Trans Identity – Our own Becca Petunia reveals how Prairie Dawn helped her with her identity.
Am I A Muppet Fan First? – Jarrod had a small existential crisis about being a Muppet fan.
RIP Jim Formanek, Henson Company Director of Consumer Products – We remember the man who helped create all the Henson merch since 2000.
A Henson Puppet Pop Band Is Performing with Coldplay – Because of course they are.
Pride Month: Finding My Bisexual Identity with Walter – How Walter's fish-out-of-water story helped Julia Gaskill.
Pride Month: My Rainbow Connection – Kieran Moore sees his own journey through the lens of The Muppet Movie.
Sesame Street Spoofs "Friends" for Fathers Day – 1994 was 28 years ago.
Pride Month: Fozzie Bear Is My Ace of Hearts – Beth Cook takes a look at how Fozzie could be an asexual hero to many.
LEAKED: The Lost Wicked Witch Episode of Sesame Street – The long-lost and terrifying episode of Sesame Street was finally found!
Pride Month: Richard Hunt and the Queer Muppets Hiding in Plain Sight – Louie Pearlman honors the work of the legendary gay Muppet performer.
Pride Month: Please Don't Assume I'm Straight (Or That I'm Not a Muppet Nerd) – Staci Rosen discussed how her sexuality and Muppet fandom are viewed by the outside world.
REVIEW: A "Holey Moley" (Way Past) Halftime Report – Oh yeah, I forgot this was a thing.Pride Month: That Prideful Pig – Muppet artist Peter Savieri celebrates Miss Piggy as a drag queen icon.
Wow, that's a lot of Muppet stuff! And we're only halfway done! Tune in later this week for part 2 of our year-end roundup, with more Muppet, Sesame, and Fraggle articles from 2022!
Click here to forget all about the Rocco scandal on the ToughPigs forum!
by Joe Hennes and Jarrod Fairclough