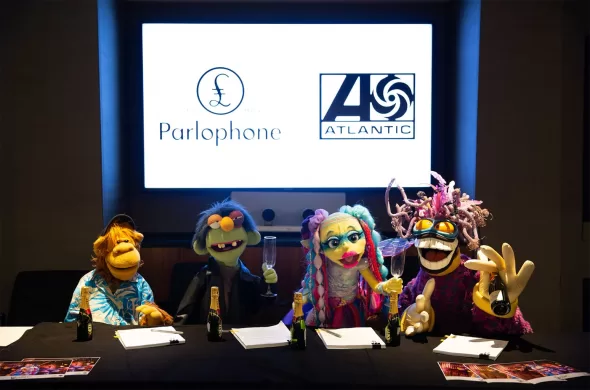 Okay, this is an exceptionally odd one.
You know that band Coldplay? They had a giant hit with the song "Clocks" in 2002. Well, apparently on their recent tour, they've been doing a song called "Biutyful" with an unusual guest performer: an alien named Angel Moon. Who is, in fact, a puppet created by the Jim Henson Company.
This comes from a Billboard article on the topic of Angel Moon's own band, The Weirdos. They've just signed a deal with Atlantic Records, and this Friday, June 10, they'll be performing "Biutyful" with Martin on The Tonight Show Starring Jimmy Fallon. The other members of the band are named Donk, Sparkman, and the Wizard. (I think all three are recycled puppets from past Henson Company projects. Can anyone identify all of their origins?)
Coldplay tweeted a brief video of The Weirdos, which frequent Henson puppeteer Tyler Bunch retweeted while remarking that Sparkman "the simian guitarist" seems very familiar to him.
Here's Angel Moon singing with Coldplay, from a fan video at a concert in Costa Rica:
Why haven't we heard more about this? Why isn't there anything about it on the Jim Henson Company social media accounts or website? This could be the biggest thing since Alvin and the Chipmunks! Or at least Gorillaz.
Maybe they're trying to build buzz about The Weirdos in a grassroots, buzzy way. Well, color me intrigued. "Biutyful" is a pretty nice song, which I will confess is stuck in my head after just 1 1/2 listens. And in the Billboard piece, Martin sounds like he's having fun playing with the reality of working with alien puppets.
Those of us with strange memories will recall that this is not the first time the Henson Company has toyed with the concept of treating a puppet band like a real band. As Muppet Wiki reminds us, a 1993 article in the Wall Street Journal announced that there were plans for the short-lived Jim Henson Records label to be the home of a new Muppet hard-rock group called Screaming Edith, whose music videos would be shown on MTV. So the Weirdos are seemingly the spiritual successor to the Edith whose screams we never got to hear.
It's also interesting that this comes as we're all anticipating the Disney-owned Muppets Mayhem series, and wondering whether there might finally be a real album release by the Electric Mayhem. Wouldn't it be something if you went to a music festival next year and there we-re two Henson-based puppet rock bands playing?
Click here to guess which is Donk and which is the Wizard on the Tough Pigs forum!
by Ryan Roe – Ryan@ToughPigs.com