Almost 35 years ago, Fraggle Rock aired its final episode. Despite a promise to "never leave the magic", we've spent the last few decades with just a few assorted Fraggle appearances here and there to tide us over. 2020's surprise series of shorts Fraggle Rock: Rock On was a delight, and it succeeded in making us wish Fraggle Rock was back in our lives on a regular basis. Thankfully, the folks at Apple TV+ agreed, and Fraggle Rock: Back to the Rock is just around the corner.
Premiering on Apple TV+ this Friday, January 21st, the new Fraggle series will be bringing back a whole lot of familiar faces (and tails) for 13 brand new, full-length episodes. While the ToughPigs team has seen the entire season, we'll be keeping this review relatively spoiler-free. So stop reading now if you want to go into the series blind, or read on with caution to have your burning questions answered.
In the spirit of not making you wait until the end of this review for the biggest question, let's get it over with here at the top. Is the new series good? I'm delighted to report that yes, Fraggle Rock: Back to the Rock is incredible. While it's impossible to expect it to surpass the gold standard set by the original series, this is just about as close as can be expected. The characters are all truly themselves, the stories are fun and funny, and you can tell that the writers went into the project with Jim's original intention of developing a show that can save the world. If you love Fraggle Rock, you'll find Back to the Rock a terrific companion.
For any show being rebooted or extended, the first thing anyone looks for is the cast of characters and how they compare to the original. John Tartaglia takes the lead as Gobo Fraggle, faithfully mimicking Jerry Nelson's Canadian twang while injecting an exuberance into the character to keep him confident yet playful. Jordan Lockhart makes his debut as Wembley (originated by Steve Whitmire and formerly performed by Frankie Cordero in Rock On), and while he nails the character's voice, the short season didn't give him a whole lot of opportunity to stretch the character beyond "indecisive, excitable kid". Donna Kimball puts a new spin on Mokey, keeping her ethereal zen-like qualities, but grounding her a bit more as a less-aloof and more-opinionated Fraggle.
Returning from the original series is Dave Goelz, performing the laundry-loving hypochondriac Boober, the oblivious and overconfident Traveling Matt, and even the much-older-than-before World's Oldest Fraggle. It's wonderful to hear Dave play in this playground again, and you can tell he's having a blast, despite only performing the voices for each of these characters (presumably due to COVID restrictions keeping him at home for the shoot). But the real treat for me was to hear Karen Prell return as Red. Of all five Fraggles, Red has the most unique voice that would be near impossible for another performer to replicate. And for Prell to be the only original cast member present on-set, it allowed for a lot of Red's hyper-specific characteristics to make it on screen. Of any element in the new series, Red is the one that most feels like it came directly out of the old show.
Another big question asked by the fans is: Is this a reboot or a sequel? And the answer is… yes? Both? Neither? 42? Perhaps wisely, Fraggle Rock: Back to the Rock doesn't make this at all clear. While the characters are all almost exactly the same as they were, with a shared history and familiar concepts, certain plot points have been rebooted. For example, while Traveling Matt makes it clear that he's "returning" to Outer Space, Gobo and Sprocket don't have a familiar relationship. The Fraggles seem to be meeting the Trash Heap for the first time, and they're not on good terms with the Gorgs, but they're not quite as alien to the Doozers as they once were. We'll probably spend a lot more time theorizing about this, but for now, just don't worry about it and enjoy the show.
Outside the Rock, we've got a new Doc in the workshop. Doc is performed by Lilli Cooper, a musical theater actress, who is not at all a Gerry Parkes type. Rather than a dotty old man, the new Doc is a graduate student working on her doctorate (hence the nickname). While she does tinker a bit like the old Doc, her main focus is on her school project, which carries her storyline through the season. Sprocket, meanwhile, is almost exactly the same as he was before. However, before we start wondering how old this dog is or what happened to his previous owner, it's very possible that this is a new dog with a familiar name. Still to be confirmed, but I believe I caught a glimpse of a photo of a young Doc with a puppy Sprocket in the background, which would help to explain a LOT.
Y'know, the Rock itself is practically a character of its own on Fraggle Rock. The set design is incredible, with mostly physical sets enhanced by green screen and CGI. The scene always looks so full of characters and plant life and tiny creatures, making the Rock feel truly alive. And thanks to modern-day filmmaking, it allows the camera to move in ways and directions that weren't possible in the 1980s. It's a subtle improvement that rings the voice of the original series true, while keeping the visuals from feeling stale or old.
Speaking of the physical sets, almost everything we see on screen is in some way a practical effect, from the characters (both large and small) to the stunts to the scenery. When CGI is used, it's often easy to miss except by the most hardcore of Muppet fans (with apologies to anyone who insists on seeing arm rods).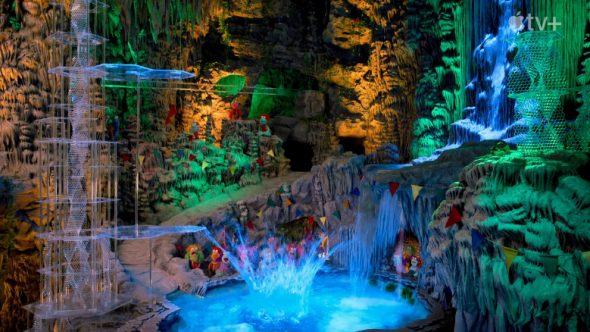 Equally important to Fraggle Rock is the music. Phillip Balsam and Dennis Lee created a library of memorable songs that still hold up as some of the best in children's television history. It would be impossible for anyone new to come in and emulate their incomparable style. So the showrunners made a brilliant decision: Every episode features two songs. One new, and one classic. The new songs are good – not great – but that might be the old Muppet nerd in me talking. The classic songs are (naturally) terrific, with each one taking on a new meaning or performed by different characters from the originals. It's a lovely way to honor the old series while creating something new, all while allowing the music to keep that specific Fraggle feel.
There's a lot of fun stuff in every episode, and without spoiling anything, several episodes feature some tough subjects. It was consistently impressive to see how the old Fraggle Rock managed to deliver on some mature themes while keeping the writing family-friendly, and I'm proud of the new team for carrying that torch. It proves that Fraggle Rock can continue to educate audiences in more ways than one.
If there's anything fans might find to complain about, I'm guessing that it will be the celebrity casting. The old series never had celebrities voicing characters on the show (unless you count Jim Henson, which I do), and it's odd to hear Daveed Diggs or Ed Helms or Patti LaBelle's voices coming out of a Muppet. Thankfully, they're all done tastefully without too much fanfare. I personally don't think the series needed the star power, but they were barely distracting if you choose to ignore them.
There's another big change from the original series, which I found welcoming. The old Fraggle Rock could be watched in any order (with few exceptions… maybe don't start with "Change of Address"), while Back to the Rock slightly serializes the season. The plot of every episode does stand on its own with a beginning, middle, and end. However, the actions in one episode have repercussions a few episodes later, with everything culminating in pure chaos by the end. It's an interesting reflection on how TV viewing habits have changed over the years, and a good way to capitalize on the fact that the full season is being dropped on Apple TV+ at once, with episodes that can be streamed without fear of missing one because you couldn't tune in at a specific air time. It's also an opportunity for the series to deal with bigger themes that might take more than 20 minutes to cover… but more of that in our upcoming reviews.
I was genuinely surprised as to how much I enjoyed the new Fraggle Rock series. It's both a love letter to the original and a highly entertaining stand-alone season. And honestly, I'm just excited for all of you to see it.
Fraggle Rock: Back to the Rock premieres on Apple TV+ on January 21st. And keep an eye on ToughPigs.com as we review the series, two episodes per week, every Monday and Friday!
Click here to avoid the Gorgs on the ToughPigs forum!
by Joe Hennes – Joe@ToughPigs.com