I have been reading Tough Pigs since the very early 2000s. As a massive Muppet fan and a young gay man coming into my own, I was thrilled to find a site written from a hilarious and campy perspective that was all about my favorite childhood pals, The Muppets. Time has certainly passed, and as a bit of an "elder statesman" for queer-identifying Muppet fans at this point, I've been wracking my brain for what to write about for Pride Month this year for Tough Pigs. I've definitely wanted to contribute, but I've been intimidated by the fantastic articles my community peers have written. We've seen so many viewpoints from so many queer perspectives. It's made me question what I, a simple, cis white gay guy, could offer. But then, my mind unsurprisingly drifted to the work of Richard Hunt.
I think it's essential to view Hunt's work through a queer lens because a beautiful streak of gayness is running through it. He was one of several LGBTQIA+ community members who worked extensively with Jim Henson and The Muppets but the only openly gay member of the core troupe of Muppet performers.
According to his Muppet Wiki page, Hunt joined The Muppets at 18, eager to learn and entertain. Unsurprisingly, Hunt's most recognizable character is Scooter from The Muppet Show. Scooter is keen to please, hilariously funny and entertaining, just like Richard was. I'd also argue that the character embodies elements of the "Best Little Boy in the World" trope many gay men often fall into. The "Best Little Boy in the World" conveys the idea of the highly competent closeted gay man who "can't possibly have time for dating" because they're so busy being over-achievers. Although Scooter makes his share of mistakes on The Muppet Show, he is always over-eager to make a good impression and be the best little gofer he can be. I'm not going to argue that Scooter was coded as particularly gay on The Muppet Show, but Hunt had such an affinity for Scooter that it's tough to find where Scooter ends and Richard Hunt begins.
Here's a fantastic clip of Richard performing as Scooter at his high school reunion. Using Scooter to tell his story in a relatable and comedic way is pretty amazing.
There's a beautiful vulnerability to Scooter that could come from the side of Hunt that was maybe more suppressed than he should have been during his life as a gay man. There's also a bit of snarkiness to Scooter that feels like a queer defense mechanism. Scooter could dish it out with the best of them!
Hunt expressed himself differently with his portrayal of The Electric Mayhem's Janice. The argument could be made that he took elements of the Laurel-Canyon female musician aesthetic and elevated them to the realm of Camp. I hesitate to go so far as to use the term "Drag" to describe Janice because she can feel refreshingly grounded, despite how her ethereal personality often leads to her most goofy bits. Frank Oz most definitely took Miss Piggy into the realm of Drag, but in contrast, Janice is a comedic character being played by a male performer in a way that gives her quiet dignity. Hunt's queerness and admiration of female characters definitely played a part in what makes Janice so enduring.
There is also something wonderfully, inherently queer in Hunt's musical performances as Janice, and I wish he had done more of them. He had a killer singing voice, evidenced by his turns as Wayne from Wayne and Wanda and Sesame Street's Placido Flamingo. But Hunt's effortless delivery as Janice on such classics such as "Rockin' Robin" and "With A Little Help From My Friends" are where he truly shines. They have a gender-bendy aspect to them that I cherish. These musical numbers were truly ahead of their time.
If one does want to watch a Richard Hunt performance that could be categorized as closer to Drag, look no further than Sesame Street and Gladys the Cow. Gladys is pure fabulous glam, larger-than-life, and one fancy bovine. She feels like Richard Hunt's take on a Miss Piggy-like character, and we love her for it. Gladys influenced countless other queer kids and me growing up, and we are definitely the better for her and her very serious, grounded, stable presence on Sesame Street. I kid. Not to confuse Gladys with Hoots the Owl, but she was always a hoot.
Richard Hunt passed away of AIDS in 1992. At that time, the circumstances around his death were kept quiet in the mainstream media. This sadly isn't a surprise, considering the stigma around the disease at the time. The late 80s and early 90s were an era when there were multiple queer entertainment idols for LGBTQIA+ kids, but they were taken away from us when we needed them the most. The most painful example for me is Paul Reubens, AKA Pee-wee Herman, who luckily did not succumb to AIDS when so many of his queer contemporaries did, but completely disappeared from the zeitgeist after his movie-theater incident. I count Richard Hunt as another one of those examples of idols for young queer kids who I wish could have stuck around longer. I think it would have been beneficial for me as a kid and many others to know that he was an openly-gay performer working with the Muppets, and I wish he had been more publicly celebrated for his queerness during his life.
While writing this piece, I popped onto Twitter to ask members of the LGBTQIA+ Muppet fan community what Richard Hunt meant to them. The responses were staggering and moving. Many people pointed out that Richard sharing his gifts with the world helped them feel more confident to live authentic lives. That he was known as the Muppet performer always wanting to entertain his fellow performers and on-set guests even when the cameras were not on. He had a spirit that was considered extraordinary to work with, and that's very inspiring for our people. User @MuppetMulaney described him as "absolute sunshine." Muppet replica builder Emily Engel related that she heard a story from Richard's sister that he performed regularly for the local kids with a Scooter puppet on his arm at his summer house in Cape Cod, and now-grown members of that community still stop his family and share with them that they remember those magical and personal performances.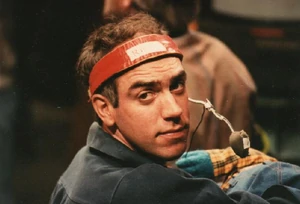 Richard Hunt was valued by his family, friends, and co-workers when he was alive, but his impact pales compared to his legacy after his death. He has inspired countless LGBTQIA+ creatives to follow their dreams and live on their own terms. I certainly am one of those people, as are many reading this. It is genuinely tragic when the AIDS crisis claims someone before their time, and Richard Hunt was ahead of his time in many ways. All we need to do is to look at the true rainbow coalition of his plethora of fans to see that he left an incredible legacy for queer Muppet fans. Looking towards his work can make us feel like we are part of something truly more significant than ourselves and that our uniqueness is something to celebrate.
Click here to get by with a little help from the ToughPigs forum!
by Louie Pearlman