Halloween Parades
2002 – 2003 – 2004 – 2005 – 2007 – 2008 – 2009 – 2009.1  – 2010
2011 – 2012 – 2013 – 2014 – 2015 – 2016 – 2017 – 2018 – 2019 – 2020

Halloween may be a time for spookiness and candy, but we here at ToughPigs are in it for the costumes.  Okay, the candy too, but mostly the costumes.
For the past 17 years (!!!), we've been celebrating Halloween with epic collections of all the best Muppet costumes we can find.  And we never fail to find some truly amazing and brilliant costumes from the worlds of the Muppets, Sesame Street, Fraggle Rock, Labyrinth, and The Dark Crystal.
Join us once again, won't you, for this year's annual ToughPigs Halloween Parade!  And then be sure to click on the links at the top of this page to see all of our previous Parades, tracking all the way back to 2002!
If you or any of your friends are wearing a Muppet costume this year, please email us photos!  We'll be collecting pictures throughout the next year for the 2020 Halloween Parade.  Yes, sometimes we actually plan ahead.
We're starting out strong with a whole bunch of Muppet Show characters!  Highlights include: Jim Henson's headband, chicken feet, and the elusive third Snowth.
Everything I love about this Bert and Ernie duo, I also hate.  And vice versa.  Sometimes you can make these Muppet costumes a little too real, y'know??
Because I've only been collecting Halloween Parade photos since last Halloween, and we're posting this article before actual Halloween, we're missing out on what I'm sure will be scores of Dark Crystal: Age of Resistance cosplays.  So in their honor, we're pleased to share this exceptional Skeksis, with the promise that I'm sure we'll have a lot more to see next year.
Spotted at Dragon Con, easily the best (and only?) Caroll Spinney cosplayer I've ever seen.  Between the legs, beard, and t-shirt, she's got the costume completely accurate, right down to the way he folds his belt.  Very, very well done!
No dogs allowed!  Just kidding, dogs are always accepted here at the Halloween Parade with loving arms.  In fact, next year's Parade should be all dogs!  Okay, everyone grab a dog and dress it as, I dunno, Thog or something.  A Thog dog.
This kid isn't just dressed as Jim Henson, he's specifically dressed as Jim Henson as seen in Brad Meltzer's wonderful book, "I am Jim Henson", where artist Chris Eliopoulos kinda draws him looking like a bearded child.
Kermits abound!  We've got a frog infestation up in here!
Okay, big props to anyone who dresses up like Lew Zealand.  But double props for the fish baby.  Just… maybe don't throw it away like a boomerang, okay? Not recommended.
Someone decided to dress their entire house up like Cookie Monster?  Hey, you wanna know what kind of cookie it's eating?  It's a Tollhouse.
I always love seeing Fraggle Rock love on Halloween, and these two dedicated fans pulled out all the stops.  No, not their tails, I'm talking about their Doozer Dog.
Movie Star and Big Time Celebrity Amanda Seyfried must have loved her time working on the Sesame Street special When You Wish Upon a Pickle, because she went home looking like a Muppet.  This is her on a normal Tuesday.
I genuinely love it when a bunch of people get together to coordinate a Sesame-themed group costume.  Even though Beaker isn't from Sesame Street, that Cookie Monster is super lazy, I don't know who the guy on the end is supposed to be (casual Bob, maybe?), and their Bert is left without an Ernie.  But damn, do I love that they included Mr. Johnson and his big blue head.
Here's an old one for ya (in case you couldn't figure that out).  If I recall from the original image description, I believe the one on the left is supposed to be a (not very accurate) Wanda the Witch, although she's more Taminella than anything.  I also believe that Bert must've been pretty cold without any pants on.  Y'know, like the real Bert.
The Muppet Show costumes continue with a plethora of terrible scientists, terrible cooks, terrible comedians, and one completely accurate sweater vest.
Speaking of Gonzo, he's in fine form here in what looks like a portable cannon. But that Camilla is a weirdo's dream!  Just keep her away from anyone dressed as Colonel Sanders.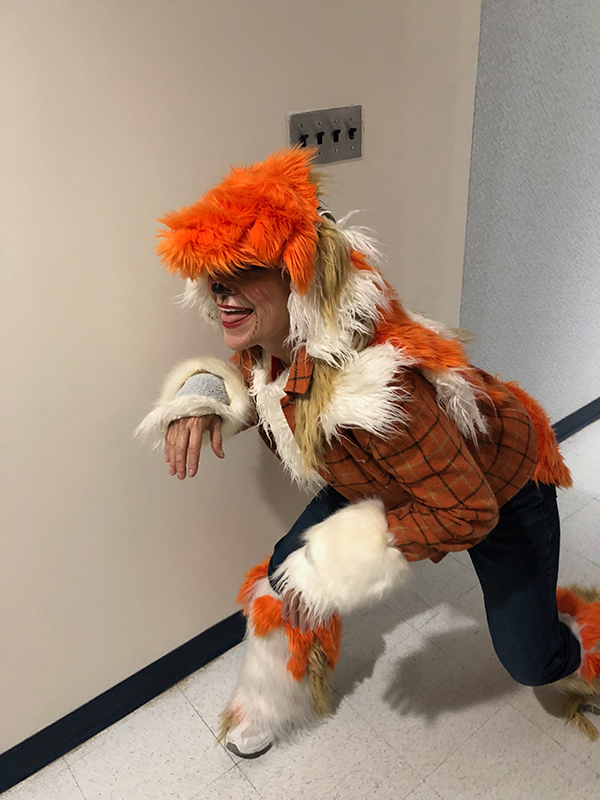 Hey, that's Muppet performer Leslie Carrara-Rudolph dressed as the classic Sesame Street character Barkley!  It's a double-whammy of a Muppet costume!
How about a few more vintage photos?  You know, the kind where they get more and more disturbing the longer you look at them?  These Big Birds will meet us at the end of the River Styx to escort us all into Hell.
Which would be the greater nightmare: Running away from a claw-handed dream monster, or having to live in Elmo's World?
The Labyrinth gang got some good costume time this year, especially those Jareths, what with their vests and boots and Tina Turner wigs.
Okay, now I've seen everything.
Yip Yip costumes???  Uh huh, uh huh.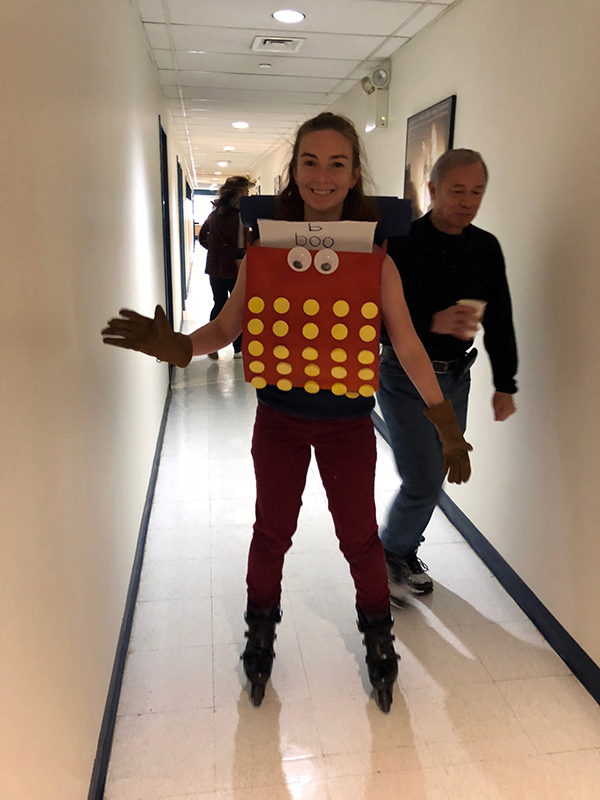 First of all, I can't get over the brilliance of dressing as the typewriter from Sesame Street.  Second of all, being dressed like this while rolling around on roller blades is a new level of genius.
Super Grover probably wouldn't have crashed so much if he'd just kept one leg on the ground.  Amateur.
Every year, we find one really great Sweetums costume.  What is it about Sweetums that inspires exactly one person to put the time and effort into building something so huge and elaborate?  Of course, I ask this rhetorically, because I'm already stitching a burlap sack to wear for my Sweetums costume next year.
And here we have our winner, the greatest Muppet costume of the year.  This amazing human is dressed as Snake Walker, the frog killer flown in from the coast by Doc Hopper in The Muppet Movie.  Not that I'm condoning frog killing, but with a costume this good, maybe we'll let him shoot some harpoons into a few Kermit standees.
Many, many thanks to all of our cosplayers and to everyone who sent us photos over the past year!  Stay tuned in about 365 days for our next Halloween Parade for another batch of brilliant Muppet costumes!
And remember, if you or someone you know is wearing a Muppet costume this year, send us some photos to be included in next year's roundup!
Click here to dress up your pet frog as the ToughPigs forum!

by Joe Hennes – Joe@ToughPigs.com