Halloween Parades
2002 – 2003 – 2004 – 2005 – 2007 – 2008 – 2009 – 2009.1  – 2010
2011 – 2012 – 2013 – 2014 – 2015 – 2016 – 2017 – 2018 – 2019 – 2020

It's the fifth most wonderful time of the year (after my birthday, Christmas, the anniversary of the Doug Henning episode of The Muppet Show, and the actual Halloween)!  That's right, it's time for our annual Halloween Parade!
Each year, Muppet fans around the world celebrate Halloween by dressing up as their favorite frogs and pigs and monsters and goblin kings and Fraggles and other creatures that you'd never see on Animal Planet.  Usually, there's a good amount of people who get extra clever with their costumes, and this year's batch is no exception.  Seriously, I'm proud of you guys.
Let's take a look at some of the best and bizarrest Muppet, Sesame, and Henson costumes from this past Halloween!  And remember, give any of the images below a click to see them in full detail!
Here, we're starting out with a bang.  Muppets and Sesame Street are easy group costumes, and some pull it off better than others.  You can pretty much tell who was willing to craft full head masks, who wanted to settle for a face on a skirt, and who tried to modify a brown sweatshirt into a Mr. Snuffleupagus costume.  The range of "pretty good" to "epic" is evident here, as it will be through this entire article.
Apparently the key to a great Fraggle costume is all in the tail!  And it doesn't hurt to have the perfect scarf or striped sweater or magenta hair spray to help achieve that perfect whiff of Fraggledom.  But it's mostly in the tail.
It must be lonely dressing up like a Snowth without having a Mahna Mahna.  Not to mention not having a fellow Snowth by your side.  The Mahna Mahna in the middle has the right idea, with an incredibly clever cheat so he's always got his backup singers at hand.  Pun intended.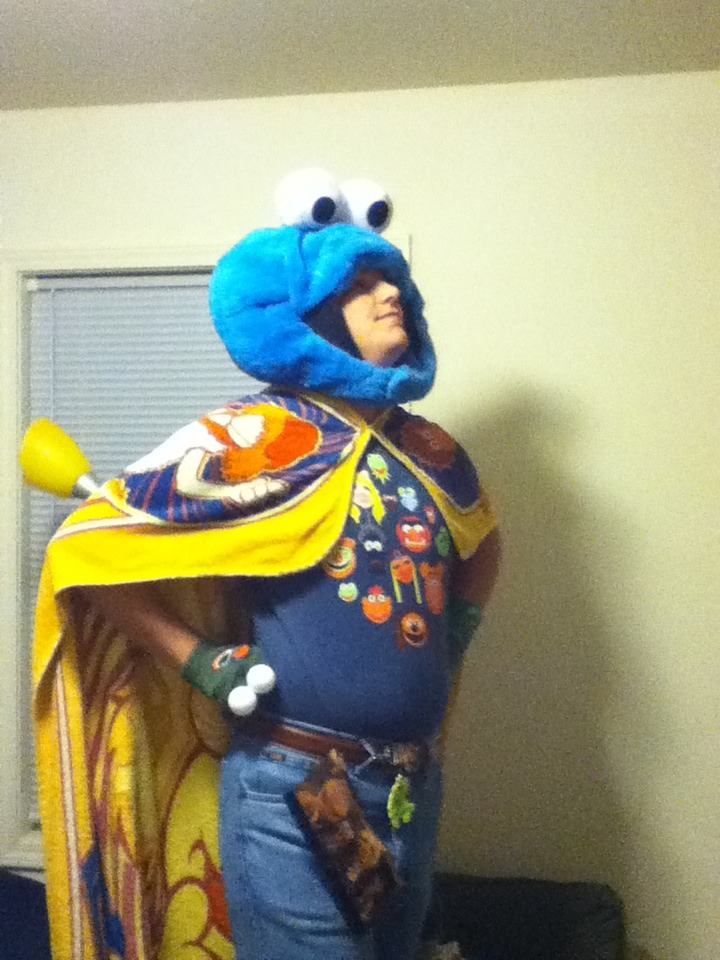 This costume, sent in by ToughPigs' pal Kyle Mahoney, is his own version of "Muppet Man", an amalgam of a bunch of random Muppet things.  It's as if my childhood bedroom exploded onto him.
Beaker is always a popular costume, and it's often interesting to see who chooses to go with the oversized tube and who decides to just toss a red wig on their head so they can use their own faces without trying to figure out how to see through the mouth.
I love seeing Labyrinth costumes, but I really love seeing groups of people covering the whole cast.  The family on the left absolutely nailed it with the tiny Bowie, Sarah's toy Toby, the giant Ludo head, and the spot-on Didymus and Ambrosius.  The group on the right features my college friend Alexis as the gorilla-like Ludo, and her friend has a Toby onesie that any of us would be proud to wear.
Here's another family theme, with each member dressed as their favorite Muppet.  Bonus points for the homemade quality, especially on Pepe and Rowlf, two under-represented characters when it comes to Halloween.  This family really makes me realize how much my childhood stunk, since nobody wanted to reenact The Muppet Show with me.
I have no idea when this McCall's catalog is from, but the costumes (or costume patterns?) are freaking epic.  Bert and Ernie both look like they're in the midst of swallowing those kids' faces, but their sweaters are perfect.  And Big Bird looks so awesome, he deserves to posturize a bit.
The many emotions of Animal.  He's surprised, happy, excited, paranoid, and riding a dirt bike.  He's just like the seven dwarfs.  With a dirt bike.
These three fine folks sent me their photos after last Halloween, and I've been itching to share them until now.  I love seeing how people are able to make Muppet costumes without all the fur and plaster heads and face paint.  All you need is a bunch of retro clothing, some instruments, and some great facial expressions, and you've got yourself an Electric Mayhem.
Hey, that's ToughPigs' own Robyn, who gets the unique honor of being the very first Frazzle I've ever seen, with the obvious exception of the real Frazzle (who, to my knowledge, has never dressed as Robyn).
The Dark Crystal is such a beautiful movie, with such elaborate puppets.  If you're going to dress as the characters, you either have to go all in or not at all.  There's no middle ground.  I actually couldn't find any bad costumes of the Gelflings, Skeksis, or even little Fizzgig, just pictures like the ones above, all of which are absolutely Henson-worthy.
Every year, I expect to find one (just one) Sweetums costume among the myriad of Halloween pictures.  It's a really tough costume to pull off, but oh so epic when someone gives it a try.  Imagine how pleased I was to find three Sweetumses, each one just a great and huge as the others.  And if you want a Sweetums of your own, you can click here to get instructions on how to make the one in the middle!  Sadly, you'll probably need to work out a little if you want to lift a Volkswagen at Mad Man Mooney's.
Folk band Iron and Wine played a show on Halloween, and Samuel Beam took advantage of his usual bearded visage to portray Jim Henson, while his backup band filled out the cast of The Muppet Show.  How freaking great is that??  Click here for more pictures from their cosplay show.
Holy crap, how adorable is this??  He's a mini Jason Segel!  Or a giant Walter.  Either way, adorbs.
Speaking of cute, here's a few more little ones who've donned their eleven-pointed collars and pig snouts and giant Animal heads this past October 31st.  It's so easy to remember that kids actually dress up on Halloween too, and not just us grown-up Muppet nerds.
Ooh, nice Big Bird.  I mean, it's as nice as can be expected without constructing a costume that forces you to keep your hand in the air for 8 hours straight.
Chef's hat, mustache, apron and red bow tie: You've got yourself a Swedish Chef costume!  (Prosthetic nose optional.)
YES.  Epic.  I have never seen a Nanny costume quite so perfect before.  I sincerely hope that she didn't let anyone photograph her from the neck up all Halloween.
This is a great Wembley costume (for which you can get instructions on how to make your own right here), but I'm really just interested in where I can get my own banana tree shirt.
I am not condoning Muppet beheading by any means, but I've got to hand it to this crew for coming up with a clever way to showcase the Sesame gang without actually having to dress as a preschool character.
Each of these Oscars looks pretty trashy, and I'm pleased to see that they found four completely different ways to go about that look.  We've got messy face paint, scraggly fur, and probably plenty of intoxication.  Nice jobs, Grouches.
I'm always glad to see the Yip Yips, who seem to get more exposure during Halloween than they have in the past 15 years combined.  Are the costumes that easy to make?  If so, why haven't I made one for myself yet?  I should check my how-to book.  Book book book book book.  Uh huh.
No, your eyes are not deceiving you.  That is a car dressed as Dr. Teeth.  Click here to read the step-by-step of how it was done, and then sit back and daydream about what it would be like to walk down the street and see those golden teeth and golden tones whizzing by.
All it really takes is a pair of gloves and a pig snout to really capture Miss Piggy, but these three were singled out to me because I've always imagined Piggy to be just like the confident, full-figured ladies seen above.  There's a time and place for a skinny, scantily clad Miss Piggy, and there is a time for getting the character right and being damn proud of it.
Ladies and gentlemen, you have now seen the creepiest Elmo costume ever made.  (Hint: It's the one on the southeast corner.)  It really makes you forget about Elmo's giant paper mache head, or why he's wear a towel while getting out of the shower if he's naked all the time anyway.  Unfortunately, there's nothing that can make you unsee the horror that is the Elmo head Speedo.
This final costume is my pick for the winner of the 2013 Halloween Parade.  Not only is she dressed as Sarah from Labyrinth, she's posing with Kermit and standing in front of a group of goblins just like the cover of the Summer, 1986 issue of Muppet Magazine!  It's as if her Halloween costume isn't Jennifer Connelly, it's an entire magazine cover.  And that is equal parts obscure and epic.
Thus ends this year's Halloween Parade!  If you spot a cool Muppet costume anytime in the next year, feel free to email us a picture, and we'll hang on to it for next year's article.  Thanks for reading, and happy cosplaying!
Click here to leave your Elmo undies at home on the ToughPigs forum!
by Joe Hennes – Joe@ToughPigs.com