This is the saddest time of year.  New York Comic Con is officially over, and we have to wait another 360-ish days until we get to dress in silly costumes and attend Muppet-related panels in Manhattan's Jacob Javitz Center again.  (I mean, nothing's stopping us from trying that at the annual Stationary Expo, but it's still not quite as exciting.)  Thankfully, we'll always have this article to remind us about how much fun we had at the 2014 New York Comic Con.
And it really was a great one.  There were fun panels, lots of great artwork, interesting merchandise, and clever costumes.  We tried to spot as much as possible, and between our entire ToughPigs crew, we amassed a huge amount of Muppet experiences, resulting in what may be the Muppetiest NYCC ever.
Muppet Vault
Among our proudest moments as Muppet fan site runners was when we moderated the Jim Henson Biography panel at last year's New York Comic Con.  And we were just as proud to be officially connected to NYCC again when we were asked to present a Muppet Vault in connection to New York Super Week.  The show was fantastic, as we screened the Christopher Reeve and Lynda Carter episodes of The Muppet Show, as well as a healthy collection of superhero-themed Muppet and Sesame Street clips (including lots and lots of Super Grover) for a packed audience.  It was the highlight of NYCC, and the Con hadn't even started yet!
Panels
The other highlight of the Con was the Sesame Street panel, in which they screened the entire Numeric Con episode and followed it up with a Q&A with Executive Producer Carol-Lynn Parente, Joey Mazzarino (with Murray Monster), Leslie Carrara-Rudolph (with Abby Cadabby), and Eric Jacobson (with Grover).  As someone who still watches a lot of Sesame Street, there's nothing more satisfying than being in an audience full of people (mostly adults) who are laughing along and loving these videos I care about so much.  It's a healthy reminder that Sesame Street is still relevant and entertaining, despite the fact that most of us aren't quite in the key demographic anymore.
http://youtu.be/lnA-Z0-HoTQ
Joey Mazzarino (who also serves at the Head Writer) talked a bit about some other ideas they had for Cookie Monster's Crumby Pictures like The Godfather and Pulp Fiction ("What do they call 'cookie' in France?").  Murray revealed that he bathes in vodka.  If Eric Jacobson could be any superhero, he'd be the Adam West Batman (and so would Bert), but Grover would just take the day off.  Abby Cadabby would be Captain Corn Dog, because she loves Captain America and corn, and she speaks dog.  Carol-Lynn Parente said that the secret to Sesame Street's longevity is that the show is able to constantly evolve.  According to Joey, if George R.R. Martin wrote for Sesame Street, he'd write a sketch called "Elmo's Red Wedding", and most of the characters wouldn't survive.  Oh, and Grover did an uncanny Yoda impression.
http://youtu.be/8CHTIN8Kvq8
When asked for interesting backstage stories, Joey talked about Leslie Carrara's plastic gunea pig named Gale, which she likes to bring out all the time while filming.  She apparently likes to hand it to the celebrities on set, including Michelle Obama.  Joey got fed up with it, so he stole the guinea pig. Leslie responded by putting up missing posters all over the studio.  When she suspected Joey, she enlisted some actors dressed as police officers from the set of Nurse Jackie (which films at the same studio as Sesame Street) to accost him.  Joey then sent her a box with Gale's ear in it.  And so it goes…
When asked what part the internet plays on the creation of the show, Carol-Lynn Parente said that it's great (usually) to get instant feedback from the fans.  And then Murray shouted, "ToughPigs, you know what I'm talking about!"  Which was the coolest thing ever.
After the panel, the audience rushed the stage for photos and autographs, and were truly treated like the celebrities we see them as.  I mean, just look at that picture above.  They're rock stars!
The Jim Henson Company also had some panel presence, as they teamed up with Archaia for a panel all about their current collaborations.  Although there wasn't a ton of new information to us, it's still incredible that there's enough Henson stuff to get excited over to fill an entire panel.  We definitely couldn't have said that just a few years ago.
Writer Kate Leth talked about how excited she is to be working on Fraggle Rock: Journey to the Everspring.  She's especially thrilled to be able to introduce some new Doozer characters and add a little to the Fraggle Rock mythos.
Shane-Michael Viduarri, writer and illustrator of the first issue of Storyteller: Witches, discussed his issue, which mixes a few different myths (The Magic Swan Goose and Lord of the Forest) and features creatures drawn as if they could be something actually built by the Jim Henson Creature Shop.  I love that tidbit, mainly because it must be difficult to create new Storyteller stories and keep them connected to the Henson brand.
While discussing The Magical Monsters of Turkey Hollow, Jim Henson Archivist Karen Falk said that Jim always had an interest in stories about aliens.  He wrote a treatment for a special called "Martian Landing", which was never produced.  (Maybe in a future Archaia graphic novel??)  Another treatment Jim wrote was called "The Adventures of Snerf from Planet Snee", which may have inspired the puppet Snerf, which may have inspired the rest of the monsters from Turkey Hollow.  Karen Falk also speculated that Turkey Hollow directly influenced Jim to create the world of The Dark Crystal, which makes all kinds of sense when you squint and turn your head and think about it really hard.
Also available now from Archaia are the Labyrinth, Dark Crystal, and Storyteller novelizations.  In regards to The Dark Crystal book, the Henson Company investigated author A.C.H. Smith's archives, kept at the University of Texas, and found 30 pages of Jim's handwritten notes.  It wasn't common for filmmakers to be quite so involved with their films' novelizations, but Jim wanted to make sure that his vision of the world of Thra was fully realized, adding many details to the mythology to help keep the novel true to the film.
Merch
Hey, remember that Super Grover Funko toy we talked about earlier?  Apparently there were only about 30 sold at each day of New York Comic Con, leaving most of us unable to purchase any.  A few toy collectors were lucky enough to get some, and a few were given away at the Sesame Street panel, but the rest of us will have to wait and see if Funko includes Super Grover in their toy line next year.  Harumph!
These supercool Fraggle Rock shirts were available from Zen Monkey Studios, and we were told that they sold like hotcakes.  Of all the popular properties they had, only Deadpool sold better.  They even sold out of Red shirts!  How great is that for the future of clever Fraggle merchandise??  But if you weren't at NYCC, don't worry.  We've been told that the remaining shirts will be available online soon.  We'll spread the word when that happens!
We also caught our first in-person glimpse of the Gonzo ornament at the Hallmark booth.  He's pretty neat.  When you press his button, you hear him announce his latest, elaborate stunt in what I believe is some new audio from Dave Goelz.  I know I'll be getting this one for my Hanukkah bush!
And of course, there was a lot of vintage Muppet stuff on the shelves (or, more accurately, tied to the outside of vendors' booths).  We heard there were vintage Muppet and Sesame puppets still in box (going for a ludicrous, yet accurate, amount of money), and we spotted our fair share of Palisades and Funko toys here and there.  Believe me, if I had one inch of shelf space still available, I'd be going home with a few of these guys.
Cosplay
And then there's the costumes!  Like the Muppet Avengers!  Sure, they're no Muppet Storm Troopers, but how freaking cool is that??
We also spotted these fine gentlemen dressed as Bunsen and Beaker, in one of the simplest, yet most effective, cosplays of the Con.  Well done, guys.
But nothing (no, nothing) beats Jim Henson cosplay.  Especially when teamed up with the Kermit-Thor puppet.  This is epic times ten.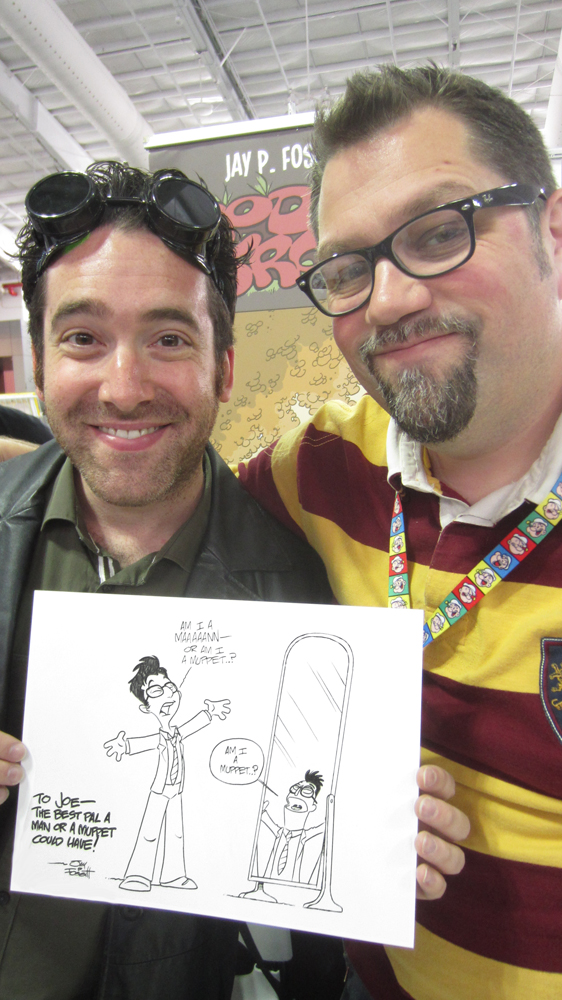 Art
Lastly, there's all the artwork we found at Artist's Alley.  We got to see a lot of current and past Muppet artists, including David Petersen, Amy Mebberson, Katie Cook, and James Silvani, but we also met Jay Fosgitt, who was awesome enough to draw the picture above for me.  And it may be the coolest thing I've ever gotten that truly represents my own personal internal conflict.  Thanks Jay!
In the spirit of time, here's a bunch of short cuts featuring Muppet and Henson-related artwork from artists found at Artist's Alley:
by Chris Hamer
by Mark Dos Santos
by Marc LaPierre
by Michael "Locoduck" Duron
by Justin Ponsor
by Der Laine
by Colin Lawler
by Chrissie Zullo
And thus ends another ToughPigs New York Comic Con recap, which officially ends New York Comic Con season.  Let's all take down our decorations and put our dead trees outside for the trash pickup.  And we'll wait patiently for another year to pass so we can do it all over again with brand new Henson panels, Muppet cosplay, Sesame Street art, and tons of geeky fun!
Many thanks to ToughPigs contributors Ryan Roe, Matthew Soberman, Mike Slawinski, and Sarah Grace for their contributions!
Click here to hide your guinea pig on the ToughPigs forum!
by Joe Hennes – Joe@ToughPigs.com