Hello again, Muppet nerds! How's July treating you? Wait! It's July? That must mean that we're days away from San Diego Comic Con (SDCC to its friends)! Soon geeks like us from all over the world will descend upon beautiful San Diego, California and feast on the bounties of dorkdom. And while there aren't any huge offerings this year for Henson fanatics, here are some things you can look out for while at Geek Mecca this year from July 18th – July 22nd.
Panels:
Romance in Science Fiction, Fantasy, Horror, and Historical Fiction
Friday July 20, 2018 11:00am – 12:00pm
Grand 9, Marriott Marquis San Diego Marina
Award-winning bestselling authors and actors discuss romance in speculative and historical fiction, whether it be crushes, heart throbs, or love at first sight. Topics include attraction, compatibility, offspring, love, society, (extremely) long-distance relationships, close quarters, customs, rituals, religions, marriage, and more. Featuring Liam McIntyre (Spartacus, The Legend of Hercules), Gigi Edgley (Farscape, Jim Henson's Creature Shop Challenge), Jimmy Diggs (Star Trek: Voyager, Deep Space Nine), Claudia McKinney (bestselling book cover artist of 725+ books), and Mark O'Bannon (The Dream Crystal, Pirates of the Imperium).
Mark McDonnell – Portfolio Review
Friday July 20, 2018 11:00am – 12:00pm
Sails Pavilion – Portfolio Review
Mark McDonnell, Disney Master Teacher will assess your character design and gesture drawing skills, as well as suggest which animation studios might best suit your drawing style and sensibility, or how to adapt your style to your dream studio. Mark has worked for Disney, Pixar, Miramax, Fox, New Line, Mattel, Sony, Legendary Pictures, and The Jim Henson Company, among others. Of his five published books, the most influential and sought after is The Art and Feel of Making it Real, on animation gesture drawing. He also runs classes at California Institute of the Arts in Valencia, the Animation Guild in Burbank, and through his online school, CreativeMarksUniversity.com. You can also meet Mark at his Table, i-05, and solo panel.
Powerful Young Women in Disney Comics
Sunday July 22, 2018 12:30pm – 1:30pm
Room 23ABC
Disney Comics presents a look at recent and upcoming comics showcasing powerful female characters from Disney and Star Wars. Oh My Disney's Michelle Lema leads a discussion with panelists Delilah S. Dawson (author, Star Wars Adventures, Star Wars Forces of Destiny), Amy Mebberson (author/artist, Disney Princess comic strips), Cecil Castellucci (author, Moving Target: A Princess Leia Adventure), Jody Houser (author, Star Wars: Forces of Destiny), and Katie Cook (author, Tangled: The Series comics) discuss the growing importance of female characters and authors in the comics industry and the making of comics for kids.
Saturday July 21, 2018 10:30am – 11:30am
Room 8
Marvel Minimates celebrate 15 years of tiny toys, as representatives from Diamond Select Toys talk about the origins and present their lineup for 2018-2019, including Marvel Comics, Ant-Man, Kingdom Hearts, Sonic the Hedgehog, Predator, and more. Plus, the Vinimates vinyl figure line is explored with figures from Aquaman, Predator, Sonic, Injustice, DC Comics, and more! A visual presentation will be followed by a Q&A, with awards for the best questions. Guests moderated by Zach Oat (marketing supervisor).
Saturday July 21, 2018 12:30pm – 1:30pm
Room 24ABC
Discover your new comic book obsession at Comic-Con-and you're guaranteed to find it at this panel! Ryan Parrott (Saban's Go Go Power Rangers), Delilah S. Dawson (Ladycastle), Tyler Jenkins (Black Badge), Phillip Kennedy Johnson (Low Road West), author C. B. Lee, writer Marguerite Bennett, and Matt Gagnon(editor-in-chief, BOOM! Studios) discuss the diverse imprints of BOOM! Studios, Archaia, BOOM! Box, and KaBOOM!, with surprises for everyone in the audience. Moderated by Filip Sablik (president of publishing & marketing, BOOM! Studios).
Sunday July 22, 2018 3:00pm – 4:00pm
Room 24ABC
Representatives from Diamond Select Toys present their lineup for 2018-2019, including action figures, statues, banks, and more from a variety of properties, including Aquaman, Ant-Man, Marvel Comics, Kingdom Hearts, Pacific Rim Uprising, John Wick, Ghostbusters, and others. A visual presentation will be followed by a Q&A, with awards for the best questions. Panelists include Eli Livingston (sculptor), Adam Van Wickler (Gentle Giant), and Jason Wires (painter). Moderated by Zach Oat (marketing supervisor).
Mark McDonnell: How to Draw in the Different Studio Styles
Sunday July 22, 2018 4:00pm – 5:00pm
Room 2
Being a good artist and facile with technology are two of the skills animation companies seek in employees. But there's a third component rarely discussed: how well you can draw in the style of their particular studio. In this workshop, Disney master teacher Mark McDonnell will demonstrate how to adapt your style and eye to different studios-including Disney, DreamWorks, and Warner Bros.-to increase your chances of getting hired. Introduced by Fast Company's Susan Karlin.
Additionally, Gigi Edgley (Farscape and Jim Henson's Creature Shop Challenge) will be signing at the Sails Autograph Pavilion, at Booth AA33
Times:
Thursday, July 19 • 10:00am – 2:30pm
Friday, July 20 • 2:30pm – 7:00pm
Saturday, July 21 • 10:00am – 2:30pm
Sunday, July 22 • 10:00am – 1:30pm
Art:
For all you art lovers, there will be plenty of Henson-related artists lending their pencils to your requests. Look for Katie Cook at Table HH-17, David Petersen at Table GG-09, Jay Fosgitt (and maybe his new-and-improved Bodie Troll puppet?) at GG-12 and over in Exhibitors' Alley, stop by Amy Mebberson & James Silvani's Table at F-07. Also, Boom! Studios and their Archaia imprint will be stationed at Booth 2229, and Diamond Toys will be at Booth 2607.
Speaking of Jay Fosgitt, he'll be doing a signing at the Boom! Comics Booth (Booth #2229) on Thursday from 12:00pm to 12:50pm. Get your Fraggles signed and ask Jay what it's like to be a part of a museum exhibit!
Also, there are always plenty of fan art pieces to be found in Artists' Alley. It's almost certainly worth your time to spend an hour or so digging for buried Muppet treasure amongst the Ms. Marvel and Squirrel Girl mashup pictures. So much mashup potential!
Cosplay:
And certainly don't forget the cosplayers! I've seen some pretty great Muppet costumes at Comic Cons past and expect this year to be no different. Fan favorites like Beaker and Mahna Mahna will most likely pop up walking the floor. In addition, with California being a big puppetry scene as of late, I'm anticipating a few fanmade Muppets to be roaming the convention center.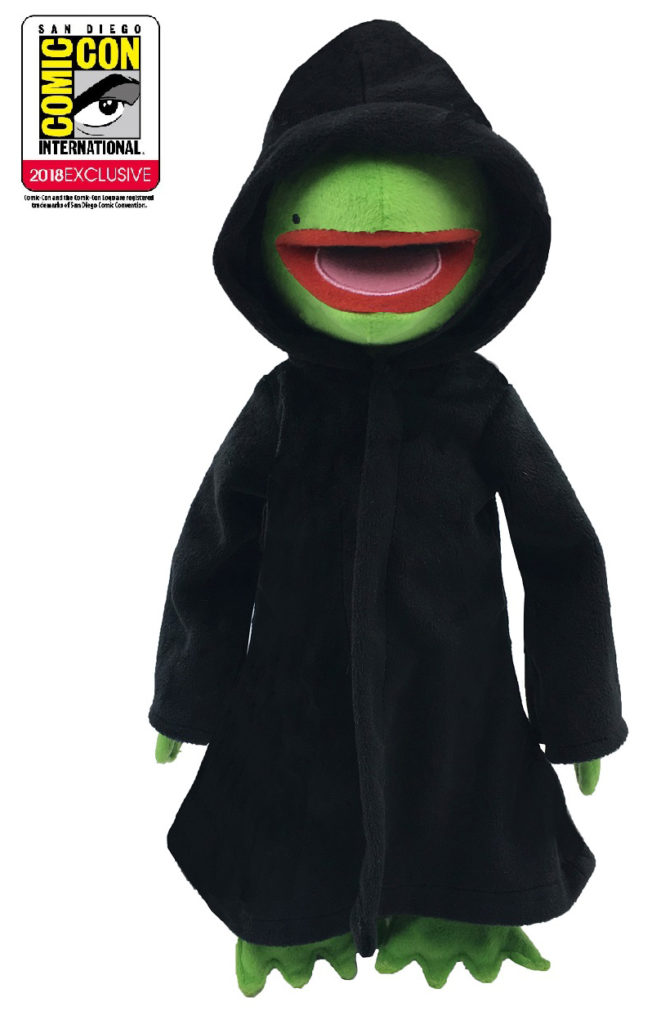 Merch:
And then, of course, there's the merchandise. SDCC is all about cross-promotion and marketing along the spectrum, so a trip to the Hallmark booth will be worth your time to get a sneak peek of what Muppet Christmas ornaments we can expect in the next year or two. WeLoveFine will be there with their geek-inspired t-shirts and we know they're always good to hit up for the Muppet fan on your gift list. Try swinging by the Disney Booth and see if there's anything Muppety hiding there – I know I will! And while the Muppets line at Diamond Select may be in limbo, don't forget to catch up on their Muppet action figures, Minimates, and glasses and mugs at Booth #2607. There'll be a gift set of everyone's favorite Swedish chef … The Swedish Chef! Priced at $30, he comes with a mountain of kitchen accessories including pots and pans, random cutlery, frowny food ingredients, and a chicken (Camilla? Henrietta? Fred?) – he'll have everything but the kitchen sink!
This year, there are some exclusives we recommend checking out as well.The ABC booth (#4245) will be located on the convention floor from Friday, July 20–Sunday, July 22; and exclusive merchandise will be available for purchase from Wednesday, July 18–Sunday, July 22. For '90s kids (or 90-Million B.C. kids) check out this exclusive Dinosaurs t-shirt.
The Archaia section of the Boom! Comics booth will have two exclusive Beneath the Dark Crystal #1 variant covers – one by Kelly Nichole Matthews, and one by Jay Fosgitt. Both are limited editions (Matthews's cover will be limited to 3,000 copies and Fosgitt's to only 250!) so get there early if these tickle your fancy!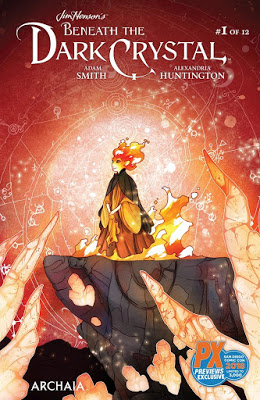 The Mondo Booth (#435) will have some awesome posters for Henson fans as well – a Labyrinth one by Jeremy Bastian and The Dark Crystal one (in two different color schemes) by Ken Taylor. PLUS you don't need to actually be in San Diego for the regular version of Taylor's The Dark Crystal poster – the "regular," more sepia-toned colored version will go on sale on Mondo's website on Friday morning.
And finally, don't forget to try your luck at getting one of the rare Constantine plushes we talked about from UCC Distributing at Booths 5610 and/or 700!
That's all for your preview this year, Henson fans! Be sure to check back here on ToughPigs after SDCC for our report all about the stuff we just told you about! Now let's get nerdy!
Click here to be facile with technology on the Tough Pigs forum!
by Matt Wilkie