As you probably haven't noticed, I've unwittingly managed to review each of the last three Sesame Street specials that have kicked off a new season on HBO. I've learned that "it's all about kindness" with Once Upon a Sesame Street Christmas, went on a wild journey "just around the corner" with The Magical Wand Chase, and seen what happens when you don't specify your wishes with When You Wish Upon a Pickle. I've gone from sweet to silly and back again, all the while not knowing that it would lead to something like this. This week marks fifty years since Sesame Street's first episode graced the airwaves across the United States, and to celebrate, we've been given a special half a century in the making: Sesame Street's 50th Anniversary Celebration. So, was it worth the wait? Let's dive in!
WARNING: This article is full of spoilers!  If you've already seen the special, read ahead!  If not, it will be airing on PBS on November 17th.  Don't worry, this review will still be here after you've seen it!
Let's start off with one thing: it's impossible to condense five decades worth of material down to 49 minutes and cover everything. Heck, I co-reviewed a DVD set with nearly six hours of content, and I was still left wanting more. There's just too much good stuff! So what do they do with the time they have? What we get is something that's part-retrospective, part-new adventure, part-reimagining of some of the show's greatest hits, part-family reunion, and part-excuse to edit Joseph Gordon-Levitt into a whole lot of classic Sesame clips. And… it all works really well together, just like a neighborhood of humans, monsters, Snuffleupagi, 8-foot-tall yellow birds, and one Count von Count. (Ah Ah Ah!)

The basic premise behind the special is that Gordon-Levitt has arrived for Sesame Street's 50th anniversary, and everyone just sort of goes with it. Does everybody know they've been on a television show that's been running for fifty years? Was the community on Sesame Street founded in 1969? How does that jibe with the premiere of season 8, where we learn Hooper's Store opened on Sesame Street in 1951? I guess their answer is to not have you think about it for too long, because Gordon-Levitt reveals that he wants to take a picture with everybody under the famous street sign.
And wouldn't you know it, the street sign has gone missing! Elmo, Abby Cadabby, and Rosita enlist the help of some neighbors, trying to keep Gordon-Levitt unaware so that he isn't disappointed. So while Gordon-Levitt walks around Sesame Street and explains just how much he loves the show, the search is on.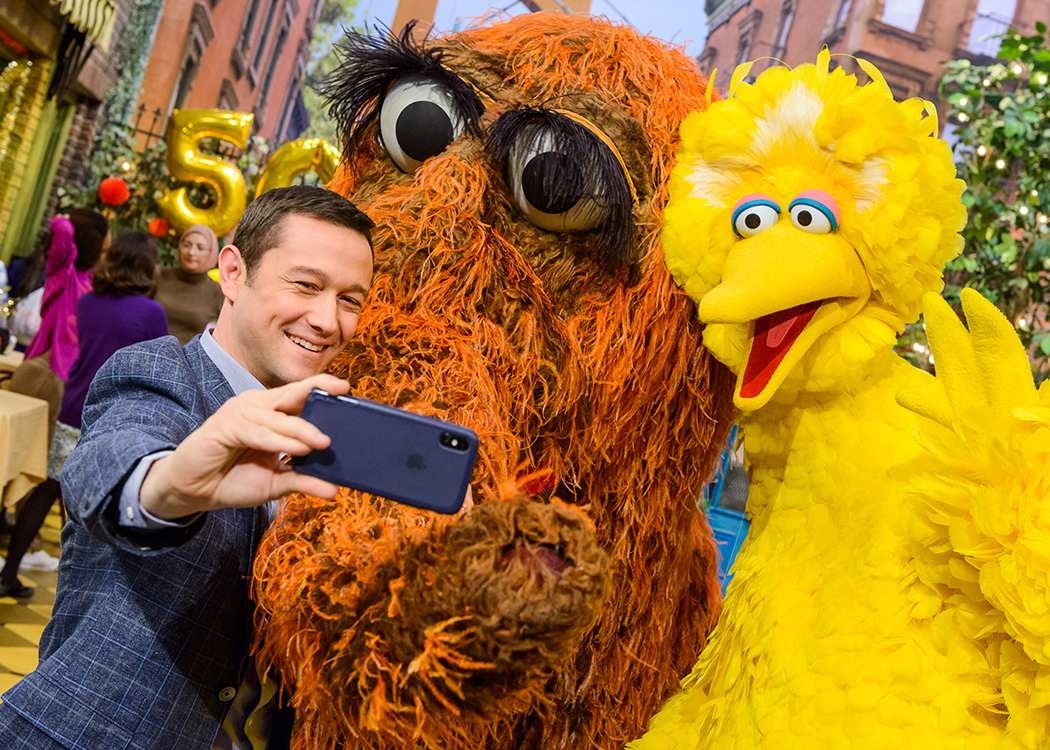 These 49 minutes go by really fast, maybe even too fast, for everything the show does. You don't really get much of a breather before they're on to the next thing, and it's one of the show's rare deficits. But, there's a lot to get to, so I found it to be understandable. We get some re-imagined classics like Nile Rodgers playing the funkiest version of "The People in Your Neighborhood" I've ever seen, Sterling K. Brown getting a cookie devouring lesson from Cookie Monster, and in a true highlight of the special, Kermit the Frog makes his first new appearance in a Sesame Street project in a decade. After saying a quick "hi" to Gordon-Levitt (probably wanting to apologize again for asking him to appear in Lady Gaga & the Muppets' Holiday Spectacular), he joins Elvis Costello to perform a duet version of the classic song, "Bein' Green."
But the best part of the special is the whole "family reunion" aspect, because this really feels like the Sesame Street equivalent of A Muppet Family Christmas. Everyone's together to mark the milestone anniversary, including characters we haven't seen in years, like Harvey Kneeslapper, Captain Vegetable and Forgetful Jones. But best of all, many of the human cast members have returned! There's Bob and Susan singing "One of These Things!" Maria does one of her classic reaction takes to the camera! There's Linda and Gina and Gordon and Luis and Leela and Miles! (And for what it's worth, Nitya Vidyasagar looks absolutely ecstatic any time she's on-screen, like she's just so happy to be back. It really shows off just how close the Sesame Street family can be.) 
This review is the more measured version of my reactions while watching, which went more like "OHMAGAWD IT'S LINDA! AAH! KERMIT'S HERE! THIS IS GREAT! I LOVE ALL OF THIS!" It really boils down to this one thing that keeps recurring in my head: this one's for us. This one's for everybody who's ever watched and loved this show. Everyone gets their moment (except for Murray and Frazzle… I guess they couldn't fit everybody into this special), and a lot of classic moments are referenced. You could honestly watch the show a second time just to see all the obscure characters hanging out in the background. There's a new adventure that little ones will likely enjoy. There's great interpretations of classic songs. There's a joke about Anything Muppets, featuring two rarely-seen characters. There's even a mini-celebrity version of "Put Down the Duckie!" It's a birthday party for everyone, and it's well worth accepting the invitation. Happy 50th, Sesame Street!
Click here to save a slice of cake for Murray and Frazzle on the ToughPigs forum!
by Matthew Soberman