Every year since the days of the Lumiere Brothers, we've been judging movies on their most important criteria.  Not script or plot or character or Michael Bay explosions, but by Muppet connections.  There are literally thousands of celebrities, films, and pop culture icons with direct connection to Kermit and the gang, and sometimes they get nominated for awards.
Last year, we accurately predicted 2 Oscar winners, including the Kermit-faced Christian Bale and elephant cosplayer Natalie Portman.  That's gotta be some kind of record!  I'm pretty sure we can double it this year, if such a number is even achievable.
Before we get started, take five seconds and fill out the petition to let the Muppets perform "Man or Muppet" at the Academy Awards.  It's amazing that we live in a world where someone could even conceive of not letting the Muppets sing a song on one of the most popular programs in television history.  There may be evil at work here, and it's our duty to fight it.
Also, we're gonna go ahead and ignore Miss Piggy's appearance at the BAFTAs last week, partly because it feels like cheating when she meets so many Academy Award nominees in such quick succession so close to the Oscars, and mostly because I wrote the bulk of this article before that happened.  Plus, it was all the way over in England, so whatever.
Let's take a look at the important nominees (sorry for the snub, Sound Mixing) and figure out who's gonna win what before it actually happens.
Actor In a Supporting Role
Kenneth Branagh in My Week With Marilyn
Jonah Hill in Moneyball
Nick Nolte in Warrior
Christopher Plummer in Beginners
Max von Sydow in Extremely Loud & Incredibly Close
It may surprise you to learn that Kenneth Branagh appeared in the Jim Henson Pictures film Five Children and It.  It may also surprise you to learn that Jim Henson Pictures made a film called Five Children and It.  But this award will be going to the Seth Rogen-lite Jonah Hill, for his work as a mustache-wearer with Elmo on Sesame Street.
Actress In a Supporting Role
Bérénice Bejo in The Artist
Jessica Chastain in The Help
Melissa McCarthy in Bridesmaids
Janet McTeer in Albert Nobbs
Octavia Spencer in The Help
As far as I can tell, none of these actresses have ever worked with the Muppets.  Which means that none of them are truly winners.  But if we have to choose (and if we don't, the accountants at PricewaterhouseCoopers will), I'm going with Melissa McCarthy, who would be a shoo-in as a Muppet Show guest star if the show was still on the air.  Man, now I really want to see that happen.  Forget the Oscars, give me a McCarthy-Muppet mashup!
Actor In a Leading Role
Demián Bichir in A Better Life
George Clooney in The Descendants
Jean Dujardin in The Artist
Gary Oldman in Tinker Tailor Soldier Spy
Brad Pitt in Moneyball
Foreigners Demián Bichir and Jean Dujardin get a pass for being geographically (and emotionally) distant from the Muppets for most of their careers.  But Gary Oldman, Brad Pitt, and freaking George Clooney have no excuse!  They're famous enough to practically demand to work with the Muppets at their whims.  Clooney's gonna take this one home though, since he got a shout-out in an early draft of The Muppets.  I guess that'll have to do, but you A-listers are going to have to try a lot harder next year.
Actress In a Leading Role
Glenn Close in Albert Nobbs
Viola Davis in The Help
Rooney Mara in The Girl with the Dragon Tattoo
Meryl Streep in The Iron Lady
Michelle Williams in My Week With Marilyn
We may be at an impasse.  Glenn Close and Meryl Streep both hold claim to some great Muppet connections.  Close got a shout-out on the "Open and Close" episode of Elmo's World (the TV says that "Closed Encounters of the Third Kind starring Glen Close" is up next).  Miss Piggy compared herself to Streep in her The Iron Lady role of Margaret Thatcher.  Close starred as Cruella DeVil in the Jim Henson Company's live-action version of 101 Dalmatians.  Streep posed for pictures with Miss Piggy at an event in 2010.  Close submitted a recipe to Miss Piggy's cookbook.  Streep inspired the Sesame Street character "Meryl Sheep".  Close actually appeared on Sesame Street in the 1990s.  Sorry Meryl, but acting in a production with the Muppets gave Glenn the edge she needed.  But damn was it a close race!
Animated Feature Film
A Cat in Paris
Chico & Rita
Kung Fu Panda 2
Puss in Boots
Rango
What? No Pixar movie to deliver the Oscar to on a silver platter??  But… how else can we possibly choose a winner?  Should we give it to the movie about a talking cat, a talking bear, a talking lizard, or the other talking cat?  Eh, that Rango guy kinda looks like a frog.  Good enough.  Plus, one of the kids in the movie is dressed like Baby Kermit.
Directing
Michel Hazanavicius for The Artist
Alexander Payne for The Descendants
Martin Scorsese for Hugo
Woody Allen for Midnight in Paris
Terrence Malick for The Tree of Life
None of these guys have ever actually directed Muppets, but there are some (very loose) connections that don't involve wearing a beret and shouting through a bullhorn (I obviously have no idea how movies are made).  Alexander Payne is possibly most famous for the movie Sideways, which was parodied on a Muppet t-shirt in 2005.  Martin Scorcese one-upped Payne with two movies that got Muppet spoofs: Taxi Driver (with several mohawk and "You talkin' to me" references) and Raging Bull (with at least three "Raging Bullfrog" puns).  But Woody Allen takes the gold for Muppet references of all kinds.  Telly Monster claimed to dislike Woody Allen films for having too much anxiety.  A Woody Allen Muppet appeared in several episodes of From the Balcony.  Kermit and Piggy posed for an Annie Hall spoof photo.  The Big Bird Macy's Thanksgiving Day Parade balloon appears in Allen's film Danny Rose.  And the pièce de résistance: Woody Allen appeared on an episode of "Our Place" in 1967 with none other than Rowlf the Dog.  Sadly, there's no video footage of that meeting, so I hope he'll accept an Academy Award as a consolation prize.
Visual Effects
Harry Potter and the Deathly Hallows Part 2
Hugo
Real Steel
Rise of the Planet of the Apes
Transformers: Dark of the Moon
People sure did love that Hugo movie.  But out of pure spite, due to the fact that it opened the same week as The Muppets and possibly took away from a fraction of its box office intake, I'm ignoring it.  So let's go with Real Steel, the story of a musclebound puppeteer trying to put on a show with a ragtag group of giant robots.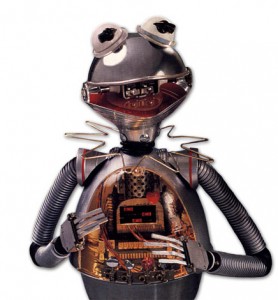 Best Picture
The Artist
The Descendants
Extremely Loud & Incredibly Close
The Help
Hugo
Midnight in Paris
Moneyball
The Tree of Life
War Horse
This is a tough category, since none of these movies actually feature any Muppets, nor have they appeared in a Muppet production.  So let's use the all-mighty powers of deduction!  The Tree of Life is a nonlinear story about three brothers in the 1950s, and their loss of innocence.  Nothing Muppety there.  Housemaids and the civil rights movement?  Nope.  George Clooney as a distant father doesn't scream Muppets either.  Neither does an autistic kid in post-9/11 New York.  Moneyball has something to do with sports, but it's not quite enough for that Louis Kazagger reference.  Maybe the Muppets will tackle the ever-popular "time travel and relationship neuroses" genre like Midnight in Paris, but they haven't yet.  And we've already been over that Hugo movie.  So that leaves War Horse and The Artist, both of which prominently feature animals who think they're people.  Advantage goes to The Artist for the way it mixes highbrow and lowbrow humor, with a touch of self-awareness.  Plus, that dog is freaking adorable.
Original Song
"Man or Muppet" from The Muppets
"Real in Rio" from Rio
This is the Oscar pool equivalent of the "Free Space" on a Bingo board.  I'd go as far to say that if The Muppets doesn't win, there's a likelihood of espionage on a global level.  I just… I don't even know what else to say.  The Muppets are a shoo-in to receive their very first Academy Award.  Special thanks go out to the dude who wrote "Real in Rio" for creating such a mediocre song!  We couldn't've done it without you!
Host
Billy Crystal
Billy Crystal has had a long history of working with the Muppets.  He's appeared on Sesame Street, hosted an episode of Muppets Tonight, and filmed a (deleted) scene for The Muppets.  He's worked with Frank Oz (in Monsters Inc.), he almost appeared in the debut episode of Saturday Night Live (which also featured the Land of Gorch Muppets), and he's a veritable renaissance man of talent.  But despite all this, he will still fail as a host.  Because he stole the Academy Awards hosting duties from the Muppets, as evidenced by the campaign that ran a few months ago.  So no matter how great his inevitable song-and-dance will be, no matter how hilarious his Bruce Vilanche jokes are, and no matter how edgy his mockery of Tilda Swinton's dress is, we'll all be watching and wondering how much better it would've been if Kermit was on stage instead of Crystal.
Tune in to the 84th Academy Awards on Sunday, February 26 to see just how Muppety the winners are!
Click here to thank all the little people on the ToughPigs forum!
by Joe Hennes – Joe@ToughPigs.com