This article is the latest in our continuing My Favorite Muppet of the Moment series!
My favorite Muppets of the Moment are The Three Ds from Muppet*Vision 3D.
Why did I choose The Three Ds as My Favorite Muppets of the Moment?
I love the Muppets and I love Disney Parks, so it's no surprise that Muppet*Vision 3D happens to be one of my favorite Muppet things ever. It's a harmonious marriage of Jim Henson's style and humor and Disney Imagineering's high level of detail and immersive theming, and it works so well. Every Muppet performer is at their peak, and the script crackles with the Muppet wit that made them so beloved. If it isn't a perfect Muppet project, it's darn close to it.
But as much as people love the attraction, I don't hear as much about the preshow. Sure, you might occasionally see references to Rizzo dressed as Mickey Mouse, but there are genius moments throughout the show that don't get celebrated as much. There's Gonzo dancing with a flowerpot on his head. Scooter getting swept into a test pattern. Sam the Eagle's safety spiel. All fantastic Muppet moments.
But let's be honest, when you talk about Gonzo, Scooter, or Sam, odds are you're not going to talk specifically about the Muppet*Vision preshow. And let's be honest, I kind of hit my "recognizable Muppet" quota when I talked about Kermit a few weeks ago, so it made sense to highlight some unsung heroes of the preshow. And that's where Dorothy, Dinah, and Max come in.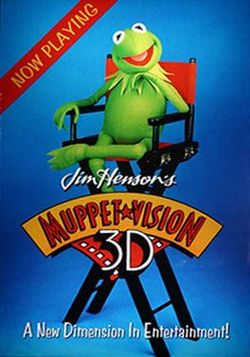 What makes The Three Ds so great?
I won't make any bones about it: The Three Ds are exactly one-joke characters. And unlike Lew Zealand, you can't really do the joke in different ways to make it interesting. But sometimes, that joke just works perfectly so that the one joke is all you need.
It's a classic Muppet setup: The Three Ds are a singing girl group, Dorothy, Dinah, and Debbie. They're clad in tutus, and everyone's expecting a cutesy number. But Debbie is sick, so the union sends in Max, a mustached, balding, gruff-voiced replacement (performed by David Rudman). Now, just the imagery of a mustached, balding, gruff-voiced union replacement in a tutu would be funny enough, but they really take the premise to its furthest point, as the show must go on, and the trio begin their performance of "By the Light of the Silvery Moon," and Max gets reeaaaally into the song. He can't sing worth anything, but he'll be darned if he isn't going to be the best replacement any union ever sent. He gets really into the dance, trying to sell it as much as possible, and he gets real touchy when Scooter accidentally steps on his dress.
I think we can all learn a little from Max. Sometimes, we all get thrown into a situation we don't fit into. Now, you could just try to keep our head down and do the bare minimum, or you can make the best of your situation, and give it your all. Even if it doesn't work out, someone's bound to notice your effort. Isn't that something we should all aspire to? And Dorothy and Dinah treat him just as they would Debbie, they embrace his effort, and they all try to make it work. The song may hit a sour note, but their teamwork is sweet. The Three Ds are a trio we can all aspire to.
Memorable Three Ds Moment
Well, more like their only moment, but here it is in its entirety. Watch and witness the majesty of The Three Ds!
Click here to wonder if Debbie's feeling better on the ToughPigs forum!
by Matthew Soberman