After three long years off, Toy Fair – the annual expo to showcase toys coming out in the near future – is back! If you've read our coverage of past fairs, you know they can be hit or miss in terms of Muppet content. Luckily, after all that time away, we got to see a fascinating variety of toys and collectibles from the worlds of the Muppets, Sesame Street, The Dark Crystal, Labyrinth, and even Dinosaurs! A show that ended nearly 30 years ago is still putting out merchandise! What an age we live in. Anyway, let's dive right in!
We were honestly surprised with how much Monogram Direct had to offer. Their series of Muppet bag clips features a good range of characters, most of which translate well to the style. Rizzo could use a little more work, but at this point, any merch of Rizzo's welcome.
They also have a similar set of Sesame Street bag clips, which look even better. Eye design is so important to these characters, and they got those spot-on.
They also showed off a large Elmo figurine, in case you want a monster that doubles as a paperweight.
For those who prefer a softer bag clip, the Sesame set will also be available in plush form. Doesn't Oscar look so happy to be potentially dangling from someone's bag?
The company showed also showed off some of their past event-exclusive items, including this Sesame lanyard and pin set from San Diego Comic-Con.
Their catalog showed off the full range of designs for their characters, including an exclusive Miss Piggy variant. While it's nice to show Piggy in a wardrobe change, but it does feel like a missed opportunity to make something for Rowlf. People love to show off adorable dogs, but only one can play Rachmaninoff too!
While Funko didn't show off its previously-announced POP! figures for The Muppet Christmas Carol, they did show off a new card game inspired by the film, called the Spirit of Giving Game. No word yet if you have to describe something that lives in the city and is generally unwanted.
Of course, you'll have to have a bank account that would make Ebenezer Scrooge proud to be able to afford Super7's Super Grover and Count von Count Supersize vinyl figures, which have a recommended retail price of $295. (Each!) Still, they do look awful nice, especially all the details on the Count's cape.
Ever wanted to twist Kermit's arm? (It's not like you can bend his ear… frogs don't have ears!) Flexfigs will soon have you covered with a series of bendable figures for both the Muppets and Sesame Street. Only Kermit and Elmo were on display, though box art showed that Cookie Monster and Big Bird were well into development.
Seen above: More potential bendy Muppets (hopefully) coming soon.
Meanwhile, over at the NECA booth, KidRobot had a display of their licensed plush, including the Kermit and Miss Piggy plush which we just reviewed! (Wasn't it so nice of them to hold Toy Fair just in time to promote our unboxing video?). They were joined by Fozzie Bear, whose face proportions look better than most Fozzie plush, even if the fur color isn't quite right.
Hidden among the other pop culture properties was a similar plush for Dinosaurs' own Baby Sinclair! He was just chilling with his friends Goliath, Stitch, and the DeLorean from Back to the Future.
But NECA goes way beyond just the soft and squishy. There's also an Oscar the Grouch Chia Pet, so now you can spread the seeds and see just how Oscar went from orange to green.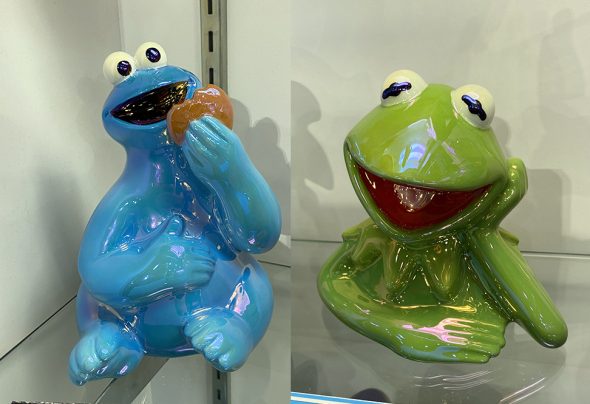 There were also ceramic figures of Cookie Monster and Kermit, which looked nice and glossy, as well as the Ultimate Earl and Baby Sinclair figures, which come with a litany of accessories, including a plush Georgie, and the obligatory frypan for identifying who is and is not the mama.
It does make you wonder if the materials used to make these are petroleum based. Could these dinosaurs be made with the remains of actual dinosaurs? It's truly a puzzle.
And speaking of puzzles, Master Pieces had a large display of Sesame Street games and puzzles, including ones themed to the holiday season.
The one we'll be putting on our list for Santa this year is this incredible 1,000 piece jigsaw puzzle with images from throughout Sesame Street's history. This one genuinely feels like they made it for us.
Super Impulse offered a preview of their Mr. Potato Head PopTaters, including the figures inspired by Bert and Ernie. They come with interchangeable body parts (true to Potato Head form), and their own little Bernice and Rubber Duckie! We also learned that these will be available at New York Comic Con, specifically on Saturday, October 14th. If you're heading there that day, be sure to pick up your own spud buds!
Precious Moments also impressed us with their range of Sesame. They've got a pair of figurines holding Elmo and Cookie Monster dolls in the brand's inimitable style.
But it doesn't stop there! We also saw musical figures, a display where you can show the date, as well as globes of Ernie and Oscar, each spending time doing what they love.
There was also a school bus that looks perfect for displaying class pictures. (I hear Abby Cadabby joined the yearbook team just so she could be in this frame.)
They also had a set of keychains on display, but they did mention they were still working on them, citing the slightly off-model Cookie Monster.
We also caught a glimpse of the upcoming Muppets Doorables. What's cool is that they glow under a black light. What's even cooler is that they included Rowlf in the set! Good on ya, Rowlf.
Shire Post Mint showed off a handful of collectible coins, charms, and necklaces inspired by Labyrinth. That Jareth charm looks like it could be actual currency in the Goblin City! And while we couldn't take pictures of it, they did show us a neat flipping coin (with each side noted as heads or tails) featuring the Fierys.
Out of Spain, the Erik Group displayed a number of neat housewares, including a pretty set of bookends showing Elmo and Cookie Monster in front of street landmarks, like 123 Sesame Street. They'll nicely hold up the fuzzy Cookie Monster journal, which should be out sometime next year.
If you ever wanted to wear and rest on your favorite Sesame characters, Orange Onions has developed the Snugible. a hoodie that folds into a pouch to become a pillow. They also told us there are similar products that fold out into blankets, perfect for the cooler weather.
Kidz Toyz has us excited for the holidays. We can play our favorite carols with an assortment of Sesame-branded musical toys, and then set up a holiday-themed train around the tree. There are three sets planned for different gauges, though the cars have mostly similar designs.
The land of Thra is well-represented at WETA Workshop with their figures from The Dark Crystal and The Dark Crystal: Age of Resistance, including ones of Deet, Seladon, Brea, Rian, as well as Jen and Kira.
But that's not all! They've also got friends from the world of Labyrinth, including Sir Didymus riding Ambrosius, as well as the Door Knockers and the Worm. With this level of detail, we'd love to see some of the goblins get the figure treatment.
For something a little more stylized, they also had figures of Ludo, Sarah, Jareth, as well as Jen and Kira (holding Fizzgig) in a refreshing art style. While we appreciate the work that goes into the more screen-accurate versions, these have a charm all their own.
For Muppet fans looking for the perfect photo op, Just Play provided not one, but two Elmo-themed backdrops, including one with a walk-around version sitting on 123. Oscar was also there, but he wasn't interested in popping up from his can. After walking around the Javits Center all afternoon, we'd be happy to take a break from people too.
They also had what they touted as the world's largest Elmo plush. Good luck trying to find a place for that in your home! (Matthew and Joe for scale.)
All that fuss was all to promote a single toy: the Elmo Slide. I hope it was worth it, Just Play!
Finally, Diamond Select showed off their previously-revealed Uncle Deadly and Pepe figures, though no timetable for release has been announced. And wow, they're so pretty.
All in all, we were surprised to see how much merchandise was out there for Muppet fans, though we'd be lying if we didn't notice one glaring omission. Despite having a successful series on Apple TV+, not to mention a fortieth anniversary, there was not a single Fraggle Rock toy to be found. (Note: Boss Fight Studio, which is currently releasing Fraggle Rock figures, was not present at Toy Fair.) Why The Jim Henson Company isn't capitalizing off the momentum of an upcoming second season is beyond us. All we want is to cuddle up with a plush of Pogey. Is that too much to ask? Still, having been through years where we've questioned our sanity, it was nice to find a solid lineup of offerings.
Click here to count to 295 on the ToughPigs forum!
by Joe Hennes and Matthew Soberman