The following article was written by Whitney Grace.  If you missed her first installment of "The World of Muppet Crap," click here to read about officially licensed Skeksis-inspired clothing, which is actually not as weird as what Whitney found for us today.  Thanks for your dedication to weird Muppet stuff, Whitney!
Welcome to the wonderful World of Muppet Crap!  Through my Web surfing, I have discovered that some of the best Muppet crap is made by crafters with a bandoleer of crochet hooks and a glue gun holstered to their waist.  Some of these crafters make a product Miss Piggy would call "très magnifique," while others concoct an item so "original" that it instills this type of reaction in people:
Frog-lets and piggies, I present to you the Beaker bra!

Yes, dear readers, someone took a women's supportive undergarment and decided to spice it up with felt eyes and a foam nose (it probably chafes too).
The Beaker Bra is a handmade item sold on Etsy.  When I first saw it, I didn't realize it was a brassiere and my thoughts were, "What an astonishing Beaker likeness."  Then I clicked on the link and I practiced my best Snowth impression (the metaphor being my mouth rounded and my eyes were caught in that surprised, confused expression).  Do-do-de-do-doo!

It's not hard to make a Beaker replica.  All you need to do is stick a tuft of red fur, an orange foam nose, and eyes on practically anything, and ta-da!  Instant Beaker.
After my initial astonishment, I imagined wearing the bra.  It would create a disproportional third lump and make people raise an eyebrow.
Have any of you ever watched Star Trek: The Next Generation?  When Gene Roddenberry created the character of Deanna Troi, the Enterprise's empathic and half-human counselor, he conceptualized her with three breasts.
This quote by Dorothy Fontana, an original series write and associate producer on TNG, to Entertainment Weekly sums up my feelings about Beaker's nose:
"I objected to Troi having three breasts. I felt women have enough trouble with two. And how are you going to line them up? Vertically, horizontally, or what? I was like, please, don't go there. And they didn't, fortunately."
I won't go any further than that.  All other questions can be routed to Miss Piggy, who we know wears a girdle to control her…um…on second thought, I don't know anything about that.  (Secretly, I am fearful the pig is going to come after me with a pork chop [pun intended]).  Here is a hint of advice: it is always wise to fear and love the pig.  Fear first, though.
Mind you, it has become a popular trend for geek girls to express their fandom with lingerie that bears (pun not intended) motifs from their part of the fandom.  My thoughts are if a grown man can wear Spider-Man underwear, a woman can show her geek pride with her own set of Web crawler under drawers.
Many companies have specialized geek underwear lines, including ThinkGeek, Bunny Jump, Jinx, and the Fashionably Geek blog has a compiled a decent list of sellers.
Disney even licensed their trademark Princess line for women who want to feel like a Disney heroine underneath their T-shirt or business suit.

Some have questioned the appropriateness of lingerie based on the Disney princesses, but they're printed already on children's underclothes.  The argument is that it sexualizes children's characters, promotes the seduction of the innocent, etc.  These people clearly have never hopped on Deviantart or 4chan (if you haven't either, be aware that Deviantart has a filter, 4chan doesn't).
What does that say about the Muppets, then?  Muppets are not children's characters.  All Muppet fans know this, so why are we even bringing it up in conversation?  I guess this as good as spot as any to insert the Muppet history bit.
The original pilot for The Muppet Show was called Sex and Violence.  Sex is even mentioned in the title!  It was a half-hour program for primetime television following the popular variety show format.  The Muppet Show, in fact, was a quality evening program that appealed to both adults and children, but Jim Henson strove to create entertainment for a mature audience and not just offspring.  He got irrevocably tied to children's programming with Sesame Street and the rest is history.
The Muppets, in fact, have appeared on unmentionables for years.
Don't believe me?
Exhibit A:
Exhibit B:
Exhibit C:
Exhibit D: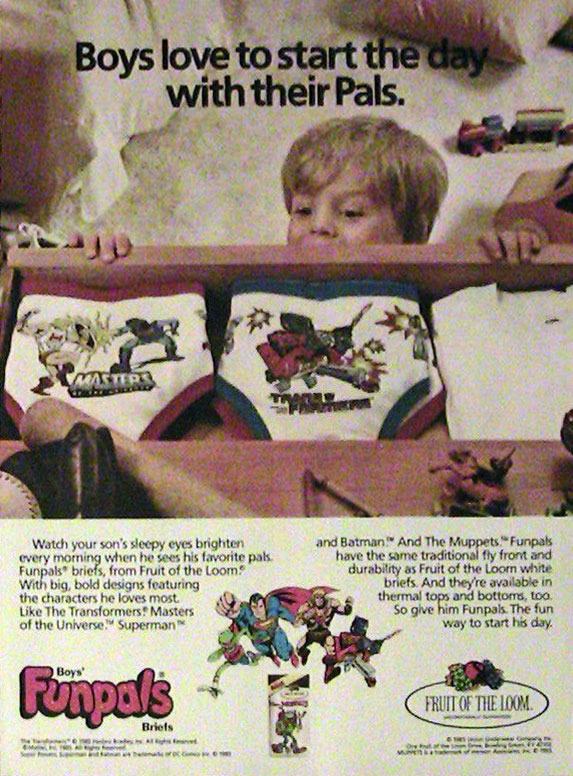 Some of these images make me cringe.  Imagine taking off your pants and there's Animal saying, "Hello!" to you.  It would scare me to think that a Muppet had been with me all day and, knowing myself, I would have forgotten about what I was wearing.  All day the Muppet would be spying on me.  The thought makes me shudder.
I also can't help but imagine sound boxes being sewed into the lining of some of the underwear so the Muppets' voices speak to you when you change clothes.  Kermit's "Hi ho!,"  Miss Piggy's laugh, Fozzie's "wocka-wocka," and Animal's "Woman!" yell take on an entirely new meaning.
The psychological damage would be devastating!
What is even scarier is the alarming rate of Animal on underpants.  Why do people like sporting this crazed individual on their under things?
This brings up another interesting topic: Animal's treatment of women.  Whenever he sees a female he likes, he chases after her, and shouts "Woman!  Woman!" at the top of his lungs.  Has Animal ever been sued by one of these harassed women?  In today's politically correct world, he would need to attend sensitivity training.  If we want to talk about sexualizing, that is exactly what Animal is doing and he is being a bad role model for children.  We should petition Disney to stop mass-producing plushies of one of the most popular Muppet characters.
Back to the bra… I honestly don't think any woman would dare to wear it, unless it was a joke.  It makes things too complicated.  The seller does makes cute and * ahem* less noticeable geek underwear.  Probably stick with some of those.
Click here to take off your pants on the Tough Pigs forum!
by Whitney Grace