Hello again, Muppet nerds! How's July treating you? Wait! It's July? That must mean that we're days away from San Diego Comic Con (SDCC to its friends)! Soon geeks like us from all over the world will descend upon beautiful San Diego, California and feast on the bounties of dorkdom. And this year, we're anticipating some really fun stuff for fans of furry monsters and scary Skeksis, so here are some things you can look out for while at Geek Mecca this year from July 17th – July 21st.
Panels:
Farscape: The Official 20th Anniversary
Thursday, July 18
3:00pm – 4:00pm
Room 7AB
You're invited to a frelling awesome panel where creators and actors discuss their favorite moments from The Jim Henson Company's award-winning hit sci-fi series, now available on Amazon Prime. Featuring stars from the show including Ben Browder (Farscape, Stargate SG-1) as John Crichton and Gigi Edgley (Farscape, Jim Henson's Creature Shop Challenge) as Chiana. Hear about this fall's Hollywood costume party and what the future holds for Farscapefrom Brian Henson (executive producer, director; chairman of The Jim Henson Company) and creator Rockne S. O'Bannon (Farscape, Defiance). Moderated by James Ganiere (CEO, Rio Vista Universal). 
The Art Heroines: Using Your Creative Powers to Level Up
Thursday, July 18
5:30pm – 6:30pm
Room 24ABC
This panel will explore the pitfalls and triumphs of the entertainment industry, including how to not only survive the stress but manage yourself in it. Panelists will touch on employer best practices, habits that are productive vs. counterproductive, and tips for creatives to build better relationships. Moderated by Kristin Donner (animation artist, co-chair of The Animation Guild's Family and Membership Committee), panelists include Danelle Vierkant (The Orville, Aquaman), Ivonne Escoto (Aquaman, Hellboy), Denise "Dee" Chavez (HamCat, Curious George), Jo Holland (Avengers: Endgame, Captain Marvel), Haley Who (Dark Crystal: Age of Resistance), Alina Chau (Marshmallow and Jordan) and Chelsea Pickens (Word Party, Yamasong).
The Future as I See It
Friday, July 19
10:00am – 11:00am
Room 23ABC
Bestselling creators engage in a lively discussion of what-ifs about the future as foretold in their work and unfolding in the world. Panelists Jonathan Maberry (VWars, Joe Ledger series), Seanan McGuire (X-Men), Javier Grillo-Marxuach (Dark Crystal, Lost, Blood and Treasure), Steven L. Sears (A-Team, Xena), Timothy Zahn (Star Wars, Terminator), and Gini Koch (Alien) are moderated by Bryan Thomas Schmidt.
A Conversation with Sonia Manzano (A.K.A. "Maria" from Sesame Street)
Friday, July 19
2:00pm – 3:00pm
The Theater, Comic-Con Museum
A trailblazing actress, author, and advocate, Sonia Manzano speaks about the important role of women and diversity in media.
Netflix's The Dark Crystal: Age of Resistance
Friday, July 19
3:30pm – 5:15pm
Hall H
Netflix offers an exclusive sneak peek at the highly anticipated fantasy series The Dark Crystal: Age of Resistance, based on Jim Henson's groundbreaking 1982 feature film, The Dark Crystal. In this stunning new prequel, three Gelfling discover the horrifying secret behind the Skeksis' power and set out on an epic journey to ignite the fires of rebellion and save their world. Realized using classic puppetry with cutting-edge visual effects, the cast and creators discuss all your burning questions about bringing Thra to life.
Inside the Writers' Room: The Breakdown
Saturday, July 20
10:00am – 11:30am
Room 24ABC
Come see this annual all-star, insider look at your favorite TV series from the scribes behind some of today's hottest genre shows. The lineup this year includes moderator Chris Parnell (co-president, Sony Pictures Television), Gabrielle Stanton (Titans, The Flash, Haven), Ashley E. Miller (Lore, Fringe, Black Sails), Amy Berg (Counterpart, Eureka), V. J. Boyd (Lincoln, Justified), Steven Melching (Star Wars Rebels, The Clone Wars), Ryan Condal (Colony), Deric Hughes (Arrow, The Flash), Javier-Grillo Marxuach (Netflix's Dark Crystal, The Middleman), Kay Reindl (Swamp Thing, Freakish), Marc Bernardin (Treadstone, Castle Rock), and Mark A. Altman (CW's Pandora, The Librarians). Also win a chance to receive a free copy of the new Final Draft 11.
Sesame Street Puppets Live!
Saturday, July 20
11:30am – 12:30pm
Horton Grand Theatre
Come watch live readings, sketches, and improv performances with your favorite Sesame Street characters. Muppet performers include Matt Vogel (Big Bird, The Count), Eric Jacobson (Grover, Bert, Oscar), and Ryan Dillon (Elmo).
*A Special Note on this Panel*: The Sesame Street Puppets Live! panel will be held at the Horton Grand Theatre, a short walk from the convention center. Each of the Horton Grand Theatre panels is actually ticketed – meaning that on the morning of the panel you want to attend, you'll need to head upstairs to the Sails Pavilion for a drawing (in the past, they have stated these drawings start at 9AM, but there is a listing for this panel's lottery drawing at 7am) in the Autograph Area. Each winner will receive entry for two – and any leftovers tickets will be available at the Horton Grand box office. SDCC also typically states that if you miss the initial drawing, you should check the ticket sign in the Autograph Area to see exactly how many standby tickets are still available at the Horton.
Reboot: Reinvigorating a Tired Franchise, or Worst Idea Ever?
Saturday, July 20
12:00pm – 1:00pm
Grand 12 & 13, Marriott Marquis San Diego Marina
The entertainment world, with its plethora of great characters and interesting universes, is no stranger to reboots and expanding universes. A reboot is often a chance to widen appeal and make it easy for new readers to jump in and offers an opportunity to update outmoded ways of thinking. These reinventions and expansions must navigate shaking up a formula, reframing a world, and bringing a contemporary eye to classic stories and iconic characters without alienating the core audience that fell for these characters so many years ago. Panelists Preeti Chhibber (Spider-Man: Far From Home: Peter and Ned's Ultimate Travel Journal), Sina Grace (Iceman), Javier Grillo-Marxuach (The Dark Crystal: Age of Resistance), Jody Houser (Star Wars: Age of Republic), Sarah Kuhn (Shadow of the Batgirl), and Jackson Lanzing (Star Trek: Year 5) discuss how to breathe new life into old characters and avoid the unforgiving pit of the trite homage.
Sesame Street's 50th Anniversary Panel
Saturday, July 20
2:45pm – 3:45pm
Room 6BCF
It all started in 1969 with a simple idea: Can television be used to get kids ready for school? 50 years later, Sesame Street is an educational force for change that's seen in over 150 countries around the world. Sonia Manzano ("Maria" from Sesame Street), Matt Vogel (Big Bird and the Count, Sesame Street puppet captain and director), Eric Jacobson (Grover, Bert and Oscar), Ryan Dillon (Elmo), and Dr. Rosemarie Truglio (SVP, Sesame Workshop Content and Curriculum)-with special appearances by some fuzzy and feathered friends-will talk about Sesame Street's legacy and future.
In addition to the panels, there are a few signings going on as well. Ben Browder, Claudia Black, Gigi Edgley, Rockne S. O'Bannon, and Brian Henson (Farscape) will be signing at the BOOM! Studios Booth 2229 on Thursday, July 17, 2019 from 4:00pm – 5pm
Lisa Henson will be signing The Dark Crystal: Ultimate Visual History and Labyrinth: The Ultimate Visual History at the Insight Editions Booth 3721, Saturday, July 20th from 3:00pm – 4:30pm.
And Gigi Edgley (Farscape and Jim Henson's Creature Shop Challenge) will be signing at the Sails Autograph Pavilion, at Booth AA20.
Times:
Thursday, July 18 • 10:00am – 2:30pm
Friday, July 19 • 10:00am – 2:30pm
Saturday, July 20 • 10:00am – 2:30pm
Sunday, July 21 • 10:00am – 1:30pm
And speaking of Farscape, there is an official 20th Anniversary Party happening as well! Details Below:
Attention Farscape Fans!
You're invited to a frelling awesome FARSCAPE: The Official 20th Anniversary VIP Party with your favorite crewmembers from Moya, set in a location that is truly out of this world – a cross section of the cosmic multiverse of science fiction, fantasy, and adventure! Whether you travel by starburst or wormhole, you will not want to miss this VIP PARTY OF THE GALAXY, presented by Rio Vista Universal at San Diego Comic-Con. It's a full immersion party built for-the-fans, by-the-fans! (21+)

Limited tickets available! To prevent being stuck in Tormented Space, act fast and grab yours NOW!

This exclusive VIP party will feature your favorite Farscape celebrities, including: Ben Browder (John Crichton); Claudia Black (Aeryn Sun); Gigi Edgley (Chiana); Brian Henson (Executive Producer, Director); and Rockne S. O'Bannon (Creator)

Special performance by Gigi Edgley and the Flux Capacitors. MC and Host: James Ganiere, Rio Vista Universal

VIP Tickets starting @ $150 – This is a TIMED and PRE-PURCHASE ONLY event. Photos or Autographs +$40 each, Photo and Autograph Combo +$70 each

Time: Friday, July 19, 2019 4:00 PM – 8:00 PM

Autographs 4-5 pm in Lobby, Photos 5-6:15 pm, Mixer Party till 8 pm

Location: FLUXX Nightclub, 500 Fourth Avenue San Diego, CA 92101
Art:
For all you art lovers, there will be plenty of Henson-related artists lending their pencils to your requests. Look for Jeremy Bastian at Table G10, Katie Cook at Table H-17, David Petersen at Table G-9, and over in Exhibitors' Alley, stop by Amy Mebberson & James Silvani's Table at 5555. Also, Boom! Studios and their Archaia imprint will be stationed at Booth 2229, and Diamond Toys will be at Booth 2607.
In addition, there are always plenty of fan art pieces to be found in Artists' Alley. It's almost certainly worth your time to spend an hour or so digging for buried Muppet treasure amongst the Ms. Marvel and Squirrel Girl mashup pictures. So much mashup potential!
Cosplay:
And certainly don't forget the cosplayers! I've seen some pretty great Muppet costumes at Comic Cons past and expect this year to be no different. Fan favorites like Beaker and Mahna Mahna will most likely pop up walking the floor. In addition, with California being a big puppetry scene as of late, I'm anticipating a few fanmade Muppets to be roaming the convention center.
Merch:
And then, of course, there's the merchandise. SDCC is all about cross-promotion and marketing along the spectrum, so a trip to the Hallmark booth will be worth your time to get a sneak peek of what Muppet Christmas ornaments we can expect in the next year or two. WeLoveFine will be there with their geek-inspired t-shirts and we know they're always good to hit up for the Muppet fan on your gift list. Try swinging by the Disney Booth and see if there's anything Muppety hiding there – I know I will!
And to add to your Muppets collection from Diamond Select, don't forget to catch up on their Muppet action figures, Minimates, and glasses and mugs at Booth #2607. Plus, this year they will feature an exclusive variant – Messy Swedish Chef! From Diamond's website: "Bork bork bork! The Swedish Chef has caused a kitchen catastrophe in this exclusive variant action figure from the Muppets Select line. With food splattered all over his apron, he comes with a slew of food and dishes, plus a table to cook on and even a chicken! Packages in a full-color window box with fifth panel." Priced at $30, and limited to 500 pieces, he comes with a mountain of kitchen accessories including pots and pans, random cutlery, frowny food ingredients, and a chicken (Camilla? Henrietta? Fred?) – he'll have everything but the kitchen sink!
UCC Distributing at Booth #5610 will have an SDCC 2019 Kermit The Frog Super Hero 12" Plushie, priced at $24.99. UCC says, "With this being Comic Con's 50th anniversary, there was no better way to celebrate than to bring you Kermit The Frog dressed up as a Super Hero."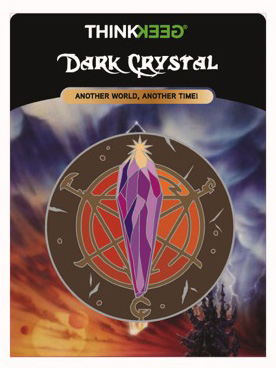 ThinkGeek at Booth 3349 created a Dark Crystal Pin to celebrate Netflix's The Dark Crystal: Age of Resistance release – Limited and numbered, priced at $10.
WETA Workshop at Booth 3613 will have … something? Not really sure what, but they did tease this online:
Funko at Booth 5341 announced a Dark Crystal: Age of Resistance exclusive Pop! Of Mira – that's the one voiced by Alicia Vikander, apparently! This Pop! will also be available at Hot Topic at some point, so if you won't be making the journey to SDCC this year, no worries on this one. For the rest of these offerings, good luck scouring eBay!
That's all for your preview this year, Henson fans! Be sure to check back here on ToughPigs after SDCC for our report all about the stuff we just told you about! Now let's get nerdy!
Click here to be facile with technology on the Tough Pigs forum!
by Matt Wilkie