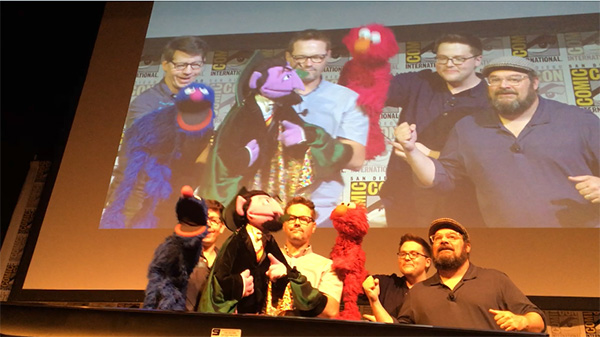 Welcome back, Muppet nerds! San Diego Comic Con (or SDCC for short) this year was insane, and I know a bunch of furry friends who can attest to that. The Sesame Street Muppets were all over the place, between panels and surprise appearances, so we here at ToughPigs are presenting Part Two of our SDCC 2019 wrap-up, today focusing on those peeps from the Street.
Click here to see Part One of our SDCC coverage!
Elmo arrived early.
The Sesame Street monsters have officially arrived at @Comic_Con! #SDCC2019 pic.twitter.com/wV1QkVBjqx

— Sesame Street (@sesamestreet) July 18, 2019
Elmo doesn't think he's on Sesame Street anymore! #SDCC2019 @Comic_Con pic.twitter.com/l7VY7wn3Pd

— Elmo (@elmo) July 19, 2019
Followed soon after by The Count.
Can you count all the faces in this pic? @CountVonCount can. @TVGuideMagazine @TVInsider #SDCC2019 pic.twitter.com/PKYTAM1wzT

— Sesame Street (@sesamestreet) July 19, 2019
Grover soon joined the fun,
Sunny days with our friends at @enews at @Comic_Con! #SDCC2019 pic.twitter.com/92ywjy5Gf5

— Sesame Street (@sesamestreet) July 20, 2019
as did Spider-Monster!
It is I, Spider-monster, here at the superheroes convention which I have been told is called @Comic_Con! #SDCC2019 pic.twitter.com/uaSrmSx55K

— Grover (@Grover) July 20, 2019
And Big Bird himself walked the floor!
Biggest bird in the @Comic_Con game! @Hasbro #SDCC2019#SDCC pic.twitter.com/qCrrQ76v9r

— Sesame Street (@sesamestreet) July 19, 2019
Big Bird appeared at the Hasbro booth to drive up excitement for their HasLab Cookie Monster replica. Seeing the replica in person was amazing – it is so beautiful and lovingly crafted by Bill Rawley, Senior Product Design Manager, and the HasLab team. We got a chance to sit down with Bill and interview him about Cookie Monster, so check that out soon!
There were not one, not two, but three Sesame Street panels! The first was "A Conversation with Sonia Manzano (A.K.A. "Maria" from Sesame Street)." Held off-site from the con, the panel highlighted Sonia –a trailblazing actress, author, and advocate. She spoke about the important role of women and diversity in media, and how her own experiences have shaped others as well as herself. And as a fun surprise, she was joined by Oscar, Elmo, and the Count.
Join us at 2PM today for a conversation with Sesame Street's @SoniaMManzano at @Comic_Con! #SDCC2019 #SDCC pic.twitter.com/kYOZPHE7Bz

— Sesame Street (@sesamestreet) July 19, 2019
(Full Disclosure: With this panel being off-site, and so many things happening this year, our reporters weren't able to attend in person. So far, we haven't found clips from this panel – but we'll be on the lookout and update this article if/when we have some footage to share.)
The whole weekend, the Sesame gang floated around the floor doing all kinds of photo ops and fun appearances.
Go Go Elmo Ranger! Yeah baby! #SDCC2019 pic.twitter.com/GzSMgZ21EM

— Elmo (@elmo) July 20, 2019
New show idea: Game Of Grouch @GameOfThrones @Comic_Con #SDCC2019 pic.twitter.com/nFBm7vs88b

— Sesame Street (@sesamestreet) July 20, 2019
The Sesame Street gang will be LIVE today at 11:30 am at the Horton Grand Theater! Join us for fun giveaways, Muppet comedy, and so much more! #SDCC2019 @Comic_Con pic.twitter.com/8PhppX2Lfg

— Sesame Street (@sesamestreet) July 20, 2019
The Count is at the Shout booth counting smiles! Stop by 4118. #sesamestreet50 #sdcc #sdcc50 #comiccon pic.twitter.com/nyDUVgp86j

— Shout! Studios (@Shout_Studios) July 19, 2019
The Muppet Performers did a surprise signing.
Happening NOW: The puppeteers behind Sesame Street are signing autographs at table AA 4 in the sales pavilion! #SDCC2019 pic.twitter.com/jTaufdtnhI

— Sesame Street (@sesamestreet) July 21, 2019
And as previously reported here, they even stopped by the Marvel booth for a fun interview!
"The Sesame Street 50th Anniversary Panel" celebrated the beloved educational force for change that's seen in over 150 countries around the world with a wonderful panel moderated by Sesame Super-Fan Yvette Nicole Brown. Panelists included Sonia Manzano ("Maria" from Sesame Street), Matt Vogel (Big Bird and the Count, Sesame Street puppet captain and director), Eric Jacobson (Grover, Bert and Oscar), Ryan Dillon (Elmo), and Dr. Rosemarie Truglio (SVP, Sesame Workshop Content and Curriculum).
And to everyone's delight, there were a few fuzzy and feathered friends along for the ride – Big Bird himself introduced Yvette Nicole Brown (and almost fell off of the stage while doing so!), and the panelists brought out Elmo, Grover, and the Count to answers questions as well.
that moment when @BigBird introduces @YNB at @Comic_Con #sesamestreet #ComicCon #comicon2019 #SDCC2019 #SDCC #sesamestreet50 @sesamestreet pic.twitter.com/dM8l9anF63

— David Block (@dave_tvnyc) July 20, 2019
Eric, Ryan, and Matt made sure to give dues to the original performers, praising Jim Henson, Frank Oz, Caroll Spinney, Jerry Nelson, Richard Hunt, and Fran Brill for their wonderful creations and spoke about the heart of the characters being the most important thing, above putting their own spin on any character. They also said they still watch old sketches in the green room at work, still laughing at the same bits they did as kids. And Yvette Nicole Brown in turn gave kudos to the current team and how hard they work – NOT just the voices, but the crazy, fun, sometimes dangerous work that puppeteers do.
Sonia Manzano spoke of the honor of seeing "a second generation of puppeteers" taking on the roles of the beloved characters. And Eric Jacobson in turn told Sonia that he grew up watching her. "You didn't know you were actually a part of my family."
Manzano shared that she was amazed when she first laid eyes on Sesame Street, before she joined the cast, because of its diversity. "I never saw anybody of color on TV," Manzano, who is of Puerto Rican descent, told the Comic-Con crowd. It touched many hearts, including my own, to recognize that even from the jump, Sesame Street embraced the differences we see in the world. Sesame Street is a living, breathing, growing, and ever-changing neighborhood just like real life, and this panel worked as a celebration of that inclusivity, kindness, and love.
Dr. Rosemarie Truglio explained to the audience that each season has a theme and that the show's goal is to connect to 3-year-olds through the eyes of the child, not the adult. This season's curricular focus will be "the power of possibilities, empowering kids to take safe risks and learn from their mistakes." Dr. Truglio spoke about the book she authored for Sesame, "Sesame Street: Ready for School!: A Parent's Guide to Playful Learning for Children Ages 2 to 5," which focuses on playful learning and has many activities for children and parents to do together. It's the first time that Sesame Workshop is releasing their whole curriculum to readers, and is available for preorder before its release in November.
One of my favorite things about this panel was that the questions in the Q&A portion were all really good. That may not sound noteworthy, but when you're been at as many comic con panels as I have, and you hear the same boring questions – or even worse, the this-is-more-of-a-comment-than-a-question people – you get annoyed pretty quickly. This Q&A involved in-depth talks about how they create new characters, the challenges and triumphs in planning the curriculum, what topics have been tough to crack, and a couple of professions of love from Grover and Elmo to their biggest fans.
Some random panel highlights included:
Sonia said that when they test-screened the infamous Snuffy's parents get divorced episode, many kids only took away the idea that if someone sleeps on the couch, they're getting divorced. She also praised the producers of the show for not airing it, because other shows would have said, "We spent the money already making it so we're gonna air it anyway!"
Abby Cadabby is magical, and she can use magic, but they make sure that she never uses magic to solve problems, as that would teach kids the wrong message.
Grover said that his favorite superhero is his mommy, and said that anyone can be a superhero – all they have to do is really, really want to help people.
Sonia said that she left Sesame Street because 44 years was long enough to wait for Oscar to propose.
Matt Vogel said that "I Don't Want to Live on the Moon" has been the bedtime song that he and his wife sing to their children for the past 18 years and will always have a special place in their hearts.
The panel spoke about how in a digital age, it's still important to them to have tactile characters to interact with, making the connection stronger and more real. It's also meant to act as a model for parent-child interactions, with the puppets being the child stand-ins. Plus it's easier to do karaoke with a puppet than a CG character.
Matt and Eric encouraged Ryan to do what they do and use their voices to get as much free stuff and tables at restaurants as you can.
For I believe the first time, the Count was asked what his favorite letter Without missing a beat, he said that the letter E looks like a 3, and the letter I looks like a 1, and the letter O looks like a 0 – so any of those seem good to him!
Eric told an incredibly cute story about his kids knowing Grover from set visits and appearances long before they watched Sesame Street. So one day, one of his kids ran into the room and shouted, "Dad, you'll never guess who's on TV – our friend Grover!"
I also really loved these small art prints they gave out (seen above). I'll be framing my Cookie Monster Spaceship Head very soon.
The @sesamestreet team brought an amazing show to the Horton Grand, with a surprise host @bibbymoynihan! Appearance by "Maria" Sonia Manzano, musical numbers, skits, & a hilarious blooper reel! The show celebrates its 50th season with an upcoming special. #SDCC #sesamestreet pic.twitter.com/DbFCVsx3ee

— SDCC Unofficial Blog (@SD_Comic_Con) July 20, 2019
But as fun as their big panel was, the absolute best thing at SDCC this year in my humble opinion was the panel "Sesame Street Puppets Live!"
It was a rollicking romp through sketches, songs, behind-the-scenes photos and videos, and a Q&A where I finally got to talk directly to my favorite monster for life, Grover.
The show was held at the Horton Grand Theatre, an intimate and beautiful theatre where SDCC hosts all kinds of events. There was classic Sesame Street music while a slideshow of behind-the-scenes photos were shown on screen. When it was time to begin, Guy Smiley came out to welcome everyone to the show and emphasized that it was live and unpredictable. You might see mistakes, like Matt Vogel reading a script wearing Big Bird's legs wandering out on stage. You might see them scramble to find a host, and ask Bobby Moynihan who just so happened to be in the audience. And you might see Bert have to perform the infamous banana sketch with Bobby since Ernie wasn't available – complete with a giant striped sweater and rubber ducky!
I haven't had this much Muppety fun since The Muppets Take the Hollywood Bowl, which was definitely a predecessor to this performance, right down to Bobby Moynihan hosting it. Boy does that guy love being around Muppets, and it shows!
A couple of videos are online now, so you can catch a glimpse of what went down. Elmo did a series of interviews on the convention floor.
.@Elmo visited the floor at @Comic_Con this weekend to ask some hard-hitting questions! #SDCC #SDCC2019 pic.twitter.com/Oc4yO67LZt

— Sesame Street (@sesamestreet) July 22, 2019
On stage after the video, Elmo interviewed Big Bird and was not at all convinced that he was the real Big Bird. Sounds simple enough, but it really cracked up the audience.
After that, Elmo wanted to interview someone from the audience, and what a coincidence that Sonia Manzano happened to be in the front row! He asked her some geeky questions, my favorite of which is whether or not she likes Doctor Who. Her answer? No, because she thinks that actors should be allowed to play the same character for 44 years.
Big Bird sang the exclusive Comic Con edition of "Sing After Me."
Sing After Me: The Exclusive @Comic_Con Edition with @BigBird#SDCC2019 pic.twitter.com/Gl1rOI7klF

— Sesame Street (@sesamestreet) July 20, 2019
And here's my own shaky video of the gang doing a "Guess the Movie Quote" game.
They even had some cosplay of their own! While in their suits from the Numeric Con episode, Bert and Elmo argued over which Batman was the "real" Batman – Adam West or Val Kilmer. They both agreed that no one was the George Clooney Batman. Then the Count came out and proved he was the real Batman by turning into a bat, man!
Mr. Johnson complained that he couldn't find where Spider-Man was so that he could get an autograph, and Grover "helped" him right up until transforming into Spider-Monster.
Groda made an extremely unexpected appearance! Man I love that puppet.
Elmo even wore his Count cosplay during the costume contest they hosted for the kids in the audience who dressed up.
And even though there were only 3 Muppet performers on stage, they managed to run through a ton of characters – some really obscure ones, too! Forgetful Jones couldn't remember Bobby's name, Don Music couldn't finish his song about Comic Con to the tune of the Sesame Street theme song, and Lefty the Salesman couldn't get Bobby to buy the obviously-fake collector's items he found at the convention.
An interesting note during the Q&A was that all of the characters we saw onstage during the event will be in the 50th Anniversary special, airing soon! Well, except for maybe the Trekkie Muppet who was in a few of the sketches.
During their Q&A, someone from the back shouted, "How long is the show going to go on?" Confused by the phrasing, Matt jokingly asked if they had been on too long. However the audience all agreed that they should be on for 50 more years.
And my own question to Grover was what his favorite job he's ever done was. His answer – Any job where he can help people. He just wants to help.
All in all, this year was bonkers! So much good stuff at SDCC, and so much to look forward to for Sesame Street's 50th year! We'll be sure to keep you posted on everything coming up soon!
Click here to cosplay as the ToughPigs forum!

by Matt Wilkie (with special thanks for extra reporting/photos to: Dave Hulteen, James Smith, Anthony Wilkie, and Grace Kim)