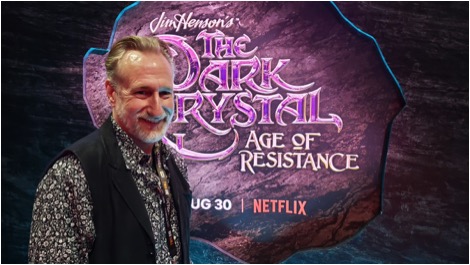 Hello, Muppet nerds! Anybody else head to San Diego Comic Con (or SDCC for short) this weekend? Anybody else get a little too excited and a little overwhelmed and have too many pretzels? We have so much in common!
After a lack of info and activities for fans of fleece friends in years past, this year's SDCC had such a glut and so much overlap that we didn't even get to it all! But thanks to the internet, we've got you covered with all the stuff we saw, and some of the stuff even we missed!
Please note: This is only Part One of our SDCC coverage. Stay tuned to ToughPigs for Part Two!
SDCC for Henson fans started off with a frelling good panel for Farscape. Cast members, producers and the show's creator celebrated the 20th anniversary with a reunion panel that included stars Ben Browder and Gigi Edgley, show creator Rockne S. O'Bannon, and executive producer Brian Henson, moderated by James Ganiere. "Scapers" came out in droves to reminisce about the well-respected series, and the team even dropped hints about a possible continuation of the series.
"For a number of years we wanted to continue Farscape in movies," said Henson, but they are looking at other formats that are available nowadays, as many of their ideas have outgrown the 2-hour constraints of films. O'Bannon enthusiastically added, "We're not done with Farscape."
For a full rundown, check out Loot Crate's twitter here.
The group followed up their exciting panel with a signing at BOOM! Studios' booth.
While at SDCC, we also found out that Loot Crate had an exclusive Farscape patch set. No word yet on if this will be available in the future through their site or Loot Crate boxes.
EXCLUSIVE Farscape Patch Set – $15
No frelling way, it's an exclusive Farscape 3-patch set! You get patches for the Farscape-1 project, IASA Wormhole Research Division, and of course Rygel XVI. Artwork pictured, final patches may vary.
(There was also a party that cost $150 to attend so ToughPigs did not go.)
As you may have heard, there's a little show coming to Netflix this year called The Dark Crystal: Age of Resistance – and they celebrated with a panel in the biggest (and hardest-to-get-into) ballroom at SDCC, Hall H. Because that's where it took place, your friends at ToughPigs were not able to attend in person, nor could we see the FULL FIRST EPISODE that they aired to the surprise and delight of attendees. While the episode won't be surfacing online, we have the next best thing. As previously reported here at ToughPigs, the full panel is online now, including a look at the behind the scenes documentary on the making of the series that will be available soon on Netflix.
Or if you prefer, you can see a recap in comic book form from NX, the Netflix space for everything super, sci-fi, gaming, fantasy, anime and beyond on Twitter.
At Netflix's booth on the SDCC floor, there was a massive site where you could experience a short intro to the world of Thra, complete with video previews and giveaways like wearable Gelfling ears. One of the most popular booths on the floor the entire con, – with lines extending around the floor and being capped quickly – you can check out a walk-through done by Lisa Henson and star Taron Egerton here.
Lisa Henson did a signing at the WETA Workshop booth, and she gave fans a closer look at the awesome Dark Crystal merchandise that will be available for pre-order in August or September, 2019 – check out their website for more details here.
Unbeknownst to us, Chronicle Collectibles was selling a Fizzgig replica, but only 40 lucky Dark Crystal fans were able to walk away with one.  You can be one too, if you have $500 to spare.
WETA also included some familiar faces in their Visual Effects Society Hall of Fame tribute. Recognize this fella?
He was sitting next to this handsome gent.
And that's not all!  The con was full of Henson fans, like this very smart person:
And this immaculate Goblin King:
Now I know exactly what you're thinking if you've come to ToughPigs for an SDCC wrap-up – Where are the Sesame Street Muppets? Well they did so much this year that we're still collecting all of the fun! Join us back here tomorrow for Part Two!
Click here to be continued on the ToughPigs forum!
by Matt Wilkie