Howdy, Muppet fans! Anybody else head to San Diego Comic Con (or SDCC for short) this weekend? Anybody else see a much-too-small Muppet and Henson-inspired presence while you were there? Hey, us too! So just like previous years, we're gonna give you a super quick update of everything Muppety or Hensony we saw! And just like past years, the Muppet stuff will be (sadly) short but sweet.
Comic Books
The biggest comics presence remains at BOOM! Studios, who have the license to many Henson properties including Fraggle Rock, The Dark Crystal, and Labyrinth. Their booth was stocked up on titles created or inspired by Jim Henson, and here's a taste from the Boom! team themselves. From BOOM! Studios Editor Cameron Chittock:
Archaia had the full scope of their Henson line of comics and graphic novels on display.

The new series Beneath the Dark Crystal debuted at comic con, with an adorable, Fizzgig and Tumby-centric variant cover by Jay Fosgitt that was exclusive to the show. The series is the follow-up to the bestselling Power of the Dark Crystal and continues the adventures of Thurma and Kensho.

The latest issues of the prequel series Labyrinth: Coronation were available as well. The series explores how Jareth became the goblin king, and the second arc begins with #5, on sale in comic shops this week.

Lastly, the Fraggles are back with an all new series! Comic con attendees Jay Fosgitt, Art Baltazar, and Katie Cook tell a stand alone story with each issue and were signing throughout the show.
Thanks, BOOM!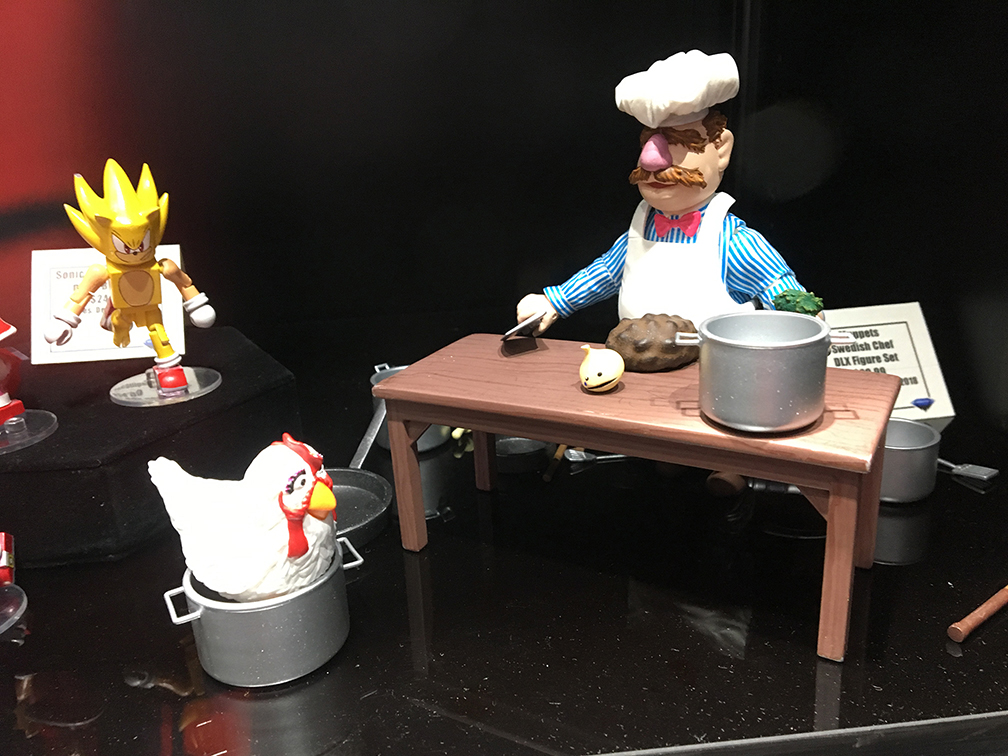 Merchandise
We also got a chance to talk to the Diamond Select folks, who were showing off the new Swedish Chef set, now available for pre-order. With the unfortunate closing of Toys R Us this year, Diamond is doing much more direct selling on their site, so head here to get one (or seven!) of your very own. Sales of each Muppet toy are now crucial as they will help push further sets, so if you want to see Zoot and Dr. Teeth on your toy shelf, support them early and often.
Diamond Select was also featuring a new Muppets product – busts! The Muppet line of Legendary Half-Scale Busts will start with Animal, and they may be adding more soon to this lineup depending on interest. Animal will be ready for pre-order later this year, with a release in Winter 2019. It will retail for $150, and we'll be sure to let you know when you can pre-order yours and recreate the showdown in the desert of The Muppet Movie – and this time, the effects will not be sadly temporary.
Also spotted around the convention floor were new products from Chronicle Collectibles including a Fizzgig from The Dark Crystal and a Jareth statue from Labyrinth, Mondo posters of both of those films, and loads of Dark Kermit Constantine dolls, all of which you can read more about in our pre-SDCC article here.
Cosplay
And of course, there was lots of cosplay. Here's a small sample of neat costumes we saw on the floor – feel free to send us some more if you were there and caught some, too!
On Display
One unique thing we don't think we've seen before is a Henson presence in an official booth. But that changed this year when the Henson Creature Shop worked on this display to promote Deadpool 2! The band itself is classic – it's the Rock-afire Explosion built by Aaron Fletcher and Creative Engineering for Showbiz Pizza in the '80s – but the Deadpool animatronic is brand-new, built by Henson. This imaginative display moved and sang in a particularly retro fashion and drew a large crowd all weekend – See it in action here!
That's all for this year, Muppet nerds! For more Henson fun at cons, be on the lookout for announcements for their presence at Dragon Con soon, and we'll be sure to bring you news from there and New York Comic Con as con season keeps trucking along!
Click here to drool all over that Animal bust on the ToughPigs forum!
by Matt Wilkie