Here we are, in the middle of another awards season, wondering about the outcome of the Academy Awards.  As if they matter. Yes, I'm still bitter about the lack of Muppets, and I'm much more interested in the results of our own Snuffy Awards (and if you haven't already, you should cast your votes!), but we're still talking about some really good movies and some really talented people, who I guess deserve a little praise for the pieces of cinematic art they've created.
But choosing a "best" film or actor or whatever is so subjective.  Maybe you think Meryl Streep deserved to win all 93 of her nominations, while I think Jean Claude Van Damme is long overdue for an Oscar nod.  So we're predicting the winners based on the only criteria that matters: Muppet connections.
Obviously, Muppet connections are the most reliable way of predicting how the Academy will vote.  Only the best, most talented people in Hollywood have worked with the Muppets or were inspired by the Muppets in some capacity, so logically, they're the ones who will receive the most accolades.  It's math.
So without further ado, let's get started! And the nominees are…
Actor in a Supporting Role
Robert Duvall for The Judge
Ethan Hawke for Boyhood
Edward Norton for Birdman
Mark Ruffalo for Foxcatcher
J.K. Simmons for Whiplash
Our first category comes down to just two contenders: Ethan Hawke and Mark Ruffalo.  Ethan Hawke got his Muppet connection first, being interviewed by Gonzo in a 1985 issue of Muppet Magazine.  Mark Ruffalo talked about the word "empathy" with Murray Monster on a recent episode of Sesame Street.  So who wins?  There's only one way to settle this: DANCE OFF!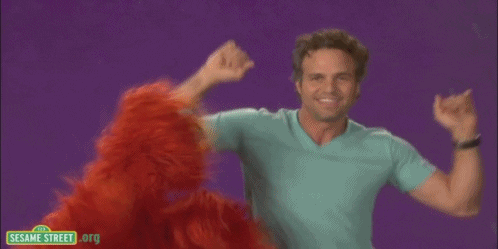 Actress in a Supporting Role
Patricia Arquette for Boyhood
Laura Dern for Wild
Keira Knightley for The Imitation Game
Emma Stone for Birdman
Meryl Streep for Into the Woods
I don't know about you, but I'm sick and tired of picking Meryl Streep in these Oscar articles.  Not only does she get nominated every freaking year, but she's got a great Muppet connection after having a Sesame Street character named after her.  Emma Stone and Patricia Arquette are splitting the remainder of the vote, as they both appeared on Sesame too, introducing Words of the Day with Abby Cadabby (Patricia got turned into a penguin, Emma balanced a laundry basket on her head).  So we're defaulting this win to Laura Dern, who came this close to starring as Sarah in Labyrinth.
Actor in a Leading Role
Steve Carell for Foxcatcher
Bradley Cooper for American Sniper
Benedict Cumberbatch for The Imitation Game
Michael Keaton for Birdman
Eddie Redmayne for The Theory of Everything
Sorry, Steve Carell, but your Word of the Day segment on Sesame Street just won't cut the mustard.  And apologies to Michael Keaton, because starring in the Jim Henson Creature Shop film Jack Frost probably gives you negative points.  This award is going to Benedict Cumberbatch for not only appearing in a PBS video with Murray and The Count, but for also having the most Muppet-like name for a human in all of filmdom.
Actress in a Leading Role
Marion Cotillard for Two Days, One Night
Felicity Jones for The Theory of Everything
Julianne Moore for Still Alice
Rosamund Pike for Gone Girl
Reese Witherspoon for Wild
Reese Witherspoon made a solid effort, having been photographed with Abby Caddabby (at the White House egg roll) and Miss Piggy (at the CMA awards), but neither of those are anything but good timing.  So this award is going to Julianne Moore for spoofing her Academy Award-nominated role in Far from Seven, finally giving her the Oscar she deserved back in 2002.
Animated Feature Film
Big Hero 6
The Boxtrolls
How to Train Your Dragon 2
Song of the Sea
The Tale of Princess Kaguya

 Yep, we're still disappointed that The Lego Movie didn't get a nomination.  If it had, we would've predicted it as the winner in honor of the recent campaign to make Muppet Legos a reality.  Aw, what the heck, we'll still pick The Lego Movie.  Who cares, Zongo.
Best Original Song
"Everything is Awesome" from The Lego Movie
"Glory" from Selma
"Grateful" from Beyond the Lights
"I'm Not Gonna Miss You" from Glen Campbell: I'll Be Me
"Lost Stars" from Begin Again
Oh, come on, Academy!  Where are the Muppets??  I haven't even heard of three of these movies!  Don't you think it'd be worth throwing Muppets Most Wanted a bone for the slim chance that they might appear during the ceremony to sing their song and give you lots of ratings or whatever it is you dummies care about??  I'm not even picking any of these as the winner.  It's Muppets or nothing.
Directing
Wes Anderson for The Grand Budapest Hotel
Alejandro González Iñárritu for Birdman
Richard Linklater for Boyhood
Bennett Miller for Foxcatcher
Morten Tyldum for The Imitation Game
Theory: Richard Linklater was inspired to make a movie about watching a kid age 12 years by noticing how Muppets age over the years too.  Shut up, it's plausible!
Foreign Language Film
Ida – Poland
Leviathan – Russia
Tangerines – Estonia
Timbuktu – Mauritania
Wild Tales – Argentina
Can you believe that a Russian filmmaker made a movie all about Farscape's sentient spaceship Moya, which belongs to the Leviathan race?  I know, it's a bit of a stretch, but that's the best I got unless you want me to pull out the name of an extremely obscure character named Tangerine the Argentinian Cockatoo from a Sesame Street Live show.  Hey, you can't say I didn't do my research.
Best Picture
American Sniper
Birdman
Boyhood
The Grand Budapest Hotel
The Imitation Game
Selma
The Theory of Everything
Whiplash

Here's the biggie!  But how can we choose when every one of these films is so obviously a reference to a Muppet??  The American in question is Sam the Eagle.  Birdman is our buddy Big Bird.  Walter is a boy who becomes a man (or a man who becomes a Muppet), as seen in Boyhood.  The Grand Budapest Hotel is a thinly veiled reference to the Happiness Hotel.  Nobody plays imitation games like Constantine.  Selma may or may not have been inspired by Sesame Street's chicken-dressed-as-a-worm.  The Theory of Everything might as well star Bunsen and Beaker.  And Whiplash is the story of how playing the drums could drive you insane.  (Sound like anyone you know?)  Can we have an 8-way tie?  No?  Okay fine, let's give it to the drummer.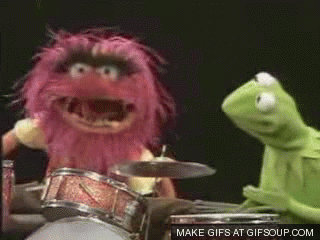 Host
Neil Patrick Harris
The guy who appeared on Sesame Street as the Fairy Shoeperson?  The guy who answered phones at the Muppets' telethon?  One of Hollywood's biggest Muppet fans?  The guy doing that dance below?  DOOGIE HOWSER???  Yeah, I think he'll do just fine.
The Academy Awards will air on ABC starting at 7:00pm ET on February 22nd. Be sure to tune in to see how many of our picks take home one of those little golden naked men!
Click here to get played off the stage on the ToughPigs forum!
by Joe Hennes – Joe@ToughPigs.com