September 24th, 2016 marks what would have been Jim Henson's 80th birthday!  For this momentous occasion, we at ToughPigs are dedicating a full week to celebrating Jim's life by focusing on a few of the people he was closest to.  Our "Jim and…" series will give a closer look at Jim's working relationships with some of the most prominent Muppet performers, including Frank Oz, Dave Goelz, Steve Whitmire, and more.  Happy birthday, Jim!
The following article was originally published to ToughPigs on January 2nd, 2014.
It would be near impossible to tell the story of Jim Henson without including Frank Oz.  The two worked hand-in-hand, quite literally in many cases, and their biographies intertwined and overlapped consistently from the day they met, beyond Jim's passing.
Rowlf the Dog: The Early Years
I suppose it was a good sign that the character that Henson hired Oz to help him perform turned out to be very popular, and is still part of the Muppet ensemble today. While Henson operated Rowlf's mouth and left hand, Oz would perform Rowlf's right hand. To keep things orderly, Oz would perform both hands when Rowlf played the piano while Henson continued to perform the mouth. As time went on and Henson hired more performers, eventually others would perform Rowlf alongside Henson, but the efforts needed to keep all of Rowlf in synch would help to lay the foundation that kept their performances together like a well-oiled machine.
Bert and Ernie
Of course the textbook example of character duos would be a Henson-Oz combo! Henson's fun-loving, whimsical Ernie played off Oz's straight-laced, introverted Bert from the show's first episode in 1969 (Esoteric trivia: in that premiere episode, Bert and Ernie taught the word "wash") until Henson's death in 1990. What can be said about this pair that hasn't already been said? They've been immortalized in books, plush dolls, and claymation. Their sexuality has been debated six ways by Tuesday. And just last year, The Paley Center for Media named Bert and Ernie one of television's most iconic duos, alongside such TV staples as Captain Kirk and Spock, Pat Sajak and Vanna White, and Beavis and Butthead (as well as another classic Muppet duo that we'll discuss later). But did you know that when planning Sesame Street, Oz originally considered playing Ernie while Henson played Bert? Henson recalled the early days of the pair in the documentary Henson's Place: "In the beginning, Frank didn't like Bert. He felt Bert was too dull. But then after a while he realized that Bert's dullness was really a lot of fun, and he got into this dullness thing and turned it into this wonderful personality." After all these years, these iconic BFFs' adventures with rhyming, fishing, Egyptian pyramids, flying upside-down and Boogie-Woogie sheep have managed to keep us entertained. Even though Henson and Oz would team up with some memorable duos throughout Sesame Street's long history, Bert and Ernie manage to remain the golden (or yellow and orange) standard.
Ernie and Lefty the Salesman
I would be remiss if I didn't discuss Ernie's other notable partner. Despite only producing twelve sketches together (including two where Caroll Spinney performed Lefty instead of Oz), Lefty's attempts to con Ernie have a special place in the hearts of Sesame fans (right next to where we keep our O.) Their dialogue was tighter than an overcoat-hanging watch, and always charmed the pants off viewers (so that Lefty could sell them back to us for a nickel). And in a little bit of karmic retribution, one of the last Ernie/Lefty bits had Lefty try to sell Ernie an invisible ice cream cone, only for Ernie to buy it with an invisible nickel.

Kermit the Frog and Grover/Cookie Monster
Okay folks, get ready for a lot of Kermit appearances from here on out. And beginning on Sesame Street, Kermit had two characters that pushed him to his limits. On one end of the spectrum, Cookie Monster only wished to serve his own purposes, namely his appetite. No matter the subject, in nearly every sketch, Cookie Monster wound up devouring something, be it cookies, mattresses, or even a bicycle (but to be fair, he did split that with Herry). On the other end, there was loveable, go-getting Grover, always eager to help Kermit teach a lesson or try and sell him something he didn't need, often ending in a classic Kermit freak-out. Despite the frog's frustrations, audiences always found themselves rooting for Grover, whose sweet innocence made putting up with him a breeze.
The Swedish Chef
As Henson and Oz transitioned into The Muppet Show, a new realm of characters debuted with their classic performance style. Henson and Oz would return to their two-performers, one-character roots with the Swedish Chef. As with Rowlf, Henson would perform the head and provide the voice, and Oz performed both hands. The disjointed chaos only helped to define the character, and even today, the head rarely knows what the hands are going to do. And Muppet fans anywhere wouldn't want him any other way.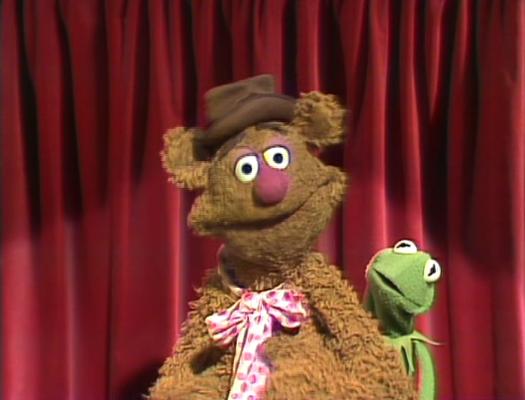 Kermit the Frog and Fozzie Bear
Now we get to my personal favorite Henson-Oz duo! In a reverse of Bert and Ernie, Henson's Kermit would often be the straight man to Fozzie's (as performed by Oz) antics. While I doubt you need to be convinced that Kermit and Fozzie are one of Henson and Oz's best duos, if you need a subtle reminder, watch (or more likely rewatch) "Good Grief, The Comedian's a Bear!" Without that lightning-fast pace and total commitment, the sketch would fall flat. But Henson and Oz give it their all so that the characters are extensions of themselves. The exasperation feels real, as if best friends really are getting frustrated. And if that weren't enough, the corny punchline makes it all the more hysterical. Fozzie's desperation to please an audience and Kermit's need to keep everything running smoothly made for a wonderful combination that has just kept "movin' right along."
Kermit the Frog and Miss Piggy
You know when I mentioned when there was another Muppet-related entry on that Paley Center list? Total shock, I know. When you think of the great romantic couples on the silver screen, they're up there with the greats. Tracy and Hepburn. Bogart and Bergman. Kermit and Piggy. Think about it. Miss Piggy's a strong, independent character who seems like she doesn't need anybody, yet her biggest weakness is a soft-spoken, unassuming frog. And no matter how they fight (or who karate chops who), they always come back to one another. They have a love we all wish we could have, or are glad that we already do. Like so many of the above duos, they're so mismatched, which makes them perfect for one another. And while we may never know if they were actually married in a Broadway theater in the summer of 1984, there's no denying that Kermit and Piggy are a duo unlike any other.
Jim Henson and Frank Oz, Directors
Closing out this list is probably the most overlooked collaboration of all, as Henson and Oz co-directed The Dark Crystal. Having dabbled in directing, I can attest that directing with a partner can be one of the trickiest things anyone can do in a creative aspect. It takes total trust and faith in your partner in order to bring a vision to life, and it's evident that Henson trusted Oz in carrying out this vision, a trust that can only be brought about with years of collaboration. And when Henson decided to have someone other than himself direct The Muppets Take Manhattan so he could devote more time to other projects, he trusted Oz to take on that task, which would prove to be the first in a long line of directorial efforts.
I hope in this brief sampling that I've managed to highlight the great character duos that Jim Henson and Frank Oz brought to life. Their teamwork managed to lay the groundwork for other Muppet performers to shine, including a seemingly odd couple of a former country singer and a kid from New Jersey.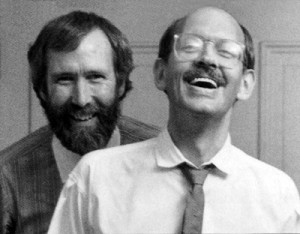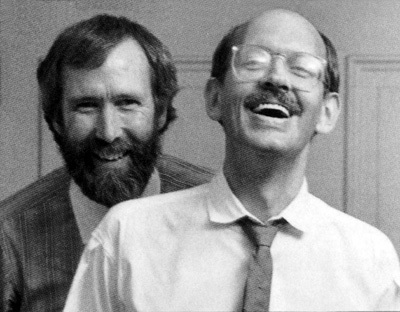 Click here to grow facial hair on the ToughPigs forum!
by Matthew Soberman – Matthew@ToughPigs.com