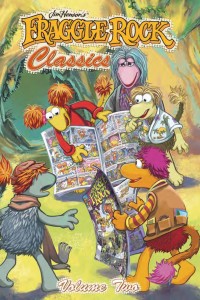 The Fraggle Rock comic books from Archaia were absolutely one of the Henson Company highlights from the past few years for me.  The quality was great, it was wonderful to see the Fraggles having new adventures again, and it kept the brand fresh and alive during a time when the actual Fraggles were absent.  So while it's been some time since the last new Fraggle Rock comic book, that doesn't mean there aren't more Fraggle comics to buy and read and love.
The Fraggle Rock comic series, originally published by Marvel in 1985, re-told stories from the show in printed form, and Archaia has already reprinted the first four issues in Fraggle Rock Classics v.1.  Now they're completing the series with Fraggle Rock Classics v.2!
We're happy to share an exclusive preview of the new book, containing the first few pages from the comic adaptation of "Wembley and the Mean Genie".  Just give the images below a click to enlarge and enjoy.
Fraggle Rock Classics v.2 will be in comic shops on November 20th, in bookstores on December 3rd, and retails for only $9.95.
Click here to be careful what you wish for on the ToughPigs forum!
by Joe Hennes – Joe@ToughPigs.com