Did you hear?  There's a new Muppet TV series coming this fall!  This is the most exciting news any Muppet fan could hope to receive.  When we heard the confirmation, we immediately jumped up on the couch Tom Cruise-style, screamed with unabashed excitement, and threw all of our confetti into the air.  And then we started planning the next Muppet Vault.
Join us on Sunday, June 14th at 7:30pm (doors at 7:00pm) (which is, incidentally, the time to put on makeup and light the lights) in Brooklyn, NY for Muppet Vault: The Best of The Muppet Show! We'll be celebrating the upcoming Muppet show with a look back at our favorite moments from the previous Muppet show!  That means a show full of diva pigs, comedian bears, flying penguins, scary monsters, unintelligible chefs, and one unflappable frog.  As always, we'll have trivia, prizes, and drink specials. All that for only $8! Which may be the amount paid by Statler and Waldorf for their regular box seats.
The show will be held at Union Hall, located at 702 Union Street in Park Slope, Brooklyn, NY. The venue is near the 2,3,4,D,N, and R trains. So many options! Union Hall has a fully-stocked bar, food options, a fireplace, a library, and two bocce ball courts. There also may be a hole in the floor as a result of Gonzo's latest anvil-juggling stunt, so be careful on your way in.
Unfortunately, due to the bar atmosphere, the Muppet Vault is only for fans 21 and over. So feel free to bring your parents, bring your grandparents, and feel free to bring your favorite celebrity guest star.
Seating at Union Hall is very limited, so pre-ordering tickets is highly recommended. Click here to reserve your tickets.
And click here to RSVP on our Facebook event page!
---
Want to be among the first to know about future Muppet Vaults? Join our Muppet Vault Mailing List below, and get a monthly notice containing the date, location, and theme for the next Vault! We promise to keep your email addresses to ourselves, and you won't get more than one or two emails from us per month.
Please note that this mailing list is completely separate from our new ToughPigs Mailing List, which you should also sign up for!
---
See you in Brooklyn on June 14th for Muppet Vault: The Best of The Muppet Show!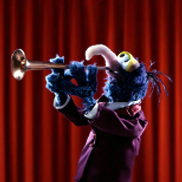 Click here to get things started on the ToughPigs forum!

by Joe Hennes – Joe@ToughPigs.com