Once again, New York Comic Con has come into our lives to provide sustenance for the geekiest parts of our souls.  As always, amidst the comics and movies and toys are the Muppets, usually hidden but always found by Team ToughPigs.  Come see all the fun Muppet/Sesame/Henson stuff we found at this year's NYCC!
The highlight of this year's Con was – no question about it – the cosplay.  We were surprised to find an insane amount of Henson-related costumes, and even more surprised that most of them were for Labyrinth and The Dark Crystal, with an extremely small amount (or none at all) from the other Muppet/Sesame/Fraggle properties.
With The Dark Crystal: Age of Resistance having just made a splash on Netflix, we were pleased to see a few cosplays directly from the series:
As always, Labyrinth got a good amount of attention from the cosplayers:
Let's be honest, it just wouldn't be Comic Con without at least one Miss Piggy and Swedish Chef:
It wasn't just the films and TV shows that got attention, but Jim Henson himself:
Ah, that crazy Jim Henson.  Always keeping Muppets in his pockets.
A huge part of Comic Con is devoted to merchandise.  While we saw a lot of widely-available stuff for sale (mostly Funko Pops… a lot of Funko Pops), here are a few more exciting finds:
Zen Monkey Studios had their exclusive Super Grover pin for sale, as well as two other pins we hadn't seen before:
One vendor had a bunch of those Constantine plushies originally sold at San Diego Comic Con:
We attended the Diamond Select panel to see if they'd be making any Muppet-related announcements about upcoming merchandise.  Although that didn't happen, the Q&A portion of their panel did feature a Muppet question, which surprisingly didn't even come from us!
The Diamond rep explained that they have created some designs for additional figures, but there are no specific plans to release them yet. He noted that they're still watching the sales of the Swedish Chef figure to see if there's enough interest for more. But he indicated that the Diamond folks would like to make more.
The Swedish Chef action figure (messy version) was available at the Diamond booth, which also means that you can likely find one for yourself online or in stores too.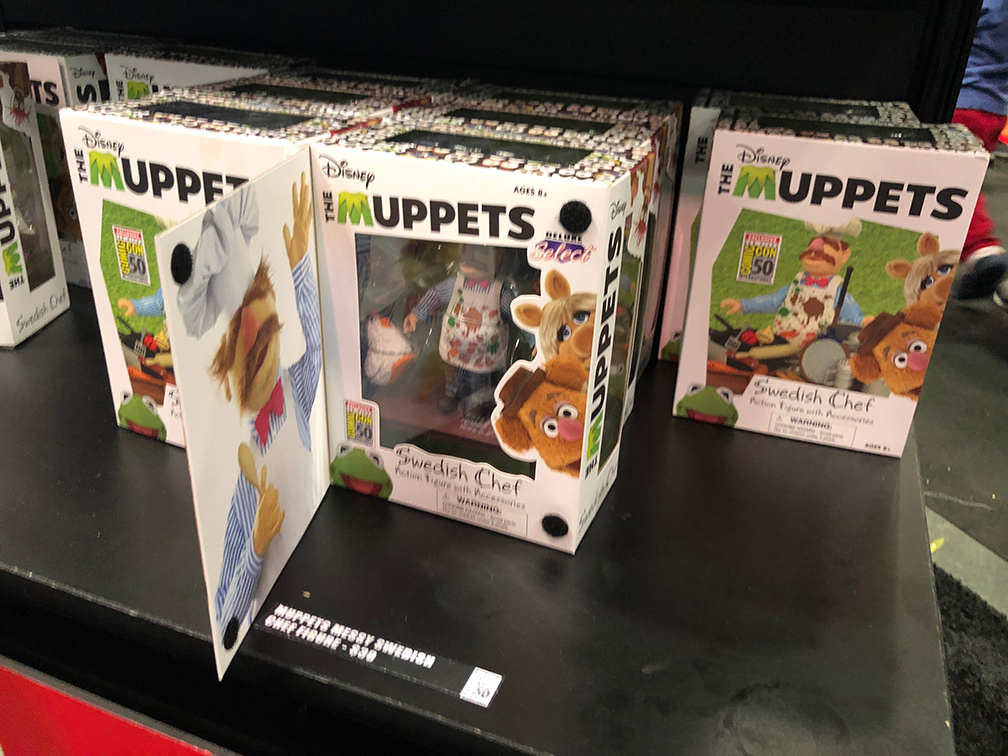 Fans wishing that they could see Deet and the Chamberlain on high-end streetwear saw their  dreams come true on Saturday, when actor Joe Manganiello, through his streetwear fashion label, Death Saves, released a line of merchandise themed to The Dark Crystal: Age of Resistance. And to celebrate the launch, Manganiello was there to help screen-print the first shirts himself! I mean, Manganiello and Aughra would've been even better, but seeing Dark Crystal fans revel in the reinvigoration of the franchise was pretty good, too.
Speaking of t-shirts, here's a couple more (unofficial) designs we spotted:
And it may come as some surprise to you, but Muppet merchandise isn't an entirely new concept.  They've been making that stuff for ages!  Here's a bit of the vintage Muppet merch we found at NYCC:
Over in Artist's Alley, there was a good amount of Muppet fan art on display and for sale.  Wanna see some of it?  Sure ya do!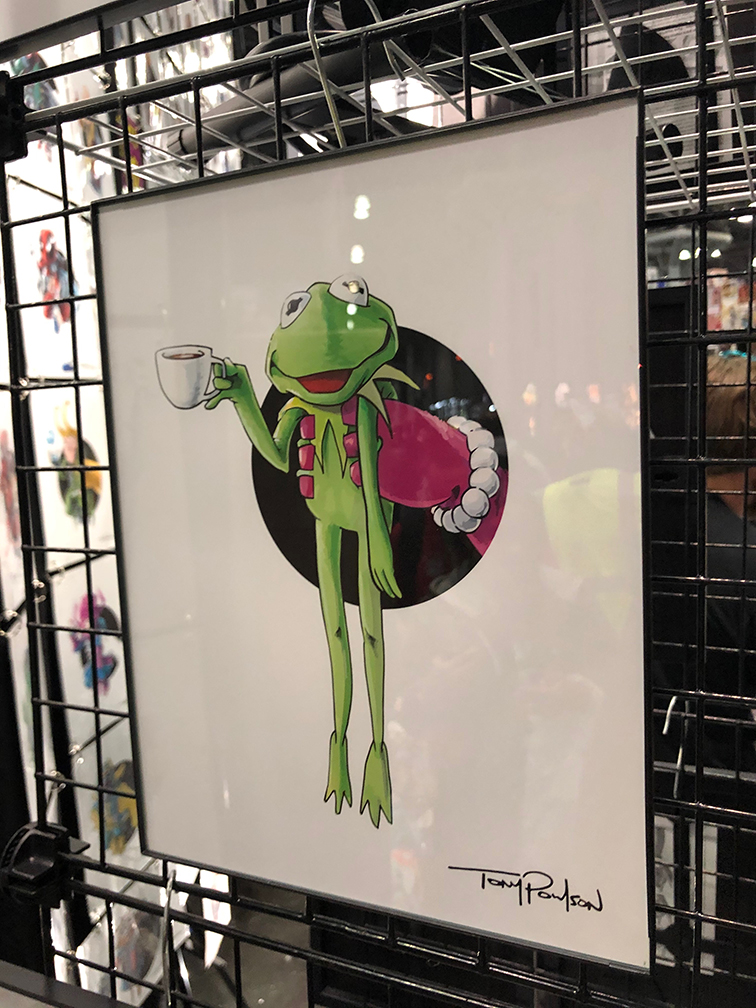 by Tony Poulson
by Charles Thurston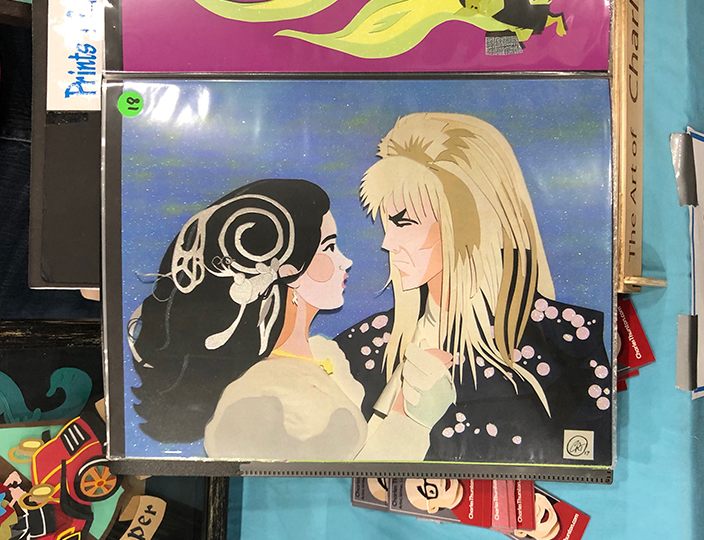 by Charles Thurston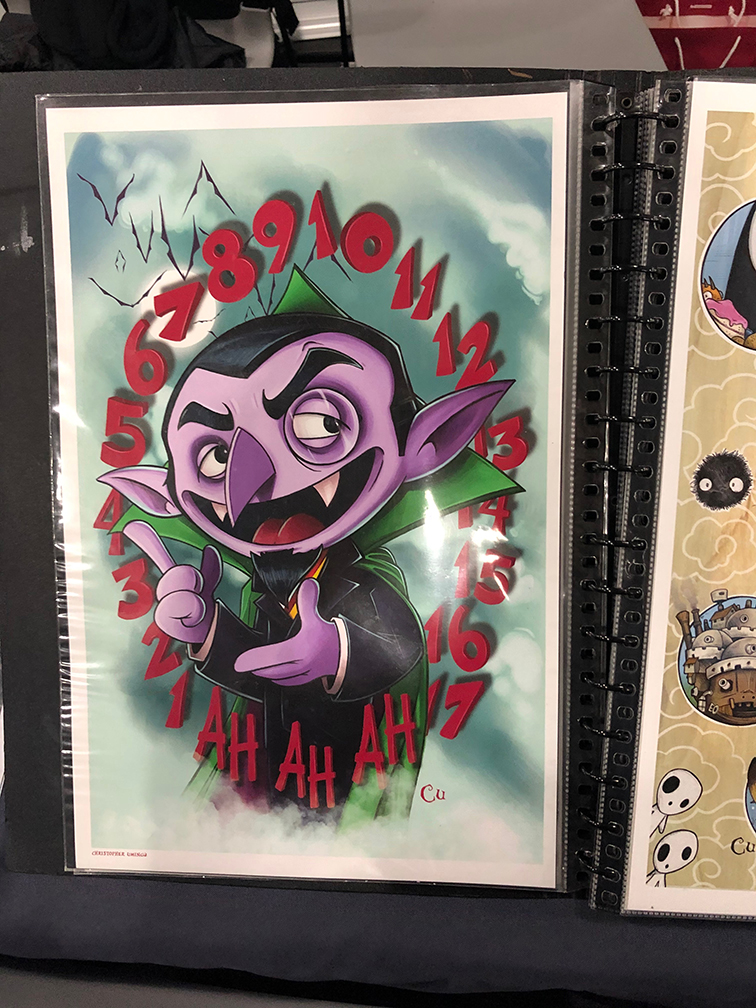 by Christopher Uminga
As we've previously lamented, there were no Muppet-related panels this year.  However, we did catch Muppet references in a few that we attended.
At the "Geek Geek Revolution" trivia game panel, audience members submitted geeky questions in an attempt to stump the panel of science fiction and fantasy writers. Two of the audience questions were about Labyrinth, including "What is the name of Sarah's dog?" I couldn't actually remember… "Ambrosious" is easy to come up with, but how many of us would recall that Sarah's dog in the real world is named Merlin?
At the Angel 20th anniversary panel, the cast talked about the puppet-centric episode "Smile Time." James Marsters recalled that the puppeteer who performed the Angel puppet was very talented — and had a filthy mouth, which was evident between takes or when things went wrong. That puppeteer would be Drew Massey, frequent performer for the Jim Henson Company.
Perhaps the best Muppet moment of New York Comic Con this year didn't even happen at New York Comic Con. D23, the official Disney fan club, celebrated the 35th anniversary of The Muppets Take Manhattan with a special screening of the film for Gold Members in Times Square, home to the Broadway theater district. And if watching a Muppet movie on the big screen isn't fun enough, the film was introduced by the president of The Jim Henson Legacy and friend of ToughPigs, Craig Shemin. He treated the audience to rare footage from the film's electronic press kit as well as stories from his time working for The Jim Henson Company, including how he got a couch in his office from the set of the recently-cancelled Aliens in the Family, and how the company got some extra work from a series regular. (No, it wasn't Bobut.) Everybody went home with an event-exclusive patch featuring Kermit in his Manhattan Melodies getup.
Many thanks to Team ToughPigs for contributing to this article: Joe Hennes, Ryan Roe, Matthew Soberman, Staci Rosen, and Louie Pearlman.  And stay tuned for next year's NYCC, which will hopefully outdo every year before it! Or not!
Click here to stuff Kermit in your pocket on the ToughPigs forum!
by ToughPigs Staff