Ryan Dosier – Hi-ho, Muppet fans! Ready for more of my storied trip visiting the set of Muppets Most Wanted last May? If you're not, read Part 1 and Part 2 to catch up with what happened so far! To recap: I spent an amazing day on set at Los Angeles Union Station with ToughPigs' Matt Wilkie where we met Walter, watched the Muppet film, were treated to a private rehearsal of "We're Doing a Sequel," and spent the entire day with all of the Muppet performers. Yeah. All of that.
The day after my first day on set, I had lunch with huge Muppet fan and now great friend of mine Rachel Herrick. You know Rachel from her great Muppet movie video reviews that she did for The Muppet Mindset. This was my first time meeting Rachel and it was wonderful! After that, I went to Disneyland with my awesome, awesome friend Raymond Persi (story artist at Disney Animation Studios and voice artist in Wreck-It Ralph). Ray told me he was probably getting on set the next day as well through his Disney connections. I was excited.
The next day, Peter Linz texted me telling me Disney would be sending me a call sheet for filming that day with information about where to park, when to show up, etc. The call sheet is an amazing little souvenir and I'll always treasure it. This is the first time I found out that they would be shooting on Hollywood Boulevard with 200 extras. I was floored. Peter told me to show up around 7pm and prepare to be there all night for shooting if I wanted to stay. Obviously I did. Eventually I worked it out with Raymond to ride with him to set and I was on my way–again.
When we arrived on set, we found that the entire block in front of the El Capitan Theater was shut down for filming. The crew was setting up huge shots, there was a crane, tons of lighting, and a whole lot of union workers. It was amazing. When we got there, we were greeted by Tracy Gilbert, who works at the Muppets Studio. Tracy led us into the El Capitan, through the main lobby, into the basement, into a room they use for kid's birthday parties. Tracy told us there would be press interviews with some of the cast and crew, but we were absolutely not there as press–which is a round about way of saying, "If you tweet about this, you die." We had no idea what to expect, but we were thrilled. Eventually, Matt Wilkie and Rachel joined us in the basement. I'm still not positive how Rachel got on set, but I'm still impressed.
Anyway! The press interviews got underway, and we saw the costume designer, producer Todd Lieberman, and Peter Linz and Walter answer questions from the crowd. I was just so blown away, I really don't remember asking any questions. I don't think I did. But it was crazy awesome. Afterwards, Peter and Walter took pictures with everyone again. Matt and I got in line for pictures, but the Disney people who were there when we took pictures with Walter the other day glared at us, so we stepped out. Here's Rachel's awesome picture with Walter, though!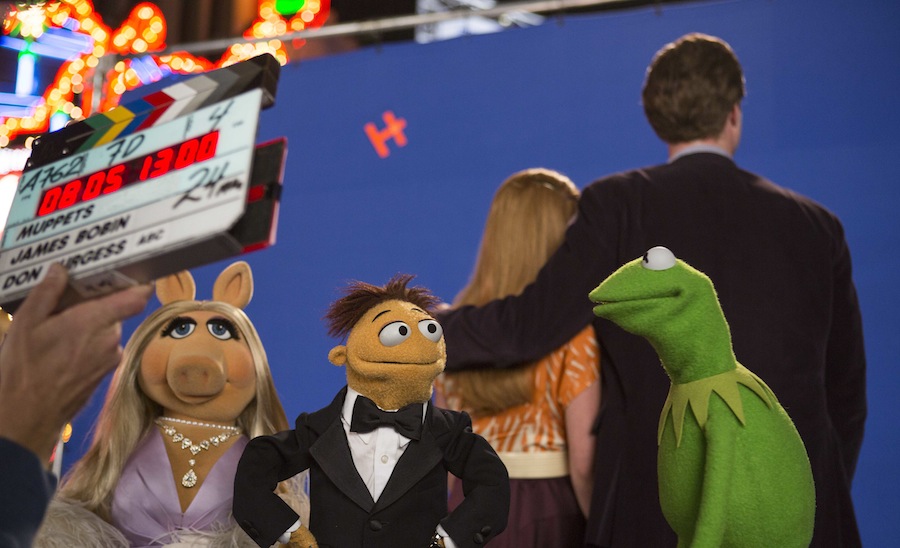 After the interviews, the press (and all of us) were led outside to watch some filming. The scene we saw is actually the very first scene of Muppets Most Wanted, with Kermit, Piggy, and Walter standing in front of Jason Segel and Amy Adams lookalikes. It was really weird to see two unknown actors that vaguely look like Jason and Amy wearing their exact costumes from the end of The Muppets. But, it was amazing to see Steve Whitmire, Eric Jacobson, and Peter Linz work. They were ad-libbing quite a lot, since the scene didn't really have any specific dialogue. It was awesome.
While we were watching them film, I ran into one of my favorite people: Cristina Barretta. Cristina is Bill's wife and we've been friends since 2010. Anyone who has read any of my stories about getting to do awesome stuff with the Muppets knows that 90% of the time, it's because of Cristina Barretta that I have such an unbelievably great time. Cristina had brought her son Jackson, her dad, and some friends to the filming and introduced me around to everybody. Then she wrangled Bill and Peter to take a picture with me (that she insisted she take). That picture is at right. Once again, I owe Cristina the world.
After that, we were brought back inside for more interviews. This one was with Kermit the Frog. After the interview, they announced Kermit would take pictures with us, and I nearly passed out. I was the last one in line, so when it was my turn to go up to Kermit for my picture, I was the only one. It took me a minute to realize what was happening, but before I knew it, Kermit the Frog was looking at me, smiling, and waving. Kermit said, "Hey, Ryan!" and I floated over. Kermit saw my t-shirt and said, "Wow, I love that shirt." He pointed at himself on the shirt and I felt Kermit touching me. Again, nearly passed out. All this time I completely forgot that Steve Whitmire was literally right there. It didn't even register with me, because KERMIT THE FROG was right there taking a picture with me. Here is that picture.
I really can't describe that feeling of meeting Kermit the Frog. So I won't even try, just know it happened and it was perhaps the highlight of my career. After our froggy photos, they brought us back outside again to watch more filming. But this didn't last long before we were taken back inside again, this time for Miss Piggy's interview. Again, they allowed us all to get pictures taken, and again I was the last one in line. What happened when I met Miss Piggy is still my favorite thing. I walked up to her, waved briefly to Eric, and I said, "Hello, Miss Piggy." Miss Piggy rolled her eyes and grumbled "Hello, Ryan…" I had no idea what to do, so I laughed and said, "Did I do something wrong?" At this point I should mention that the entire Los Angeles press corp was standing there watching this interaction. Miss Piggy looked at me, then looked at the press corp and said, "No, no. This is Ryan, one of moi's many stalkers!" I was literally stunned silent and that's when they took the picture. Sheesh.
So after Miss Piggy nearly killed me, we went back outside for even more filming. It was around this time that the press members started to leave, so the whole shoot became a lot more informal. We got to talk to Eric Jacobson for a long, long time. The lot of us stood in a circle, in the middle of the road on Hollywood Boulevard, and just talked and talked to Eric for at least half an hour. He is the nicest, funniest, most intelligent guy and I really can't get over that fact. He's such a delight and I love every second I get to spend hanging out with him. After we talked, we took a picture.
By this time it was at least midnight and the production showed no signs of slowing down. Rob Corddry came in and filmed his cameo. David Rudman performed Scooter. Thog walked down Hollywood Boulevard. It was amazing. At about 1:00 am, the production paused for dinner (at least I think it was dinner) and everyone walked over to the adjacent Hollywood High School to have craft services in their cafeteria. I think it was probably Matt Vogel or Bill Barretta that invited me, Matt, and Rachel to come eat (Raymond had already left at this point), so obviously we did. Once again, the food was amazing, but the company was even better. Dave Goelz invited Matt and I to sit at his table with him, so we talked to Dave for quite a bit. Later I got to talk for awhile with Debbie McClellan, which is always wonderful, and John Bernstein, who works on DVD/Blu-ray content for Disney and who oddly enough went to my college. We bonded over pizza places and crappy dorm rooms.
After the food, everybody returned for more filming. We saw Kermit, Piggy, Fozzie, Walter, Rowlf, and Scooter shooting the opening group scene from Muppets Most Wanted ("Those were paid dancers"). During this scene, Dave Goelz was dismissed and went out of his way to come say goodbye to us–insane. The scene was so funny, and went over so well. The best part was Fozzie/Eric never being able to nail his line when the tumbleweed blows through the background. Every time he would flub it, the tumbleweed wrangler would have to run across the street, grab the tumbleweed, and run back. Movie making at its finest.
They shot different coverage for each character, so during some shots Matt Vogel wasn't needed and he came over to talk to us. Again, I can't reiterate how freaking cool Matt Vogel is. He treated me like family and was always so interested in talking to me. He's really the best. We took a picture in front of the Disney Soda Fountain store, so it looks like we're cross-promoting Iron Man 3.
Not too much more happened between then and the end of filming. But when they were finally ready to rap, James Bobin called out, "Martini shot!" and we realized that we were watching them film the final shot of Muppets Most Wanted. It was incredible. They shot it, got it in that one take, and Bobin yelled cut. The entire street started applauding and cheering and hugging each other and we got to be there in the middle of it all. Truly magical and a moment I'll never forget. Eventually everyone started leaving, so I said my goodbyes to the performers. Bill, Matt, and Peter all hugged me and Steve, Eric, and David were so happy to have me there. Me. I still can't get over it.
By the time I got back to my hotel, it was 4:30 am. I had spent literally all night with the Muppets and I could not have been happier. And that's my story, Muppet fans. The story of how I met Walter, Kermit, and Miss Piggy, hung out with the Muppet performers, ate lots of craft services, and saw the final shot of Muppets Most Wanted filmed. Thanks for reading, believing, and supporting. I couldn't have done any of it without your support! I also have to say an endless amount of thank yous to Peter Linz, Debbie McClellan, Bill Barretta, Matt Vogel, and everyone who was so freaking kind to me.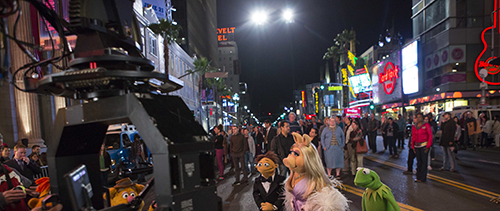 The Muppet Mindset by Ryan Dosier, muppetmindset@gmail.com