Before we get started here, I have to comment on this piece of writing. It's written by Joe Hennes, my on-again-off-again rival and big-wig over at ToughPigs.com (his wig is HUGE). It was very difficult for me, personally, to agree to host this on the site, as Joe has never been… cordial to me, so to speak. But here it is, the survey answers from my rival, Joe Hennes. Don't even think about visiting his site, ToughPigs.com for their awesome articles.


1.   Who are your three favorite characters from The Muppet Show, Muppets Tonight, The Jim Henson Hour, the Muppet movies, etc. and why?
First off, let me just say how difficult this is for me, filling out a survey for our rival Muppet fan site. But you asked questions and I have answers, and I love the sound of my own voice (funny, I sound remarkably like clacking keyboard keys).
My favorite Muppet Show-family Muppet has always been Rowlf. When he's funny, he's the funniest. When he's melancholy, he's the most insightful. And he's probably the closest we'll ever come to seeing Jim in puppet form (aside from Jim, I guess). Next is Fozzie, who never fails to crack me up on the old show, and he is possibly the greatest second banana in the history of pop culture. The third is every-other-Muppet, but if I was pressed to choose, let's go with Floyd, who is cooler than anyone you know.
2.   Who are your three favorite characters from Sesame Streetand why?
Cookie Monster, hands-down. I just love how a one-note character (whose note was so specific, it's in his name) managed to become the funniest and among the most visible of any of the Sesame gang. Next is Bert, who I love for his lameness. Not that he's lame, but he's just SO lame! You know what I mean. And third is Grover, who is 100% furry blue heart. Apparently I just really like Frank Oz Sesame Street characters…
3.   Who are your three favorite characters from Fraggle Rockand why?
For the longest time, I could never choose a favorite of the Fraggle Five. But after marathoning the entire series over a weekend, I realized how much I adore Wembley. He's funny and loveable, and he benefits from being the most visually appealing of the group. Number two is Cantus, whose arrival in Fraggle Rock always feels like a holiday. And every word he says is quotable and perfect. Last would be Sprocket, who is a real dog and there's nothing you can say to make me believe otherwise.
4.   What is your favorite television program starring any of Jim Henson's creations (e.g. The Muppet Show, Sesame Street, Fraggle Rock, Dinosaurs, etc.) and why?
This whole survey is unfair! How am I expected to choose??? I guess I have to go with The Muppet Show, which is the most diverse of the Henson shows, with songs and skits and drama and character development and perfect, memorable moments. Sometimes I wish it stayed on the air forever, giving us (by my calculations) about 876 episodes by now. I could live with that.
5.   What is your favorite Muppet movie and why?
I often go back and forth between The Muppet Movie and The Muppets Take Manhattan, and today I'm in more of a Manhattan mood, so I'll go with that. It's more of a departure than The Muppet Movie and The Great Muppet Caper, since it's more about the Muppets splitting up than getting together, doesn't really feature a clear-cut villain, and takes place in a less exaggerated real-world setting. Plus it's so deliciously '80s, I can't even stand it.
6.   What is your favorite Muppet/Sesame/Fraggle song and why?
Yeesh, I can only pick one?? Come on, Dosier!!! Instead of conforming to the rules of picking a Muppet, Fraggle, or Sesame song, I'm going with "When the River Meets the Sea" from Emmet Otter's Jug Band Christmas. It's so beautiful and heartfelt and perfect. And I'm man enough to admit that I've teared up on occasion while listening to it, and I defy you to listen to it without feeling something deep inside yourself too.

7.   If you could have dinner with any living Muppet performer who would you choose and why?
Even if I hadn't met most of the Muppeteers already (not bragging, just celebrating), I'd have to say Frank Oz. He has a stronger history with Henson and the Muppets than just about anyone else, he has a unique passion and insight into his characters, and I bet he'd be willing to speak pretty candidly once you get him going. I'd give a lot to get that experience someday.
8.   If you could tell Jim Henson one thing, what would it be?
I think I'd be speechless. Can I trade in my "one thing" for a hug?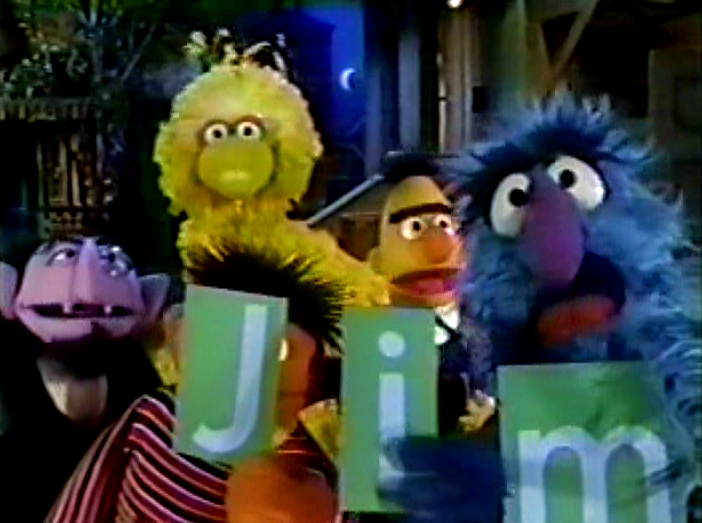 9.   If the President called you and asked to discuss Muppet projects, what would you tell him was the "Greatest Muppet Moment of All Time"?
Ugh, these questions. I can't choose a Muppet moment, because that leaves out Sesame Street and Fraggle Rock, and the same goes for the other two. So I'll go in a strange direction and say "Jim Is," the song the Muppets, Sesame gang, Fraggles, and more sang at The Television Academy Hall of Fame ceremony in 1987. It's funny and all-inclusive, and Jim gets the opportunity to pat himself on the back a little bit. It's not the most memorable moment ever, but it's pretty representative of what Jim could do.

10.   What's the name of that song?
Mmm Bop
11.   If a judge ruled that Grover had to be your personal assistant for a month, what jobs would you have him do?
Let's see. I can't let him serve me food, drive my car, deliver my mail, or act as my own personal superhero… so I guess I'll just let him sit on the couch and play video games with me. What could go wrong? (Famous last words.)

12.   In your opinion, what is the worstMuppet production ever made?
Any of the bad stuff pre-1990 (and yes, there's plenty of bad stuff) has at least a little bit of redeeming quality, either in one memorable moment or in the it's-so-bad-it's-good sort of way. But the one that I'll never revisit, never find an enjoyable moment, never allow into the cavities of my brain is Studio DC: The Muppet specials so bad, even the writers and director Alan Smithee'd their names.
13.   Who is one celebrity you would love to see cameo in the next Muppet movie?
Me. Yes, I'm a celebrity.
14.   If you could take a picture with any Muppet, who would you choose and how would you pose?
I want to recreate the picture from The Great Muppet Caper with Kermit and Fozzie's dad that their boss at the Daily Chronicle has on his desk.

15.   What is your favorite piece of Muppet merchandise that you own? (Feel free to include a picture!)
I'd have to say my collection of Palisades toys. I own one of every character (except one… can you guess which one I didn't care enough to buy?), and they look crazy good all together like that. Plus, it's like my own little Muppet Show in my bedroom every night. It doesn't get any classier than that.






The Muppet Mindset by Ryan Dosier, muppetmindset@gmail.com