Sesame Street loves celebrating its own birthdays by giving its fans delightful presents.  Right now through January 31st, 2015, the New York Public Library for the Performing Arts at Lincoln Center is hosting "Somebody Come and Play," a Sesame Street 45th anniversary exhibition that's full of good stuff.
When you enter the gallery, the first thing that grabs your attention is a miniature recreation of the 123 Sesame St. stoop.  Unfortunately, you can't go inside and hang out with miniature recreations of Gordon and Susan, but there are some replica steps you can sit on for a photo-op.  A familiar trash can is nearby, and there's a button you can press to see what pops out (SPOILER: It's Oscar.)
I'm sure kids are going to love hitting that button and messing around on the stoop, which is great, because that gives them something to do while their parents are looking at boring, exciting things like set blueprints, a timelapse video of the set being built, and old photos of the cast and crew.  Including at least one shot where Frank Oz can be seen sporting a receding-in-the-front, party-in-the-back haircut that's awfully close to a mullet.
The whole exhibition strikes the perfect balance between stuff that will keep little kids interested, stuff that casual fans will find interesting, and stuff that the sophisticated, adult Cookie Monster connoisseurs like us really want to see.
For the first category, there are a few video stations throughout the gallery loaded up with various clips from the classic era to today, including ones where the user can tap on a letter or number and get a Sesame segment about it.  I played a little game where I tried to guess what clip would be used to represent a certain letter before tapping on it.  Of course tapping on C leads to "C Is for Cookie," but I was wrong when I predicted that Z would be the Zizzy Zoomers. (It was "ZZ Blues.")
For the second category, there's a history on how Sesame Street came to be, information on how the show is researched and developed, and a video showing the process of creating a "Crumby Pictures" segment.  There are also several items that are sure to make people go, "Oh, I remember that!", like a animation cel from "The Alligator King" and recreations of storyboards from Jim Henson's "baker" counting films.  Some beautiful chalk drawings of Sesame Street Muppets by Louis Henry Mitchell throughout the gallery also add to the sunny-days atmosphere.
And for the third category (us), there are lots of artifacts that I don't think have been on display before.  A rubber duckie used on the show, right next to Jeff Moss's original hand-written sheet music for "Rubber Duckie."  A letter from President Richard Nixon commending the show for educating America's children.  Bert and Ernie's actual pajamas:

And one of the highlights for me — which may or may not be that interesting to anyone else — an old color guide, assigning specific hues to each Muppet.  Did you know Oscar's eyebrows are the same color as Snuffy's fur, and Poco Loco's beak is the same color as Bert's nose?  Well, now you do.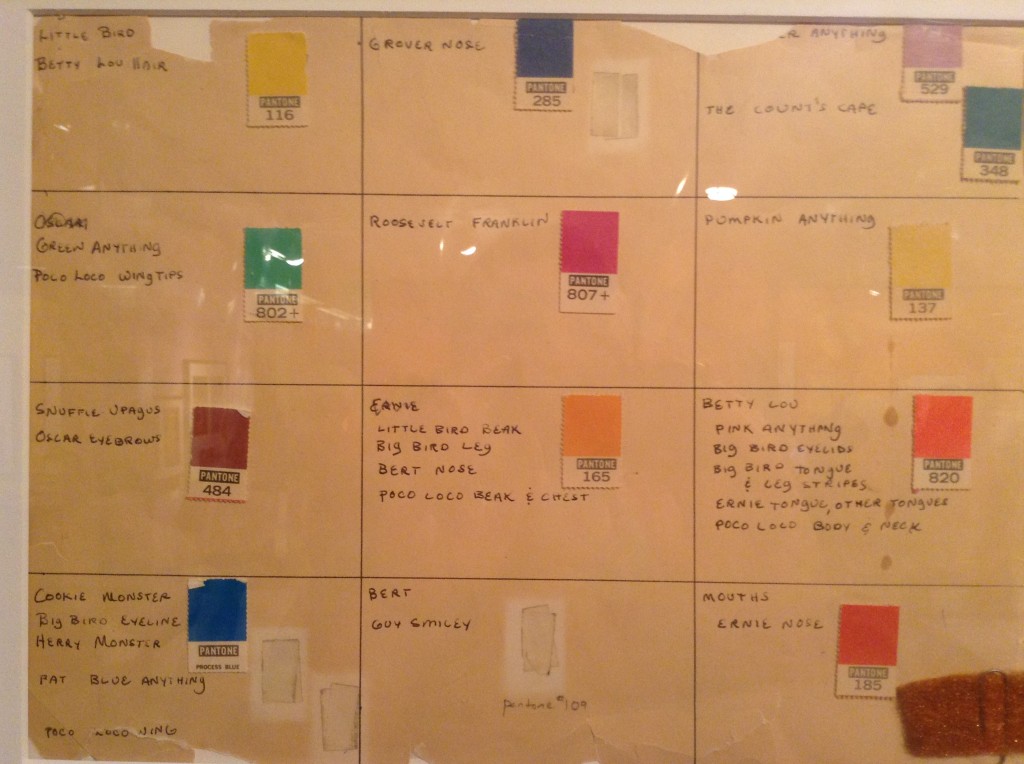 And speaking of Snuffy, that brings me to one of the major highlights of the exhibition, which is sure to thrill all three of the aforementioned categories: Muppets!  The one we at Tough Pigs were probably most excited about is Mr. Snuffleupagus himself, who is on display wearing a lovely ballet costume — a fitting choice given the connection to Lincoln Center, home of the New York City Ballet.  If you visit the exhibition, you're going to want to get your photo taken in front of Snuffy… but good luck fitting all of him into your picture.  He is very large.
There are plenty of less elephant-like Muppets around as well.  Among the other friends you'll find resting comfortably under glass are the Count, Zoe, Elmo, Big Bird, Mr. Johnson and Thomas Twiddlebug displayed side by side to demonstrate the fact that they're made out of the same Anything Muppet…

…Bert, Ernie, Cookie Monster, Hoots, the Owl, the cast of Sesame Tree… and if you look up, you might spot a furry blue superhero flying overhead.  And of course, they included your very favorite Sesame Street character, a tomato.
With all its historical artifacts, videos, and puppets, "Somebody Come and Play" is essentially a little museum devoted to how awesome Sesame Street is.  And after 45 years of making the world a better place, I'd say the Sesame people deserve to celebrate their birthday by throwing a museum and inviting everyone.  Like the TV show itself, the exhibition is educational and entertaining, and fun for all ages.  And I haven't even mentioned the photo booth where you can get your picture taken with some Honkers!  Isn't that every Sesame Street-lover's dream come true?
Click here to get a letter from President Nixon on the Tough Pigs forum!
by Ryan Roe – Ryan@ToughPigs.com