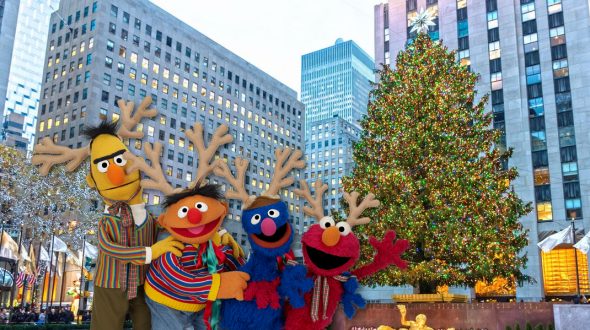 It's about that time of year again – the annual lighting of the Rockefeller Plaza Christmas tree, said to be the largest tree on the planet Earth. Hmm, wait. That can't be right. Note to self: do not trust facts from that FAO Schwarz Zoltar machine.
Anywho, the ceremony will be live on NBC on Wednesday, November 30 at 8pm (with pre-show at 7pm). Among the many famous peoples who will be there are none other than our Muppet friends from Sesame Street! Our other Muppet friends from Disney have appeared at the event a few times over the years, but this appears to be the first time the Sesame gang will join the festivities.
Now, NBC hasn't specified what characters are going to appear and what specifically they'll be doing. Considering they're starring in a new Christmas special coming out the day after, it would be a safe bet to say Elmo and Tango will be there promoting it. But I'm holding out hope we'll get a performance of "Baby Please Come Home" by Rodeo Rosie, Farley, and the Rockheads. I hope you're listening, Santa!
Click here to be a giant tree on the Tough Pigs forum!
By Shane Keating