Welcome to Sesame Place Week – Celebrating the 35th anniversary of the Sesame Street-themed amusement park!  We're bringing to you a week full of articles with the cooperation of Guy Hutchinson, the co-author of the new book chronicling the history of Sesame Place.
As a bonus, ToughPigs readers can receive $2 off the cover price of the book, which comes with a signed copy of the book, a current park map, and a vintage Sesame Place token! Click here to place your order and enter the code TOUGHPIGS at checkout for your discount!
The following article was written by the Sesame Place book's co-author Guy Hutchinson.
Jim Henson is often compared to Walt Disney. Both were influential producers of mass media aimed at children. Both are forever associated with their most famous creation, Walt and Mickey; Jim and Kermit.
So it stands to reason that Sesame Place was Jim Henson's Disneyland. I had always assumed that Jim Henson, like Walt Disney, micromanaged every single aspect of the park that was built around his characters.
Whenever I learned something new about the early days of the park I instinctively gave him credit for the idea. There was only healthy food served at Sesame Place when it opened, "must have been Jim's idea," I thought. They had 56 computers for guests to have hands on experiences on in 1980, when more people had outhouses than personal computers! "That sounds like Jim's idea, he was certainly someone that embraced new technology," I reasoned.
However, when I started researching the book on Sesame Place I didn't really see Jim Henson's fingerprints on the project.  He certainly wasn't one of the driving forces behind it.
Sesame Place was designed by several people: Eric McMillan, a very well known developer of children's play areas and innovator of different interactive play elements. Sandy Hanna was a design consultant and with a background in childhood development. Milton Glaser, one of the most celebrated graphic designers in the world was tasked with designing much of the look of the park. Dr. Marilyn Rothenberg was credited as the park's environmental and content planner. The Computer Gallery was considered to be the "brainchild" of Christopher Cerf and worked on by Joyce Hakansson. These brilliant people collaborated with each other and others to help turn Sesame Street into Sesame Place.
The Sesame Street television show was also a collaborative effort. Joan Ganz Cooney and Carnegie Foundation vice president Lloyd Morrisett collaborated on creating the show and brought Jim Henson and his Muppets aboard.
As Chris Mercaldo and I researched the Sesame Place book we were given access to many resources regarding the history of Sesame Place. Chris spent a day at Milton Glaser archives and read hundreds of documents from 1979 regarding the planning and creation of Sesame Place. As we discussed them, we kept coming across many of the names I mentioned above (and others,) but we didn't see Jim Henson's name very often.
Jim was certainly busy in 1979. The Muppet Movie was released that year. The Muppet Show was still on the air. Kermit hosted The Tonight Show in April and John Denver and the Muppets celebrated Christmas on television before 1979 came to a close.
I decided to ask several people who worked on and at Sesame Place about Henson's influence, input, and his overall importance to the success of Sesame Place, 35 years later.
Eric McMillan – Designer
"In 1976 I built a project in San Diego, Chuck Jones had seen it, was excited about the potential of my work and requested we meet. I gave him a short film of my early work in play which he then sent to Jim and the Muppets. At that time CTW were developing a concept for a mega three hundred acre theme park.
My understanding is that Jim and the Muppets went wild about the movie and insisted that I be contacted with a view to developing a park concept. So in reality had it not been for the response of Jim and his group, Sesame Place would not exist.
I met with Jim a few times to discuss theming at the park.  He had amazing energy.
His early death was a tragic loss of a unique and wonderful talent."
Sandy Hanna – Design Consultant
(On Henson's visit to the park) "He came for a visit to the park and we took press photos of his standing in front of Big Bird Walkway in what at that time was the main entry area to the Sesame Place. I'm not sure if it was prior to the park opening or afterward, but it was at a time when no visitors were in the park. He was a very shy man and wasn't one to try to draw attention to himself. A very unassuming person. He didn't stay very long, but did get a tour of the park when no one was there to allow him to see it without being bothered by anyone. Staff members were sneaking peeks at him from the various buildings."
(On Henson's input) "The Sesame Street characters were under the auspices of Children's Television Workshop, but I am sure Henson had input about their usage. There had been criteria developed with regard how they could be used. When the park originally opened there were no live costumed characters, only stylized graphic representations throughout the park that had been developed by graphic designer Milton Glaser for use on the various play activities such as Big Bird's Nest, Twiddlebug Hop, etc. Any interaction with Henson would have been handled through the Children's Television Workshop. Most likely Marilyn Rothenberg was key in the coordination of all parties involved."
(On Henson's role in the success of the park) "The Sesame Street characters, developed by Jim Henson, were critical to the success of Sesame Place. These characters represent the various ages that the park was initially geared for: Cookie Monster is two years old, Big Bird is three years old, Grover is four years old, Bert and Ernie come in at five and six years old. In the original design of the play activities, the targeted age group was 3 to 13 years of age. Understanding the stages of cognitive, social, physical and emotional development in young children paired beautifully with these characters."
"From a marketing standpoint, the fact that the Sesame Street characters were associated with this unique play park created an immediate audience. Unfortunately, when the park first opened there were no live costumed characters because it was critical that the characters have the voices of their character operators. This would be added during its second year in the form of a live staged show where the voices had been pre-recorded."
Greg Hartley – Sesame Place employee from 1980 to 2011, started in park operations left as Director of Human Resources
"I did see Jim at the park but never spoke with him. There is a photo out there somewhere of Jim at the park during construction. I believe it was either in a newspaper article or the Sesame Street newsletter. Without the characters it would just be 'Place'. The first couple of seasons we did not have the costume characters and that was a big complaint. Although we had the characters on signs, in videos and in the merchandise it wasn't the same. I think part of it was that on Sesame Street the characters would interact with the kids at home. Unlike the Disney characters who just entertained, the Sesame characters spoke to them through the TV screen. When the families got to the park they expected that same interaction. In my opinion the adding of the costume characters brought the park to a whole new level. They became ambassadors of the park."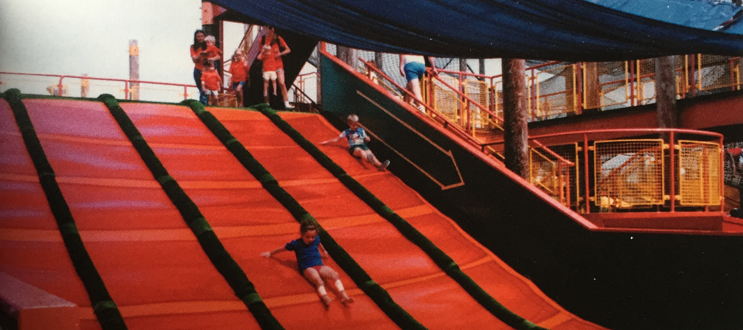 Bob Caruso – Sesame Place employee since 1980, current Sesame Place Park President.
(Q: Did you ever see Jim Henson at the park?) "I did and to the best of my recollection, it was prior to the July 30th opening. I remember him sitting on a bench in front of the 'Food Factory', which is now known as Elmo's Eatery. Since I was still just an intern, we never actually spoke. Unfortunately, he never returned and as we all know he passed away much too soon."
(Q: Are you aware of any direct input that he had in the early days of the park?) "Not specifically, however I'm fairly confident he had some input regarding theming since the full size costume characters were not part of the original plan. Of course it was due to Jim with some encouragement from his son Brian that we finally did bring the characters to the park in 1983. Brian's summer at Sesame Place had a significant impact on several former employees; Bill Barretta, Bob Schooley, Mark McCorkle and Jeff Santoro."
(Q: How important do you feel his work and characters are to the success of Sesame Place?) "Let's put it this way, there wouldn't be a theme park located in Langhorne, PA if it were not for the Sesame Street characters."
Milton Glaser, the famed graphic artist who was directly responsible for much of the look of the park, told me "In my recollection, we never worked directly with Mr. Henson. I would have liked to meet him, though."
Bill Barretta – Muppet Performer
I was unable to reach Bill Baretta for this article, but I have heard his story of meeting Jim Henson at Sesame Place. In 2012 he recounted it for The Muppet Mindset; "I remember so vividly the day he came to Sesame Place. I happened to be working next to a brand new automated character attraction of 'Oscar The Grouch' that they were testing. From where I was stationed, I looked up for a moment and just happened to see Jim walking into the park. He could have easily gone through some private VIP entrance, but instead, he entered the park just like everyone else. I immediately abandoned my post, ran up to him and said something corny like 'Mr. Henson! Welcome to Sesame Place!' He said, in a low tone 'Thanks. Do you know where the Oscar attraction is?' …Did I? I basically spent the next half hour just staring at him as he observed Oscar and it's effects on the park guests. The fact that he preferred to be with the people and not with some VIP escort made a huge impact on me… such great humility."
Jim Henson passed away a couple months before Sesame Place celebrated its 10th birthday. His characters have endured and his impact on pop culture is ongoing. As a fan of Jim Henson's work I am glad to see his characters live on at Sesame Place. I am also glad to give credit to the people who truly got Sesame Place started.
As we prepared the Arcadia Publishing book 'Sesame Place', Chris and I really wanted to include a photo of Jim Henson at Sesame Place. We weren't able to find one (though we did include a photo of Cheryl Henson at the park).
Sesame Place had no photos of Jim in their archives. Sesame Workshop wasn't able to locate any. The Jim Henson Company's search of their archives also came up negative.
We also searched every corner of the internet. We dug through old Google newspaper archives and spent hours looking at image search results. It just wasn't out there.
After reading what Sandy Hanna and Greg Hartley wrote above, I decided to renew my search for a photo. I decided to research this the old fashioned way. I drove to the public library near Sesame Place and had them fire up the microfilm reader. I loaded up the microfilm of the Bucks County Courier Times from 1980 and started searching.
The opening of Sesame Place was a pretty big deal to the area and the newspaper reports certainly showed that. Every day leading up to the opening of Sesame Place there were photos and stories of the park, often on the front page. There were some really great photos including multiple construction photos of an unfinished Big Bird Bridge.
I continued flipping through the newspaper. Every photo of a man with a beard made me stop and zoom in – and believe me, there were lots of men with beards in a 1980 newspaper. I keep looking, page by page, day by day, until I finally I found it.
This may not seem like an amazing find to some people, but to me this was the equivalent of Doc finding Miss Piggy during the blizzard in Muppet Family Christmas. I'm glad to share it here, since I imagine readers to this site are among those who would appreciate it (and appreciate a reference to Muppet Family Christmas).
The photo shows Henson (misspelled "Hensen" in the caption) viewing the construction of Sesame Place with Gibbs LaMotte, of Children's Television Workshop, and John Hunter, who was Marketing Director of Sesame Place.
This may be the only photograph of Jim Henson at Sesame Place. Or, maybe someone out there took rolls and rolls of pictures of him taking this tour and will read this article and come forward.
I'll keep my fingers crossed.
Click here to get notes from the boss on the ToughPigs forum!

by Guy Hutchinson
**Please note that all of the photos found in this article come courtesy of the Sesame Place book and are owned by their respective copyright holders.