The following was written by ToughPigs correspondent Chase Beecher. Thanks for all your hard work, Chase!
Warning: The following contains minor spoilers from the "Being Elmo" documentary.

Even though I am a resident of Northern Utah, I really don't plan on attending the Sundance Film Festival every year in Park City, a half hour away from my home. I pay attention to the wheelings and dealings that are going on, and read all the buzz surrounding the films. That all changed this year. When it was announced around Thanksgiving that our old buddies Elmo and Kevin Clash were coming to the snowy mountains with a documentary, I knew I was headed to Park City and Bob Redford was not the redhead I was excited to see. (But bumping into him would have been great!)
"Being Elmo: A Puppeteer's Journey" premiered on January 23rd 2011, to a packed house of all ages. This is a pretty landmark film. What other documentaries are out there about a puppeteer and specifically the Muppeteers? Besides the Jim Henson retrospectives, nothing. Nada. Zilch. This is landmark. This is unprecedented. This is red and furry.
Connie Marks and her team followed Kevin for six years of his life. They take you back to where he grew up in Baltimore, the TV station where he got his start, inside the Muppet workshop, and around the globe where he is training puppeteers for the french version of "Sesame." The story tells us about a young man that grew up loving "Sesame Street" watching Ernie and Bert and cracking up over what trials Grover had to overcome (who didn't!?) and also watching "The Wonderful World of Disney." Having a creative itch, he one day decided to scratch it, by making a puppet from the fur lining of his father's coat. (Sounds like a familiar story!) Only one glitch: he didn't ask for permission. His father came home and saw that he made this extraordinary puppet and was understanding and from then on, his parents gave him all the encouragement in the world to follow his passion. And he did.
After being seen at a local county fair, a TV station in Baltimore asked Kevin to join them as a puppeteer. A working puppeteer he became, and he wasn't even out of high school! He made his own puppets, but was obsessed with the "Henson stitch" (the stitch that goes down the middle of the face and jaw, but cannot be seen on screen). His mother, being the fiery woman that she is, cold called Henson and wanted a meeting. As luck would have it, Kevin's high school class was headed to New York for a trip. This is when Kevin met his mentor, the late, great, Kermit Love who taught Kevin the Henson stitch he so badly wanted to learn. He also taught him how to make and manipulate puppets well. This is seen in the film through archival footage from the show "Big Blue Marble." It is amazing! We see a VERY young Kevin, and Kermit Love always looked the same! How did he do it? It must have been that beard. It is some rare and great footage.
The film then goes on to tell us about Kevin working on shows with Captain Kangaroo, and a show called "The Great Space Coaster." Kevin tells us the story of how he met Jim Henson for the first time, following the Macy's Thanksgiving Day Parade, and how Kermit Love wouldn't let him get a word in edge-wise! We even get to see Kevin's audition tape for the Henson Company. That is some amazing stuff. They don't call it a "journey" for nothing…
Kevin soon gets told how to get to "Sesame Street." He talks about the characters that he tried but just didn't work, and then the legend of Elmo is told by Marty Robinson, who was in the room when Richard Hunt stormed into the canteen with this red monster and says he doesn't want to do him anymore and asks who wants him. He gives him to Kevin and Kevin automatically gives him that little voice. The rest is, as they say, history. We get to see some brilliant Richard Hunt as Elmo. He talks like a mean, grumpy old cavemonster. It was crazy to see.
Kevin explains what and who Elmo really is. Elmo is love. Pure, unconditional, love. Elmo, to him, is like his parents. Warm and kind, creative and encouraging. Most of all, loving. With interviews from fellow Muppeteers Fran Brill, Marty Robinson, Frank Oz, and Bill Barretta, they all talk about how Kevin is at his best when he has Elmo on his arm. Fran says it best when she tells us that Kevin is his open, giving, best self when his is Elmo. I am always so amazed at how shy these Muppeteers really are.
The film tells us about Kevin's daughter, and his ex-wife. I imagine it is quite hard living the life of a person underneath one of the biggest stars in the world. It would take a toll on one's family. You can see this story told in the film as Kevin talks about his daughter growing up while he is away.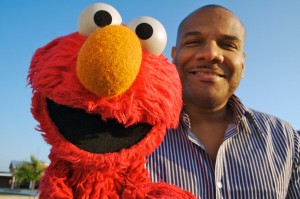 Now, a director, producer, puppet wrangler, and setting up co-productions all over the world for Sesame Street, Kevin is a very busy man. He also does a lot of charity work. He says a lot of "Make A Wish" kids make their dying wish to meet Elmo. He grants many of these and they showed such a wish. This was a very tearful moment in the film.
Kevin has worked hard. He has followed his dream and it has came true more so than he ever imagined. This is not only inspiring for the audience, but very gratifying. A lot of folks feel humbled and grateful just for seeing this "journey."
The film ends with Kevin cold calling a little boy to come up to the Muppet Workshop to begin training on how to puppeteer. This little boy reacts how any of us would. On the phone, "This is Kevin Clash? No it's not!" They then show us this nine year old boy coming up to Manhattan and entering the world of the Sesame Street Muppets and he picks up a little pig, and begins to learn how to puppeteer besides Kevin and Elmo. Kevin is passing the torch, and keeping the Henson spirit very much alive. Frank Oz put it best in the film. He said that Kevin was now part of the brotherhood and sisterhood of the puppeteers. I think that is the biggest compliment you can get. Don't you? I feel great knowing that this brother and sisterhood firmly has the legacy of Jim Henson on it's shoulders, and knows what that means.
The reaction to the film has been great. (There was one guy, who was green and in a trash can, outside the theater that said he didn't like it.) I have not heard one negative thing about it. Someone out there may have thought it was too sweet, but it walks the line of perfectly sweet just fine. There is so much buzz, they added a few extra screenings.
Coming out of a showing I got to talk to Wendy, and her little boy, Charlie, and he was telling me how magical it was to meet Elmo, and how fantastic the puppeteers are. Wendy told me she thought the story was great. We all fall in love with things we see when we are little, but to stick with it and succeed? She thought that was what was most inspiring and important. I also met a woman named Demitria who thinks she got a play date scheduled with her son and Elmo while they are all in Utah! I hoped it worked out for you Demitria!
Seeing all the archival footage was awesome. In another Q&A, the director, Connie Marks, mentioned that they got the master copies right before they were destroyed. This stuff is priceless for any die hard Muppet fan. The team said that they recorded so much within the six years, that they could have made almost 3 more documentaries. I hope to expect a fully loaded DVD with plenty of extras!
The most important thing is to spread the word. If you want to see this film, find out how. BeingElmo.com is the place to go. Tell people you want to see this. I mentioned in a Q&A that I was just thankful that a Muppeteer was highlighted and that other people got to see a guy that has brought so much joy and light into the world. One woman raised her hand and told me that was great, but the most important thing out of this film is that young people can do anything once they put their mind to it. If they are passionate about something, they can do it. I think that is so true. The film highlights all of this.
I just want to say thanks to director Connie Marks for letting me chase her all around Park City this past week, and for letting me bug her, producer Corinne LaPook who is huge Muppet fan herself and was totally cool to hang out with the other day, and to Co-Director/Writer/Editor, Philip A. Shane and Writer/Editor Justin Weinstein for chilling with me (literally it was cold, man!) and for talking Henson stuff, you rock! You two guys taught me stuff I didn't know! All you guys rock, thanks for spending time with me!
Thanks to Kevin Clash and Elmo, who I got to meet at Sundance. My freak is still freaked that I met my first Muppet. I still think I may be bigger than Big Bird, but you are the expert!
To see my videos of Sundance and to check out my comedy schtick (I am a puppeteer, comedian, writer, actor, just what I wanted to be when I was little!) visit me on YouTube and Twitter or like me on Facebook. please like me on facebook. Someone has to! Wocka Wocka!!
Click here to see red (the color, not the Fraggle) on the ToughPigs forum!
by Chase Beecher