Greetings again, fellow nerds! After a whirlwind week, we're finally coming down from the San Diego Comic Con (SDCC) high. Four days fueled by protein bars and overpriced nachos are over and now we've got lots of exciting news to bring you from the Mecca of pop culture. So let's get right into it!
All right, we all know what you're most excited to her about so let's get it out of the way: The Muppets were at SDCC and it. Was. AMAZING. You can check out the entire panel for yourselves below, and I highly recommend that you do. I'll wait.
… All done? Okay.
WASN'T THAT AWESOME?! I mean, there they all were, live on stage, with their performers, riffing and joking and being hilarious! And no curtains or boxes or set pieces hiding the Muppeteers! Thank you, Disney, for allowing us this rare look into how these amazing performers do what they do best. And it afford some rare opportunities to get insight into things like which characters are the hardest to operate (Bobo requires a harness), and that Eric Jacobson thinks that Miss Piggy is very dense (He can say that!).
For those of you who didn't watch the entire panel, let me fill you in a little bit on all the cool stuff we learned. On hand at the panel were Co-Creators and Executive Producers Bill Prady and Bob Kushell, Executive Producer and Director Randall Einhorn, Executive Producer and Muppeteer Bill Barretta, and fellow Muppeteers Steve Whitmire, Dave Goelz, and Eric Jacobson. We already knew that the muppets. will have a show-within-a-show called Up Late with Miss Piggy, which in the world of this show will follow Jimmy Kimmel Live! As such it's pretty obvious that her role on the show will be that of host, but we also learned what roles the other Muppets will play. Kermit is the Executive Producer, naturally. Scooter is the talent coordinator, in what I'm imagining is similar to the real-life role David Lazer played during The Muppet Show days. The Swedish Chef will head up craft services and Rowlf will own the bar across the street (named Rowlf's Tavern), complete with his piano and karaoke. A rare point of disappointment for me was when Bob Kushell announced that Gonzo would be the head writer, with Pepe and Rizzo on the writing staff. I immediately thought, "Wait, why isn't Fozzie the head writer?" And that's when, for me at least, the coolest piece of news about the show was announced – Fozzie Bear is going to be a talk show sidekick! Years from now people will be ranking the greatest late night TV sidekicks and that list will include Ed McMahon, Andy Richter, and Fozzie Bear.
Other roles include Bobo as the stage manager, and Sam Eagle as the head of Broadcast Standards for the network (Which, I mean, come on! How good is that!). All of the Muppets have a position on the show, even those who weren't mentioned specifically. And sorry to say, Spamela Hamderson fans, the puppet used for Denise is currently being built so it will change completely before the show airs. Denise's character, by the way, will be in the marketing department of the network and not on the actual show. One of the fan questions were if we'd be seeing other unmentioned characters like Walter and Robin, and while Kermit joked that Robin would be in school during working hours, they said that all possible characters were on the table for appearances in the show.
Some behind-the-scenes factoids we learned is that the platforms will be raised with trenches all over for the puppeteers, like all good Muppet shows, and that there will be one continuous set that they'll walk through. There's lots of talk about this show being similar to 30 Rock, but it also sounds like we could see some Aaron Sorkin-style "walk and talks" a la Studio 60 on the Sunset Strip. And we've learned that the fatal flaw of the craziness of the show will be Kermit's weakness – that he cares about his friends and keeps hiring them despite his best interests. We also learned that there will be more contemporary music and music artists performing with and without the Muppets, who will sometimes perform musical acts of their own.
A fun point in the Q&A was when we found out about an in-joke among the Muppeteers – Steve Whitmire has apparently been sneakily giving bottles of Tabasco sauce to Dave Goelz for years. And he continued that tradition at Comic Con by (I believe) recruiting a young girl to hand one to him at the Q&A. And a touching point in the Q&A was Dave talking about how Jim Henson's presence is felt in everything they do, and this project has been no different. He mentioned that there are now seven main Muppeteers, and there are some who never even met Jim in his lifetime, but they all respect and admire him so much and Dave knows that the essence of what Jim did helps guide them. Bill Barretta added that the Rowlf puppet that he uses has been around since approximately 1985 (5 years before Jim passed away), so it's his own personal connection to Jim. But my favorite question of the Q&A though was the first one out of the gate: While we're excited to see Miss Piggy become the first female host on a major network late talk show, will we be seeing more female Muppets? It was joked about some, Kermit flirted some and Piggy asked, "Aren't I enough for vous?" But it's a valid question and it seemed to ignite a spark to know that fans are clamoring for more female Muppets.
All in all, it was an amazing panel and a one-of-a-kind experience. One thing you can sort-of feel from watching the video but was a thousand times more palpable in person was the energy in the room. With every new Muppet that popped up to speak there was another wave of excitement and cheers from the crowd. I can't stress enough how great it was to feel that and be a part of the fandemonium it caused. Mark my words, the numbers for the series premiere are going to be huge – everyone loves the Muppets.
In addition to the panel itself, ABC's booth was a tribute to the Muppets as well. Inside was a reproduction of one of the set pieces for the upcoming show, the talk show set for Up Late with Miss Piggy! The booth was a popular spot all weekend, with the line to get a peek inside wrapping around the booth, sometimes twice.
This was also where the same cast and crew members who were on the panel held a special, ticketed signing session. The only way to get into the signing was by taking a picture inside the photo booth and tweeting about it, then 100 people who chosen at random on Twitter. A friend of ToughPigs was one of the lucky winners and here's how the posters they signed look:
But that wasn't the only Henson-y thing we saw at SDCC! To celebrate Jim Henson's Creature Shop Challenge – which had a very well-received first season on SyFy – host Gigi Edgley, and judges Kirk Thatcher and Beth Hathaway had a lengthy talk with contestants Ivonne Escoto, Lex Rudd, Melissa Doss Diwa, and winner Robert Bennett. You can check out the full panel here:
They talked about all the challenges they faced during their challenges, like how they were sequestered from all media (including books) and couldn't even have pen or paper during their downtime to keep all their ideas and projects fresh, and how the judges deliberated for hours and really appreciated all the hard work that the contestants put into their work only to have it seem like two quick comments decided who won each round. We also learned that while season one was a big success, SyFy offered a second season at a very reduced budget that was declined due to the difficulties that would come with that. So while season two might not be on SyFy, some of the producers are interested in bringing it to other networks or online providers. Rest assured, they all want to work together again and are looking for a way to make that happen.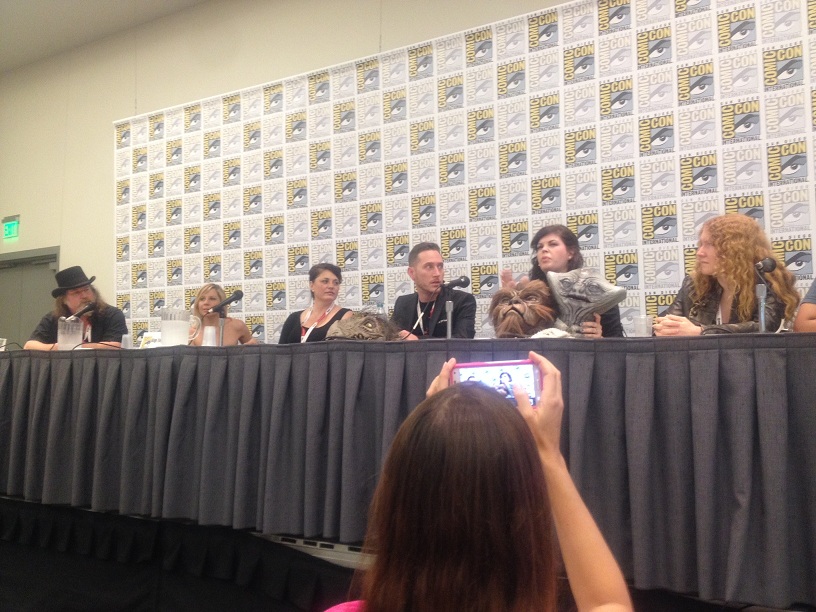 One way that will happen is with Jim Henson's Turkey Hollow! Kirk wrote and directed the script being used for the movie which will air on November 21st on Lifetime, and Bennet (who since the show has become a full-time Henson employee), Rudd, and Ivonne all worked on the film. Although there was a technical issue that prevented us from seeing the pictures Kirk had brought, you could tell they put a lot of love and respect for Jim into designing the monsters we'll be meeting this Thanksgiving. The more we hear about this special, the more special it seems!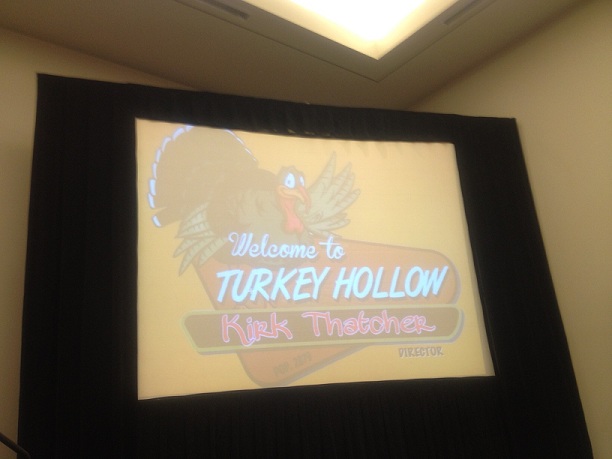 In addition to these great panels, we also saw some great new merchandise. Diamond Select displayed prototypes for their new Muppet Minimates, and Hallmark's booth featured this year's upcoming Miss Piggy ornament as well as a cardboard preview of next year's Electric Mayhem Bus ornament, as well as some other toys you can check out below. And there were many, many Funko Pops of Sesame Street and Muppet characters popping up all over the booths, including the SDCC-exclusive flocked version of the oversized Snuffy Funko toy!
We also spotted lots of random old Muppets toys, like these rare figures from Japan, and a talking plush of Grizzy from The Adventures of Elmo in Grouchland.  GRIZZY, you guys!  Easily the coolest celebrity sighting at the Con.  (Sorry, Hugh Jackman.)
The Muppets were also everywhere around San Diego. Trains and pedicabs were decorated to promote the muppets. and it was such a thrill to constantly be seeing Kermit, Animal, Gonzo, and the rest of the gang being carted around with eager fans.  Fans that include us, as you can see below.
Over at the Sideshow booth was a showcase for R2-ME2, a unique re-imagining of everyone's favorite sassy astromech: R2-D2! Starting with a blank prototype of their Deluxe R2-D2 Sixth Scale Figure, Sideshow invited over 90 friends and fans to participate in customizing the iconic droid with a brand new look. Kirk Thatcher made a pirate-inspired design, and one generous soul turned his into Oscar's trash can!
Spotted at a booth selling real movie props was one of the original Fizzgig puppets! And lucky you, it's at an online auction for the low, low price of $12,000!  You should buy two of them.
Also spotted were elevators with full-sized Muppet faces, and a huge (and I do mean HUGE) advertisement for the new show on the side of Petco Park, stadium for the San Diego Padres and home to Nerdist during SDCC.
And of course, no Comic Con would be complete without cosplay! Here are some of the coolest ones we spotted while walking the floor.
Yes, that final picture is a photo of Bill Barretta with some Muppet cosplayers.  Sadly, the costumed fans had no idea who Bill was.  But with the muppets. premiering soon, they'll learn who he is soon enough!
So that's another SDCC in the can, and another rousing success for Muppet fans hoping to spot some awesome stuff!
Many thanks to Dave Hulteen and James Smith for additional photos! Click here to seal Joe and Ryan in polybags on the ToughPigs forum!
by Matt Wilkie