No matter what your opinion of the Muppet comic books coming from BOOM Studios may be, I'm sure we can all agree that the covers are all beautiful works of art. That's thanks in part to David Petersen, who has already garnered some fame with Archaia Comics' Mouse Guard. David has created covers for Muppet Robin Hood, Muppet Peter Pan, and the upcoming Muppet King Arthur, as well as a teaser image for the upcoming Dark Crystal comic book. There's just so much we want to know, we had to reach out to him for a Q&A about his work.
ToughPigs: How did you get the job with BOOM to create the Muppet comic book covers?
David Petersen: I was asked by Ian Brill at Boom to do some covers for their book ?¢'Ǩ?ìMr. Stuffins?¢'Ǩ¬ù. While I was uploading the cover files to their FTP, I saw folders for Muppets and it refreshed my memory that they were going to be doing books for the license. So, I e-mailed Ian and told him my interest and life-long fandom of the Muppets. He passed my e-mail allong to then-editor Paul Morrisey, and I was offered ?¢'ǨÀúA?¢'Ǩ'Ñ¢ covers for Muppet Robin Hood. While I was doing those I expressed my thanks to Ian and Paul, and even Mark Waid and Ross Richie, telling them ?¢'Ǩ?ìI?¢'Ǩ'Ñ¢ll keep doing these as long as you will have me?¢'Ǩ¬ù. So far they have kept me for 3 series.
TP: Can you describe the process for creating a Muppet comic book cover?
DP: I?¢'Ǩ'Ñ¢ll talk with the editor and or the writer of the series to find what the critical points of the story are. While I may know the traditional versions of stories like Robin Hood or Peter Pan, I don?¢'Ǩ'Ñ¢t know how these Muppet version will break down or be altered. I tend then to take those main scenes (4 per series) and do my version of them with the appropriate Muppets in the roles. Since each interior artists is also doing their own covers for the books, I don?¢'Ǩ'Ñ¢t feel I need to stick as closely to the interior look or story specifics since they will be doing that. I get the luxury of putting together influences from the original story, the Muppets themselves, and various other illustrated versions that have become synonymous with the stories.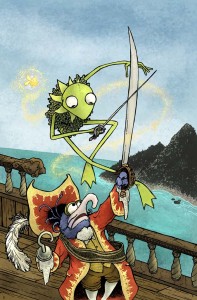 Once I start drawing I?¢'Ǩ'Ñ¢ll sketch out a rough thumbnail of the cover design, and then start doing larger drawings of each of the characters. A lot of the time I?¢'Ǩ'Ñ¢ll draw them all over the paper, not corresponding to one another the way the final layout dictates. Once I have versions of the characters I like, I?¢'Ǩ'Ñ¢ll scan them all in and do a digital paste-up shrinking/enlarging, rotating, and shuffling the artwork until it looks the way I want it to. I?¢'Ǩ'Ñ¢ll print out that digital layout and then use it as a guide on a lightbox to ink the final cover art. The colors are all done digitally afterwards.
TP: What have you used as inspiration for your Muppet art?
DP: The actual puppets are a huge inspiration. I want to remain very true to their look as beings made of fleece and foam and feathers. So I try and not have the characters posed in or expressing in any way the original puppets couldn?¢'Ǩ'Ñ¢t. On top of that I look to famous illustrators who have done known illustrations for the fairy tale stories the books are about. I based a few Muppet Robin Hood covers on paintings by N. C. Wyeth. My goal is to have a cover that feels like classic Muppet show artwork and evokes the mood and spirit of the story they are acting out.
TP: Do you have any favorite or least favorite characters to draw?
DP: Kermit and Gonzo are fun to draw. Gonzo is my all time favorite, so drawing him is just personal satisfaction. Kermit is fun because of his proportions with his thin legs and arms. It?¢'Ǩ'Ñ¢s a kick to put him in poses where he is bearing weight or lifting something with those limbs so that it still looks like Kermit, but doesn?¢'Ǩ'Ñ¢t look too silly and unbelievable.
Fozzie is one I struggle with. On the few covers where I have had to draw him he always gives me trouble. I know the Muppet workshop guys (and gals) talked about the magic triangle for each character that connects the eyes and nose being important (and I have also found that the proportions to the mouth are also very crutial as well). There is something about Fozzie?¢'Ǩ'Ñ¢s triangle that always throws me for a loop and forces me to redraw him more than any other character.
TP: What sort of challenges have you come upon when trying to draw puppets and pre-established characters?
DP: The balance of making them look like the characters we all know while making sure it looks like I drew it and didn?¢'Ǩ'Ñ¢t just trace a photograph or screen shot. Their posture is one of the tricks. Because puppeteers hold their arms a bit forward as they perform these characters, they all lean that same way when viewed from the side. When you draw a Muppet standing straight up and down, it looks wrong, but it also looks wrong at the ?¢'ǨÀúcorrect?¢'Ǩ'Ñ¢ angle too, so you have to find a happy middle ground.
TP: How has your work on Mouse Guard helped with your Muppet comic book covers?
DP: Doing a cover is about looking for one moment in time that explains a mood and setting and scene the best way possible. Mouse Guard has given me 15 (12 issues, 2 collections, and the RPG) chances to learn how to do that. There is a certain amount of information that can go on a cover before it becomes too complicated and starts being unreadable. With the Muppet covers I try and make sure the characters read visually first and foremost with the right amount of background to give them a sense of place, but without becoming busy.
TP: Will you be working on any of Archaia Comics' Muppet-related comics (Fraggle Rock, The Dark Crystal, Labyrinth)?
DP: While I did do the SDCC poster for announcing the Dark Crystal comic, I can neither confirm or deny my involvement with any of the books yet.
TP: Do you know if any of your work will be sold on other merchandise, like posters?
DP: I don?¢'Ǩ'Ñ¢t know. I suppose that is up to Boom and Disney. The cover I did for Muppet King Arthur #2 is my favorite to-date. I can?¢'Ǩ'Ñ¢t show it yet (to my knowledge). It has Gonzo as Lancelot and Camilla as Guinivere. I printed a poster of it for my own office. I had to assure the printer that I was the artist and though I didn?¢'Ǩ'Ñ¢t own the rights I was only making that one copy for myself.
TP: Do you have any input on the stories or interior art on the Muppet comics?
DP: I have not had any influence that I am aware of. I know my covers are done before the interiors are finished due to solicitation with Diamond. But I have not heard that my artwork affected any of the artists working on the interiors.
TP: Now for our most important question: Is there any chance you'll be doing interior art for any upcoming Muppet comic books?
DP: I would love to. However, Mouse Guard keeps me so busy that I can?¢'Ǩ'Ñ¢t commit to a four issue series like Peter Pan or King Arthur. I love what Roger Langridge is doing on the Muppet Show comic, and I don?¢'Ǩ'Ñ¢t want to take any work away from him, but part of me wishes that since the Muppet Show was a variety show, that the comic would be an anthology book. If it were, I know there would be a line around the block of professionals who would love to do a short Muppet story and could handle the workload and deadline who can?¢'Ǩ'Ñ¢t normally commit to a series.
Many special thanks to David Petersen for taking the time to chat with us! We can't wait to see what you've got in store for future Muppet artwork!
Click here to draw a flying frog on the ToughPigs forum!
by Joe Hennes – joe.toughpigs@gmail.com