Due to global warming and an unseasonably non-wintery winter, it's extremely difficult to tell what season we're currently in.  Thankfully, the weather has no influence on our recognition of what season it truly is: Awards Season.
The highlight of Awards Season (for me, at least) is the Academy Awards.  It's a terrific opportunity to look back on the best movies of the year, as well as some garbage films that inexplicably got traction with the critics.  It's also a fun time to fill out your Oscar pools, and we're here to help you cheat.
Y'see, we here at ToughPigs found a way to accurately predict the winners of each Academy Award category with 100% accuracy.  (Okay, so we only got one right last year, but math is hard.)  The strategy is this: Only the best and most talented people get to work with the Muppets, and only the best and talented people win awards.  Ergo and therefore, the people with the closest Muppet connections will win Oscars.
It's a fact!  Don't Google it.
Let's take a look at some of the most important categories and we'll tell you who's taking home the Oscar from each one!  And then be sure to watch the Academy Awards on Sunday, February 9th to see our predictions confirmed!
By the way, we'll also be live tweeting the Oscars on the ToughPigs Twitter account!  So follow along with us for some fun facts about the winners and presenters during the ceremony!
Actor in a Supporting Role
Tom Hanks for A Beautiful Day in the Neighborhood
Anthony Hopkins for The Two Popes
Al Pacino for The Irishman
Joe Pesci for The Irishman
Brad Pitt for Once Upon a Time in Hollywood
It's hard to believe that the great Tom Hanks hasn't worked with the Muppets in any official capacity.  I guess he can't be that great of an actor.  He's only crossed paths with them at events like the Kennedy Center Honors or backstage at Saturday Night Live.  Ditto Sir Anthony Hopkins, who attended the premiere of The Muppets movie.  The only dude on this list who actually worked on a Muppet project is Joe Pesci, who starred in the Sesame Street 25th anniversary special.  Unfortunately, he was playing Ronald Grump, and we're not at all happy to be awarding anything to someone whose name rhymes with the White House Cheeto.
Actress in a Supporting Role
Kathy Bates for Richard Jewell
Laura Dern for Marriage Story
Scarlett Johanssen for Jojo Rabbit
Florence Pugh for Little Women
Margot Robbie for Bombshell
As much as I'd love to see any of these talented women work with the Muppets, there's only one that ever touched a frog.  A Muppet frog, I mean.  Maybe Margot Robbie touches frogs in her spare time, who's to say?  Laura Dern, on the other hand, posed for a photo with Kermit the Frog in 1996.  If that's not enough, she also auditioned for the role of Sarah in Labyrinth, so this Oscar is long overdue for her role in a movie she never actually starred in.
Actor in a Leading Role
Antonio Banderas for Pain and Glory
Leonardo DiCaprio for Once Upon a Time in Hollywood
Adam Driver for Marriage Story
Joaquin Phoenix for Joker
Jonathan Pryce for The Two Popes
Not to be outdone by Laura Dern, Antonio Banderas also met Kermit at a mid-9os event and scored an elusive Frog photo.  Jonathan Pryce comes close with his appearance in an episode of The Storyteller, but the Oscar is gonna go to Joaquin Phoenix who, at 11 years old, was interviewed by Janice in the summer 1986 issue of Muppet Magazine.  Maybe if Adam Driver thought to be interviewed by an Electric Mayhem band member as a tween he'd win an Academy Award too.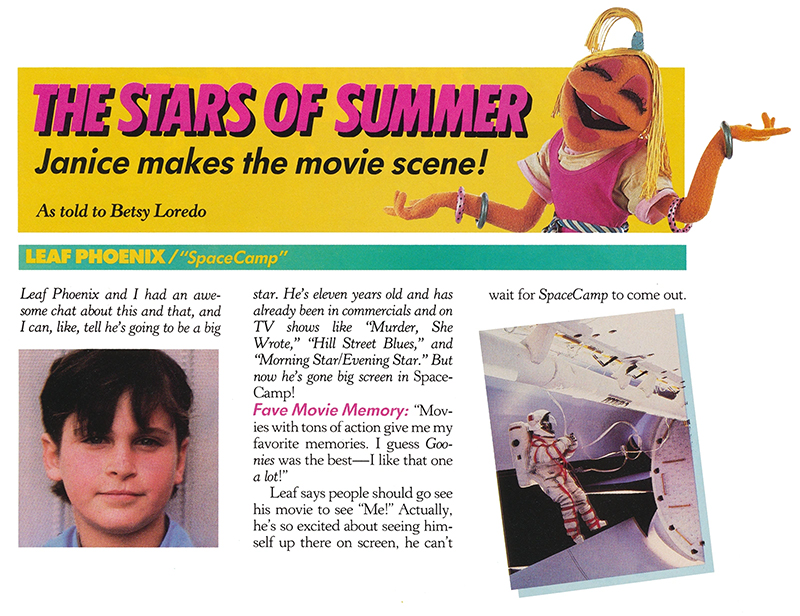 Actress in a Leading Role
Cynthia Erivo for Harriet
Scarlett Johansson for Marriage Story
Saoirse Ronan for Little Women
Charlize Theron for Bombshell
Renée Zellweger for Judy
Oh Charlize, this is not your year.  You got to present a Sesame Street Word of the Day and you appeared in a WE Day segment with Bobo the Bear.  But Saoirse Ronan appeared in a big-time Muppet movie (Muppets Most Wanted), in which she essentially guest starred in her own (mostly unseen) episode of The Muppet Show, which is more than enough to earn her that golden statuette.
Animated Feature Film
How to Train Your Dragon: The Hidden World
I Lost My Body
Klaus
Missing Link
Toy Story 4
Speaking of Muppets Most Wanted, Gonzo sings that the film was made while the studio waited "for Tom Hanks to make Toy Story 4." Well, here it is, as promised!  Now maybe Disney will greenlight another Muppet movie in anticipation of Toy Story 5.
Best Original Song
"I Can't Let You Throw Yourself Away" from Toy Story 4
"(I'm Gonna) Love Me Again" from Rocketman
"I'm Standing with You" from Breakthrough
"Into the Unknown" from Frozen II
"Stand Up" from Harriet
These categories get to be really easy when one of the nominated writer/performers appeared on The Muppet Show.  No, not Randy Newman, although I'm sure he would've had some wacky antics on the show.  The Rocketman himself – Elton John – earned his Oscar as soon as he sang that duet with Miss Piggy.
Directing
Bong Joon-ho for Parasite
Sam Mendes for 1917
Todd Phillips for Joker
Martin Scorcese for The Irishman
Quentin Tarantino for Once Upon a Time in Mexico
The only silver lining behind Quentin Tarantino's bizarre cameo in The Muppets' Wizard of Oz is that it proves that he's good enough to win an Academy Award.  He'd better thank Kermit in his acceptance speech.
Best Documentary
American Factory
The Cave
The Edge of Democracy
For Sama
Honeyland
Raise your hand if you knew about the twist ending of Honeyland – a film about honey bees – involved the reveal that the beekeeper was Frank Oz all along!
Best Picture
1917
Ford v Ferrari
The Irishman
Jojo Rabbit
Joker
Little Women
Marriage Story
Once Upon a Time in Hollywood
Parasite
Ah, Best Picture.  It's always difficult to look at a list of movies and try to identify which has the closest connection to the Muppets, despite none of them actually starring Muppets. (Hey, maybe next year!) This year, we've got unpredictable clowns, rabbits, 1960s Hollywood, and smaller-than-average women.  All of these can be seen as mirror images of what makes the Muppets unique.  But only one of these movies features characters who are being manipulated by people hidden just below the frame.  If that isn't a terrific metaphor for puppetry, then what are we even doing here?  Congratulations, Parasite, on your inevitable win for the strangest of all criteria!
Be sure to check out all of our Muppet spoofs of the Academy Award nominated films (just like "Bearasite" above) right here!  And then tune in for the Oscars on Sunday, November 9th to prove us right!
Click here to predict a Toy Story sequel on the ToughPigs forum!

by Joe Hennes – Joe@ToughPigs.com