Muppets Now – the Muppets' first new series in five years and their first streaming network show – premieres on Disney+ this week (July 31st, for those of you who believe in calendars). Disney has shown a bit of favor to us and gave us a sneak peek at the first four episodes of the series.
Naturally, we have opinions! (I mean, we wouldn't be much of a fan site if we didn't have some of those.) We'll be keeping this space spoiler-free, but keep an eye on ToughPigs for more thorough reviews of each episode after they air.
Let's rip off this band-aid first: Muppets Now is not The Muppet Show. The promise of a new Muppet series consisting of short-form sketches certainly sounds like an updated version of the variety format of the classic Muppet show, but that's about where the similarities end. That's going to be an innate disappointment for some fans, regardless of the quality of Muppets Now, and that's a shame. Comparing anything to the greatest Muppet project from the heydays of Jim Henson and Frank Oz is bound to result in a sour opinion, and Muppets Now deserves to stand on its own as its own Thing.
Muppets Now certainly has a lot going for it, and its greatest strength is its use of characters. Kermit, Miss Piggy, The Swedish Chef, Pepe, and other favorites get a lot of screen time, while B-listers like Scooter, Uncle Deadly, Walter, and plenty of surprise characters fill in the rest of the roles splendidly. It's a shame that we don't get a whole lot of certain folks like Fozzie Bear or Sam the Eagle or the Electric Mayhem, but they're all there, even if they're being used sparingly.
Joe from Legal, by the way, isn't nearly as prominent as we'd hoped. Ideally, Disney will have noticed how much the internet loves that weasel, and he'll get a little more screen time in the next Muppet production.
The worst part about Muppets Now (aside from not-enough-Joe) is the inconsistency in tone. As you may have heard, this show started out as a series of short-form sketches that were later repackaged into half-hour compilations. A new set of establishing bookend material featuring Scooter was filmed after the start of the pandemic to tie it all together (and thankfully, it works). But since the sketches weren't initially meant to air back-to-back, the difference in tone is quite noticeable.
The highlight sketches (which are the most Muppet Show-esque) are the celebrity interviews of "Mup Close and Personal" and the ridiculous game show "Pepe's Unbelievable Game Show". The former genuinely feels like the next generation of The Muppet Show's celebrity talk spots, complete with famous people and interrupting Muppets. The latter is just downright hysterical, thanks to the improvisation of Pepe the King Prawn and the utter disdain of his producer, Scooter.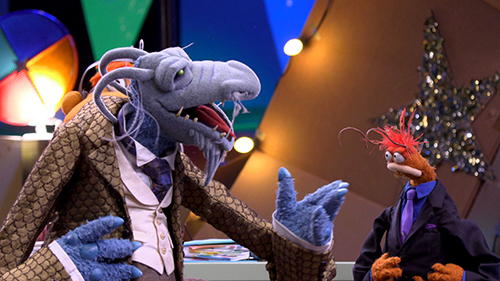 Miss Piggy and Uncle Deadly are reunited in "Lifesty(le)", which retreads the old "Piggy gives fake lifestyle advice" joke that she's been preaching for decades. Thankfully, Uncle Deadly is there to keep it feeling fresh, and both Taye Diggs and Linda Cardellini are delightful, proving that it's perfectly okay to have recurring celebrities along with the Muppets. It's also satisfying to see Miss Piggy's evolution into an Instagram-worthy influencer.
The Swedish Chef stars in "Okey Dokey Kookin'", a cooking show that pits him against an actual celebrity chef. In this series, the improvisational nature works against them, as the chefs are rarely talented enough ad-libbers, and The Swedish Chef's antics are too heavily planned to make it feel like a good fit. Still, there's a gem or two in each of these episodes that more than justify the existence of this segment.
Muppet Labs is back in "Muppet Labs Field Test", an educational series starring Bunsen and Beaker. Didn't expect to see the word "educational" in there, did ya? Muppet Labs has evolved from performing the pseudo-science of cloning machines and gorilla detectors to experiments about velocity and flammability. But don't worry, bad stuff still happens to Beaker, but now they're scientifically proven calamities.
As you can see, the tones of the different sketches range from ridiculous to informative, and the amount of improv versus scripted humor is completely different in each one. That's not necessarily a bad thing, but the series may suffer a smidge without having a consistent voice.
That said, I still very much enjoyed the first four episodes of Muppets Now. It feels like the show we should have gotten in 2015, with updated ideals from the Muppet Show days, but also feeling very much like its own entity. The laughs are solid, the characters all shine, and all of the surprises were, well, surprising.
I'm excited for all of you folks out there to catch the series when it premieres on July 31st (with new episodes debuting every Friday for six weeks), and be sure to keep an eye on ToughPigs for spoiler-filled reviews of each one as they air!
Click here to cook something up on the ToughPigs forum!
by Joe Hennes – Joe@ToughPigs.com