Mitchell Stein – Many people who know me instantly associate me with two things: Muppets and Disney, and as many people already know, Walt Disney World is my all-time favourite place to visit, so today naturally I'm taking a look back at the history of Henson-owned properties at the Walt Disney World Resort in Orlando with some of these attractions and shows running even today.
The Muppets at Walt Disney World
It seemed only appropriate to mention this super awesome television special that aired in early 1990, as a cross-over marketing campaign as Disney was in discussion with Jim Henson about purchasing The Muppets. This special is one of my all-time favorite Muppet productions ever. It's perfectly hilarious and zany and is just full of endless fun. It's really the Muppets at their very best, so if you haven't yet seen it, I couldn't recommend it enough.
Here Come The Muppets and the Days of Swine and Roses
Although short-lived, this neat little show seems to hold a lot of history in the early days of the MGM-Studios. Many Disney fans recall the location as the current location of Voyage of the Little Mermaid. Following this show's closure, a second Muppet stage show, Days of Swine and Roses opened at a different location in the park.
Here Come The Muppets began with a walk-around Kermit (which to be honest didn't lo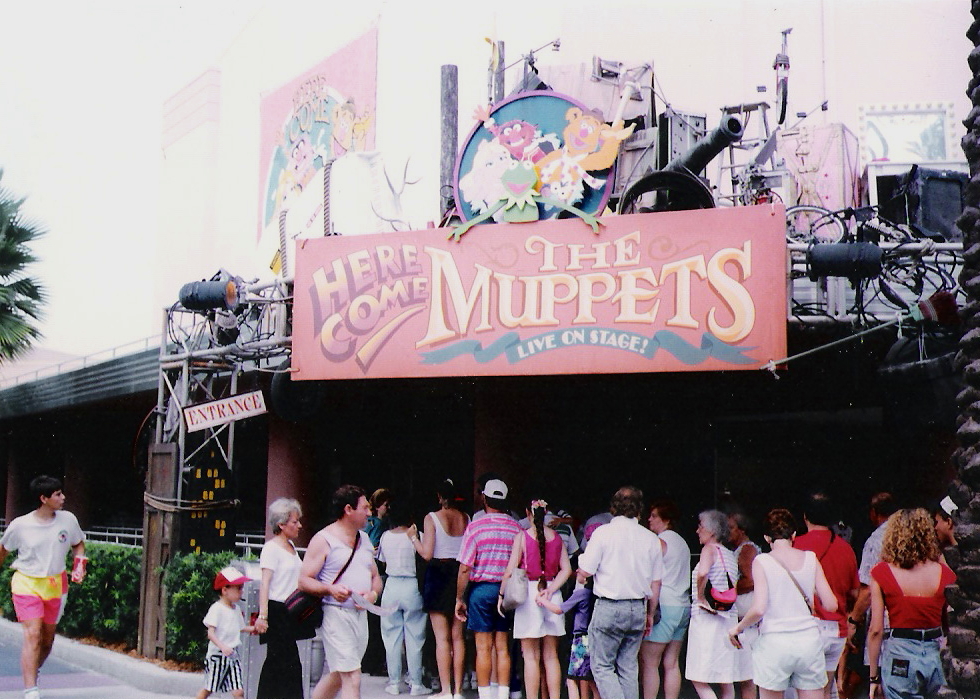 ok that great) confused where the other Muppets are. The other Muppets appear in their puppet forms on-screen until they crash onto the stage in a monorail, and they emerge in their walk-around versions. Although it was a Muppet show, the only Muppet-related song that was performed was Bein' Green, which Kermit sings in order to improvise until the Electric Mayhem to set up their next act. Although walk-around Muppets don't really work, especially for some characters, it is a pretty great piece of Muppet history which featured all of the original Muppet performers voices, pre-recorded before the show. It's also one of the last time's Jim recorded audio for Kermit.
Although this show is long-gone, a part of it can still be seen in Disney's Hollywood Studios this very day. Upon entering the Muppet store on the outside of Muppet-Vision 3D, directly across from the Happiness Hotel set-up, The Electric Mayhem standees that were set up in the queue area of Here Come The Muppets are now on display at the store after being in storage for over twenty years.
Dinosaurs Live!
This show was a short-lived parade/live show event that took place daily in the area surrounding the Chinese Theater multiple times a day between September 1991 and August 1992. Based off the hit Henson/ABC television series, it featured walk-around versions of the characters from the television series. It was a really neat event that took place each day.
Bear in the Big Blue House: Live on Stage
This show exclusively featured Bear and all the other characters from the Henson created television show in the Playhouse Disney theater that ran from 1999 to 2001. Although the Bear show closed up, the characters moved on to a new show, Playhouse Disney: Live on Stage in several segments and stayed in the show up until 2008. Sadly Bear, Tutter, Ojo or any of the other characters are nowhere to be seen in the stage show currently, but it still remains a great piece of lost Disney World history.
Muppet Mobile Lab
This is by far one of my favorite additions to the Disney parks. Around 2007, an Animatronic Dr. Bunsen Honeydew and Beaker were introduced to Disney's California Adventure and was then moved to Epcot in 2008. Packed with countless quirky interactive comments and actions, the duo interacted with guests daily as they independently drove themselves around each theme park. The current whereabouts of the Mobile Lab are unknown , but at the D23 Expo in 2009 it was unveiled that a second unit featuring the Electric Mayhem was in the works, but it seems to have become yet another announcement from the Expo that will never see the light of day. *cough*Muppet Show Season Four *cough*
The Backlot Tour
I'm always met with sadness whenever I come to remember that The Backlot Tour has closed up shop permanently, and all of the props fate remains unknown, but had you visited Disney's Hollywood Studios before September 2014, you would have seen Beauregard's taxi from The Great Muppet Caper in the queue and the fire truck from the end of Muppet Vision 3D. Sadly you won't be able to spot these props anymore for the time being, and we're unsure of what their fate will be. You can find out more details about these props in an article that I wrote last year about the attraction.
Muppet-Vision 3D
The pinnacle of Muppets in the theme parks, There are really not enough words to describe this utterly hilarious and brilliant comedic 3D adventure featuring the Muppets. Not only is the theater and entire Muppet themed courtyard a complete awe to any Muppet fan, but the three-dimensional movie is one of the Muppet's greatest achievements, especially considering the trouble it went through as Jim passed away halfway through its production, thus forcing three different directors for the fourteen minute film. It's a really hilarious adventure filled with gags and cheap 3D tricks. It would be distinctly unpatriotic to not only have glowing opinions on this attraction.
A lot of other really neat elements to this attraction are the lifelike live Muppets, whether Audio-Animatronic or live in costume, it's an absolute marvel every time I visit. I absolutely adore this attraction and I can't find anything short of incredible things to say about it.
The attraction opened in May 1991, exactly one year following Jim Henson's death. Because of Jim's untimely passing in middle of production, none of Jim's characters are anywhere to be found in the attraction pre-show. The full attraction name was originally "Jim Henson's Muppet-Vision 3D" but Jim Henson's name was removed from the outside sign shortly after the Disney acquisition  of The Muppets in 2004, and is now billed as "Muppet-Vision 3D".
The Muppet Mindset by Ryan Dosier, muppetmindset@gmail.com