Even when the Muppets don't have a big TV show or film to keep them in the zeitgeist, there's always one place we're guaranteed to see them: In GIF form.
I don't know what it is about the Muppets that lend themselves to popular GIFs, but it's always a treat to see them in a text message or Facebook comment to help convey gratitude or disgust or boredom or excitement.
With all these great GIFs floating around the internet, have you ever wondered where they came from? Each one came from an episode of The Muppet Show or a Sesame Street sketch or a rare TV appearance. We're sharing some of the most widely-seen Muppet GIFs along with their sources so you can learn all about the roots of those lovely and useful looping images!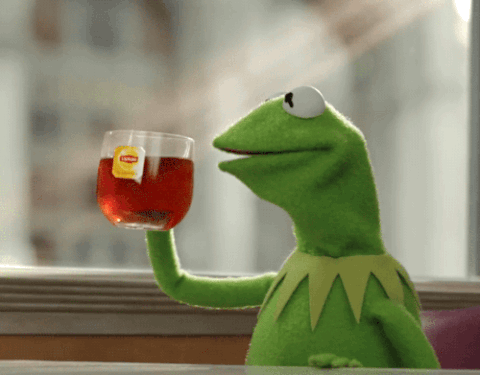 The GIF: Kermit drinking tea
Why we use it: For when you know the tea, but you won't spill it. And, of course, when things aren't any of your business.
The source: In 2014, the Muppets appeared in a commercial for Lipton tea. Only with the help of a brewed beverage can Kermit cope with a city full of Animal doppelgängers.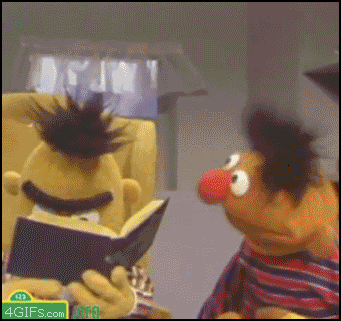 The GIF: Bert's long stare
Why we use it: When you just want to read your book, but your roommate is being a dick. Or when the only person who really understands your plight is on the other side of the fourth wall.
The source: In a 1977 Sesame Street sketch, Ernie provokes Bert to play a game of tag, and then after successfully goading him into running around the chair a few times, he tries to do it again. The look of chagrin on Bert's face is palpable.
The GIF: Fozzie's ear wiggles
Why we use it: When a "Wocka Wocka" isn't enough to properly convey how great (or horrible) your joke is.
The source: In the Rita Moreno episode of The Muppet Show, Fozzie Bear removes his hat just before getting completely roasted by Statler and Waldorf.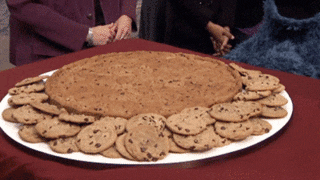 The GIF: Cookie Monster and the giant cookie
Why we use it: When you've just received the greatest gift anyone could've given (aside from children, ice cream, and laughter).
The source: In 2010, Cake Boss dedicated an entire episode to Sesame Street, and ended the show with a visit to the actual Sesame Street. Chef Buddy Valastro surprised Cookie Monster with a big ol' cookie, and I guess he just couldn't believe it.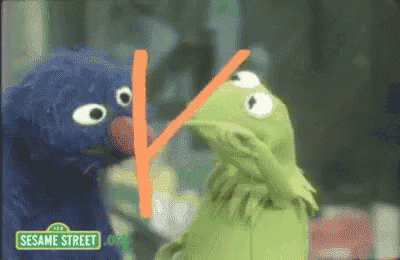 The GIF: Kermit's "K"
Why we use it: When you concede your point, but you can't be bothered to spell out both letters of "OK". And yet, you also want to drag it out as dramatically as possible.
The source: A 1973 sketch in which Kermit uses his "magic finger" to show Grover what the letter K looks like.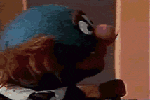 The GIF: Mr. Johnson can't believe it
Why we use it: When you simply cannot believe it. Or when you've alredy used the Bert reaction GIF this week.
The source: A 1974 Sesame Street sketch in which Waiter Grover brings Mr. Johnson a giant, wall-breaking hamburger. And yet, that wasn't enough to stop him from frequenting Charlie's Restaurant for another 40 years.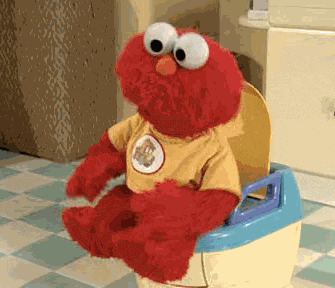 The GIF: Baby Elmo doin' the potty dance
Why we use it: Look, we all know where you're doing the bulk of your texting.
The source: Elmo's Potty Time, a 2006 straight-to-video special that helps kids learn how to dance on the potty.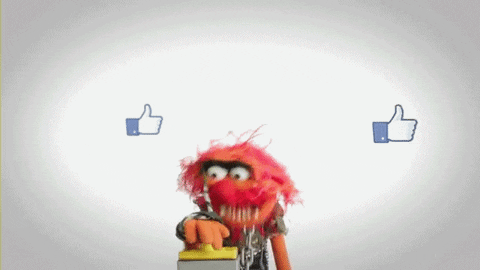 The GIF: Animal likes liking things
Why we use it: When one simple "like" isn't enough to convey the voracity of your likeage.
The source: In preparation for the 2011 film The Muppets, the Muppet crew launched The Muppets' Fan-a-Thon, and a series of social media-heavy videos were created to promote the promotion.
The GIFs: Cookie Monster is bored
Why we use it: When you're bored. Or when you have a desk job. Same thing, really.
The source: A promotional video for the 2011 video game "Once Upon a Monster", in which the game's designer pitches the idea to Cookie Monster.
The GIF: Fozzie's facepalm
Why we use it: Listen, there are a million reasons to use a facepalm GIF, and if you don't already know 'em, then boy have I got the reaction for you.
The source: In the Alice Cooper episode of The Muppet Show, Fozzie opts to escape from the spookiness of this week's show and hangs out in the canteen with some clean-cut kids, who turn out to have extra-spooky sharp teeth.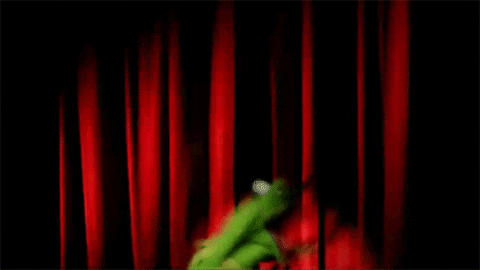 The GIF: Kermit goes absolutely nuts
Why we use it: When your excitement literally knows no bounds. Also, I guess when you don't have a spine.
The source: Weezer's music video for "Keep Fishin'", which takes place at the Muppet Theater.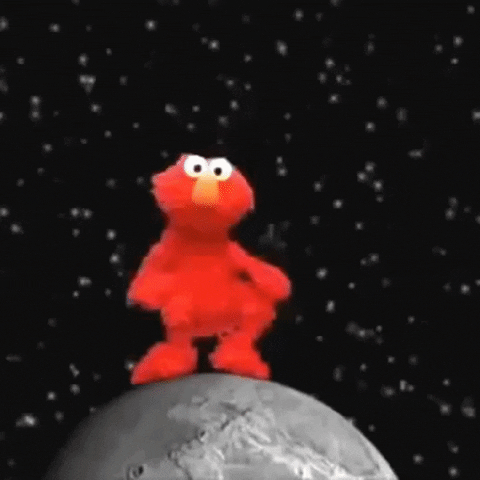 The GIF: Elmo dances on the moon
Why we use it: When your dance moves are… *accidentally puts on sunglasses upside-down* …out of this world.
The source: Elmo's World: Sky, which premiered in 2002. Elmo's goldfish Dorothy is imagining Elmo dancing on the moon, and she has pretty good taste in music because he's doing it to "Survivor" by Destiny's Child.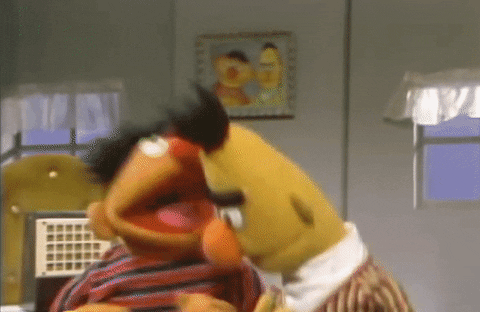 The GIF: Ernie and Bert bounce
Why we use it: When you've got a case of the bouncies.
The source: A Sesame Street sketch from 1977, in which Ernie listens to what's likely the most boring radio show ever (an exercise program where a Jerry Nelson-voiced announcer just says "Jump! Jump! Jump!" over and over again.
The GIF: Movin' Right Along
Why we use it: Road trips, sing-alongs, simple choreographed dance routines.
The source: Now, what kind of Muppet fan would you be if you didn't know this one?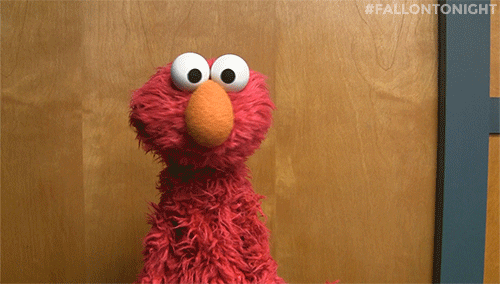 The GIF: Elmo shrugs it off
Why we use it: Beats me.
The source: This is the only entry on our list that doesn't come from a video source! In 2015, Jimmy Fallon recruited Elmo to pose for a few animated GIFs, to be used specifically for online reactions. About a dozen were made, and a few of them still get some good usage. They were posted on The Tonight Show's Tumblr page.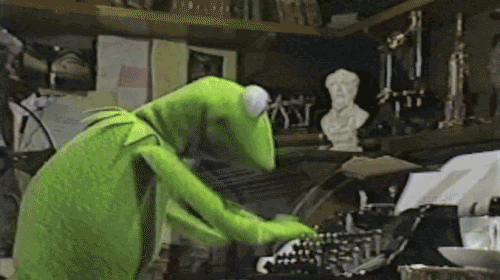 The GIF: Kermit at the typewriter
Why we use it: Because we run a Muppet fan site. This is not a GIF, it's my live webcam.
The source: This one comes from an unaired episode of Little Muppet Monsters, the infamous Muppet series that practically ended before it began. In this shot, Kermit is typing the script to the animated segment, "Kermit the Frog, Private Eye". The puppet portions survived, but the animated parts did not.
It's very much worth mentioning that this last GIF was created by Muppet Wiki admin Scott Hanson from a video restored by Garrett Gilchrist, both of whom are good friends of this website. It's not often any of us create an image that gets millions of views, and we're proud of Scott and Garrett for having the foresight to make something so popular.
Are there more Muppet GIFs you love using? Let us know what we missed! I have a feeling you'll know how to show off your reactions…
Many thanks to Shane Keating for his help on this article! Click here to make the same motion over and over again on the ToughPigs forum!
by Joe Hennes – Joe@ToughPigs.com