The following article was written by Muppet fan Rachel Herrick, and was written before any of us had seen the new Muppets Most Wanted Blu-ray.  Many thanks to Rachel for this in-depth article!
I'm sure many of you went and saw Muppets Most Wanted (and if you didn't… come on!), and I'm sure most of you are aware that the Blu-ray for the film is coming out on August 12. (YAY!!!) If you're like me, you've probably been wondering what we'll get to see on this brand new Blu-ray release.
Aside from the original theatrical cut, we've been told that we'll be getting the following bonus features:
The Unnecessarily Extended Cut
The Statler and Waldorf Cut
The Longer, Longest Blooper Reel in Muppets History
"I'll Get You What You Want" Music Video Performed by Bret McKenzie
Rizzo's Biggest Fan
I always enjoy a good blooper reel, so that's exciting. I've already seen the Bret McKenzie music video on YouTube, so that's nothing new. And the Rizzo's Biggest Fan feature… Well, something tells me that that has to do with Stockard Channing, but I can't say for sure.
I also hope that we get some commentaries and behind-the-scenes footage with the Muppet performers, though I think we sound like a broken record asking for that with every Muppet video. I'm not really expecting that anymore, because Disney has that confusing practice of insisting that the magic stay hidden and the puppeteers remain anonymous. What I'm saying is, I'm not holding out much hope.
Since we're here though, let's talk about the different movie cuts. There's the "Theatrical Cut", but we already know what that's all about. I don't really know what the "Statler and Waldor Cut" is supposed to be, expect for maybe getting to see the two hecklers "MST3K" their way through the entire movie, and that actually does sound pretty hilarious. And then there's the "Unnecessarily Extended Cut". Okay. THIS is what I'm really looking forward to seeing.
Let me go back a bit. Because I live in Los Angeles where the sun always shines and the filmmaking is always plentiful, last year I had the privilege of seeing not one, but two test screenings of Muppets Most Wanted. It was in the early stages of post production, but as you can imagine, it was still a pretty exciting and geek-arific experience. Both times. I did make a strong effort to not talk about the film's details because I didn't want to ruin it for anyone, and I also didn't want to spoil the filmmakers' craft before the film was finished. But now that the film has been out and we recently found out that the "Unnecessarily Extended Cut" will have twelve extra minutes (which is an eternity in the movie world), it's made me reflect on what I saw at those screenings, as well as what we might get to see in this extended cut that Disney is putting together for us.
Therefore, without giving too much away, I've put together a list below of my predictions as to what might appear in the "Unnecessarily Extended Edition", or at least in the deleted scenes. This list includes scenes that I remember from the test screenings that didn't make it into the film, as well as some observational details from the trailers, B-Roll footage, the Junior Novelization, online sources, and the extra material from the soundtrack. I don't know for sure what we will or won't see, but hopefully this will give us something to look forward to.
Before going further, I'd like to state that I never signed a nondisclosure for attending the test screenings, so I think it's okay to talk about them now that the film has been out. But serious warning, MAJOR SPOILERS regarding the theatrical version are listed, so if you haven't seen the film yet, don't cheat by reading this!
Alright… Here we go!
"We're Doing a Sequel" – If you've heard the soundtrack, the song does feature a few cut bits of Rowlf, Lew Zealand, Statler and Waldorf, as well as an instrumental solo. The screenings I saw didn't include any of these parts, but hopefully we'll still get to see some visuals.
Constantine Prison Break – Originally there was a brief discussion amongst the guards about a button that opened all the cell doors at once, and they wondered why they had it. I already knew this was a great setup for a Muppet-like gag, and it paid off quite well. This discussion was cut from the film, but that still led to Constantine pushing the button himself and letting the prisoners out in the final cut.
Dominic and Muppets Meeting – Right before this scene started, there was an exterior shot that, if I remember correctly, established the location as Hollywood's famous Musso & Frank Grill restaurant. According to Yelp, the Welsh rarebit and veal scaloppini are highly recommended.
Los Angeles Train Station – Originally, Kermit announced to the Muppets that he got a private train for them, and it was presented as a shiny new Amtrak train (yay!), impressing everyone. But then the train moves away and their private train is revealed as the run-down one that they use in the film (awww…). Also there's some dialogue from Fozzie and Beauregard in the B-Roll footage that clearly didn't make it into the movie.
Backstage Argument – In one of the test screenings, there was a lot more dialogue between Kermit and Miss Piggy during the fight they had about their wedding. I really hope they put it all back in because… I don't want to give away what anyone says, but let's just say it was REALLY juicy. Like, "I can't believe that character actually said that, I never thought they'd say that" juicy.
Die Muppets – The European version of the soundtrack includes the Muppet Show Theme Song in German, so hopefully it will be in the extended cut. Hey, I'm totally down with seeing the Muppets appear in lederhosen if you are.
The History of Constantine – According to the Junior Novelization, when Kermit arrives at the Gulag, Nadya explains a brief history of Constantine's past. Apparently he was abandoned by his mother as a tadpole and was raised in the world's largest bomb factory. Will we get to see some of this, perhaps?
More Monster Please – More full-b0died characters are seen in the "El Muppet Show" sequence, but sadly, still no sign of the absent Timmy Monster.
"I'll Get You What You Want (Cockatoo in Malibu)" – Both the Brett Mackenzie music video and the soundtrack version of this song contain an extra verse in which Constantine lists even more things he can get for Miss Piggy, such as a little cupcake, a Hollywood star, and a trip to the moon.
You're What I've Always Wanted – The B-Roll footage showed us that there is some extended dialogue between Miss Piggy and Constantine after the song. Additional dialog is what I've always wanted.
"Interrogation Song" – There's a whole lot more in the soundtrack version of this song, including extra lines from Constantine and Miss Piggy, as well as a full verse where Sam and Jean Pierre interrogate Gonzo and Camilla, which is a highlight of the scene. The Swedish Chef also takes a turn in the interrogation chair, and his verse includes an unidentified Swedish translator. Maybe we'll finally find out who that actually is!
Third Escape Attempt – In the scene where Nadya tells Kermit she wants his help with the Gulag Annual Revue, she had a great line about him being "in the business of show." Hopefully they'll keep that because it's hilarious.
Moves Like Jagger, Sings Like Pepe – In the soundtrack, Scooter's "Moves Like Jagger" gets an additional verse sung by Pepe.  Did they do that just for the soundtrack, or were they planning on filming it too?
Monte Carlo – Sean "P Diddy" "Puff Daddy" "Do Wah Diddy Mellencamp" Combs (or whatever his name is right now) made a cameo while hanging out with Pepe on the train, and the B-Roll footage showed us that there is more conversation between the two.
Rizzo Gets a Line – When Walter addresses the Muppets on the train about Kermit not being himself, there was originally a little more discussion between everyone about this. You can see some of the dialogue in one of the trailers when Miss Piggy defends Kermit, saying he's never been so devoted, and then Rizzo commenting that that's what's unusual. Come on, movie! We need more Rizzo!
You Have to Go! – Nick Stoller has stated that there is a scene where Constantine and Dominic get stuck in a toilet together, and there is some gag dialogue that has something to do with their nicknames, Number One and Number Two. Sounds disgusting, but alright. According to Stoller this "will be on the DVD".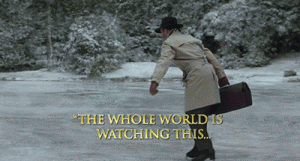 Dominic's Route – In one of the commercial spots, we see Dominic ice skate across a frozen pond on his route to meet the journalists, so we can presume that Walter also skates (or otherwise slides) right behind him. Hopefully that means more gags from this scene.
Breaking In – I have no evidence that an extra scene exists, but Fozzie, Walter and Animal seem to get inside the Gulag a little too easily, or at least with no explanation as so how they got in. Did anyone notice that?
The Fourth Wall – According the the B-Roll footage, there's a joke where Kermit tells Fozzie, Walter and Animal that they need to "break the fourth wall" of the gulag to escape, and then turn to the camera. Get it? I'll give you a minute.
Peter Serafinowicz – The British comedian made a cameo as a Gulag guard, but it was sadly left on the cutting room floor.  Hey, at least he got to fly an awesome spaceship in Guardians of the Galaxy, right?
Danny Trejo – The B-Roll showed footage of Danny Trejo doing a Fozzie Bear inspired comedy act, so I'm sure that means we'll get to see an extra scene or two from the Gulag Annual Review. Maybe the other inmates will do their own Muppet impressions. I bet Ray Liotta does a mean Lew Zealand imitation.
Mirror Trick – At the test screenings, there were a couple more gags of Kermit pretending to be Constantine's reflection. In the movie itself, you can sort of see hints that there was meant to be more. For example, when Constantine puts on his top hat and Kermit mirrors his action, Kermit is wearing a black hat while Constantine's is gray. Unfortunately, you can only see the a little bit of Constantine's hat in the corner of the screen, so the joke is almost completely lost.
Don't Just Stand There Gawking – Right after the mirror gag, you might have noticed that Dominic walks in and looks confused. According to the Junior Novelization, the reason for this is because originally Kermit ran into Dominic in the hallway, and Kermit, with the mole still on his face, does his best Constantine impression to mislead Dominic, and of course the villain buys it. It's a Muppet movie, remember? When he sees Constantine a minute later, he's then confused because he thought he just saw Constantine in a different room. I don't know about you, but I'd love to hear Kermit's Constantine voice, especially since we spend the entire movie hearing Constantine's Kermit voice.
Disney Channel Stars – Bridgit Mendler and Debby Ryan from the Disney Channel made cameo appearances in the wedding scene, and you can see a shot of this in the first trailer. Also, in one of the screenings I saw, there's appearances by Jake Short (from A.N.T. Farm) as well as other Disney Channel stars. At least I assume they were Disney Channel Stars, because I certainly didn't recognize them.
Escaping Le Maximum – In the Junior Novelization, Fozzie and Kermit try a few escape attempts in Jean Pierre's car before finally breaking the floor like in the film. I'm hoping they actually show how they got out of the car and caught up to Animal and Walter as well. Did anyone notice that little plot hole too?
Burglar Babies – At the screenings there was more footage of the Bobby Benson's Baby Band helping Dominic steal the Crown Jewels, including a scene where they realize Dominic had abandoned them, stealing the Jewels for himself. Poor babies.
Kermit's Wedding Speech – Right after Kermit reveals himself in the chapel, he originally had a really nice and sweet speech that he gives to the Muppets about love, and I've always been a little mad that it got cut. In the "Across the Internet" commercial spot, he addresses the Muppets by saying "I love you" from that speech, and believe me there is so much more to it. I really, really hope this makes it into the extended cut!
Hobo Joe – In one of the commercial spots, Hobo Joe (Zach Galifianakis) is seen kissing a whatnot. In one of the screenings there was definitely more footage of him and his hobo whatnot friends. And yes, he kissed them both in the wedding scene. That there's some hobo love.
Beaker, Still Alive – Also in the "Outrage" commercial spot, a shot of Beaker all beat up post-explosion can be seen. I'm just glad the little guy is okay.
Helicopter Getaway – This scene was originally much longer than in the theatrical cut. I won't give away too much of the scene, but it's definitely action-packed, with some impressive puppetry tricks. It also explains how Kermit got the mole off of his face. Yet another plot hole!
Jean and Sam – More proof that the helicopter scene is and hopefully will be longer. In the "Across the Internet" spot, a shot is seen of Jean Pierre holding onto Sam at the bottom of the Muppet Ladder. From what I remember, they come in during the scene and do everything they can to keep the helicopter from flying away.
Broken Heart – When Nadya shows up to arrest Kermit and he asks her why, originally she answers, "For breaking my heart!" And then she quickly recovers. You can see footage of this in the "Two Women" commercial spot.
There you have it. Hopefully we'll get to see some if not all of what I've listed here. And hopefully there will be some material that we don't even know about yet. Disney? Are you out there? Are you listening…?
Click here to get left on the cutting room floor on the ToughPigs forum!
by Rachel Herrick