My wife Roz and I have long enjoyed the Fandom Tea Blends from adagio.com. These are unlicensed, just-for-fun teas created by regular people and sold through the website. Over the years, we've purchased teas inspired by Doctor Who, Avatar: The Last Airbender, Steven Universe, and more. This isn't a paid advertisement, it's just a thing we enjoy in real life.
This year we discovered the Muppet Christmas Carol collection, created by a nice person calling themselves Bran Mydwynter. As you can imagine, we were extremely excited by this discovery!
As I mentioned, these teas are unlicensed. For this particular line, they don't actually use the names or likenesses of any Muppet characters. But they still do a great job of making it feel specific to Muppet Christmas Carol, rather than any other generic version of the story. Each tea blend is named after a specific moment in the story, and three of them are songs or lines that are only in Muppet Christmas Carol.
Roz and I decided to see how well each tea reflects its inspiration. We're going to make a cup of each one, and then discuss whether or not it matches the scene it's named after. To do this, we have created a simple scale: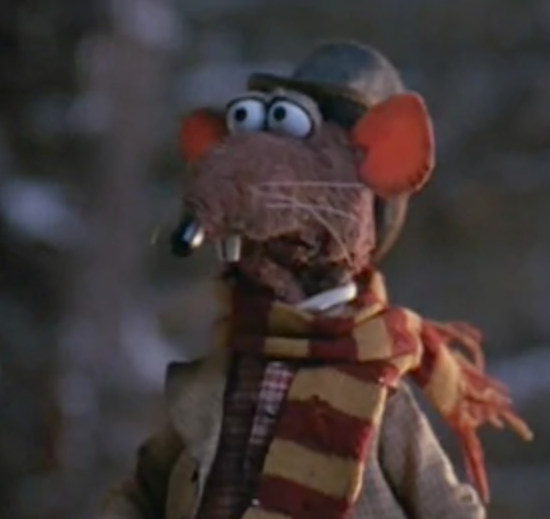 OMNISCIENCE
Teas: Candy Apple, Rooibos Cinnamon Apple, Caramel Black
Added: Apple pieces, cinnamon, cloves
Rosalynn: How great is it that they've got a little ornament Gonzo head and a little ornament Rizzo head side by side?
Anthony: But it doesn't show their faces, you mean?
Rosalynn: Well, it's like how they pop up in the movie all the time. All of a sudden, they just pop up as part of the scenery.
Anthony: So what about the tea itself?
Rosalynn: Oh, the tea is *so* lovely. The tea gives me the feeling that I get every time I turn on Muppet Christmas Carol (which is my favorite Muppet movie) every year to decorate our tree
Anthony: Can confirm! And it really does echo the scene. It's apple tea, like the apple stand, with caramel for sweet because that scene is sweet.
Rosalynn: And we're so American that we're like "Oh, apple's not sweet enough. We also need caramel and cloves to make it sweet enough. But, you know, they know their audience. And that candy apple, cinnamon, and caramel tea is just pure Christmas.
Anthony: Just like the opening scene of this movie! This is a Gonzo for sure!
Rosalynn: 100% Gonzo. 
Verdict: GONZO
ONE MORE SLEEP
Teas: Rooibos Vanilla Chai, Decaf Orange, Honeybush Orange
Added: Orange peel, Ginger pieces
Anthony: It feels like bedtime. It's comforting!
Rosalynn: It is comforting, and the fact that it's decaf is a nice touch
Anthony: Yeah, we drank it at 10 PM and now I'm tired. 
Rosalynn: You're always tired at 10 PM.
Anthony: It's true! But does it feel like Kermit the Frog?
Rosalynn: No, it's not quiet or comforting, it doesn't make you want to look up at the moon. It's exciting and citrus-y. It tastes like orange chai. I don't associate that with cleaning up for Christmas. I kind of think that a peppermint would have been more appropriate. This tastes like A Little Princess to me.
Anthony: I don't know how to respond to that, but I think it's hilarious. I will say that this doesn't taste like the penguins' ice skating party either.
Rosalynn: Or bookkeeping!
Anthony: I think they were just going for bedtime = sleepytime tea = one more sleep.
Rosalynn: Yeah, you don't find a lot of sleepytime teas that are chai. Chai is decadent, it's spicy, it's exciting. It's what you get when you're out shopping with your family. 
Anthony: So it's not even sleepytime for you! 
Rosalynn: No, I'm very revved right now.
Anthony: So this is a total Wander McMooch.
Rosalynn: Yeah, it's a good tea, but it's not in this movie.
Verdict: WANDER MCMOOCH
MEMORY
Teas: Vanilla Green, White Peach, Green Chai
Added: Apricot, Cinnamon, Cardamom
Anthony: So first of all, what scene is this?
Rosalynn: Memory? Isn't that when he meets the Ghost of Christmas Past? "I can remembah neahly 1900 yeahs!"
Anthony: There's a bell on the tin, so is that the bell that rings when he's alone in this house?
Rosalynn: Or is it Belle?
Anthony: WHOA! Okay, so let's just say it's the Christmas Past sequence in general.
Rosalynn: If it's the Christmas Past Ghost, I really understand this tea. Because it's very peachy, and the Ghost of Christmas Past has fluttery peach hair. 
Anthony: I love that!
Rosalynn: And it's just super light, as if she's floating around. It's a very light green tea.
Anthony: So it's a very light green tea? That it is what it is, do not blame me. 
Rosalynn: Nice, dude!
Anthony: Anyway, you've convinced me!
Verdict: GONZO
CHRISTMAS PRESENT
Teas: Chocolate Chip Black, Candy Cane Black, Peppermint
Added: Chocolate chips, Candy cane, sprinkles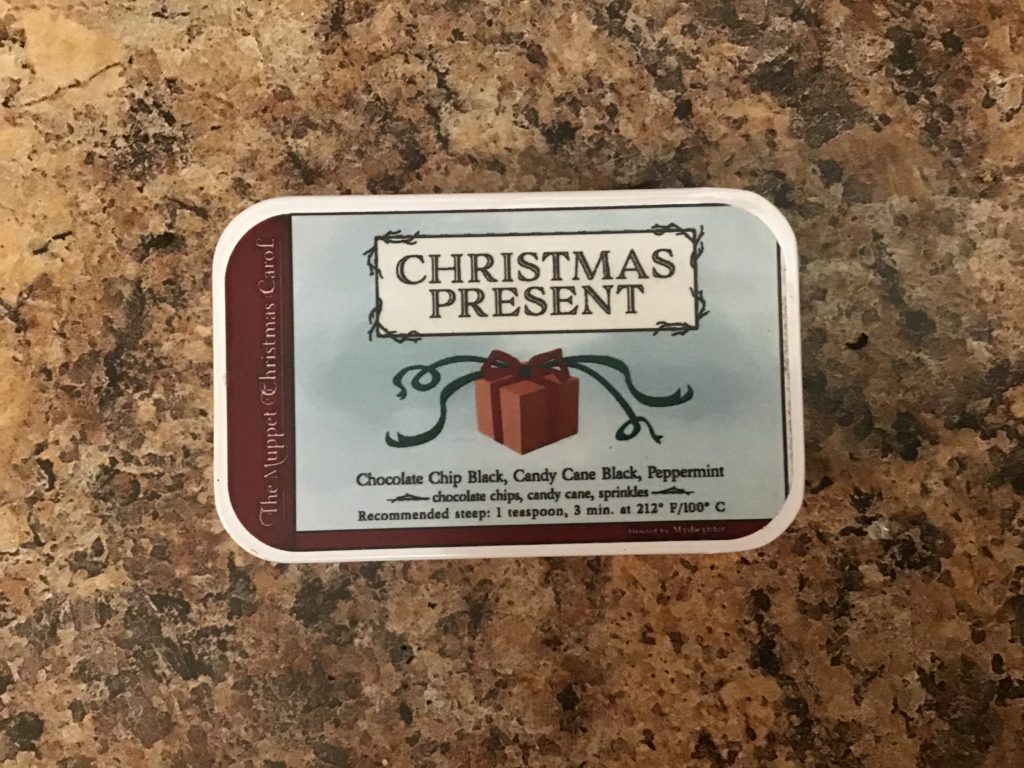 Anthony: So the idea is that the Ghost of Christmas Present shows up with a bunch of food, and this has a bunch of Christmas treats in it. Does it work?
Rosalynn: I mean, it tastes like Christmas. It's very pepperminty, but in a really pleasant way. I don't even like peppermint, but I like this tea.
Anthony: So you think the chocolate and sprinkles balance it out?
Rosalynn: Did you taste sprinkles?
Anthony: No
Rosalynn: Me neither, but I like that they're there. They're a lot like Santa. I know that they're there, but I cannot see or taste them. I might be biased, because it's the Ghost of Christmas Present. I love him!
Anthony: Me too. You know I love anyone who sounds like Jerry Nelson. But does this taste like Jerry Nelson?
Rosalynn: Maybe it does! Maybe he tasted like peppermint, you don't know!
Anthony: So you think it's a Gonzo?
Rosalynn: No. It does taste like Christmas, but for this scene it should taste like a suckling pig.
Anthony: Yeah, there's a lot of savory food on that table.
Verdict: RIZZO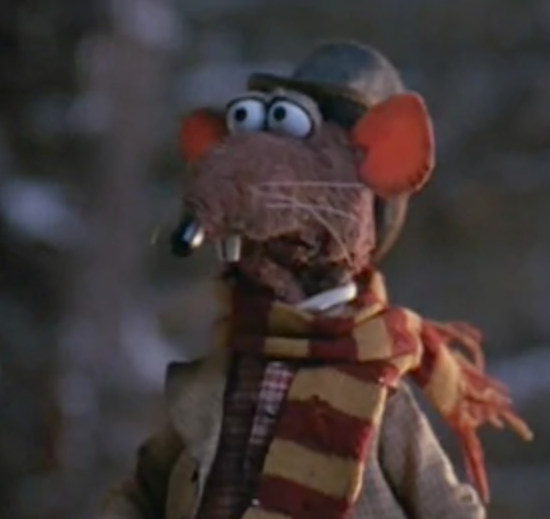 YET
Teas: Earl Grey Lavender, Pomegranate Black, Pue Ehr Dante
Added: Lavender, Blueberries, Cornflowers
Rosalynn: Man, that's dark!
Anthony: Dark like Ebenezer Scrooge's grave?
Rosalynn: Possibly, but maybe at breakfast time.
Anthony: So you'll drink this tea, as long as brunch is provided?
Rosalynn: Yes! That's actually perfect!
Anthony: I was expecting foggy and cloudy, but this is black as night.
Rosalynn: And it's also deep and rich. Ha! Like Scrooge at the end of the movie!
Anthony: I think it goes well with the atmosphere of the scene.
Rosalynn: I was kind of worried – what is the taste of death? But this is really pleasant. But mostly it's just a dark black tea. That fits!
Verdict: GONZO
THANKFUL HEART
Teas: Honeybush Orange, Cranberry Black, Ginger Black
Added: Orange peels, Ginger pieces, Clove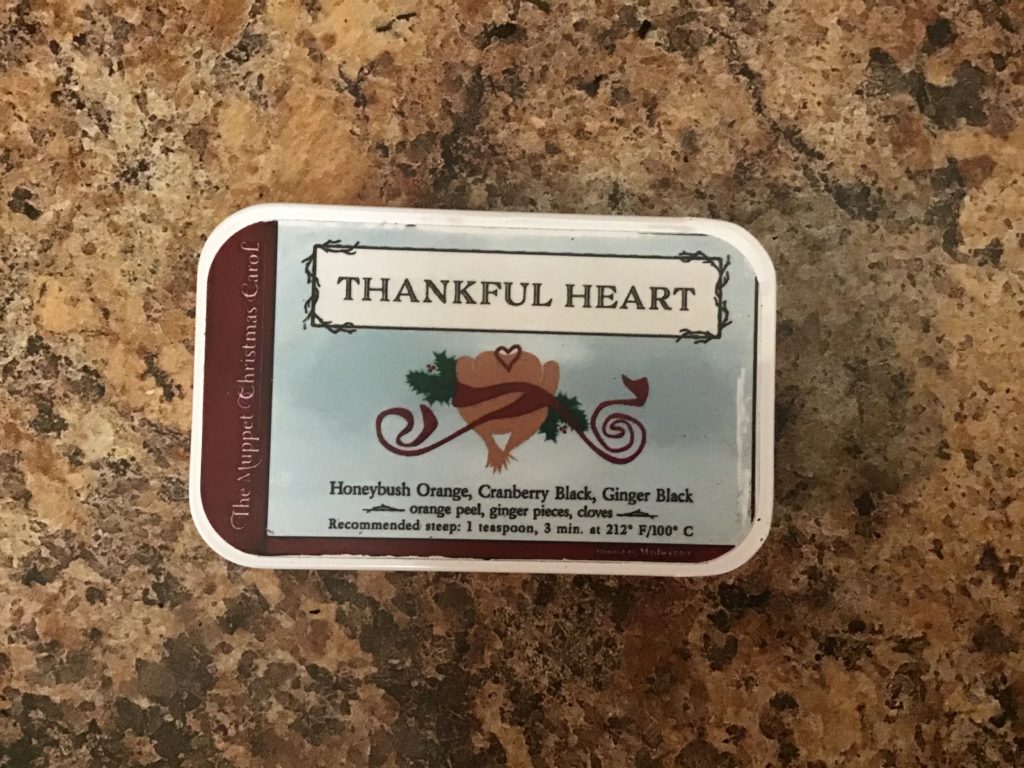 Rosalynn: First thought? This tastes like ham. 
Anthony: You got your suckling pig! 
Rosalynn: But really, it just tastes like everything I enjoy with a holiday ham.
Anthony: So even though there's a turkey on the tin, you think it has a smack of ham to it?
Rosalynn: I think that it would taste good in a ham glaze.
Anthony: But the question is, does it taste like Scrooge's redemption?
Rosalynn: I'm not sure that it tastes like Scrooge's redemption, but it does taste like the first scene with the Ghost of Christmas Present.
Anthony: With all the food in Scrooge's dining room?
Rosalynn: Yes, this is the tea that makes Scrooge want to be a part of Christmas. So I think it's a Rizzo, because it's the right character (Scrooge) but it tastes like the wrong scene.
Verdict: RIZZO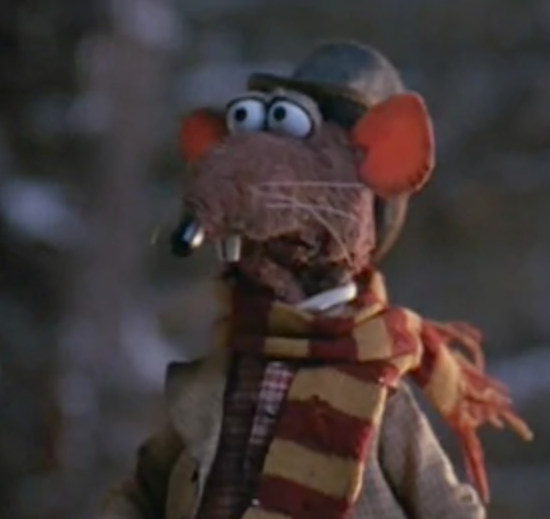 Anthony: So we have three Gonzos, two Rizzos, and a Wander McMooch. Not bad!
Rosalynn: And all very Christmassy in general. 
Anthony: They feel like Christmas?
Rosalynn (singing): It is the season of heart, a special time of caring, the ways of love made clear! We're being super nitpicky about which teas go with which scene, which is obviously an insane thing to do.
Anthony: So we'd recommend people pick them up and drink them while watching the movie.
Rosalynn: Yes! Then Gonzo will be here to tell the story, and Rizzo will be here for the tea!
Click here to light the tea kettle, not the rat on the Tough Pigs forum!
by Anthony Strand and Rosalynn Strand