We Muppet fans disagree a lot, but there's one thing that is never up to debate: Jim Henson and co. have always excelled at Christmas content. Muppet Family Christmas! Emmet Otter's Jug-Band Christmas! Mister Willowby's Christmas Tree! Okay, maybe not that one.
But none of this should be surprising. After all, so much of our core Muppet Show cast all originated in one particular "lost" Christmas special. I'm speaking of course of The Great Santa Claus Switch, which debuted as a TV special on December 20, 1970. Hosted by Ed Sullivan, whose show was truly where Henson cut his teeth on the large scale, the special focused on the evil Cosmo Scam (Art Carney), who schemes to replace Santa (also Art Carney) and his elves with himself and his band of maniacal Frackles.
Yes, you heard that right: Frackles. If you're not as obsessed of a Muppet fan as us ToughPigs writers, you might assume I'm just misspelling "Fraggles." Or if you're Google Docs, you're desperately trying to autocorrect it to "Freckles." But the Frackles are characters you doubtlessly know. They're the various monsters that frequently populate group numbers on The Muppet Show. As many of you know, I've always been fascinated by these kinds of bit players and utility puppets. While they don't get as much praise as the big characters like Kermit and Piggy, they're a crucial part of making anything feel Muppet-y.
You can't legally watch The Great Santa Claus Switch these days, as it's never been officially released on home video. (If you're near the Paley Center for Media, you can apparently watch it there. But it's a pandemic so probably not. It also might be available on a certain tube that starts with a y.)
But what we can do is gather together around the computer and talk about some of the puppets that made their debut in this lost Christmas classic. I doodled them all as a present to you, but I'm also going to include some images and facts from our friends at Muppet Wiki.
BLUE FRACKLE, GREEN FRACKLE, AND SNAKE FRACKLE
The three most prominent Frackles of the bunch are Blue Frackle (called Boppity in this special) Green Frackle (here called Gloat), and the nameless Snake Frackle, who would later be reworked into J.G. the Jade Green Frackle.
The Blue Frackle appeared frequently in the first season of The Muppet Show, including at many "At the Dance" sequences. Like all the unnamed Frackles, he had no consistent performer, but one thing that always stood out was that in multiple bits, he had a detachable or exploding head. Blue Frackle showed up in every season of the show except the final one, where he was largely replaced by a new crop of Frackles like Gray Frackle and the aforementioned Jade Green Frackle. Likewise, he appeared in half of the theatrical Muppet movies.
Personally, he's my favorite of the Frackles. I think the ears look really good.
The Green Frackle appeared a similar amount and in the same kinds of roles, although his head was always firmly attached. Oddly enough, he appears in Season 5 of The Muppet Show but not Season 4, and as a pirate in Muppet Treasure Island but not in The Muppet Christmas Carol, whereas the Blue Frackle is in Season 4 and Christmas Carol and not Season 5 and Treasure Island. Maybe they had a falling out and they insisted on these casting choices. Whatever, I can firmly assure you I am the only person who cares about this.
The Snake Frackle appeared much more sporadically, but as mentioned was effectively replaced in Season 5 with the very-similar Jade Green Frackle. The most notable thing I can say about the Jade Green Frackle is that he appears as J.G. the Unit Production Monster on the Blu-Ray bonus features for The Muppets (2011).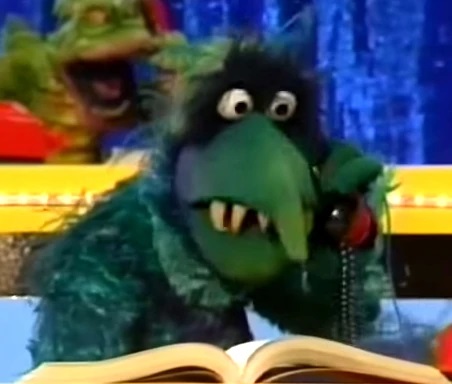 This special also introduces the Green and Blue Bird Frackles, who have really gnarly, Skeksis-like designs. I like them a lot, but they appeared much less frequently and I didn't draw them.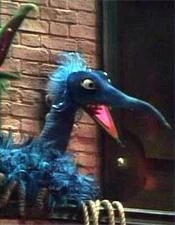 THOG (and THIG)
Thog and Thig appear as Cosmo Scam's two Frackle bodyguards in The Great Santa Claus Switch. If you don't recognize Thig, that's not your fault: the immense green monster never appeared a single time since this special. I guess they made Timmy Monster for The Muppet Show and they realized they didn't need two giant green full-body puppets.
Thog, however, is a real Muppet all-star. You know him: he's the biggest Muppet Show character! I mean in size, not in prominence. But you do know him: the giant periwinkle monster who's appeared at the start of the theme song for years. Thog quickly moved from The Great Santa Claus Switch into other Henson projects, including Nancy Sinatra's live stage show and The Julie Andrews Hour. Most notably, in one of the Muppet Show pilots (The Muppet Valentine Show), a major plot involves his crush on Mia Farrow.
Thog appeared semi-regularly on The Muppet Show, but disappeared for years after, not returning to the fold until his puppet was rebuilt for The Muppets (2011). Do you remember where you were when you realized they rebuilt Thog? Folks, we here in the Obscure Muppet Fan Community were beside ourselves with pure joy.
DROOP
Droop is one of my favorites of the Frackles, a long-nosed green shaggy monster with a whiny voice and a majorly depressive personality. Like Thog, he returned to the Muppet troop early with a fairly prominent role in The Muppet Valentine Show and in early seasons of The Muppet Show. Most of his appearances involve him being sad and needing to be cheered up, which, yeah, we can all relate to this year.
Like the Frackles, he appeared less later in The Muppet Show's run, but would return for the post-Henson movies, including a prominent speaking role in the Blu-Ray extras for The Muppets (2011), where he serves as the film's key grip.
Droop was usually performed by Jerry Nelson, whose last speaking line as this character was him shouting "But what about my nose?" at the beginning of The Muppet Christmas Carol. From Christmas Droop was born, and to Christmas Droop returned.
THE CIGAR BOX FRACKLE
Okay, so this one is pretty weird. Called "Snarl" in The Great Santa Claus Switch, this weird, bluish-purple Frackle with a long beaky nose and thick green eyelids.
He lives in a cigar box and gives Cosmo Scam a cigar at one point in the special.
He has a cool design I guess, but I don't think he ever appeared again in any Muppet production. What a shame. I bet he would've been a real crazy character.
So there you have it! The Frackles, the Muppets' unsung heroes, who all debuted 50 years ago this month. Droop doesn't look a day over 49! Merry Christmas, Muppet fans! Merry Christmas, Frackles!
Click here to have a whiny voice and a majorly depressing personality on the Tough Pigs forum!
by Evan G