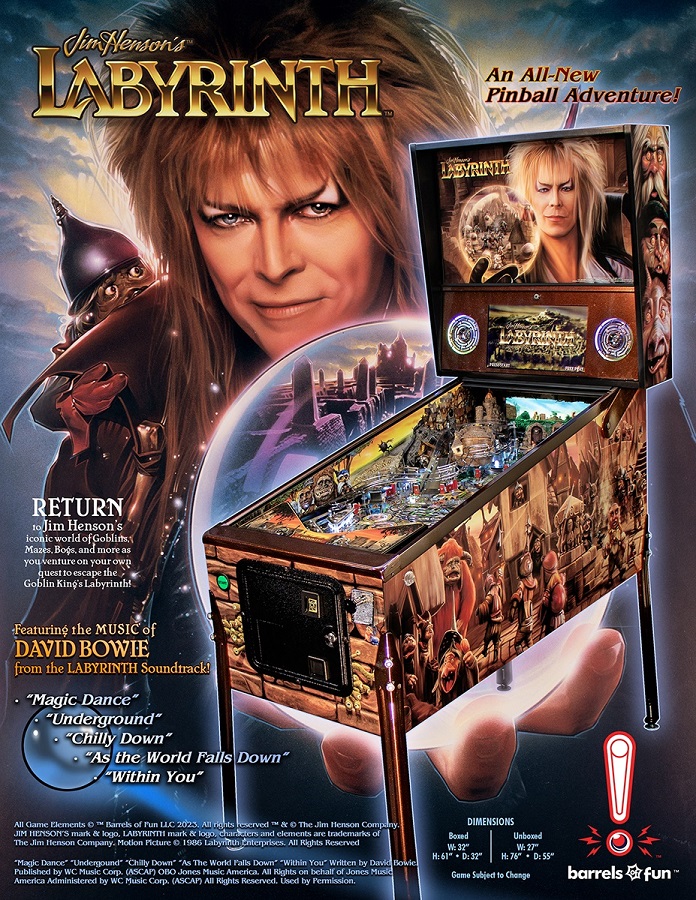 I don't know if you know this, but pinball is kind of hot right now. Yeah, that game where you plunge a ball into action, and then try to keep it in play using flippers, while hitting targets, bumpers, and ramps in an effort to rack up a high score.
Pinball is an old game, but it's had a resurgence in the last few years, and now there are several manufacturers making pinball games — and a heck of a lot of those new games are based on popular licensed properties like Godzilla, James Bond, Venom, and of course, Foo Fighters.
Which brings us to the brand-new manufacturer Barrel of Fun Pinball and their recently-announced first game: Labyrinth!
Here's a trailer, filmed in some kind of super-widescreen aspect ratio:
Based on this, the game looks really cool. Sometimes a pinball game based on a beloved movie only makes a half-hearted effort to include elements from the movie, but Labyrinth appears to be jam-packed with elements from the film. There are "toys" of recognizable creatures all over the game, there are "Bog of Eternal Stench" and "The Cleaners" gameplay modes… and they apparently got the rights to all of David Bowie's songs from the film!
Thus far, this game most definitely reminds me of the babe.
Unfortunately, most of us Labyrinth fans probably won't be putting this in our rec rooms anytime soon. The game will be made in a limited run of 1,100 units, and it costs $10,600. So your best bet for playing it is to find a local arcade that gets one. Fortunately, you have more than 13 hours to do that.
For more info on the game, check out this detailed article from pinball website The Kineticist.
For a video of the gameplay, check out this YouTube upload by Barrels of Fun.
Click here to use the left flipper… or… the right flipper on the Tough Pigs forum!
by Ryan Roe – Ryan@ToughPigs.com