Welcome to Kermit the Week!  Celebrating Kermit the Frog's 60th birthday with a week's worth of articles celebrating the life and career of the world's most famous frog!
We're back with the second half of our 60 favorite Kermit the Frog moments, in celebration of his 60th birthday!  We've already seen some iconic scenes, sketches, and songs, but you've probably noticed some of the best haven't been revealed yet.  Well, wait no longer!
Here we go with the top 30 Kermit moments, in (almost) no particular order!
30. The Frog Is Staying

Frustration can lead to determination, and this scene shows that in spades. When Kermit has a dream, he'll do whatever it takes to achieve it. And in this case he chooses to stay in New York City while all of his friends leave because it hurts him too much to have them hang around after he feels like he's let them down. All alone (mostly) in the big apple with just his wits and his dynamite determination, Kermit vows to make the Broadway dream they've been pursuing come true for all the Muppets, and to bring them all back together as soon as possible. That's true friendship.
29. Kermit's Three-Part Plan
Okay, so Kermit only makes it through two thirds of his plan in Muppets Take Manhattan, but both are wonderful movie moments.  First he dons an afro and "Boffo Sockos" his way into a big time producer's office, and then he wears a fake mustache and sneaks a bunch of rats into a fancy restaurant to start a whispering campaign.  I can only imagine what sort of iconic moment we would've gotten with part 3.
28. Kermit Names Sesame Street
Just think.  Sesame Street would be called "Hey Stupid" if it weren't for Kermit's quick thinking in the test pilot for the show.
27. The Wonderful World of T-Shirts
Kermit just wants to buy a t-shirt with his own name on it and go home, but first he has to suffer through one goofy misspelling after another. As the increasingly-absurd monsters (Kermit the Forg, Kermit the Gorf, Kermit the Grof) stroll in to pick up their t-shirts, Kermit gets angrier and angrier, refusing to accept a world where monsters with dumb joke names exist. It's a rare instance where Kermit isn't in control (and doesn't understand what the writers are doing), and it nearly makes him lose his mind.
26. Christmas Scat
I absolutely love the moment in Muppet Christmas Carol when Kermit's dancing down the street with Robin on his shoulder while the two of them scat together. It's a very brief moment in the film, but still manages to be an incredibly heartwarming image.
25. Steve Whitmire's First Appearance as Kermit
In The Muppets Celebrate Jim Henson, Kermit only makes a brief appearance at the end, reminding everyone at home that although Jim Henson is gone, Kermit will continue to keep the family together.  It's an important moment for all of us, especially now that we can look back and see how Steve Whitmire continues to perform Kermit after 25 years.
24. The Wedding
Kermit and Piggy's wedding in Muppets Take Manhattan begins on stage, but quickly, and without our noticing, becomes real.  They go through the motions of picking out clothing, ordering the cake, and alerting the masses before walking down the aisle.  The kicker, of course, is Kermit's big decision to say (or, sing) "I do", finally acknowledging his love for his lady pig.
23. Sesame Street News Flash Intros
There aren't many moments funnier than Kermit being caught off-guard at the beginning of each Sesame Street News Flash sketch.  The cameras are running, Kermit!  Pay attention!
22. Visual Thinking
Kermit seems pretty hip and current, but one of his earliest appearances showcased his squareness.  In a clever mix of puppetry and animation (especially for 1959), Harry the Hipster shows off his visual thinking skills while the out-of-touch Kermit struggles to keep up.
21. This Frog
Simply put, this is the world's most inspiring Frank Sinatra parody, although there probably isn't much competition there. This is always a great pick-me-up when you're feeling like you're going to have to spend your life sitting like some bump on a log.
20. Sesame Street Special Report
This is a rare show of Sesame Street tackling social satire, in this case, the Iran-Contra affair. Cookie Monster is accused of stealing (or in this case, "re-appropriating") cookies from Gordon and Susan, and news broadcaster Robert MacNeil seeks the truth. Kermit doesn't have a huge part in this one, but he plays the role of Cookie Monster's lawyer with gleeful aplomb. Kermit drives the sketch forward and does a masterful job satirizing the lawyers in the Iran-Contra scandal.
19. Kermit's Tonight Show Monologue
Johnny Carson was the reigning king of comedy for many years, and Kermit proved that he could hold his own as the guest host of The Tonight Show.  He started off with a bang during the opening monologue, in which he jokes about the Muppets going to Disneyland and gets interrupted (hilariously) by Fozzie Bear.  There's no need to be faster and funnier, it's perfect just as it is.
18. Kermit Fires Piggy
As nice as it is to see Kermit be cool, calm, and collected, let's keep in mind that he's working with the craziest bunch of performers the world has probably ever seen. So even he has his limits. And nowhere is the Kermit freak-out funnier than here.
17. African Alphabet
The song is just a great example of how Kermit fits well in pretty much any scenario. His storytelling blends perfectly with Ladysmith Black Mambazo's choral chants, making for a beautiful Sesame Street moment.
16. Kermit's Speech in The Muppets

I know a lot of people like to razz on Kermit for being overly sentimental and mopey in "The Muppets," but suspend your disbelief for a moment: Kermit really is at his most vulnerable in the world of this movie. His troupe split up, his love left him, and his robot's schtick probably got real old, real fast. Add to that the fact that he was *this close* to turning it all around and they ended up losing to Tex. But Kermit is back with his friends – his family – and he wants them all to be together again forever. So darn it all to heck, I love this speech.
15. Kermit/Grover Segments
One of the downsides of Kermit no longer being allowed to frequent the Street is that we no longer are graced with the brilliance of Grover-Kermit segments. Every scene they shared together is a gem, but Grover as the sunglass salesman has always been one of my favorites. Kermit chasing Grover around the room at the very end of the sketch is both hilarious and warranted on his part.
14. "We just might make this."
Kermit spends most of the 2011 Muppet film being very sad, and it's not all that much fun to watch. This brief moment backstage – when he glances at the clock and is pleased to see that things are moving along well – is one of the few things in it that feel exactly like the Kermit of old. It made me so happy in the theater 4 years ago, and it still does.
13. Kermit's Muppet Movie Speech
Not gonna lie, Kermit's speech near the end of The Muppet Movie has made me tear up on more than one occasion. His ideal about wanting to make people happy and find friends with the same dream as him? I mean, does anything else better embody absolutely everything Jim Henson stood for in his life?
12. Steppin' Out With a Star
Like a lot of these sketches, it's got some terrific puppetry and really showcases Kermit, Fozzie, and Gonzo's friendship. Also, it reveals that Kermit wears pink boxers: a secret you always knew you wanted to learn.
11. Tap Dancing with Gene Kelly
One example of dozens (hundreds?) of times when we completely forget that Kermit is a puppet is when he tap dances with Gene Kelly on The Muppet Show.  I'm sorry, that's not a puppet, he's a real frog.  A real dancing frog that can hold his own with a legend like Gene Kelly.  Wonderful stuff.
10. Movin' Right Along
Kermit and Fozzie prove their deep bond with a road trip medley in The Muppet Movie.  Not only does it give them a chance to discuss their dreams and fears, but they're obviously having a great time as they get lost in mid-America.
9. Happy Feet
Happy Feet is a fantastic song.  And Kermit sings it wonderfully.  But the real kicker is how we all think of Kermit tap dancing, but we never see him below the waist.  That's brilliant on so many levels, I can't stand it.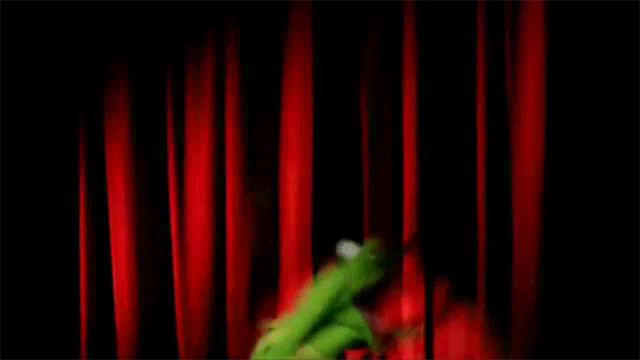 8. The Arm Flail
I love how, if you say the words "Kermit Arms" to someone, they'll pretty much know what you're talking about. Kermit flailing about, waving his arms and shouting "Yaaaaay!", is sort of classic at this point.
7. Kermit and Joey
I've said it before and I'll say it again, this is literally the most perfect Muppet & Kid moment in the history of Sesame Street. It's hilarious and sweet and shows how easy it is for kids to get lost and let loose around Kermit. He makes Joey feel at ease and keeps her giggling throughout his attempts to stay on track. And through it all, no matter how frustrated Kermit gets, he still loves everybody. He's just the best frog there is and this clip unequivocally proves it.
6. Kermit Rides a Bike
How did they get a frog to ride a bike??  It's the question the world has been asking since 1979.  And frankly, it's better to just let them wonder.
5. Good Grief, the Comedian's a Bear!
Fozzie and Kermit are a perfect duo, as we all know, what with Fozzie's unwavering love of (unfortunately poorly done) comedy paired with Kermit's straight man (erm, frog?) nature. They have a lot of great moments together, but it's tough to beat their "Good Grief, the Comedian's a Bear!" act. The concept of the joke is superb, and the comedic timing of both characters is simply brilliant.
4. Sheesh Face
There has literally been no greater illustration for having contempt at the actions of our friends than Kermit's sheesh face.  Kermit nailed it.
3. The Mystery Box
Words can't adequately describe the infamous Mystery Box sketch. It's arguably the funniest thing to have happened in Sesame Street's entire 45-year run. Just watch it. Whatever you're doing can't possibly be more important than… friends.
2. Bein' Green
Kermit's anthem for the misunderstood is so universal, it's been covered dozens of times and remains a favorite for all sorts of Muppet fans.  And it tells us so much about Kermit's personality.  He wants to be something more, but instead, he chooses to be happy with who he is.  That's beautiful and empowering, and so very, very Kermit.
1. Rainbow Connection
Admit it.  When you hear the opening plinks of Kermit's banjo, you get chills.  It's because you know what's coming: Kermit's epic song about being a missing piece to something larger, and wanting to find a purpose in life.  It's a song about colors, but it's being sung amongst the dull greens and browns of a swamp.  It's all about Kermit's lowly beginnings, and the promise of something more.  It's about hope.  And it's quite possibly the best moment in Kermit's 60-year life.
I'm sure we missed a few of your favorites!  Head over to the ToughPigs forum or join the conversation on Facebook or Twitter to let us know what you would've included in your list of the best Kermit the Frog moments!
And stay tuned for more Kermit-centric articles throughout the week!
Click here to flail on the ToughPigs forum!

by Joe Hennes, Julia Gaskill, Evan G., Matthew Soberman, Anthony Strand, and Matt Wilkie