As an avid Muppet Fan Artist, I'm always inspired and often jealous of my insanely talented peers. Where do they come up with their ideas? Their unique styles? Their secret techniques? I wanted to find out who the artist is behind the art, and ask questions as one illustrator to another. The following pieces of art may be pictures you've already seen and enjoyed, so now here's some of the stories as to how they came to be and the creative influence Jim Henson and all his creations have on the creative industry.
In my early days of internet Muppet fandom, artist Jamie Carroll was a name I couldn't avoid. Eventually he would go on to do significant design work for all three of the web's major Muppet fan sites including ToughPigs, but at the time, he was like the super cool upperclassmen that everyone adored, and a lowly artist such as myself couldn't possibly be cool enough to associate with him.
Jamie has an impeccable ability to capture the anarchistic spirit of the Muppets so well that he's responsible for several designs and redesigns for the Muppets Palisade's figure line, a winning entry to Threadless, and officially licensed prints for the head mouse himself at Disney. If you are even a mild Muppet fan, you have seen Jamie's work, and if you're NOT a Muppet fan, you've undoubtedly still seen his work from other enterprises like The Simpsons and Disney. He's even done a piece of my original characters Bang & Bump that is my absolute most favorite thing on earth second only to my family. Over time, Jamie has become my number one go–to guy for advice on all things art and print. He has also become a wonderful friend and confidant who has shared with me as much as I with him. I needed to share this incredibly talented man's mind with everyone from an artist's perspective.
ToughPigs: You are a fan artist's artist. Your genuine love of the Muppets has shined so bright that you've actually done work with and for various Henson related outlets. Do you pinch yourself when you get that gig or is it "business as usual" at this point?
Jamie Carroll: I'm always amazed and grateful for these opportunities when they come. The people I work with are usually equally excited and that makes the experience even better because it feels like a team effort. I guess when you hang around one particular place for long enough, someone eventually gives you something to do. Either that or they call the police.
TP: Do you find that team environment more engaging artistically or do you prefer to discover your own creativity alone?
JC: I see art as a shared experience. It's the most sublime form of communication. Fan-related art is such a specific language that can only come from being part of the community. Also, as you probably know, freelance artists often spend a lot of time alone so I welcome the involvement of others. None of us are very far away from evolving into a Gollum-like creature at any given time. I've heard there's a world outside my apartment!
TP: Meh, it's overrated. But real life people DO live there. Have you ever heard from a Muppet related person regarding any of your art?
JC: I mailed a piece to Walter once, but haven't heard back yet. He's still busy keeping the gang together. I'm such a dork! I heard that Frank Oz was really pleased with Palisades' action figures and Dave Goelz appreciated the Flash elements I contributed to the Muppet Central banner back in 2002. I think that was the last time their site was updated.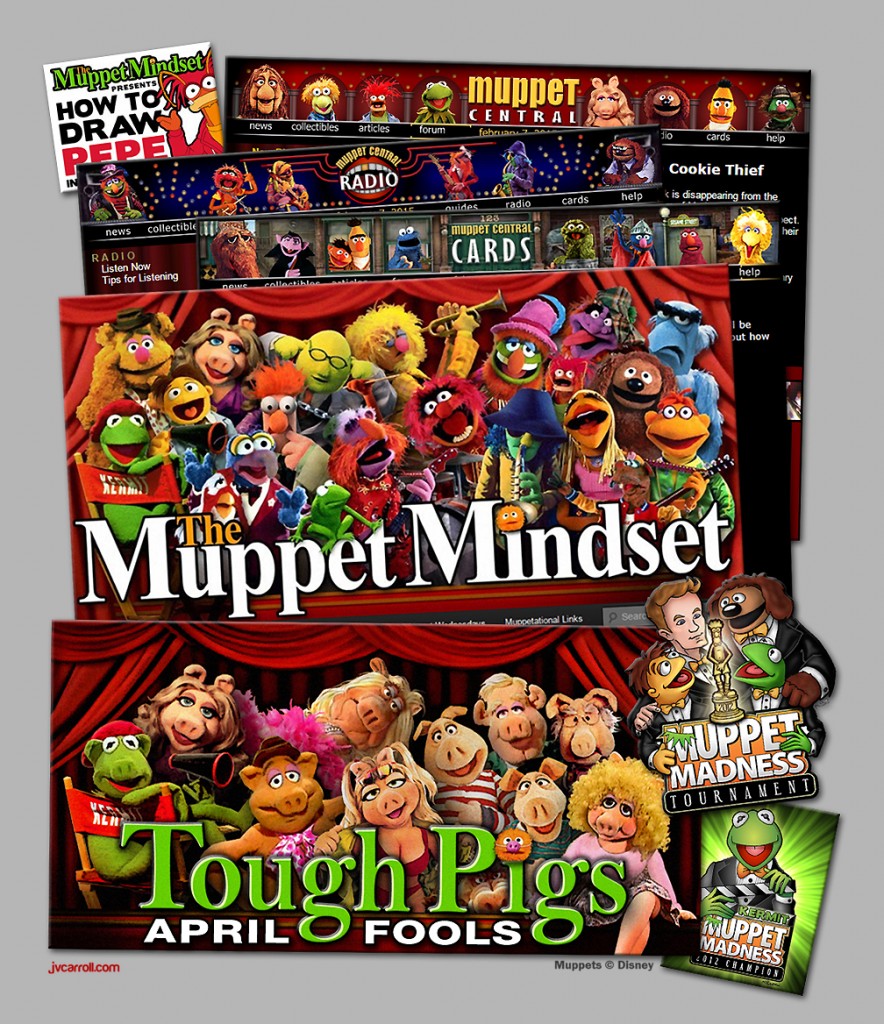 TP: That's right, you've done work for Muppet Central, The Muppet Mindset, and of course Tough Pigs; what's some of the nicest feedback you've gotten from Muppet fans?
JC: Muppet fans are very specific. I've received my share of praise and grief over the years. It's a package deal and I can dish out as much as I take. We're all fanatics, after all. Most of this started with Muppet Central so I'm glad to have been given the opportunity to indulge my Muppet obsession in their rebranding. Ryan is always pleased with my contributions to the Muppet Mindset. He brings out the best in people and his feedback reflects that. He's earnest in a very Jim sort of way that I respect and appreciate. My favorite bit of feedback was for the "Rocket Piggy" piece included in the Tough Pigs 10th anniversary celebration. You're not really a Muppet fan-artist until you've been embraced by that crowd. Seeing a picture of Joe wearing the graphic on a shirt was a proud moment.
TP: Ooh! Drama! What kind of grief did you get?
JC: Many people initially hated the Flash elements for Muppet Central. That's probably my favorite bit of negative feedback and it came from people I count as friends these days. I was told the format didn't always work correctly and that it would never last because the technology would be obsolete in a year. It took over a decade for plug-in support to become an issue due to the increased popularity of smart devices. The interface was also an integral part of my graduation presentation in 2002 that won Best Portfolio cross-major. But yeah, some people really hated the Flash.
TP: What's the creative thought process that has you brainstorming an intricate piece like the Muppetational Mosaic?
JC: I was definitely going epic. The Threadless contest presented the perfect opportunity to honor the Muppet shirts that I wore as a kid. Inks were different in the early 80's. Graphic tees would quickly form these ugly cracks after a dozen or so washes and the beautiful images would break into a million pieces. My aim was to create a shirt to celebrate that esthetic. All of the line art is merely the shirt poking through the silkscreen design. Once I had the framework of Sweetums lugging around the balconies as eyes and the Mayhem forming Kermit's mouth, the rest sorted itself out.
TP: At any point in executing that piece, do you think to yourself, "Man, I've bitten off more than I can chew!"?
JC: My oldest San Franciscan friend was getting ready to move away the week of the deadline so I had to finish it quickly. It's just so tempting to stuff as much Muppety goodness into a composition as is humanly possible. I almost gave up, but opted for a few sleepless nights instead. It all worked out in the end. That's kind of become a pattern.
TP: Where does that insanely determined Jamie Carroll attitude come from?!
JC: I think of it as Scooter-like tenacity. My friends have other, more colorful words for it.
TP: That makes it incredibly clear that you are an artist all the way through to the bone. If you never learned or had the ability to draw or create art of any kind, what would be your creative outlet? What would you do?
JC: Yikes! What a difficult question. If I couldn't draw or create I'd probably do something in the creative field that had to do with people who could. I spent three years managing a toy store in San Francisco. It was only a part time gig, the store was tiny and we always seemed to be squeaking by month-to-month, but it was one of the most exciting and personally rewarding experiences of my life. I literally had my hands in the guts of the place when we remodeled our Chinatown location. Thanks to the owner, I also learned a lot about small business.
We'd often host artists on the last Friday of every month. The local Chinese orchestra would play traditional music outside and our featured guests would include talent ranging from local sculptors to Pixar artists who were launching their own enterprises. The whole thing was kind of magical.
We dealt with collectibles both new and old. That included a few remaining Palisades action figures around the shop so I felt like a proud relative. The real joy came from seeing the look on each customer's face after placing the right toy in their hands. No matter who or how old we are, most of us are still children inside. Jim Henson has a famous quote that goes something like that and it's a wonderful thing to see on a daily basis. I'd still be there today, but unfortunately we had to close. I might go back to that sort of work someday. I really miss the people.
TP: What do you find most challenging about creating Muppet art?
JC: There have been many radical interpretations of the Muppets by other artists over the years and I think they're brilliant. The challenge for me, however, is to create something new while maintaining their classic integrity. Michael Frith designed many of the characters so his work is always in the back of my mind when trying to formulate the most iconic look of each character. I prefer the late 70's Animal, Fozzie and Miss Piggy from the very early 80's and Gonzo's elegantly crafted facial proportions from the late 90's. Such nuance is very important to me. My drawings also represent the posters I would have wanted to grace the walls of my childhood bedroom. A depiction of the Muppet gang standing proudly in front of their theater is the sort of imagery that a commercial artist should have created long before I did. I suppose the most challenging part is in making something that should have already existed rather than retracing old steps or imposing too much of my personal style over these unique characters. The Muppets have enough style of their own. Part of me wishes I could draw them differently, but my hand just won't let me!
TP: Speaking of the gang in front of the theater, you've done a few prints for Disney that are some of my favorite pieces ever. Can you talk about the submission process for something like that? How much pitching do you do verses what they suggest?
JC: Wow, that is quite a compliment. Thank you! I'm usually contacted about some sort of request. That's how it worked for the Muppet Theatre. That piece sailed through the approval process too. It only required a minor tweak. I was surprised and delighted. Sometimes I'll blindly pitch an idea and hope it piques the interest of a client. It's different every time.
TP: All artists are familiar with client approval, or "making the people who sign our checks happy", and one tweak is a godsend! What about the pieces that get completely rejected? Or even better, the ones you yourself scrap?
JC: That's a good question. It's an incredible privilege to be able to do this stuff. It's also rather soul crushing when it doesn't work out. It's two sides of the same coin. We're not supposed to admit that, but it stings. I assembled this thing that I refer to as the "wall of suck" in order to deal with the angst. I'm not saying the work sucks. A great deal of care goes into even the simplest pitch. The suck part is in reference to the time and effort. It seems wasted and I can't really post the full pieces for public view. Those are the breaks. Still, it all needs to go somewhere so it goes to the wall. Projects get nixed for all sorts of reasons. Many of them can't be predicted. The wall helps me keep a healthy perspective on all the silliness.
Artists often crow about the successes yet hide the many failures that lead up to them. I think all of it should be celebrated!
TP: Celebration and that positive attitude is what I'm drawn to most in your art and you as an artist. We've personally had many chats about politics, religion, and even humanity that I've found incredibly rewarding. You recently did an ethereal piece of Kermit, playing his banjo atop the earth surrounded by a rainbow of people all holding hands and floating through a dreamy outer space collage of stars and planets. Just looking at it you know there's something very special about it and it's more than just fan art.
JC: I feel the same way. I have many wonderful friends of different spiritual persuasions. One of them recently asked me exactly what it is that I believe so I quickly composed this little collage. We are all just microscopic, silly creatures clinging to a rock that's spinning in the middle of nowhere. Our importance lies in the symbiosis we share, our kindness and the information we pass along. In other words, we're all connected whether we know it or not and there's a beautiful responsibility that comes with that. It all sounds extremely corny and it's better served as an illustration. I added Kermit because he embodies that philosophy without being tied to any specific religion. This is a simple theory that can connect us all regardless of other spiritual specifics. That's one of the many things that make the Muppets special; they relate to everyone. No matter how bizarre, no one is left out or left behind.
———
You still have a chance to buy Jamie's Dr. Teeth and the Electric Mayhem and Simpsons' Flay Me To The Moon silk screen prints at DarkInkArt.com! And make sure you check out more goodness at jvcarroll.com and follow him on Facebook, Twitter, and Instagram!
Click here to design an action figure playset of the ToughPigs forum!
by Dave Hulteen, Jr.