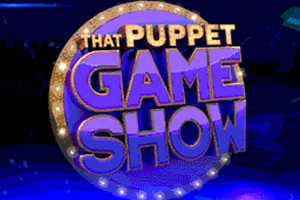 Back in March 2012, entertainment news outlets reported on a new show being developed by the Jim Henson Company for the UK's BBC One.  There wasn't a lot of information about it, but we knew two things for sure: It would be called No Strings Attached, and it would be a talk show.
It looks like the show will be making to the air soon, but with just a few changes.  For instance, it's no longer called No Strings Attached, and it's longer a talk show.
They're calling it That Puppet Game Show now (presumably to avoid any confusion with the other puppet game show), and the format will be… well, you can figure it out. As reported by the British Comedy Guide, each episode will feature two celebrities playing various games hosted by Henson puppets, in an attempt to win money for charity.  Brian Henson is said to be the "lead puppeteer" for the show.
And get this:
The 8 episodes will also feature scripted 'behind-the-scenes' action. This is explained as follows: "In a unique twist, That Puppet Game Show is the first gameshow to include a backstage sitcom. It features all the puppet characters that we've met onstage and more, like the producer Mancie and the bullish Show Executive, Udders McGhee."
So we see the show that's happening for the audience in the studio, and we also see the characters backstage, running around to make the show happen?  That sounds familiar, doesn't it?  A lot like… a little show… called SCTV?
"Screenings" (which may or may not be the same thing as tapings?) will be held at the BBC Radio Theatre in London on June 22nd, July 13th, July 20th and August 3rd. For anyone who lives in those parts, British Comedy Guide has helpfully provided a link to a page where you can apply for tickets.
Click here to win £10,000 on the Tough Pigs forum!
by Ryan Roe – Ryan@ToughPigs.com