Although there was a resurgence of Muppet products in the afterglow of 2011's The Muppets, 'tis not the season to find a myriad of merry Muppetational merch on the shelves. If you like Kermit in a Santa hat, however (and who doesn't?), you're in luck! This year you can have Kermit Claus on your tree, in your belly, under your arm and even in a display case (hey—maybe Kermit will be as valuable as Peanut the Royal Blue Elephant one day). And now that 'tis the day after Christmas, you should be able to find this stuff for cheap.
One of the best things about Walgreens buying New York City's pharmacy chain Duane Reade is that we can find these delightful marshmallow pops at nearly every corner. The rest of you can obey John Corbett and go to "the corner of Happy and Healthy" (would you believe that Virginia Beach actually has a Happy Street and a Healthy Way—but sadly they do not intersect). For some reason they bothered to make two different Kermits—one open-mouthed and one closed—but I don't know who would not want to bite into Kermit's adorable pink tongue if given the choice. Piggy looks stunning in marshmallow, but she would probably not be pleased with her weight being so prominently displayed.
Although no ornament will ever make as strong a statement as "Gangsta Mermaid," these metallic Muppets are sure to catch anybody's eye. Is it me, or does the roundness of Animal's face make him look a tad like his Muppet Babies self?
If you don't want an Animal that reminds you of Muppet Babies (or of Animal), you can go to Walgreens and purchase this plush. If Telly got struck by lightning, grew eyebrows and exposed his midriff, this is EXACTLY what he would look like!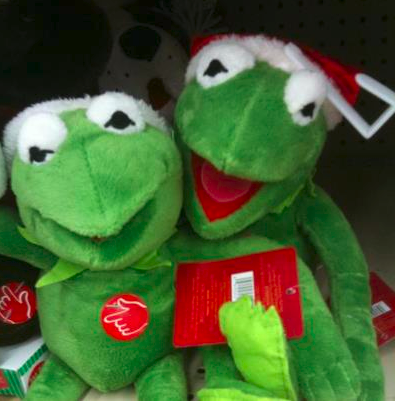 Oh, where to begin? While not as creepy as Follow That Bird's Miss Finch, these plush Walgreens Kermits definitely rank highly on my Menacing Muppet Scale (yellow-eyed Snuffy is off the charts). There's a fine line between cute and hideous when it comes to stuffed animals or puppets, and it's all dependent on the placement of the eyes. This point was proven when the careless placement of an FAO Schwartz Whatnot's eyes almost ruined the best proposal video ever.
Now there is one good-looking Kermit! This Beanie Baby's ST generation number is 19 and its TT generation number is 15. I have no idea what that means.
Although Bert & Ernie and Miss Piggy get to star in their own bizarre Snow Babies tableaus, only Elmo and Kermit's figurines are holiday themed. The lack of eye contact suggests that the Snow Babies are invisible angel-like entities, yet that would mean there is a candy cane floating in the air next to Elmo. I guess when you regularly hear your pet fish talking to you, that's not so strange.
If you are a hardcore collector, you should make your way over the river and through the woods to Walgreens and Target to snag this year's offerings, but if you're on a tight budget, you could just buy some Santa hats at the dollar store and stick them on the Muppet merch you already have.
Some pictures stolen from Chris Stulz's Muppet Stuff Facebook page.  Thanks, Chris!  Click here to share your ST and TT generation numbers on the Tough Pigs forum!
by Staci Rosen